Discover and have a quick browse through 7 Star hotels in India.
check the video👇
India ranks among the countries with the best 7 star hotels; facilities that are elegant, expensive, and flaunt beauty and extravagance. Obviously, the concept of the star is associated more merriness, the timeless luxury and class, and elegantly designed interiors and exteriors that make the hotels outstanding. 7 star hotels in India have plenty to offer.
Are you thrilled about staying in a 7 star hotel in India during your next visit? Well, we must say that you will be spoilt of options.
Before delving into the discussion of 7 star hotels in India, we need to understand what exactly makes a hotel a seven-star, hence ideal for your stay.
How to Determine 7 Star Hotels in India?
Truth be told, there is no official international standard of rating that qualifies a hotel to be categorized as a seven-star. The rating is rather ambiguous. The threshold for this categorization is primarily based on the property's hospitality, luxury, and comfort. Besides, the overall experience is seen as nothing short of magnificence.

The concept 7 star hotel was allegedly coined by an anonymous journalist who attended the launching of Burj Al Arab in Dubai. The journalist felt that the standards of this hotel were far much higher than the regular five-star hotels. Principally, a few outstanding differences include the following. A 5-star gives you a luxurious treatment, while a 7 star is entirely a royal treatment. A 5-start hotel is suitable for business and leisure stays, while a 7-star is primarily for leisure stays. Again, while people from all walks of life generally frequent a 5-star, a 7 star hotel is often home for "who is who"- the dignitaries, including heads of states, royals, country ambassadors, billionaires, and so on.
What Facilities do 7 Star Hotels Offer?
As the name suggests, one would expect that 7 star hotels are magnificent from the inside out. Without a doubt, a 7 star hotel provides its guests with the most unforgettable grandeur of stays. Talk of the sophisticated style and an ambiance out of this world. Staying in a 7 star hotel makes you more than a guest. While you make limitless rules, 7 star hotel employees treat you like the king or queen you really are. In addition to spectacular architectural facilities, 7 star hotels have amenities unmatched by any other facilities.
Imagine being provided with limousine services twenty-four-seven. Limousine services are offered o the guests for all their travel needs for short and long distances. What's more, the facility has contains suites than rooms, spacious and with iconic architecture. You are treated on your personal butler, who will cater to all of your demands. Particularly, 7 star hotels in India thrive in personalizing customers' experiences, interests, dislikes, and likes. Moreover, the room's view is overwhelming considering that they are filled with superb decorations and furnishings.
Check out the following 7 star hotels in India.
Top 7 Star Hotels in India
Rambagh Palace, Jaipurs
Location: Rambagh Palace Road, Rambagh, Jaipur, Rajasthan, India.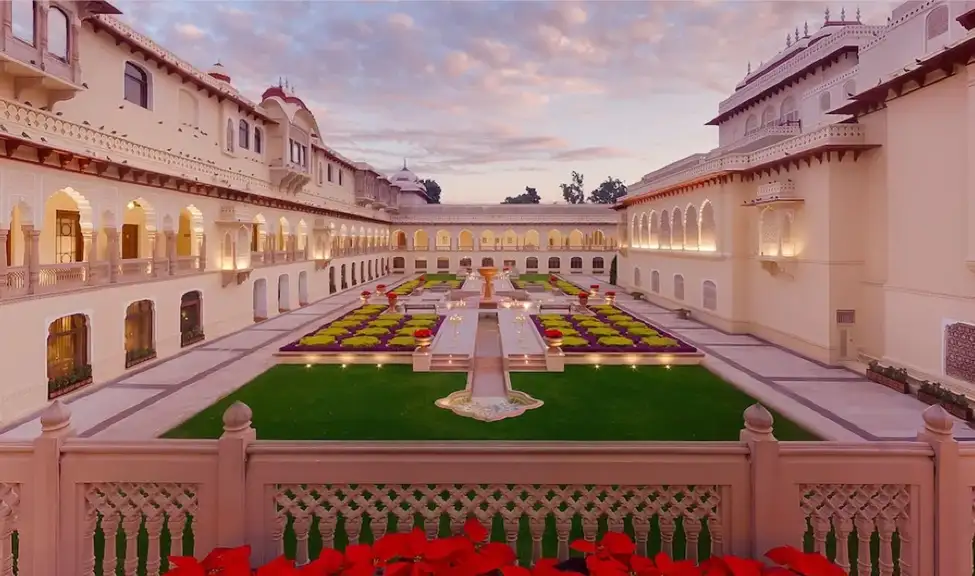 Rambagh Palace under the pink sunset
In the serene Pink city of Jaipur, India lies the Rambagh Palace. Epitomized by its splendor and elegance, the palace depicts convolutedly crafted cenotaphs and carefully hand-crafted marble latticework. The hotel houses a total of 79 eloquent rooms and suites. You have not seen it all until you explore the compound adorned with Mughal-style gardens. How about letting your taste buds have an all-new experience with Indian dishes at the Suvarna Mahal!
Rambagh Palace tailors its services to meet all of your demands. The facilities are babysitting, smoking, bar, and recreational facilities such as spa, hot tub, massage parlor, and sauna.
Umaid Bhawan Palace, Jodhpur
Location: Palace Road, Jodhpur, 342006, Rajasthan, India.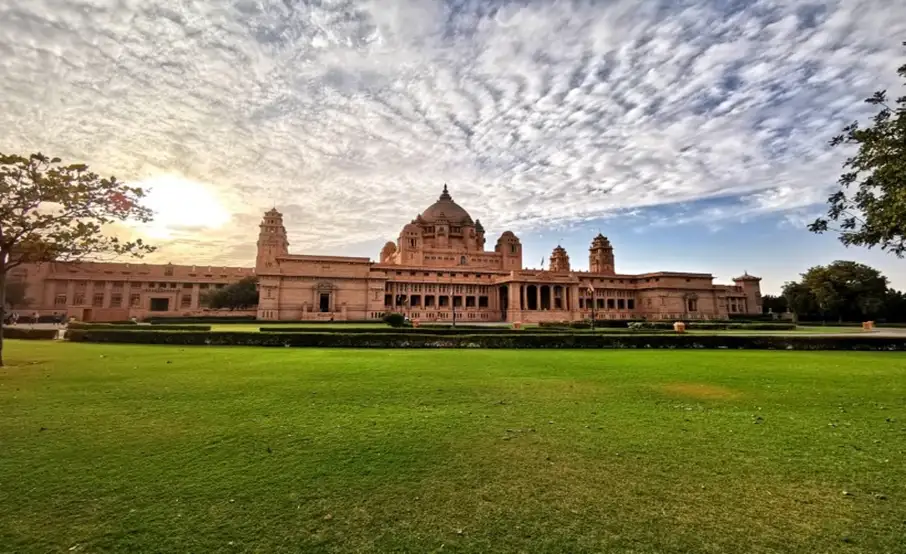 Large lawn in front of the Umaid Bhawan Palace. Source: Tharun Thejus/ Unsplash.
Positioned at the top of picturesque and historic Chittar Hill, and spreading over 26 acres of opulent gardens, is Umaid Palace. Here, you experienced unmatched royalty. As the residence of the former royal family of Jodhpur, Umaid Bhawan Palace perpetuates the culture of greatest royalty and grandeur in its appearance, hospitality, and appeal. Also, built between 1928 and 1943, Umaid Bhawan Palace exhibits Rajasthan culture endowed with landscaped Baradari lawns, Jiva Grande Spa, trophy bar, zodiac pool, 7- at deco-style rooms and suites, and European, Mediterranean, and Rajasthani delicacies.
With such amenities, Umaid Bhawan is indisputably the definition of a 7-star hotel.

Taj Falaknuma Palace, Hyderabad
Location: Engine Bowli, Falaknuma, Hyderabad, 500053, Telangana, India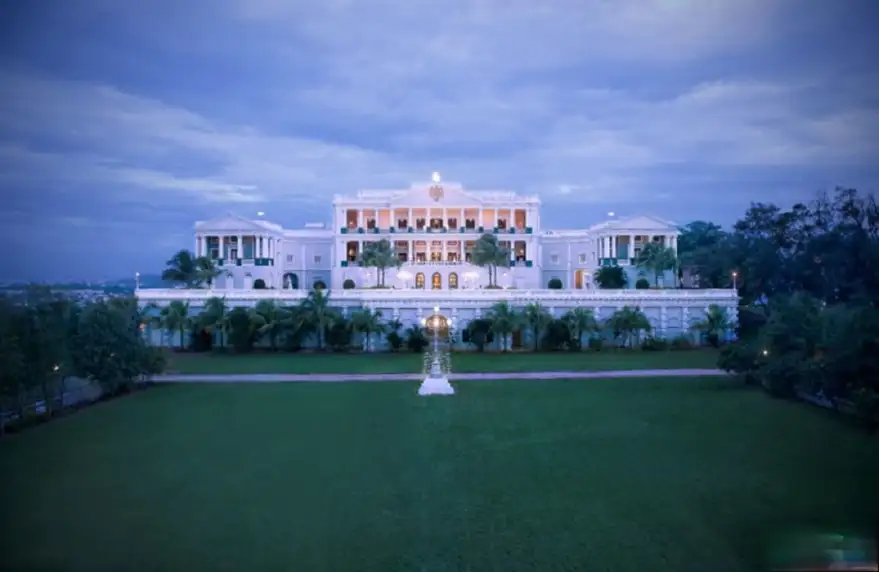 Taj Falaknuma Palace, make yourself at home
The facilities, class appeal, and services at Taj Falaknuma Palace present it as one of the top-ranking 7 star hotels in India. You can't have enough of evening leisure in the lavish green gardens. What's more, you get a chance to experience a spectacular spa session and you can enjoy delicacies made from Ayurvedic cooking. While here, you will enjoy high speed internet, exquisite entertainment and media technology, hair dryer, among other high end amenities. With royalty and grandeur, you are taken around the palace of Nizam on horse-drawn carriages.
Taj Madikeri Spa & Resort, Coorg
Location: 1st Monnangeri, Galibeedu Post, Madikeri, Coorg, Karnataka, 571201, India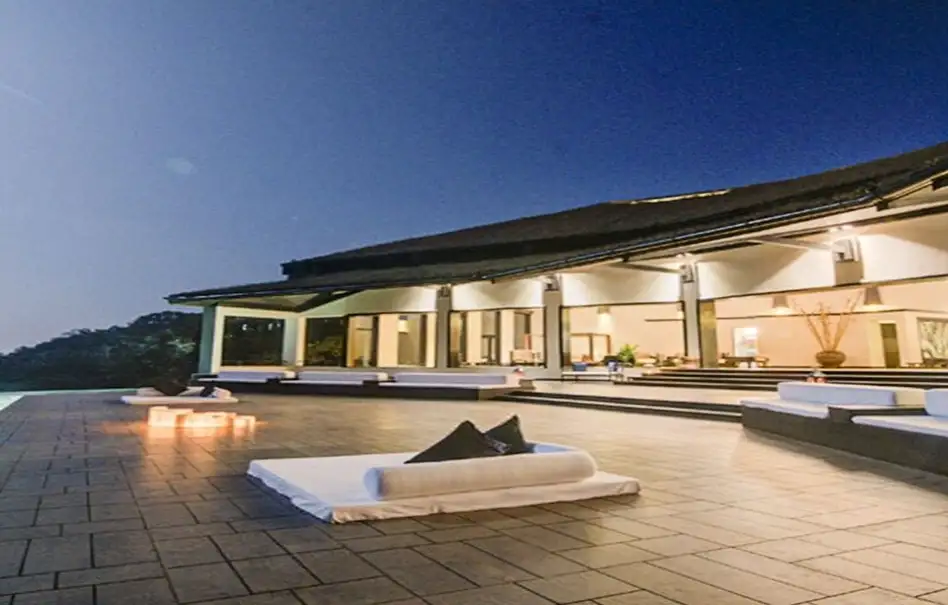 Pamper yourself with a visit to the spa
Enjoy an unforgettable vacation crowned with eerie aesthetics at Taj Midekeri Resort & Spa located in the hypnotizing "country to a million hills" Coorg. Set in the heart of the rainforest, Taj Midekeri Resort & Spa has a very natural environment. With facilities that feature enchanting entrances, sloppy roofs, and elected pillars, you can enjoy a night out as you view stars and the sky. Classified among the most luxurious 7 star hotels in India, Taj Madikeri Resort & Spa offers you a whole new experience.
Taj Bekal Resort & Spa, Kerala
Location: Kappil Beach, Kasargod, Bekal, 671319, Kerala, India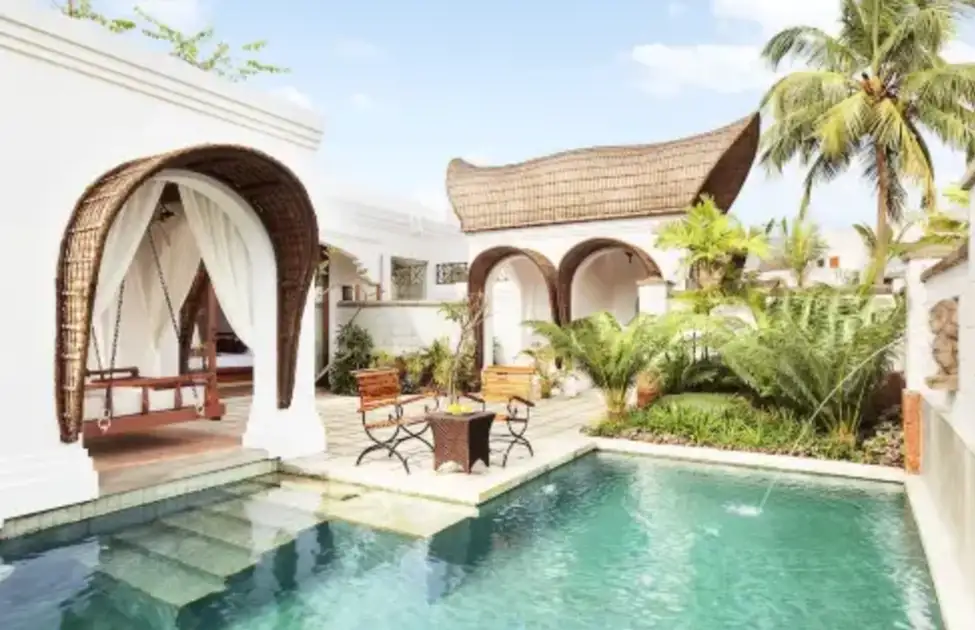 Outdoor pool and spa heal your body and soul
Taj Bekal Resort & Spa Is yet another enlisting of 7 star hotels in India, set in a canopy of abundant greenery in Kerala. Taj Bekal Resort & Spa is a perfect destination for lovers of nature and tranquility. Featuring architectural facilities inspired by the design of Kettuvallam houseboats, the 66 laterite villas and rooms provide scenic views of the dreamlike surroundings. Outside the rooms, you can take a walk along the shores of Pappil beach. Here, you see and reckon with the raging waves as they push up and down the anglers' boats. At the end of your stay at Taj Bekal Resort and Spa, you will attest to the rejuvenation of the body and soul.

Wildflower Hall, An Oberoi Resort, Shimla
Location: Mashobra,Chharabra, Shimla, 171012, Himachal Pradesh, India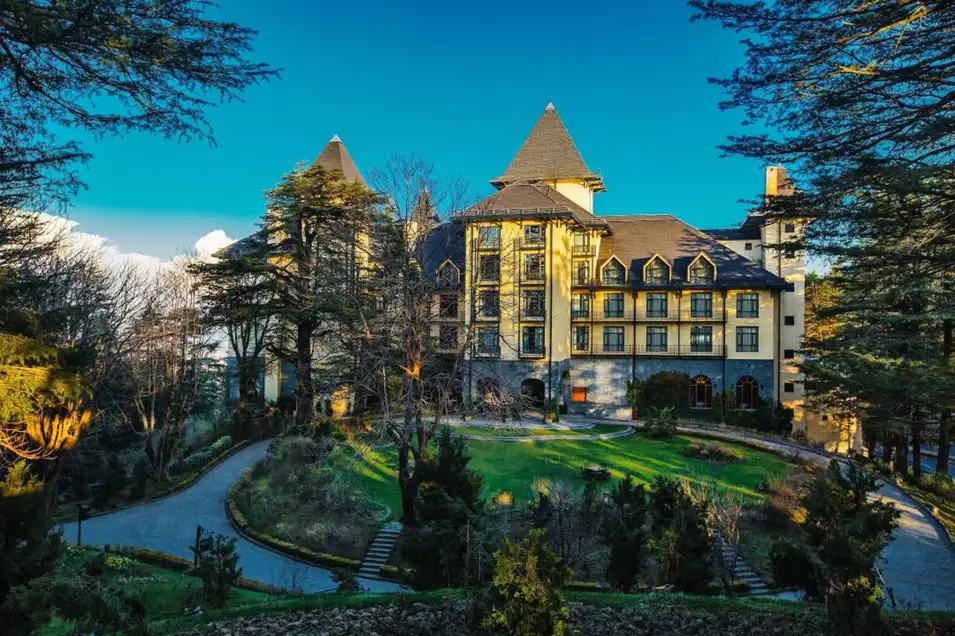 Wildflower Hall with welcoming decoration
Like other 7 star hotels in India, Wildflower Hall, An Oberoi Resort will make your stay memorable. Have you ever heard of small, heavenly, cozy lodges at the heart of hills? Well, Wildflower Hall is that hill station that gives you a typical treatment of a 7-star hotel in India. It gets much better when you lose yourself in the luxury of nature and bounties in Wildflower Hall. The best news is that Wildflower Hall provides you with a serene environment and a fully equipped library where you can enjoy a coo read, free from interruptions.

Taj Lake Palace, Udaipur
Location: Udaipur, 313001, Rajasthan, India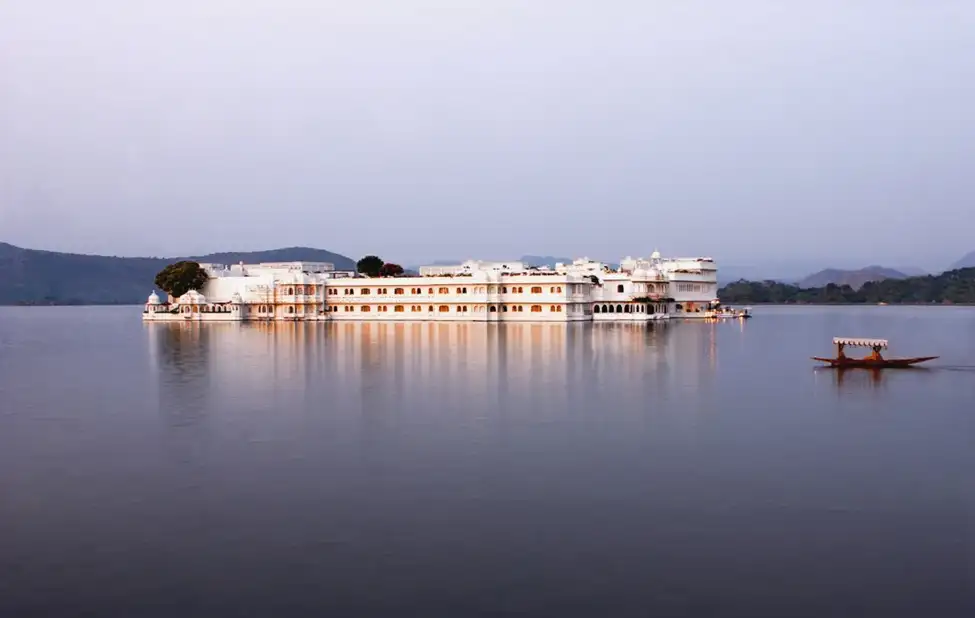 Lake Palace floating in the middle of Lake Pichola
Among the top-ranking 7 star hotels in India, there is the jewel floating right at the center of Lake Pichola. The luxurious jewel, Taj Lake Palace, was once a summer retreat destination for the Mewar Royal family. Today, you got to be tagged in this breathtaking place that Maharana Bhagwat Singh breathed new life in 1963. The location provides an awesome backdrop for acquisitive cuisines, Rajasthani, European delicacies, and other Indian dishes. There's still more for the evening- the signature martinis, cocktails, and international spirits at Amrit Sagar's bar.

The Oberoi, New Delhi
Location: Dr. Zakir Hussain Marg, New Delhi, 110003, Delhi, India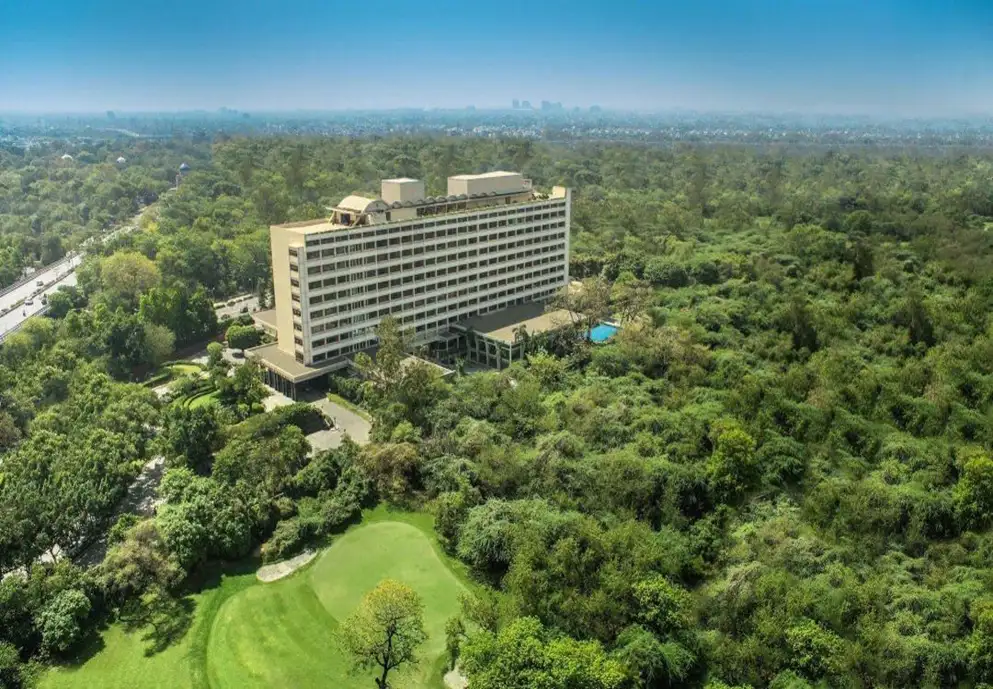 The Oberoi surrounded by green beauty
Delhi has also not been left behind in presenting to the world one of the 7 star hotels in India. We all love the finest things. The Oberoi hotel is certainly one of a kind. Here, you enjoy the beautiful scenery of the Delhi Golf course and the archaic Humayun tomb. Oberoi integrates tradition and modernity. After fine dining, the next place you want to be in the evening is at the rooftop bar where you can have a fantastic time at the Oberoi spa.

Ananda in the Himalayas, Uttarakhand
Location: The Palace Estate Narendra Nagar Tehri Garhwal, Narendranagar, 249175, Uttarakhand, India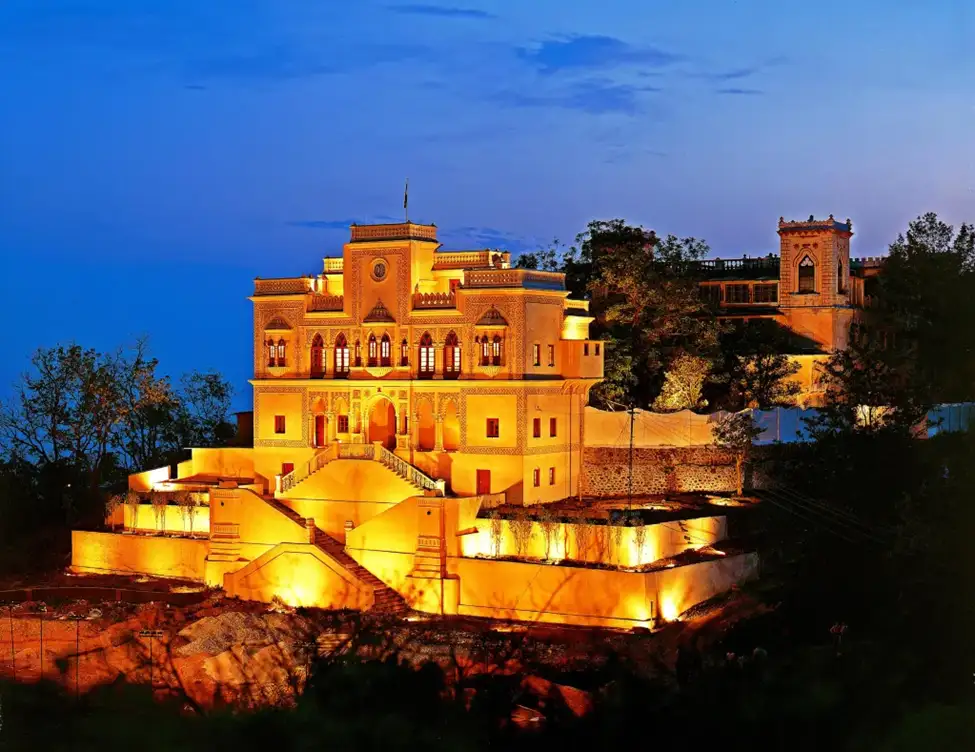 Engage in thrilling outdoor activities here! Wildlife safaris, rafting and trekking, anything!
This one is for those who seek a break from the mundane life and want to get some much-needed peace of mind. Ananda in the Himalayas, Uttarakhand, is where you want to be to regain the much-desired peace of mind. Besides the elegant rooms and suites, something that sets Ananda apart is the wellness facilities. Seated on a 24,000 square foot, the spa is the epitome of ayurvedic treatment, yoga programs, and body treatment. You can get amazing wellness programs such as weight management and body detox. More so, you can engage in some thrilling outdoor activities such as wildlife safaris, rafting, and trekking

Amanbagh, Rajastha
Location: Ajabgarh Forest Range, Ajabgarh, Rajasthan 301027, India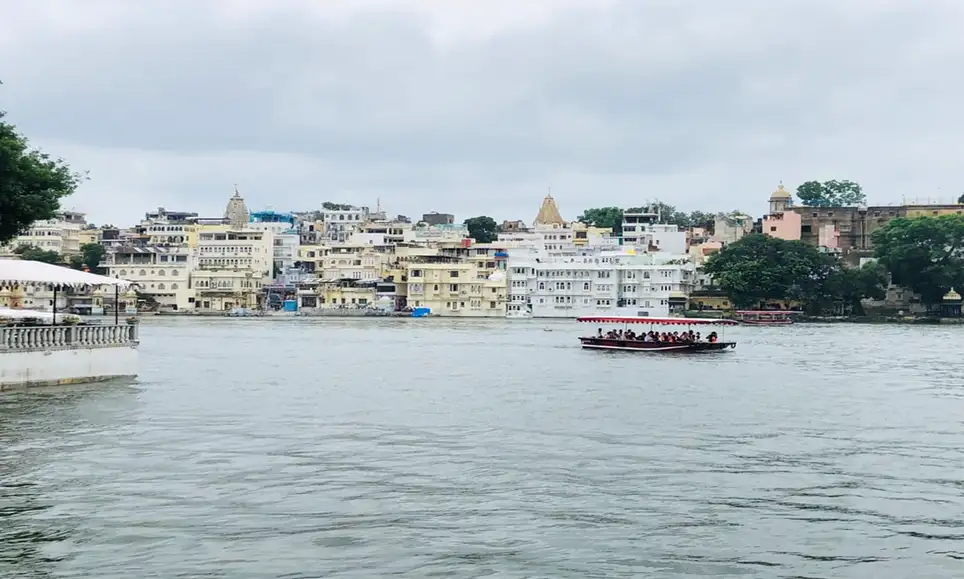 Serene environments where people can break from the mundane life. Source: Vikram Nath Chouhan/ unsplash
Offering the best to its guests is the Amanbagh hotel. The hotel is curved out from pink sandstone. Its aesthetics is further enhanced by a throng of palm trees that surround the entire compound of Amanbagh. Shifting from Rajasthan wonders, you get immersed into the amazing old way of Ayurveda.
There is no doubt that a lavish stay awaits you at these 7 star hotels in India. Book your hotel and experience the best time of your life.
FAQ About 7 Star Hotels Offer
How many 7 star hotels are there in India?

There is no official record of 7 star rated hotels in India. However, judging from the existing ones, there could be more than ten

When is the best time to travel to book a 7 star hotel in India?

Generally, most people travel between March-November when the temperatures are low. Nonetheless, you still can enjoy your holidays in 7 start hotels even when the temperatures are high

How much will it cost me to stay in a 7 star hotel in India?

You may want to check out trip.com to get a quote and make reservation in most 7 star hotels in India. The process is user friendly and pretty straight forward

What does 7-star hotel entails?

A 7 star hotel implies the top-notch accommodations and services, exclusively accessible to the most affluent people in the society

Which is the most expensive 7 start hotel in India?

The magnificent Rambagh Palace in the Pink City (Jaipur) is the most expensive hotel in India. You definitely can check out other hotels that offer exquisite experiences.