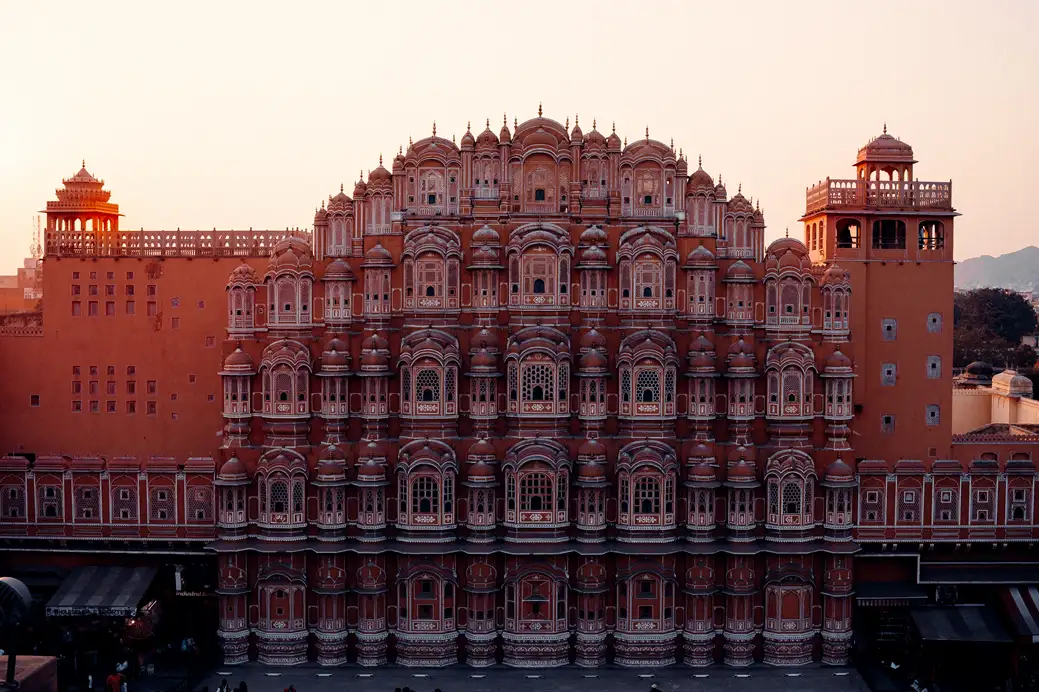 Jaipur, the pink city in golden sunlight. Source: Dexter Fernandez / unsplash
The Best Water Park in Jaipur
There's a lot of competition for the best water park in Jaipur! Below you'll find 4 of them, and there's a lot to recommend each and every one.
The water park in Jaipur you decide to visit in the end will depend on a lot of factors. What kind of features are you seeking? Are you desperate for thrills? Or are you just desperate to keep the kids busy for a Saturday afternoon?!
Would you prefer a resort that can provide you with sleeping arrangements for the night, or do you like to make your own accommodation plans? And, of course, the eternal question – where and what are you going to eat?
The answers to these questions will of course affect the water park in Jaipur you visit – you'll need to find the one that's right for you! Trip.com are happy to present a selection of the best…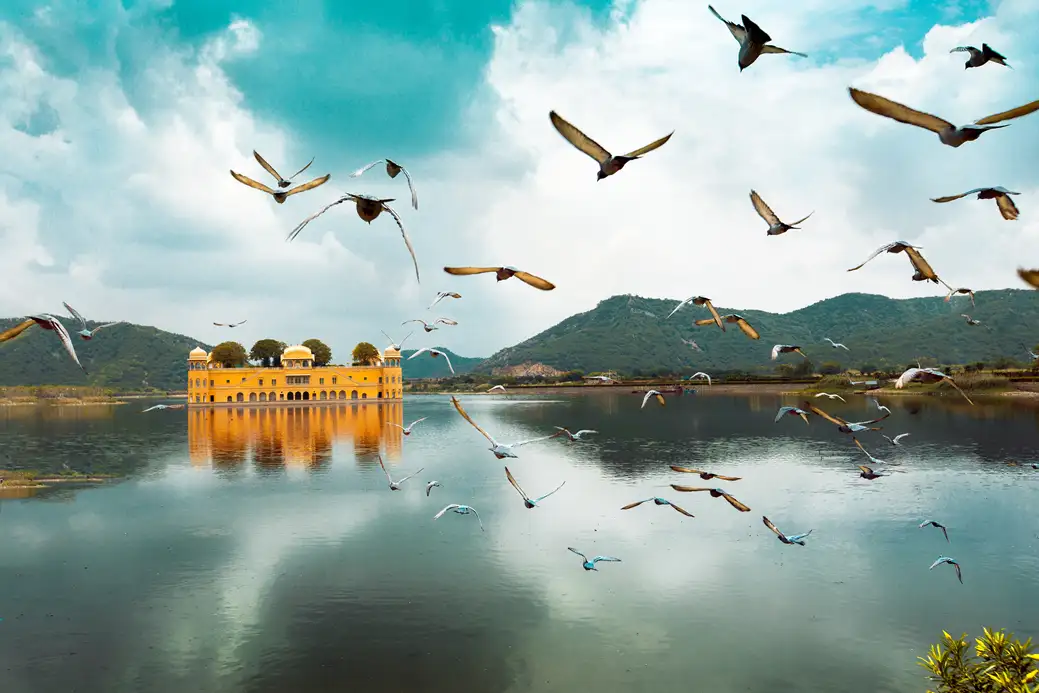 Natural and cultural beauty in Jaipur. Source: Aditya Siva / unsplash
Birla Water Park
Birla City Water Park is a couple hours drive out of Jaipur center, but it's worth the journey. You'll find the biggest water park in Jaipur just over 130 km southwest of the city, in the smaller city of Ajmer – also well-known as a Hindu, Jain, and Muslim holy site.
The water park itself opens 11:00 to 18:00 all week, so you're free to drop in any day you like. At the park you'll enjoy a spacious swimming pool, a rain dance waterfall, and a lot of other slides and rides for younger and older kids. It's the biggest water park in Rajasthan, so you'll find plenty to keep you entertained all day long.
Birla Water Park in Jaipur is located on the Ajmer Bypass, near Circle Makhupura in the Makhupura Industrial Area, Ajmer, Rajasthan 305002. If you're coming from elsewhere in India or the wider world, you'll likely be flying into Jaipur airport. So this is the perfect time to take a look at cheap flights to Jaipur with Trip.com. You'll find our rates will put a smile on your face before your vacation has even begun!
Once you're in Jaipur, you'll see there's a lot of train companies operating on the line from Jaipur Junction to Ajmer Junction – take your pick! The trip will last around 2 hours. After you arrive in Ajmer, you can grab the 19605 Udaipur City Express to the Adarshnagar stop, then it's around 25 mins walk south on the Ajmer Road. Turn left onto NH448 after that, and you'll find the water park on the right.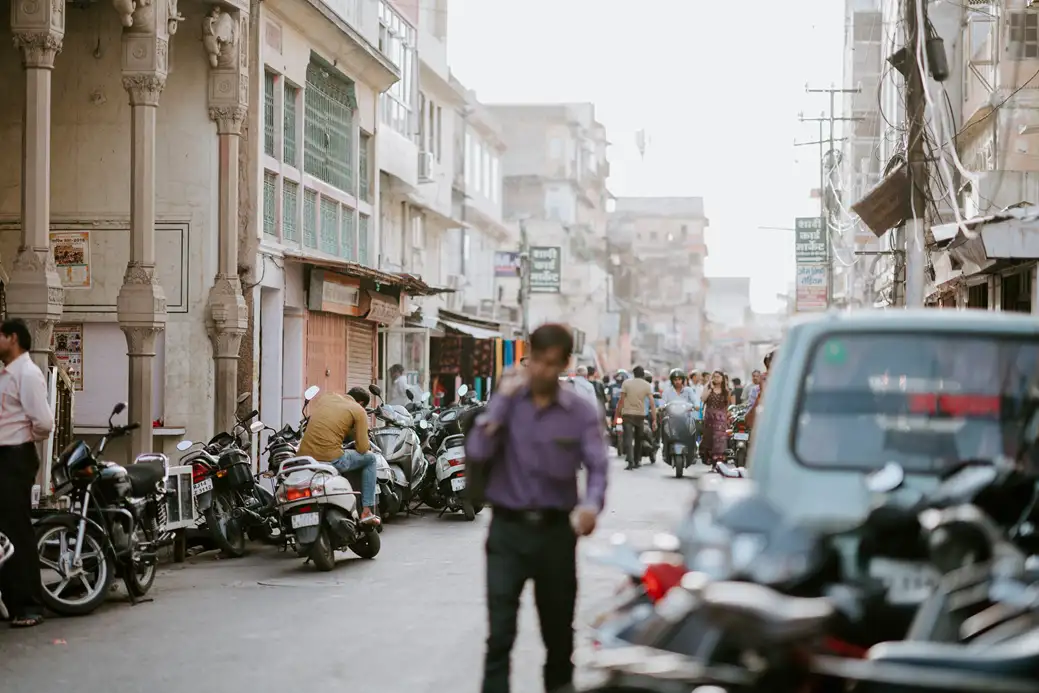 A typical Jaipur street scene. Source: Annie Spratt / unsource
You can expect to pay US$5.52 (INR450) for the ticket price if you're over 4 foot tall, and US$3.68 (INR300) if you're under. Sometimes it pays to be short! But all in all, it's a small price to pay for a delightful day out. And if you're really enthusiastic, you can also take a room at Birla City Water Park and spend the night there.
If you feel like being close to the center of town – and that means closer to connections to Jaipur and Pushkar – then consider a stay in the Hotel Ajmer Tower. Rooms start at just US$21.00 a night, and it's only 5 mins walk from the train station. You can't ask for more convenient than that!
So take the first step on your journey and check out cheap flights to Jaipur now.
Night scene in Ajmer, Rajasthan. Source: Shamoil / unsplash
Pink Pearl Water Park
Just 20 mins southwest of Jaipur center is the beautifully-named Pink Pearl Water Park. Jaipur has received the appellation Pink City due to the dusty rose color of the buildings. The reason behind the color goes back to 1876, and a visit from the Prince and Princess of Wales.
In order to welcome the British royals to the city, the Maharajah of the time ordered the city's buildings to be painted with this delicate shade of pink, which is a color of welcoming and hospitality. The Maharajah's wife was so taken with the color that a law was passed compelling residents of the city to maintain it – a law still on the books today!
The Pink Pearl Water Park bears this legacy, too. And there's more on offer here than just another water park. You'll also find billiard halls, go karting, laser games, and horse riding tours at this expansive water park in Jaipur.
This water park in Jaipur is located at NH 8 on the Ajmer-Jaipur Expressway, near Mahapura Mod, Bhankrota, Jaipur, Rajasthan 302026. There's also an artificial beach! It opens between 10:00 and 18:00 every day. Admission is US$6.14 (INR500) between Monday and Saturday and US$7.36 (INR700) on Sunday. Kids get in for US$4.30 (INR350) every day of the week.
Firstly, make sure you check out Trip.com's cheap flights to Jaipur. Then, once you've arrived in the place they also call the Paris of India, you'll need to head into town and find an 18 or a 26 bus.
If you board the 18, make sure it's the bus route out of Jaipur in the direction of Kalwad. Disembark at the Mahapura Mod bus stand and head south on Mahapura Road. After you pass the Jaipur Automobile Service Center, take a right, then take another right onto Grand City Road No. 1. Continue north until you see the signs for the park.
While you're visiting this great water park in Jaipur, you'll want somewhere convenient and comfortable to stay. You can tick both of those boxes with a night or two in the stunning Stardom Resort Jaipur.
Majestic pink arches of Jaipur. Source: Satyam Bhardwaj / unsplash
Angel Resort and Amusement Waterpark
Head due north out of Jaipur and after around 20 km you'll run into Angel Resort and Amusement Waterpark. This is a great water park in Jaipur to wash the city off and cleanse yourself of stress.
No matter if you're coming with friends, a partner, or the whole family, you can't fail to have some fun at this water park in Jaipur. You'll find everything you expect at the park – lazy rivers, rain dances, water slides, a big swimming pool, even an outdoor DJ floor.
But it's the extras that make Angel Resort so special. It's a sprawling 22-acre property that's picturesque enough for weddings, luxurious enough for banquets, and comfortable enough for a few nights' sleep! You might find it hard to leave…
The Angel Resort and Amusement Waterpark is located at Eden Garden, 20th Milestone, Rajawas, Highway, Jaipur, Rajasthan 302013. You can get there out of Jaipur by hopping on a 15 bus north from Chomu bus stand. Ride it for 14 stops, around 40 mins, and disembark at Rajiyas Puliya. After that, you're walking north on the Service Road for around 15 mins – just 1 km – until you reach the resort.
Ticket price for the water park itself is US$4.29 (INR350). If you're planning to stay in the resort at this water park in Jaipur, then rooms will be starting at US$24.54 (INR2000).
Due to the great location and friendly service, it's a great idea to stay in the resort during your visit here – especially as you're quite far from the center of town. But if you feel like seeing a little more of Rajawas, this pretty village on the northern outskirts of Jaipur, check out the impressive Umaid Farm Resort.
Surrounded by rolling farmland, the Umaid resort is replete with private balconies, four-poster beds, luxurious bathrooms, and the finest upholstery – you'll feel like royalty! It's the perfect place to rest up after a hard day at the water park in Jaipur! Its only 5 mins in the car and 15 mins on foot from the water park itself.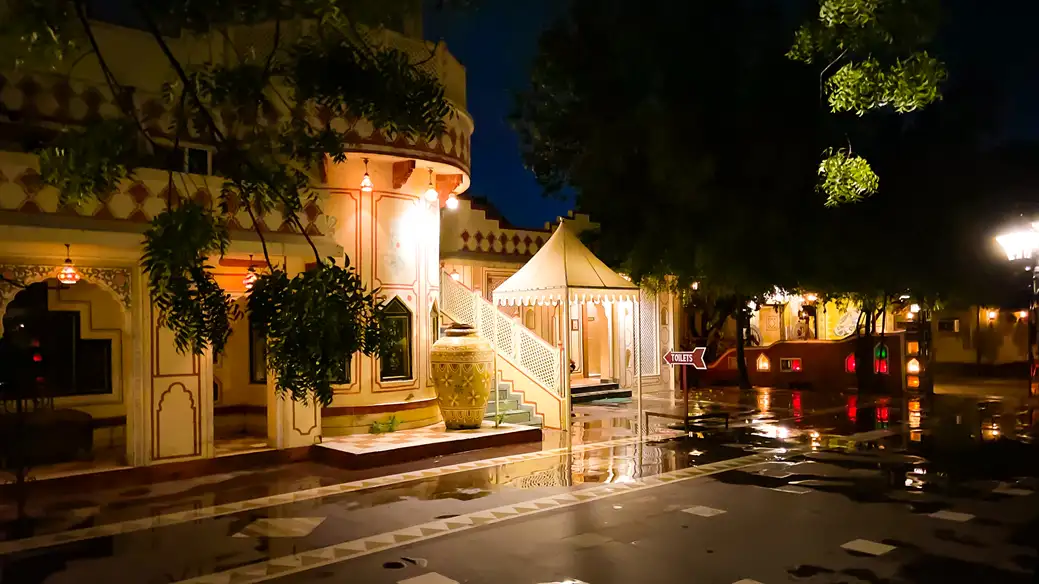 The beauty of Jaipur. Source: Sandesh Sharma / unsplash
Hawai Jahaj Water Park
This attractive water park in Jaipur can be found in the northeastern suburb of Hathod. New Hawai-Jahaj Waterpark and Heritage Resort provides kids' pools with mini slides for the little ones, wave pools with artificially generated waves, and a deep pool that made the Guinness Book of Records!
This water park in Jaipur can be found at Balaji Sagar 15, Road No. 2, Hathoj Sirsi Link Road, Kalwar Road, Jhotwara, Rajasthan 302012. It's about 14 km out of Jaipur center, and with dining facilities and even a poolside restaurant for light meals and snacks, you can really spend a long time enjoying yourself here.
From Ambabadi on the Sikar Road in the northern suburbs take Bus 24 west in the direction of Kalwar. Ride the 24 for 15 stops, around 35 minutes, then disembark at Hathoj. Once off the bus, you should head south on the Sirsi-Hathoj Road and follow that road until you see Atal Marg on your right. Turn onto that street and follow it to your destination.
Tickets for adults are US$4.90 (INR400) on weekdays and US$6.74 (INR550) on weekends. Kids tickets are US$4.29 (INR350) on weekdays and US$5.51 (INR450) on weekends. The park is open every day of the week between 10:00 and 18:00.
A great little hotel you can relax in while you're in northeast Jaipur is the Hotel Indra Palace, at 143 Shri Krishna Marg, Jaipur, 302012, Rajasthan. You'll find clean rooms, delicious food, and great hospitality – just check the reviews!
While you're in the area, why not check out the great fresh vegetarian food at Apno Gaon? It's all delicious traditional Rajasthani cuisine, and you might even be lucky enough to see a camel show while you eat…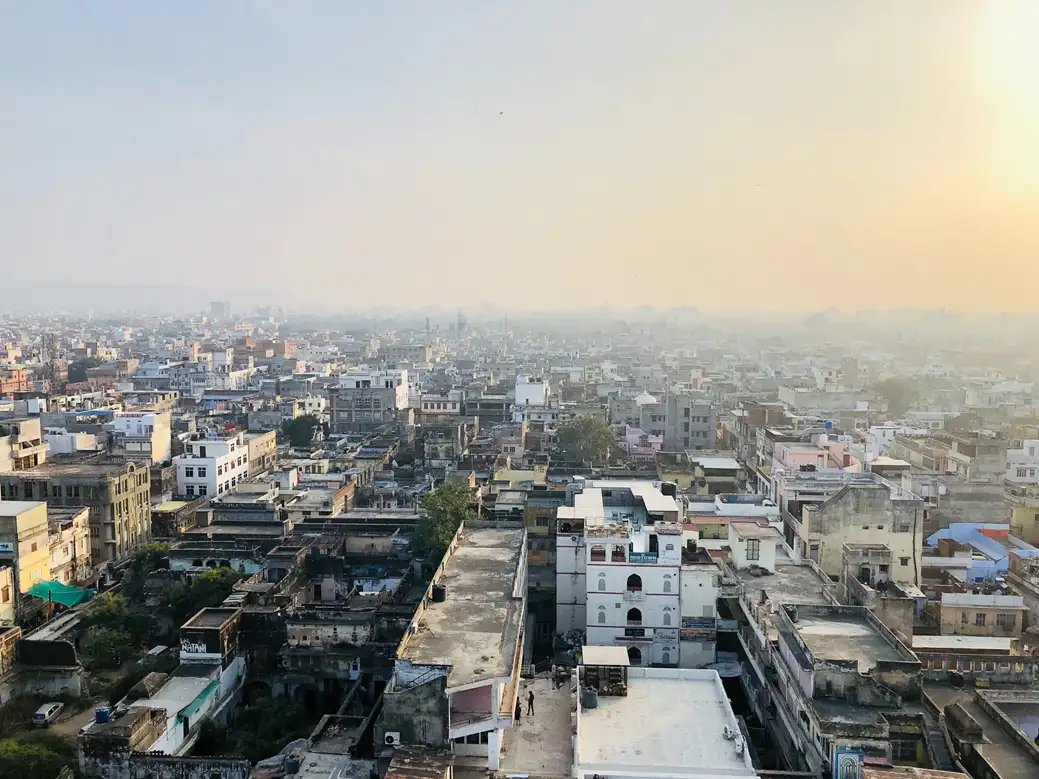 Great views over the Pink City. Source: Barun Ghosh / unsplash
Water Parks in Jaipur – Why Not Visit Them All?
As you'll see, it's impossible to say which is the best water park in Jaipur. The only way you'll be able to make that decision is by visiting each and every one of them yourself!
Given that their admission prices are very affordable, this would be the best way to come to a conclusion. And it's a great reason to explore the various quarters of the city, as well as its suburbs and outskirts. This is a city filled with beauty, mystery, and fun – what better way to discover more of all 4 than by hunting down these great water park in Jaipur.
The 4 water parks listed above aren't even scratching the surface – sometimes it seems there might be a water park lurking in every hidden corner of the city! The climate is so hot and dry in this part of the country, it's no wonder we seek out an oasis to refresh us.
So if this guide has piqued your interest, be sure to get out and do your own exploring in this exotic and enigmatic city. It's filled with history, culture, and – of course – some of the best water parks you'll find anywhere!
Where the traditional meets the modern... Source: Indra Velaviciute / unsplash
FAQ
How many water parks are there in Jaipur?

There are dozens of great water parks in Jaipur. See Trip.com for flights!

Which is the biggest water park in Rajasthan?

The biggest water park in Rajasthan is Birla Water Park. See Trip.com for flights to Rajasthan!

When is Appu Ghar open?

Appu Ghar is open every day of the week. See Trip.com for flights to Jaipur!

Is it safe to visit water parks in Jaipur?

Water parks in Jaipur implement national COVID-19 regulations and are safe to visit. See Trip.com for flights!

What should I wear to an Indian water park?

A You should wear a sensible bathing costume, or buy one from the water park. Don't forget to wear sufficient sun screen! See Trip.com for flights!