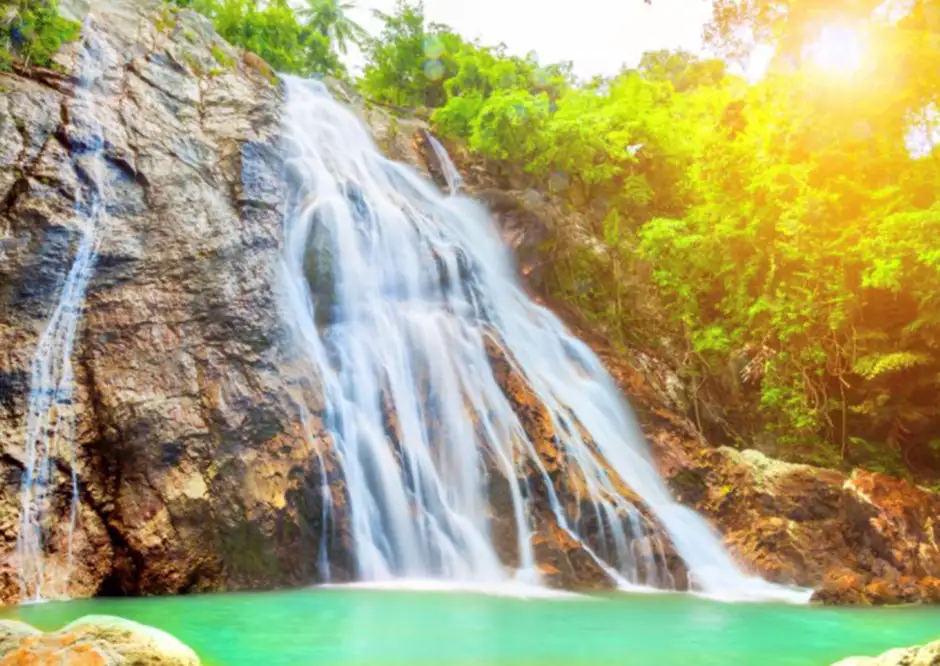 Thailand is home to some awe-inspiring waterfalls, including Namuang on Koh Samui.
Thailand is rightly famed for its white sandy coastline, warm coral seas, distinctive cuisine and vibrant cities. But did you know the kingdom is also home to some of the world's finest waterfalls? Head inland away from the bright lights and beaches, and you'll soon discover these amazing natural wonders, hidden just off the beaten track.

Below are 10 of the biggest, strangest and most beautiful waterfalls waiting to be explored in Thailand. The great outdoors doesn't get any better than this!

Waterfalls in Thailand: Erawan
Located at the end of a forest track in Erawan National Park, this seven-tiered natural wonder is a jewel in the jungle. Combine light trekking with a swim in one of its emerald plunge pools – Erawan truly has it all.

Location: Erawan National Park, Kanchanaburi Province, Si Sawat District

Waterfalls in Thailand: Pha Charoen
This extraordinary sight in the mountains of Namtok Pha Charoen National Park is just a short trek from the road, but presents travelers with an almost otherworldly spectacle. Tumbling down 97 limestone steps, the Pha Charoen waterfall descends like an enchanted staircase – just one of many eye-catching natural treasures to be uncovered in the park.

Location: Phop Phra District, Tak Province, Northwest Thailand.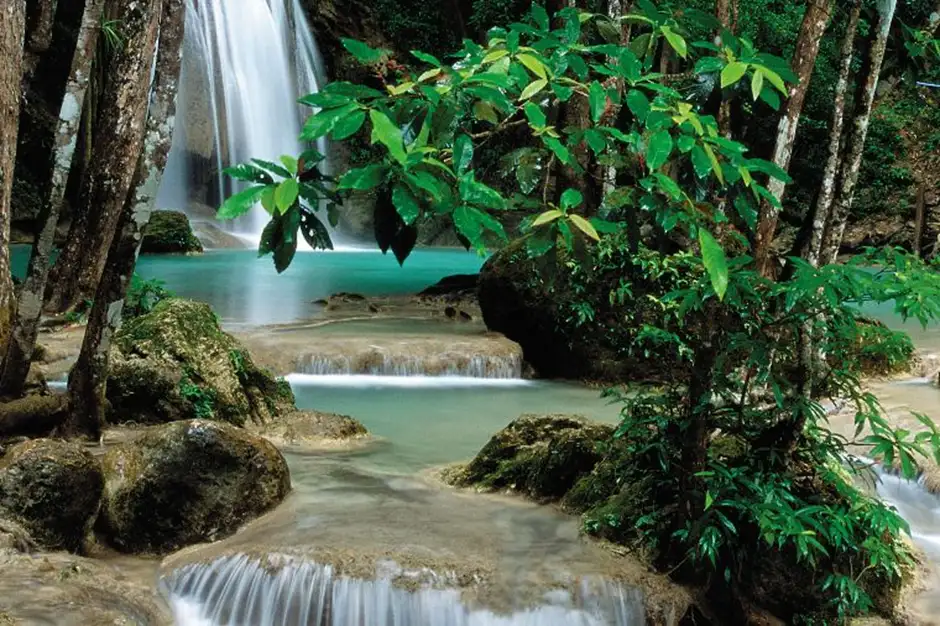 The amazing Erawan Waterfalls, located in the jungles of Kanchanaburi.
Waterfalls in Thailand: Ton Nga Chang
Also known as Elephant's Tusks Waterfall, Ton Nga Chang gets its name from the way its rocky shelves cut the stream in two. Surrounded by a network of trekking trails and gorgeous scenery, this seven-tiered jungle giant is just as majestic as its namesake.

Location: Hat Yai Province, Southern Thailand.

Waterfalls in Thailand: Bang Pae
Just an hour beyond the city limits of Phuket, Bang Pae Waterfall is one of the island's best kept secrets. Take a dip in its freshwater pools and listen to the birds singing in the canopy overhead, and you're sure to feel a world away from the bright lights and buzz of the city.

Location: Khao Phra Thaeo National Park, Pa Klok, Thalang District, Phuket.
If you're looking for wild adventures in Phuket, check out this tour. It combines rafting, quad biking and waterfalls, with lunch included.
Waterfalls in Thailand: Khlong Lan
Khlong Lan is an epic waterfall in the UNESCO-listed national park that bears the same name. Standing over 328 feet (100 m) tall, this impressive wall of water tumbles into a canyon and sprays mist all over the landscape. A site of sacred importance to local people, this is one of Thailand's natural wonders that's too good to miss.

Location: Khlong Lan National Park, Kamphaeng Phet Province.
Waterfalls in Thailand: Thi Lo Su
Tumbling down in three separate tiers and framed by pristine rainforest, Thi Lo Su is a photographer's dream come true. At this spot, the mighty Mae Klong River spills over a natural shelf in the landscape, stretching an impressive 1,476 feet (450 m) wide and standing 1,312 feet (400m) tall.

Location: Umphang Wildlife Sanctuary, Umphang District, Central Thailand.

Waterfalls in Thailand: Sridit
With its wide curtain of water and the roots of banyan trees entangled in the rock, this beautiful waterfall near Phetchabun in north-central Thailand is a captivating place to swim, pose for pictures, or simply enjoy the view.

Location: Nong Mae Na, Khao Kho District, Phetchabun.
Waterfalls in Thailand: Koh Luang
Tucked away in an enclave of northern Thailand's Mae Ping National Park, Koh Luang waterfall appears like a beautiful oasis. The river trickles down limestone walls into an emerald pond – after a long and sticky trek through the forest, its waters are irresistible.

Location: Mae Ping National Park, Tambon Ko, Amphoe Li, Chang Wat Lamphun.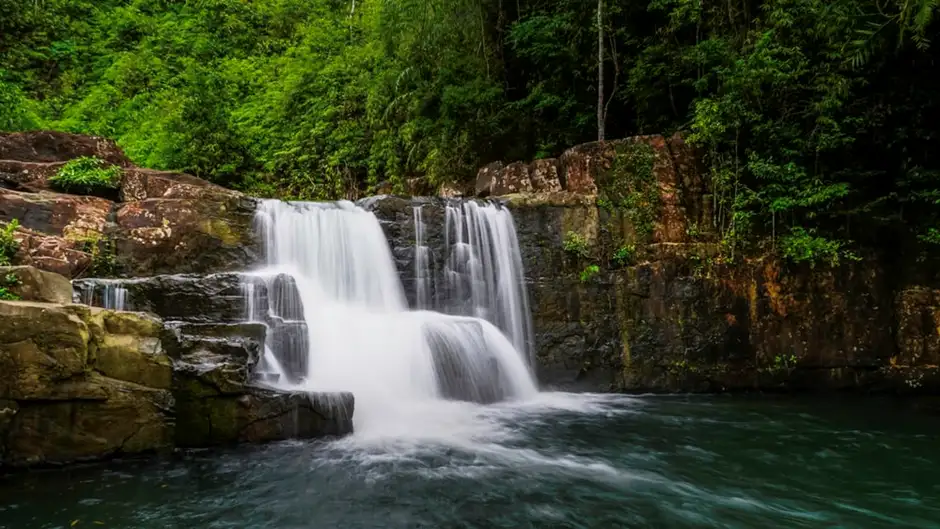 Thailand's waterfalls are some of the kingdom's most impressive natural treasures - like the Khlong Yai Kee falls on Koh Tut Island (above) (source: David Gardiner / Unsplash)
Waterfalls in Thailand: Mae Ya
About an hour's drive from Chiang Mai, Mae Ya is one of Thailand's biggest and most spectacular waterfalls. Standing over 850-feet (260m) tall, it cascades down in wide curtains of water, framed by verdant jungle scenery.

Location: Doi Inthanon National Park, Ban Luang, Chom Thong District, Chiang Mai.

Waterfalls in Thailand: Khun Korn
At the far northwestern tip of Thailand, near the border town of Chiang Rai, Khun Korn waterfall is a remote and romantic spot that's well worth a visit. Here, the water tumbles down in a 230-feet (70m) horsetail, which is flicked to one side by the wind and lit up with rainbows when the sunlight hits. There's a tranquil pool at the foot of the falls, so don't forget to bring your swimming gear!

Location: Khun Korn Forest Park, Chiang Rai District, Northern Thailand.
Wherever you travel in Thailand, you're never far from one of the kingdom's many natural treasures. If you're planning a trip to the Land of Smiles, remember to head over to Trip.com, where there's plenty of deals, details, and inspiration for your travels.

Whether booking your flights or looking for a place to stay, Trip.com is with you every step of the way.
FAQ
What is the tallest waterfall in Thailand?

Standing over 1300 feet (400 m) tall, the Thi Lo Su Waterfall is believed to be the biggest in Thailand.

How many waterfalls are there in Phuket?

There are four major waterfalls in Phuket: Bang Pae, Kathu, Ton Sai, and Ton Ao Yon.

Is it safe to swim in Thailand's waterfalls?

Generally speaking, the waters are quite clean and you're unlikely to meet any dangerous animals. The only real danger comes from the water current, so be extra careful during the rainy season, when rivers are flowing at their strongest.

What is the best waterfall in Thailand?

The Erawan Waterfalls are among the most beautiful in all of Thailand, and are very popular among visitors.