Overview of Cuba Holidays 2022
Cuba is a destination of beauty and substance. Visitors can't help but get immersed in the community's customs and traditions. One of the easiest ways to truly experience a country's culture while on vacation is by observing how the local community celebrates their holidays. It's like getting a sneak preview of what it's like to live the Cuban experience.
Those thinking of visiting Cuba this year, would greatly benefit from this list of national holidays in Cuba 2022.
National Holiday
Observed Date
Day of Week
Liberation Day
January 1, 2022
Saturday
Good Friday
April 15, 2022
Friday
Labor Day
May 1, 2022
Sunday
Commemoration of the Assault of
the Moncada Garrison & National Rebellion Day
July 25, 2022 - July 27, 2022
Monday - Wednesday
Independence Day
October 10, 2022
Monday
Christmas Day
December 25, 2022
Sunday
New Year's Eve
December 31, 2022
Saturday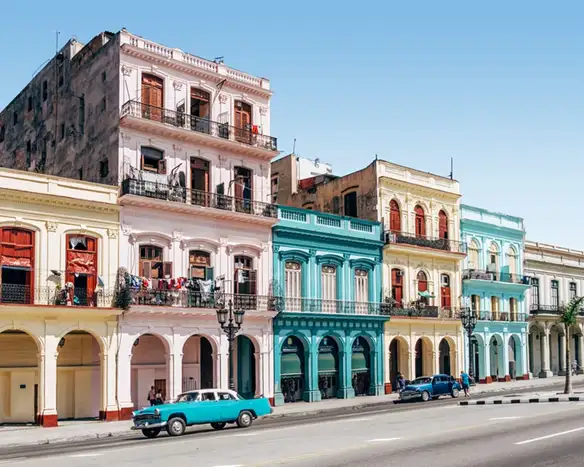 Cuba

Holidays 2022 - Triumph of the Revolution
Date: January 1, 2022
Day of the week: Saturday
The Triumph of the Revolution holiday, also known as Liberation Day, is observed annually on the first day of the new year. It commemorates the victory of the Cuban Revolution of 1959. This victory established the current governmental structure in Cuba.
On the day of the celebration, commemorative parades led by the Cuban military are held. The very first of these parades took place in 1960 at the Plaza de la Revolución (Revolution Plaza). It is customary to host musical events on this day as a form of celebration, and fireworks can be spotted as well.
While Triumph of the Revolution is most widely celebrated in Cuba, Cubans all over the world will host small celebrations that remind them of home.
Cuba

Holidays 2022 - Good Friday
Date: April 15, 2022
Day of the week: Friday
Good Friday, also known as Holy Friday, is a holiday observed by Christian communities globally, and Cuba is no exception. The day is dedicated to commemorating the passing of Jesus Christ, and is considered a day of mourning.
For many Christian Cubans, Good Friday is a day on which they opt to pay their respects by abstaining from eating meat or fasting. They also attend an afternoon church service. Some churches re-enact the Stations of the Cross, a depiction of Jesus Christ's last hours.
The date of this holiday changes every year based on the calculations that determine the Christian Calendar.
Cuba

Holidays 2022 - Labor Day
Date: May 1, 2022
Day of the week: Sunday
On May 1 of each year, Labor Day is celebrated in Cuba. The holiday is meant to thank laborers for their hard work throughout the year and discuss the improvement of labor conditions.
Members of the local working community take the opportunity to gather in Havana's Revolution Plaza to celebrate. It is not unusual to host musical activities like concerts on this occasion. Traditionally, parades are organized where marchers raise their Cuban flags while dressed in red. The highlight of the event is the Labor Day speech given by a local leader.
Cuba

Holidays 2022 - Commemoration of the Assault of the Moncada Garrison & National Rebellion Day
Date: July 25, 2022 - July 27, 2022
Day of the week: Monday - Wednesday
The Commemoration of the Assault of the Moncada Garrison, which includes The Day of the Rebellion, is observed over the span of 3 days. The holiday is credited with the onset of the revolutionary movement called M 26-7 starting in 1953.
The holiday is commonly used to display a sense of national pride. The people gather in Cuba's capital city of Havana, where a carnival parade commemorates the occasion.
Cuba

Holidays 2022 - Independence Day
Date: October 10, 2022
Day of the week: Monday
Every year on October 10, Cubans celebrate Independence Day. The holiday is often more specifically called the Anniversary of the Beginning of the War of Independence, as the journey to independence has been lengthy, it began 1868.
While this holiday is observed annually, schools and places of work remain open.
Cuba

Holidays 2022 - Christmas Day
Date: December 25, 2022
Day of the week: Sunday
Just like Good Friday, Christmas Day is a religious Christian holiday. It is celebrated annually on December 25, to commemorate the birth of Jesus Christ. While Christmas Day is primarily a religious holiday, non-religious people and people of different faiths tend to celebrate the holiday as well. Regardless of religion, many Cubans consider Christmas Day and the season surrounding it an opportunity to spend time with their families.
While Christmas Day is the official holiday, Christmas Eve (Noche Buena) is considered even more important by most Cubans. Many families come together on December 24, and enjoy each other's company over a traditional Cuban feast. After dinner, some Christian families head out to a midnight church service, allowing the community to ring in Christmas Day together, practicing their faith.
While the holiday is widely observed now, for quite some time, Christmas was not celebrated in Cuba. It wasn't until 1998 that Christmas Day was reintroduced as an official Holiday.
Cuba

Holidays 2022 - New Year's Eve
Date: December 31, 2022
Day of the week: Saturday
In Cuba, as it is in many nations, New Year's Eve is celebrated annually on December 31.
Some people will celebrate New Year's Eve by having a nice meal at a restaurant or by attending a New Year's Eve dinner show. However, in most Cuban households, New Year's Eve is celebrated at home with family.
The same traditional meals that are enjoyed on Christmas Eve and Christmas Day are also prepared for the last day of the year. While red wine and rum are common beverages consumed on New Year's Eve, sparkling wine is used for a celebratory toast at midnight. When the clock strikes 12, an official ceremony featuring a 12-gun salute is broadcast live. While some families gather in the living room to watch, others will start heading out to New Year's parties.