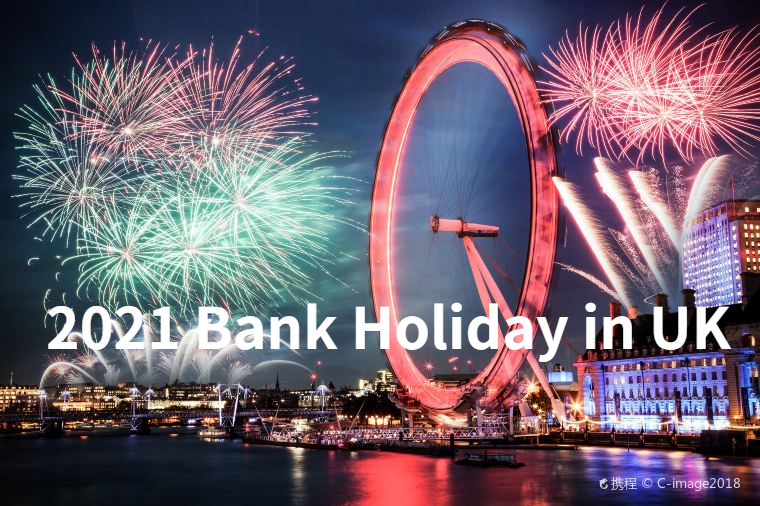 UK Bank Holiday 2021: New Year's Day
Friday 1 January
As in most parts of the world, New Year's celebrations in the UK begin on the day before New Year's Eve on December 31.In the UK, people participate in New Year's parties at home, or celebrate New Year's Eve in restaurants, bars or on the street, counting down to the end of the year, and wishing each other New Year with champagne and other sparkling drinks when the clock strikes twelve o'clock hapiness. New Year's Day did not become a bank holiday in England until 1st January, 1974.
UK Bank Holiday 2021: Good Friday
Friday 2 April
Good Friday is a bank holiday in UK. In the UK, Lent ends with pastries. These sweet buns with currants or raisins have a cross made of shortcrust pastry with a sticky glaze on top. They are traditionally eaten on Good Friday, and the cross symbolizes the cross on which Jesus was nailed.Every year on Good Friday, tens of thousands of British people gather in Trafalgar Square in London to watch an open-air passion drama depicting the crucifixion of Jesus. The 90-minute production is completely a free gift for Londoners and tourists.
UK Bank Holiday 2021: Easter Monday
Monday 5 April
Three of the four countries in the UK have Easter Monday as a bank holiday: England, Wales and Northern Ireland. Modern Easter celebrations revolve around eggs. In many families, the last egg before Easter Monday is used to make pancakes on Tuesday. The Christian tradition of eggs helps to represent rebirth and resurrection-new life is born from eggs. It is also said that the egg is reminiscent of the shape of the stone rolled from the tomb on Easter Sunday, with the body of Jesus on it.
UK Bank Holiday 2021: Early May bank holiday
Monday 3 May
Early May bank holiday is a national public holiday in the UK and is celebrated on the first Monday in May. The May Day celebrations in Britain have a long history, dating back to the pagan era. However, this holiday was introduced by the socialist government at the time to commemorate International Labor Day. In 1995, the bank holiday in early May was moved from May 1 to May 8.
UK Bank Holiday 2021: Spring bank holiday
Monday 31 May
The spring bank holiday, also known as May bank holiday, is a natioanl day off in UK. This day is usually used for gathering with friends and enjoying the early summer weather. Like other bank holidays, the origin of this holiday is related to ancient religious holidays. In 1971, the government replaced the previous late May holiday. This day was originally Easter, but it was moved to the end of May and was renamed Spring bank holiday. Every year on the last Monday in May, the United Kingdom celebrates the Spring bank holiday.
UK Bank Holiday 2021: Summer bank holiday
Monday 30 August
The Summer bank holiday, also known as August bank holiday, is a holiday that marks the end of summer for many people. During the three-day weekend, many people take short trips or vacations to visit family and friends in different parts of the country. The summer bank holiday was introduced in the Bank Holiday Act of 1871. Its original purpose was to give bank employees the opportunity to participate in and participate in cricket matches.
UK Bank Holiday 2021: Christmas Day
Monday 27 December (substitute day)
Christmas Day is a bank holiday in the UK. This is a day off for the general public, schools and most businesses are closed. For England, Christmas is the time when all family members gather together from anywhere. Every family has its own tradition. With families far apart, deciding who will host Christmas this year is an important decision. Family members often buy gifts from each other and place them under the Christmas tree, which they open on Christmas Day.
UK Bank Holiday 2021: Boxing Day
Tuesday 28 December (substitute day)
Boxing Day is a holiday celebrated the day after Christmas Day, and it occurs on the second day of Christmas. Although it originated as a holiday for giving gifts to the poor, today Boxing Day is mainly regarded as a shopping holiday. It originated in Britain and is celebrated in many countries that formerly belonged to the British Empire. Boxing Day is December 26, but additional bank holidays or public holidays may be on the same day or one or two days later (e.g., it is on 28 December in 2021).
Check UK bank holidays
Best Choices for 2021 Bank Holidays on Trip.com
PURCHASE WITH TRIPCOINS BACK | Discounts & Tripcoins
Simply enter promo code and earn 1 Trip Coins for every €/£ spend at at The Bicester Village Shopping Collection in the UK, France and Spain until 31st December 2021.
Promo code validity: Now until 31 December, 2021