Hotel Balaji
S.C.O 2925-26, Dakshin Marg, Sub. City Center, Sector 22/copp. J.W.Marriot, Chandigarh, 160022, India
Show on map
7.7 km from Chandigarh Railway Station, 2.2 km from Rose Garden, 5.2 km from Sukhna Lake. For people visiting Chandigarh Hotel Balaji offers a comfortable staying option. Some of the services offered here include travel desk, doctor on call, taxi services, guide service, airport/railway station transfer laundry etc. Chandigarh Airport is about 12 kms. from the hotel, whereas Chandigarh Railway Station is almost 8 kms. away. Hotel Facilities Travel Desk, Doctor on Call (On Request) Chargeable Services Taxi Services, Guide Service, Airport/Railway Station Transfer, Laundry Room Amenities AC, Television, Intercom, Mineral Water (Chargeable), Daily Newspaper (On Request) | Shower Area | Geyser in Bathroom | Hot/Cold Water | Bathroom Toiletries The hotel offers accommodation in 14 rooms in 2 categories: Deluxe AC and Super Deluxe AC. It also offers room service between 7 AM and 11 PM. Dining Food is served through room service. Internet: Not Available & Parking Facility: Available Check-In Time: 12:00 PM & Check-Out Time: 12:00 PM
Show More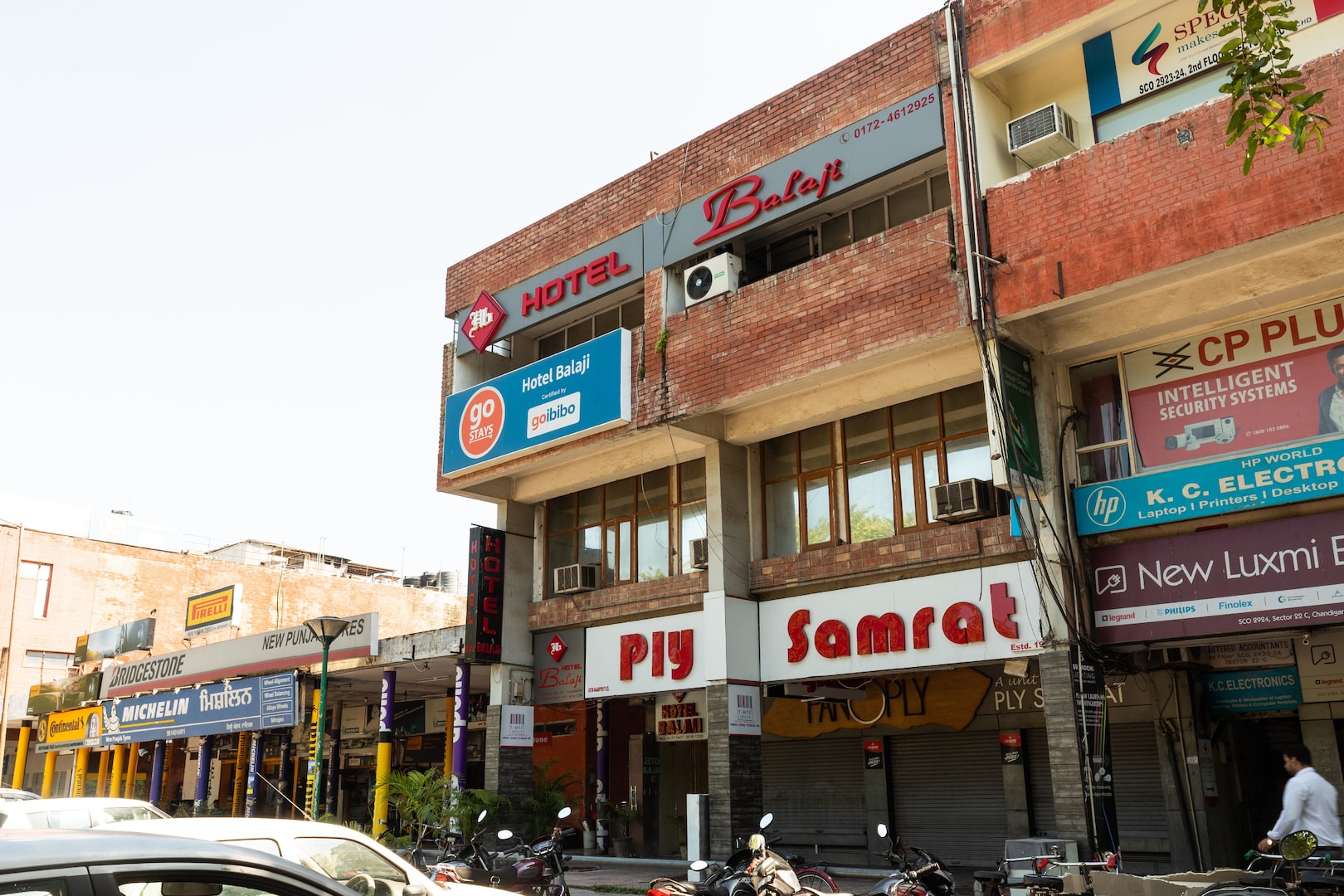 4 places of interest within 1000m, 1.3km from downtown
View Map

Deluxe Room
Photos and Amenities

Deluxe Room(Super)
Photos and Amenities
Hotel Policy
Check-in and Check-out
Check-in
from 12:00
Check-out
before 12:00
Need to Know
Important City Info
Effective from Oct 1, 2019, an additional tax will be charged per night according to the following standard: not applicable to room rates of INR 1,000 and under; 12% for room rates from INR 1,001 to 7,499; 18% for room rates of INR 7,500 and above.
Hotel Description
7.7 km from Chandigarh Railway Station, 2.2 km from Rose Garden, 5.2 km from Sukhna Lake. For people visiting Chandigarh Hotel Balaji offers a comfortable staying option. Some of the services offered here include travel desk, doctor on call, taxi services, guide service, airport/railway station transfer laundry etc. Chandigarh Airport is about 12 kms. from the hotel, whereas Chandigarh Railway Station is almost 8 kms. away. Hotel Facilities Travel Desk, Doctor on Call (On Request) Chargeable Services Taxi Services, Guide Service, Airport/Railway Station Transfer, Laundry Room Amenities AC, Television, Intercom, Mineral Water (Chargeable), Daily Newspaper (On Request) | Shower Area | Geyser in Bathroom | Hot/Cold Water | Bathroom Toiletries The hotel offers accommodation in 14 rooms in 2 categories: Deluxe AC and Super Deluxe AC. It also offers room service between 7 AM and 11 PM. Dining Food is served through room service. Internet: Not Available & Parking Facility: Available Check-In Time: 12:00 PM & Check-Out Time: 12:00 PM
Haven't found the right hotel yet?