Tristar Hotel
Jalan Sultan Agung No.60, Kediri, Jawa Timur, Indonesia
Show on map
LocationTristar Hotel is a hotel in a good neighborhood, which is located at Kediri City Center.The hotel is located only 1.04 km away from Kediri Station.Not only well positioned, but Tristar Hotel is also one of hotels near the following Alun-Alun Kota Kediri within 0.58 km and Dhoho Plaza within 0.59 km.About Tristar HotelTristar Hotel is highly recommended for backpackers who want to get an affordable stay yet comfortable at the same time.For you, travelers who wish to travel comfortably on a budget, Tristar Hotel is the perfect place to stay that provides decent facilities as well as great services.Spend quality time at Tristar Hotel with your spouse. Make it an unforgettable stay by enjoying all services and facilities that the hotel has to offer.From business event to corporate gathering, Tristar Hotel provides complete services and facilities that you and your colleagues need.Have fun with various entertaining facilities for you and the whole family at Tristar Hotel, a wonderfu
Show More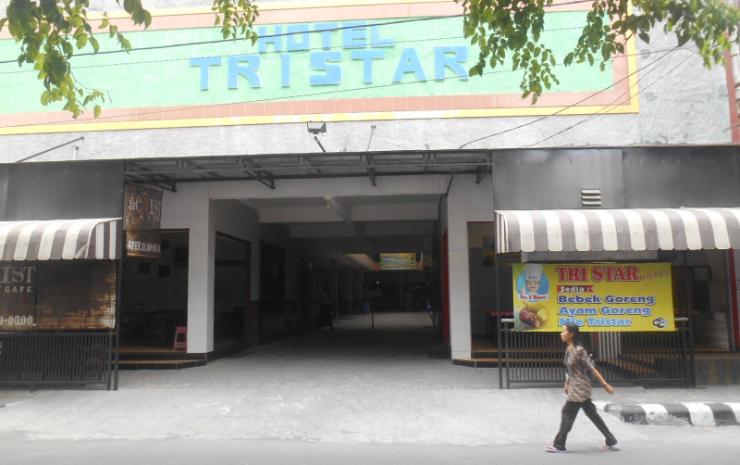 1 place of interest within 1000m, 1.2km from downtown
View Map
Standard Room(Air Conditioner)
Special offer! Non-refundable

Standard Room(Non Air Conditioner)
Special offer! Non-refundable

Special offer! Non-refundable
2 single beds or 1 double bed
Hotel Policy
Check-in and Check-out
Check-in

from 13:00

Check-out

before 12:00
Need to Know
Important City Info
[Sep 28, 2021 - Dec 31, 2021] PeduliLindungi App and Covid-19 vaccination are mandatory requirement for entry into hotels in order to monitor risk zones and the number of people in a building.
Hotel Description
LocationTristar Hotel is a hotel in a good neighborhood, which is located at Kediri City Center.The hotel is located only 1.04 km away from Kediri Station.Not only well positioned, but Tristar Hotel is also one of hotels near the following Alun-Alun Kota Kediri within 0.58 km and Dhoho Plaza within 0.59 km.About Tristar HotelTristar Hotel is highly recommended for backpackers who want to get an affordable stay yet comfortable at the same time.For you, travelers who wish to travel comfortably on a budget, Tristar Hotel is the perfect place to stay that provides decent facilities as well as great services.Spend quality time at Tristar Hotel with your spouse. Make it an unforgettable stay by enjoying all services and facilities that the hotel has to offer.From business event to corporate gathering, Tristar Hotel provides complete services and facilities that you and your colleagues need.Have fun with various entertaining facilities for you and the whole family at Tristar Hotel, a wonderfu
Transport & Attractions
Places of Interest
Martha Tilaar Salon & Day Spa
1.1km
Nakamura The Healing Touch - Kediri
1.4km
Jembatan Lama Kota Kediri
1.7km
GPIB Jemaat Immanuel Kediri
2km
Tristar Hotel Frequently Asked Questions
How much does it cost to stay at Tristar Hotel?
Prices at Tristar Hotel are subject to change according to dates, hotel policy, and other factors. To view prices, please search for the dates you wish to stay at the hotel.
What are the check-in and check-out times at Tristar Hotel?
The check-in time is from 13:00 and the check-out time is before 12:00.
Is parking available at Tristar Hotel?
No, there's no parking available at Tristar Hotel.
Where is Tristar Hotel?
The hotel address is Jalan Sultan Agung No.60. The hotel is 1.18 km from the city center.
Is Tristar Hotel nearby popular attractions?
Tristar Hotel is near the following attractions: GOR Jayabaya(Approximately 877m), Tjoe Hwie Kiong Temple(Approximately 1km), Martha Tilaar Salon & Day Spa(Approximately 1.1km).
Show More
Haven't found the right hotel yet?