Patina Maldives, Fari Islands
North Male Atoll, Maldives, 20026, Maldives
Show on map
Opened: 2021 Moving to the rhythm of todays curious and conscious traveller - Patina Maldives Fari Islands honours the individuality of each guest with vibrant social spaces - serene private sanctuaries and discreet tech - Art and culture are warmly embraced at Patina Maldives making this multi-faceted resort a sophisticated haven for devout epicureans and their kin - This new elevated lifestyle resort offers 90 one - two- and three-bedroom beach and over water pool villas plus 20 Fari Studios - an expansive array of enticing food and beverage options - 2 pools - a spa - yoga pavilion and a gym - an art gallery and exciting retail stores - an outdoor cinema and camp fire - a nature discovery centre and water sports centre - a 20-berths marina for private yachts and a world-class beach club - The Fari Islands located in the North Male Atoll at a 45-minutes speedboat transfer from the airport - present an integrated luxurious - Maldivian multi-brand experience with a communal beating heart and offer an authentic suite of experiences rooted in Maldivian culture - Patina Maldives is a refreshingly different refined destination for the cultured intelligentsia that is unrivalled in the Maldives
Show More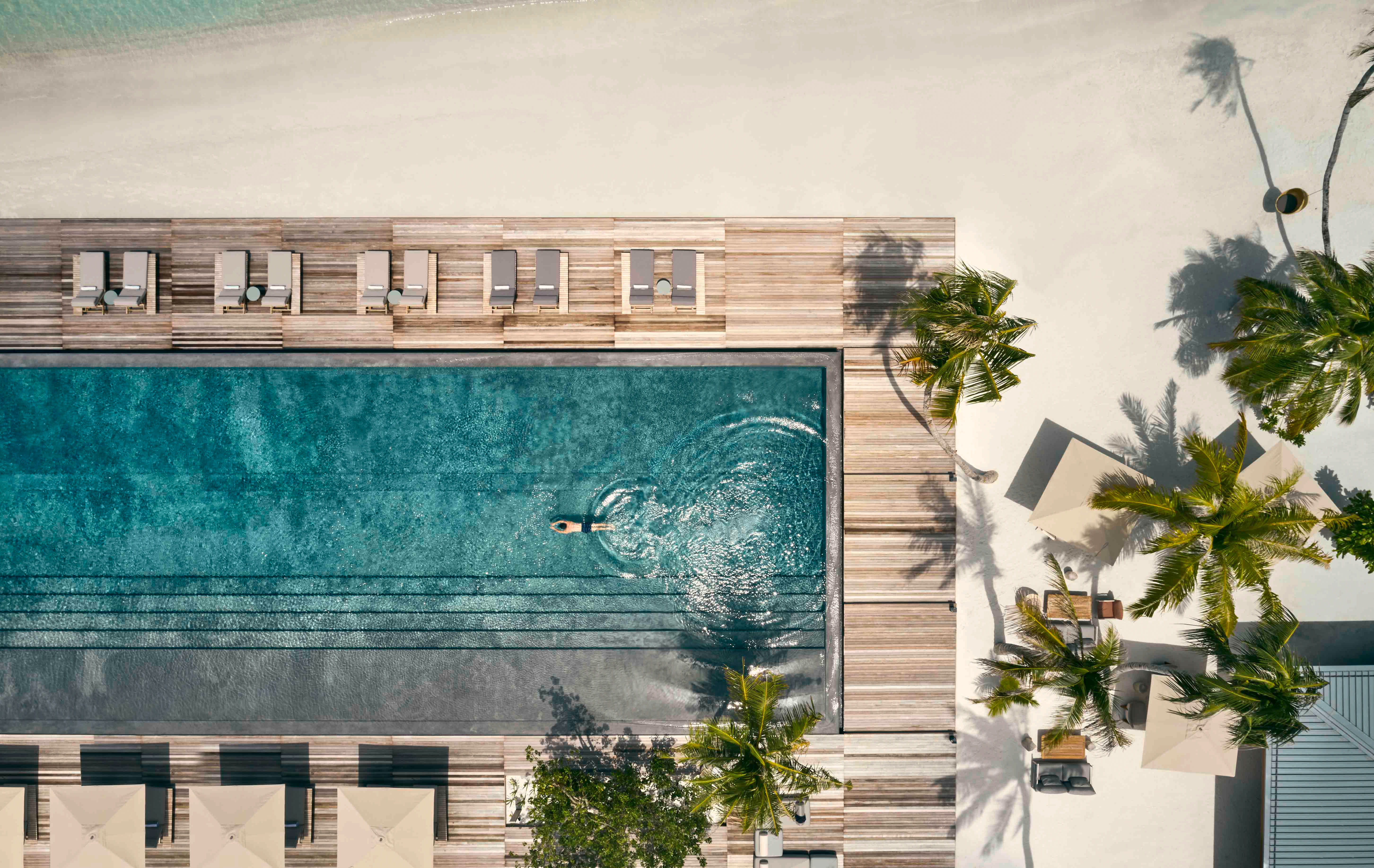 No places of interest within 1000m, 48.9km from downtown
View Map
Wi-Fi in designated areas

One Bedroom Beach Pool Villa Twin
Sea view
Photos and Amenities

One Bedroom Sunset Beach Pool Villa King
Sea view
Photos and Amenities

One Bedroom Water Pool Villa Twin
Sea view
Photos and Amenities

One Bedroom Water Pool Villa King
Sea view
Photos and Amenities

One Bedroom Sunset Water Pool Villa King
Sea view
Photos and Amenities

One Bedroom Sunset Water Pool Villa Twin
Sea view
Photos and Amenities
Hotel Policy
Check-in and Check-out
Check-in
from 14:00
Check-out
before 12:00
Check-in Method
Please contact the hotel or homestay for information on how to check in.
Children and Extra Beds
Children are welcome at this hotel.
Need to Know
Important City Info
Guests are required to enter the names of everyone who will check in (children included) on the booking. Children's ages should also be noted. Since the hotel needs to book the shuttle service in advance, please note that additional charges may apply. If the provided information is incomplete, the hotel will not be able to confirm the booking.
Hotel Description
Opened: 2021
Number of Rooms: 90
Moving to the rhythm of todays curious and conscious traveller - Patina Maldives Fari Islands honours the individuality of each guest with vibrant social spaces - serene private sanctuaries and discreet tech - Art and culture are warmly embraced at Patina Maldives making this multi-faceted resort a sophisticated haven for devout epicureans and their kin - This new elevated lifestyle resort offers 90 one - two- and three-bedroom beach and over water pool villas plus 20 Fari Studios - an expansive array of enticing food and beverage options - 2 pools - a spa - yoga pavilion and a gym - an art gallery and exciting retail stores - an outdoor cinema and camp fire - a nature discovery centre and water sports centre - a 20-berths marina for private yachts and a world-class beach club - The Fari Islands located in the North Male Atoll at a 45-minutes speedboat transfer from the airport - present an integrated luxurious - Maldivian multi-brand experience with a communal beating heart and offer an authentic suite of experiences rooted in Maldivian culture - Patina Maldives is a refreshingly different refined destination for the cultured intelligentsia that is unrivalled in the Maldives
Services & Amenities
Wi-Fi in designated areas
Free
Airport shuttle service
(Additional fee)
Airport pickup service
Restaurant
Bar
Front desk (24 hours)
Gym
Spa
Billiards
Basketball court
Sauna
Luggage storage
Outdoor swimming pool
Karaoke
Kids' playground
Childcare service
Table tennis
Fax/copying service
Free
Tennis
Water sports
Diving
Business services
Snorkeling
Transportation Services
Drop-off Service (Airport)

Fees, Service Hours, and Booking Info

Airport shuttle service

(Additional fee)

Shuttle service to nearby landmarks

(Additional fee)
Front Desk Services
Attraction ticket counter
Public Area
Wi-Fi in designated areas

Free
Kid's Facilities
Children's board games/puzzles
Haven't found the right hotel yet?