Rakuten Stay Tokyo Asakusa
2-16-6 Azumabashi,Sumida, Tokyo, 130-0001, Japan
Show on map
First in Tokyo Rakuten STAY brand is newly opened in Asakusa It is a convenient location for business and sightseeing about a 3minute walk from Honjo Azumabashi on the Toei Asakusa Line and an 8minute walk from Asakusa Station and Tokyo Sky Tree Station Conveniently accessible from Narita Airport and Haneda Airport it is recommended as a base for your trip Since it is a nonfacetoface checkin on a tablet it is possible to minimize contact with people As a measure against corona we also carry out sterilization and cleaning so you can stay in a new style of travel There is also a rental cycle on the 1st floor so its convenient to go out Registration with the app is required There are popular sightseeing spots nearby and the Ueno area is a 15minute train ride away Enjoy a fulfilling Tokyo stay Sensoji Temple Approximately 10 minutes on foot Tokyo Sky Tree R Approximately 7 minutes on foot Tokyo Mizumachi Approximately 4 m
Show More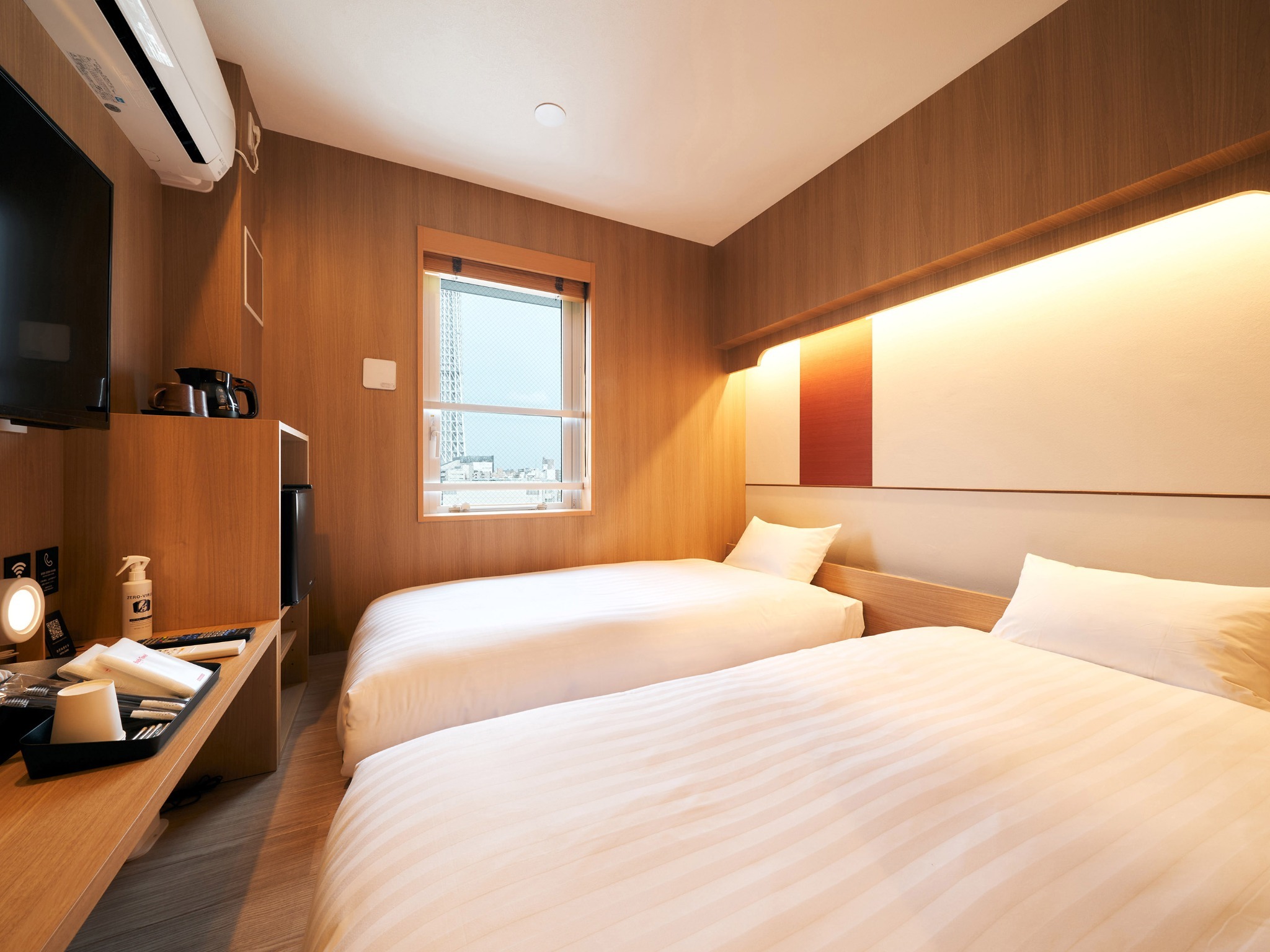 10 places of interest within 1000m
View Map
Wi-Fi in designated areas

Single Room, Non Smoking
Photos and Amenities

Double Room, Non Smoking (Lower Floor, No View)
Photos and Amenities

Double Room, Non Smoking
Photos and Amenities

Twin Room, Non Smoking
Photos and Amenities

Twin Room, Separated Bath and Toilet, Non Smoking
Photos and Amenities

Okaimono-Panda Room/ Double Room, Non Smoking
Photos and Amenities

Okaimono-Panda Room/ Twin Room A, Non Smoking
Photos and Amenities

Okaimono-Panda Room/ Twin Room B, Non Smoking
Photos and Amenities

Okaimono-Panda Room/ Top Floor Twin Room, Non Smoking
Photos and Amenities
Hotel Policy
Check-in and Check-out
Check-in
from 15:00 to 22:00
Check-out
before 10:00
Need to Know
Check-in and Check-out Times
Check-in: from 15:00 to 22:00. Check-out: before 10:00. Please ensure you check in within the designated times.
Important City Info
[Oct 1, 2021 - Dec 31, 2099] Effective from Oct 2002, an accommodation tax will be charged in Tokyo. Guests are required to pay JPY100 per guest per night if the room rate per night is JPY10,000–JPY14,999, or JPY200 per guest per night if the room rate per night is JPY15,000 or greater. This surcharge is not included in the total rate for some rooms and must be paid at the hotel.
Hotel Description
First in Tokyo Rakuten STAY brand is newly opened in Asakusa It is a convenient location for business and sightseeing about a 3minute walk from Honjo Azumabashi on the Toei Asakusa Line and an 8minute walk from Asakusa Station and Tokyo Sky Tree Station Conveniently accessible from Narita Airport and Haneda Airport it is recommended as a base for your trip Since it is a nonfacetoface checkin on a tablet it is possible to minimize contact with people As a measure against corona we also carry out sterilization and cleaning so you can stay in a new style of travel There is also a rental cycle on the 1st floor so its convenient to go out Registration with the app is required There are popular sightseeing spots nearby and the Ueno area is a 15minute train ride away Enjoy a fulfilling Tokyo stay Sensoji Temple Approximately 10 minutes on foot Tokyo Sky Tree R Approximately 7 minutes on foot Tokyo Mizumachi Approximately 4 m
Services & Amenities
Wi-Fi in designated areas
Free
Public Area
Wi-Fi in designated areas

Free
Haven't found the right hotel yet?