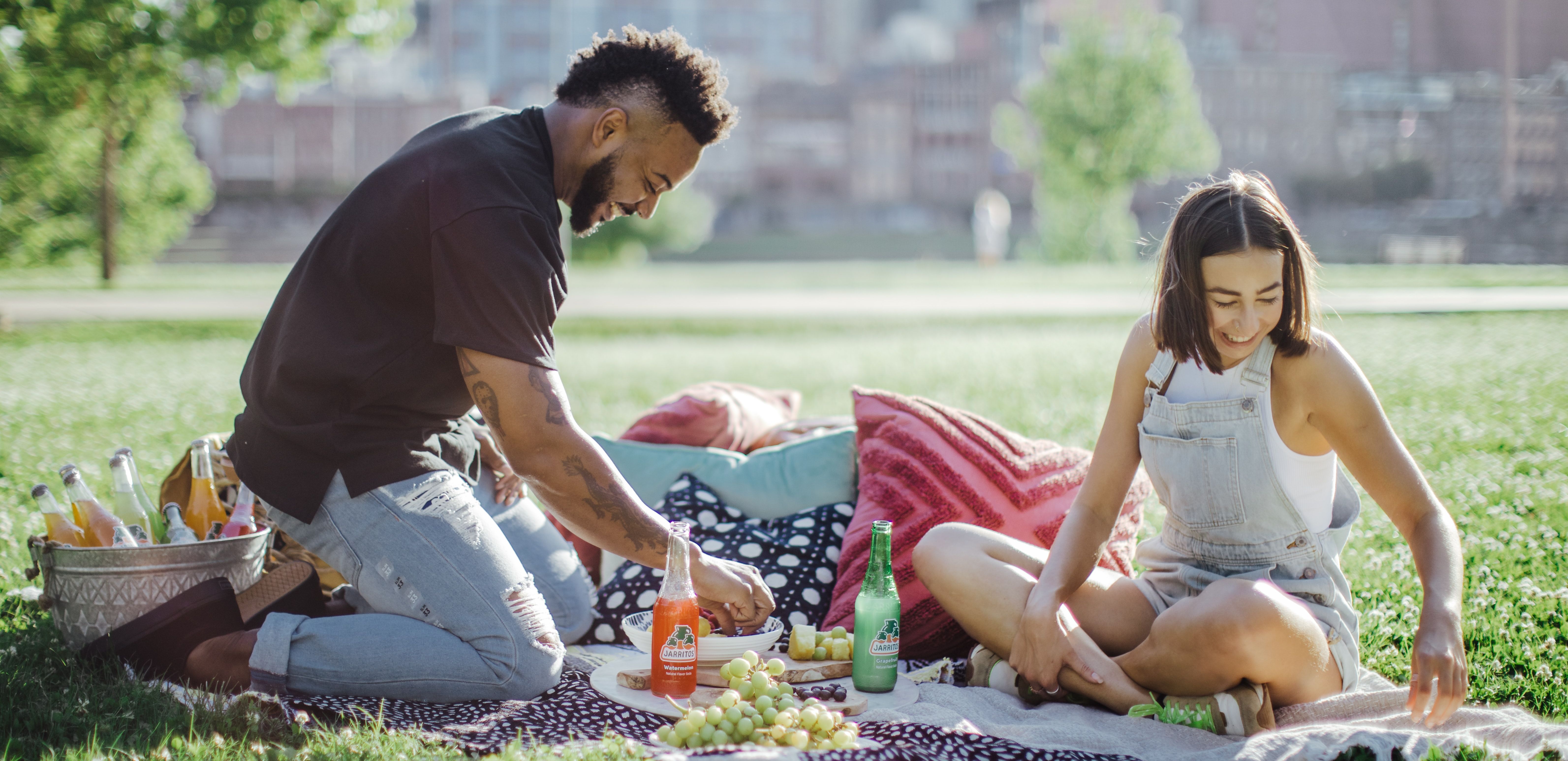 Spring has arrived! Wanderlusts are ready to pack their luggage and take their next trips to enjoy the sunshine, nature, and, of course, the blossom. As a growing number of countries begin to ease travel restrictions, people's pent-up desire for travel finally has a chance to be realised. As a season where national holidays fall in countries around the world, global travellers are seizing the perfect opportunity to venture out again.
Trip.com's data show that as spring kicks off, the number of global users searching and viewing travel products continue to rise. We looked into Trip.com data (February 1st, 2022 to March 21st, 2022), and found that the number of users viewing products and content for inspiration grew by 30%; meanwhile, global orders in this period also show an upward trend, with a 94% increase compared to the same period in 2021.
Trip.com's European, North and South American sites have seen the fastest growth, with search volumes all surpassing the pre-COVID 2019 level in the same period. East Asian and Southeast Asian markets are approaching 2019 levels too, when compared to the same period last year, both have seen a solid increase of 48% and 157% growth respectively.
The Most Popular Spring Destinations
Whether for their natural beauty or unique accommodation choices, our data also reveals the countries in Asia and Europe where Trip.com users are most eager to visit this spring.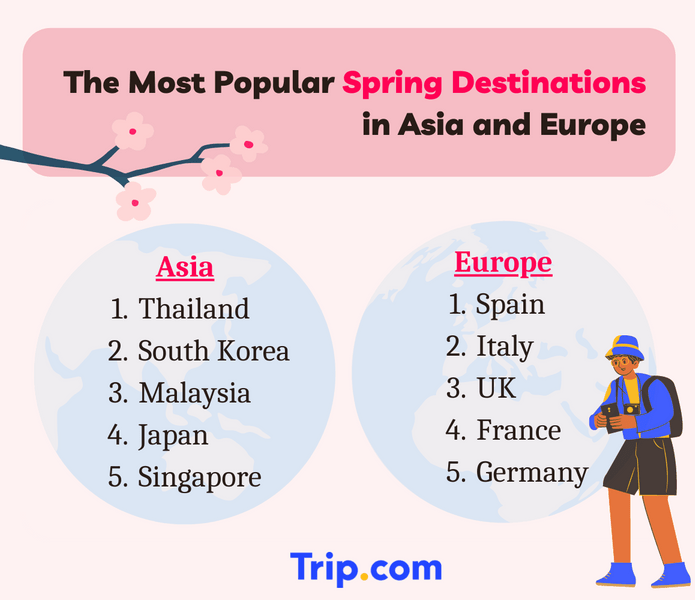 Take a Road Trip and Immerse Yourself in Nature
This year, we have seen Trip.com users are tending to book transportation for their spring trips first. From February 1st, 2022 to March 21st, 2022, transportation bookings grew the fastest. Whilst taking flights remains the most popular mode of transport for spring travellers, the number of car rental bookings is surging, especially in North America and Europe. Globally, the number of Trip.com users who viewed our car rental products has doubled compared to the same period last year, while car rental bookings have seen 300% YOY growth during this period.
Indeed, taking a road trip can be the ideal way to immerse yourself in enchanting spring scenery and admire nature along the way. With many national holidays taking place in spring, this season we see users in Europe, Japan and China opting to rent a car for short-haul travel over a long weekend break.
Asian Travellers Chase Spring Blossoms
Delving into user-generated content on the Trip Moments community, the home of traveller content on Trip.com, spring trip experiences and tips are trending across our platform. #hiking, #springblossom, # beachlife, #nature, and #camping are among the most popular content topics this March. As you can see from these spring activities, travellers around the world are yearning for the great outdoors after winter.
One thing that Asian travellers especially love to do this time of the year is to spend time admiring the spring blossoms. A growing number of Trip Moment users from Asian countries have taken to sharing pictures of their excursions under the blossom boughs. In recent years, as more cities hold cherry blossom festivals, more flower lovers flock to marvel at the explosion of colour that occurs during spring. While those who don't want to join the crowd prefer to discover other amazing blossom viewing spots through city walks or trips to nature parks. Recently, Trip.com released the top seven popular cherry blossom viewing spots in South Korea for those in search of the best locations to see the blossom bloom.
The Allure of Rural Life
Modern travellers are increasingly seeking out rural destinations, and this spring is no exception. According to 2021 Trending in Travel, a travel trend report by WTTC and Trip.com Group released last year, nature attraction bookings have been on the rise around the world since the onset of the pandemic.
A survey conducted by VisitBritain in this March showed that most respondents planned to spend their spring vacation in the countryside or village destination. The trend is reinforced by another piece of Trip.com Group's recent research, which revealed this year more spring travellers in mainland China are visiting suburban or rural areas for picnics, camping, or blossom viewing. According to iiMedia Research, the market scale of camping camps in mainland China increased from 7.71 billion yuan to 29.9 billion yuan from 2014 to 2021. The number of Ctrip users booking "camping"-related travel products in March and April in mainland China grew by 120% on a monthly basis.
Best Spring Deals at Trip.com
Wherever you go this spring, Trip.com offers travel products with great deals that are sure to suit your plan and budget. Check our offering below:
● Trip.com Japan Golden Week: up to 70% off on hotel bookings
Duration: March 15th - May 10th, 2022
Golden Week is one of the biggest holidays in Japan. Trip.com distributes a total number of 3,000 "5% Hotel Discount Coupons" to Japanese users on a first-come, first-served basis during the campaign period. Combining the discount and coupons*, you can book your hotel with up to 70% off!
Get your coupon here
*Note: the coupon can only be used in the participating hotels of this campaign
● Trip.com Europe Spring Campaign
Participating markets: UK, Germany, Spain, France
Duration: April 1st - 30th, 2022
This spring, Trip.com Europe sites will present a selection of top budget-saving offers on hotels and flights. Travellers visiting the UK, Germany, Spain, and France can find all the travel products their heart's desire and with great discount on Trip.com.
● Trip.com Korea Pension House Special Offer
Duration: Until June 30, 2022
Pension houses is a great choice for avid outdoorspeople, emerging visitors in nature, and providing a perfect quiet and carefree spring vacation. This spring, Trip.com South Korea has rolled out a special offer for Pension House booking, offering the best houses and best prices for nature lovers.