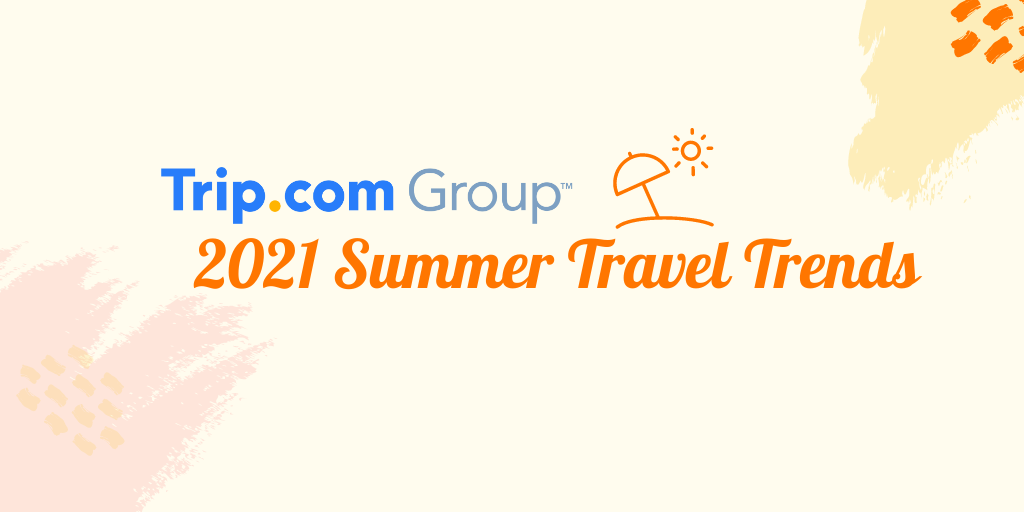 Trip.com Group has released its 2021 Summer Travel Data, which shows a healthy trajectory for domestic travel in mainland China, indicating a positive outlook towards the wider recovery of global travel. The trends around Gen-Z and families indicate their strong commitment to travel following lockdown, and signify that these are the key markets for travel brands to target as the world emerges from the pandemic.
Whilst the travel Group's Trip.com platform European booking data looks equally as promising, regardless of changes in travel restrictions in line with the UK Government's traffic light system. As the UK continues its successful vaccination programme and the rollout of the EU Digital COVID Certificate, there are more travel opportunities for those who are recently tested and fully vaccinated.
Mainland China domestic travel
Domestic travel bookings skyrocket
According to Trip.com Group's mainland China summer travel data taken from the Group's Ctrip platform, bookings for group and free and independent travel (FIT) this summer have increased by more than 10x compared to last year. Booking volume for cross-province tours during the summer grew by 413% YoY, indicating that Chinese travellers remain keen to explore their own country and keen to seek out exceptional experiences across various provinces.
The rise of Gen-Z travel
The research shows that university students' summer spending grew 40% YoY with some spending up to two months of living expenses on a trip. This highlights that the Gen-Z demographics' pent-up demand to travel and their appetite for new experiences is extremely strong as they are willing to dedicate a significant portion of their living expenses on travel experiences.
Family travel
While demand for European travel is slowly picking up, trips around mainland China have been very popular amongst families. Trip.com Group's 'Eat and Stay' package sales have grown by over 15x compared to last year, with family travellers accounting for more than 33% of the Group's hotel package purchasers. Island destinations are a particular family favourite; in terms of airline bookings, island trips have become the first choice for family travellers this summer - Shanghai–Sanya has become the busiest round-trip route for airlines. Evidently, people are still seeking seclusion through island experiences where they can travel in the safety of their own family 'bubble'.
European travel
Increase in hotel bookings
Despite changes in travel restrictions, Trip.com's booking data shows the European travel recovery is in full swing this summer following the loosening of travel restrictions and the rollout of the EU Digital COVID Certificate. Hotel bookings made by Trip.com UK users in the second quarter of 2021 saw 173% year-on-year growth, with the UK, Spain, France and Germany ranking among the top ten hotel destinations by Trip.com global booking volume during the same period. This is extremely positive news for our hotel and airline partners.
Rise in flight bookings
Flight bookings made by Trip.com UK users in June grew by 199% compared with June last year. Mediterranean destinations appear as popular as ever with flight bookings to Greece, Italy, Portugal and Spain all seeing over 1000% second quarter year-on-year growth - an impressive figure.
Trip.com's new European transport links
In June 2021, Trip.com became the first OTA to sell Eurail and Interrail mobile train passes which are set to boost regional tourism across the continent. With an 11-month pre-booking period, the Eurail Pass allows for non-European residents who want to explore up to 33 European countries by train, while the Interrail Pass is targeted towards European residents looking to discover up to 33 European countries by rail. It is evident from the Group's summer travel data that Gen-Z travellers are a key market to watch – not just in China, but globally – so this partnership presents an opportunity for younger travellers in particular to explore European destinations in line with travel regulations.
A key component to drive the recovery of travel has been for travel companies (hotels, airlines, tour operators, OTAs) to provide flexible booking options which is something that all of the brands within Trip.com Group offer. This has enabled travellers to have the confidence to book, knowing they won't lose out financially if their holiday is cancelled or needs to be postponed. For this reason, travellers have developed a more positive mind-set towards traveling in 2021 and 2022 which is reflected in Trip.com Group's summer travel data. As a leading global travel services provider at the forefront of the global travel revival, Trip.com Group is confident that the travel industry will continue to be on a positive trajectory towards recovery as they look ahead to the next 12 months.