Trip.com Group, the leading global travel service provider, has seen mainland Chinese demand for travel continue to surge in the run-up to the Lunar New Year holiday season. This comes after the decision last month by mainland China to officially abolish all quarantine restrictions for inbound visitors from 8 January.
Since the announcement on 26 December 2022, Trip.com Group has subsequently seen a huge increase in searches and the volume of travel bookings.
Flight bookings and destination search trends
On Trip.com Group's leading Chinese language travel service platform Ctrip, between 26 December 2022 and 5 January 2023, search interest for outbound flights from mainland China increased by 83% compared to the two-week period prior, with outbound flight bookings increasing by 59% over the same period.
Bookings show the most popular cross-border destinations include: Macau, Hong Kong, Taiwan, Thailand, Australia, Singapore, the United States, Malaysia, the United Kingdom, and Indonesia.
Lunar New Year Trends
With millions set to be on the move during the Lunar New Year holiday in China, also known as Spring Festival, which takes place from 21 - 27 January 2023 and brings together families from around the country, outbound bookings for trips have grown significantly.
The forthcoming Lunar New Year will also be the first following the liberalisation of border policies, with overseas destinations welcoming the first wave of returning Chinese tourists.
Analysis of Ctrip data shows overseas travel for the seven-day Lunar New Year holiday surged by 540% compared to last year's Spring Festival; and the average cost of bookings was revealed to have risen by 32% year-on-year.
Ctrip data also shows airline bookings from mainland China to Hong Kong increased by 18 times compared with the previous year, following the announcement to ease restrictions.The number of airline bookings to Hong Kong has also increased by 36% month-on-month. Similarly, the search popularity of Hong Kong on the platform was more than double that and increased by 85% month-on-month.
Taking a deeper look, the top ten most popular domestic destinations for the Spring festival are Shanghai, Beijing, Sanya, Guangzhou, Chengdu, Shenzhen, Kunming, Hangzhou, Chongqing and Haikou.
Southeast Asia Shines as Top Outbound Destination
As of January 12, 2023, in the run-up to the Lunar New Year holiday, overall travel bookings of mainland Chinese tourists to Southeast Asian countries increased by 1026% compared with the same period last year. The number of air ticket bookings from mainland China to Southeast Asia increased by 864% year-on-year, and the top 5 most popular destination countries for mainland Chinese tourists traveling to Southeast Asia during the Lunar New Year holiday are: Thailand, Singapore, Malaysia, Cambodia, and Indonesia.
According to Ctrip's data, from December 27 to January 11, Thailand stands out as a top destination for Chinese tourists during the Spring Festival holiday on the platform. During the same period, inbound travel bookings from Thailand to mainland China increased by 101% year-on-year.
In addition to this, as of January 12, the number of mainland tourists traveling to Singapore for the Lunar New Year holiday increased by 499% year-on-year, Malaysia saw an increase of 584% year-on-year, with Cambodia and Indonesia each increasing by more than 10 times year-on-year.
A Welcoming Return for Chinese Tourists
With the adjustment of mainland China's entry and exit policy, the cross-border travel market is also picking up with embassies and tourism boards across the world targeting Chinese tourists aiming to attract them back to visit their countries.
One example is The Tourism Authority of Thailand (TAT) who launched a campaign called 'CHINA IS BACK', to welcome the return of Chinese tourists. They expect more than 300,000 Chinese tourists to visit Thailand in the first three months of 2023 alone.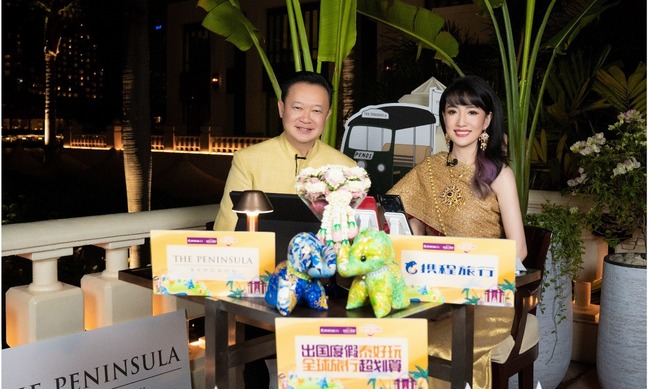 Trip.com Group's first livestream broadcast targeting the outbound mainland Chinese audience recorded sales of more than 20,000 room nights amounting to a Gross Merchandise Value of over RMB 40 million (THB 197 million). The livestream session was supported by the Tourism Authority of Thailand (TAT), which has been collaborating closely with Trip.com Group over the years. TAT Governor, Mr Yuthasak Supasorn, joined the broadcast and interacted with viewers.
Hosted by Trip.com Group Vice President Sun Tianxu and presenter Xiao Yu, the livestream session featured almost 60 products, including attractions tickets and staycation packages at hotels across Thailand such as The Peninsula Bangkok, Capella Bangkok, InterContinental Pattaya Resort, and Banyan Tree Krabi.