SHANGHAI, 23 March 2020 — In light of the ongoing impact of the COVID-19 outbreak, Trip.com recently announced an upgraded travel service, providing multilingual reference of up-to-date official entry restrictions and conditions to global travelers whose travel plan are affected by the outbreak.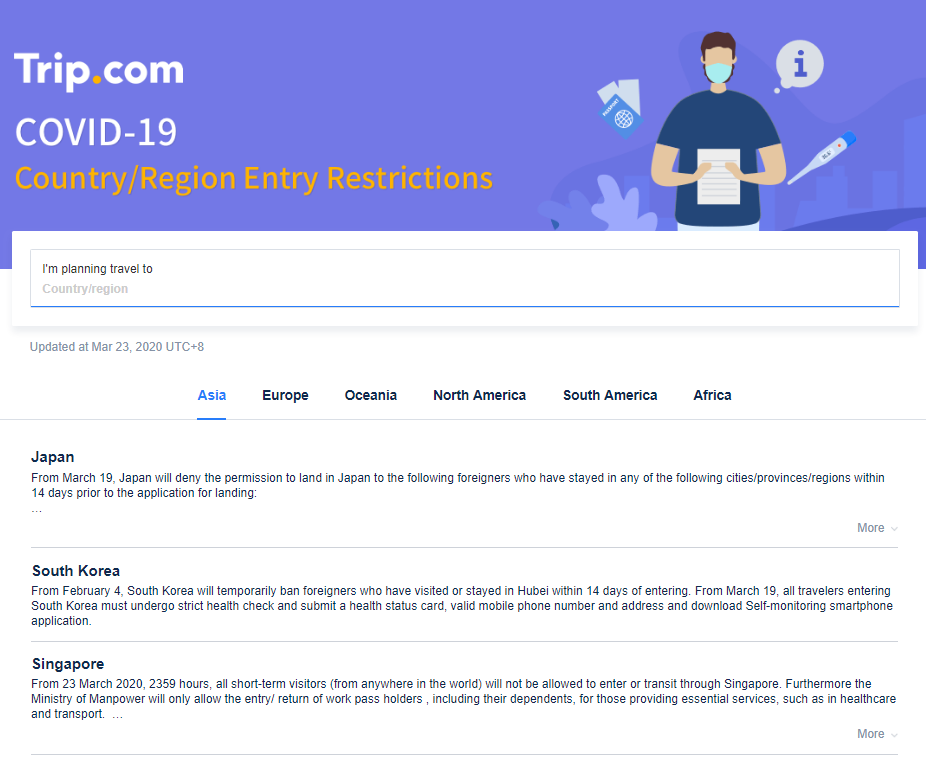 Trip.com is always committed to delivering better travel services and user experience for our global travelers. Following with the continually heightening entry procedures and restrictions, including banning entries, requiring health certificates, conducting health checks, or placing inbound passengers in quarantine, Trip.com promptly upgraded our reference page with the most up-to-date information.
Originally published in January, Trip.com continues to monitor world-wide countries' or regions' entry restriction policy and offers reference in support of our users. The reference is available in multiple languages, such as English, Japanese, Korean and Chinese Traditional, and covers more than 15 markets on Trip.com.
Trip.com continues to monitor the situation to ensure the safety of all travelers, and urges them to remain vigilant at all times. We advise all travelers to take on board necessary precautionary measures and the advice from local authorities to safeguard not only their health but also the well-being of others.
The travel advisory information is for reference only. The most up-to-date entry policies can be found in the respective country's/region's official travel prohibitions, warnings, announcements, and advisories. The bilingual reference pages on Trip.com will be kept up-to-date, but we urge all travelers to confirm travel restrictions with the relevant authorities.