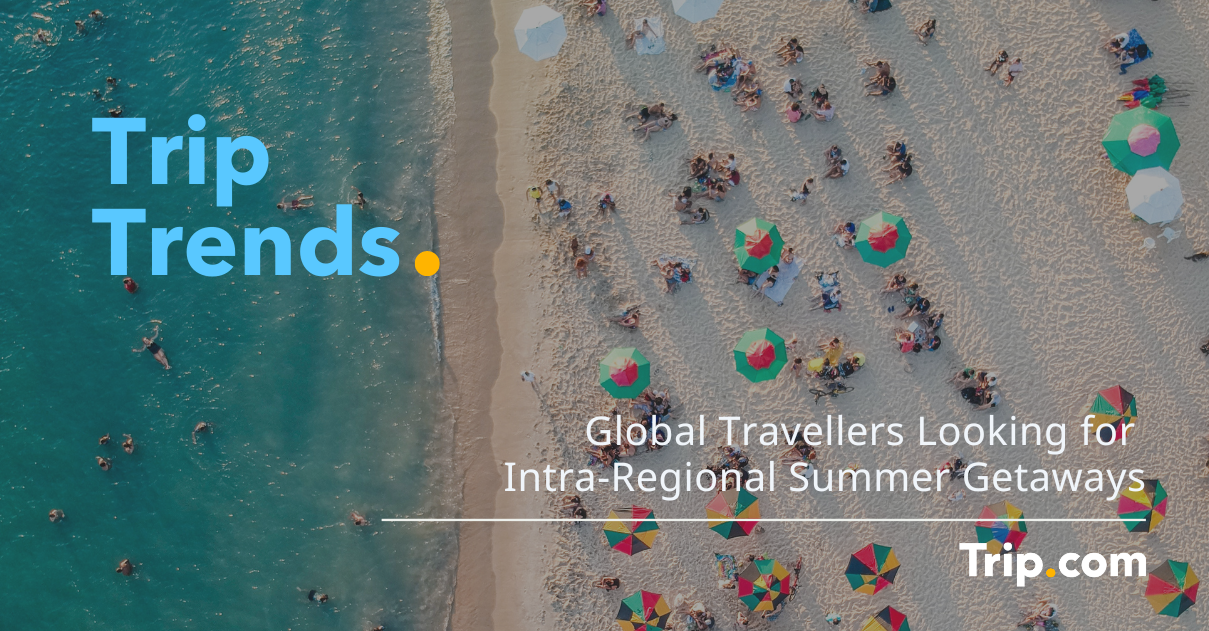 In our TripTrends series, we share the data and trends defining the global travel revival and examine the latest Trip.com data to identify the patterns emerging as travel rebounds around the world.
Overview
With summer just around the corner, people from all corners of the globe are preparing for their upcoming travels, eager to make up for lost time. Trip.com data reveals that global travel bookings for the summer (June 1 – August 31) have already surpassed 2019 levels, with intra-regional travel leading the way.
Overall, bookings on the Trip.com platform this summer have increased by 170% when compared to the same period in 2022. Specifically, thanks to the relaxation of travel restrictions in APAC, summer bookings have skyrocketed by 356% YoY in Asia, with European markets recording a 72% YoY increase this summer.
Travellers "wait-and-see" for long-haul tours
Short-haul regional tours are the preferred trip this summer, with short-distance flight bookings accounting for 44% of all bookings in Asia and more than half in Europe (67%). On the other hand, the percentage of long-haul summer travel in Europe dropped significantly from 48% in 2019 to 13% this year; Over in Asia, the percentage is up slightly from 22% in 2019 to 27%.
Specifically, Asian travellers are focusing on travel closer to home. The top 10 most-booked cities in Asia are - Bangkok, Seoul, Tokyo, Hong Kong, and Taipei.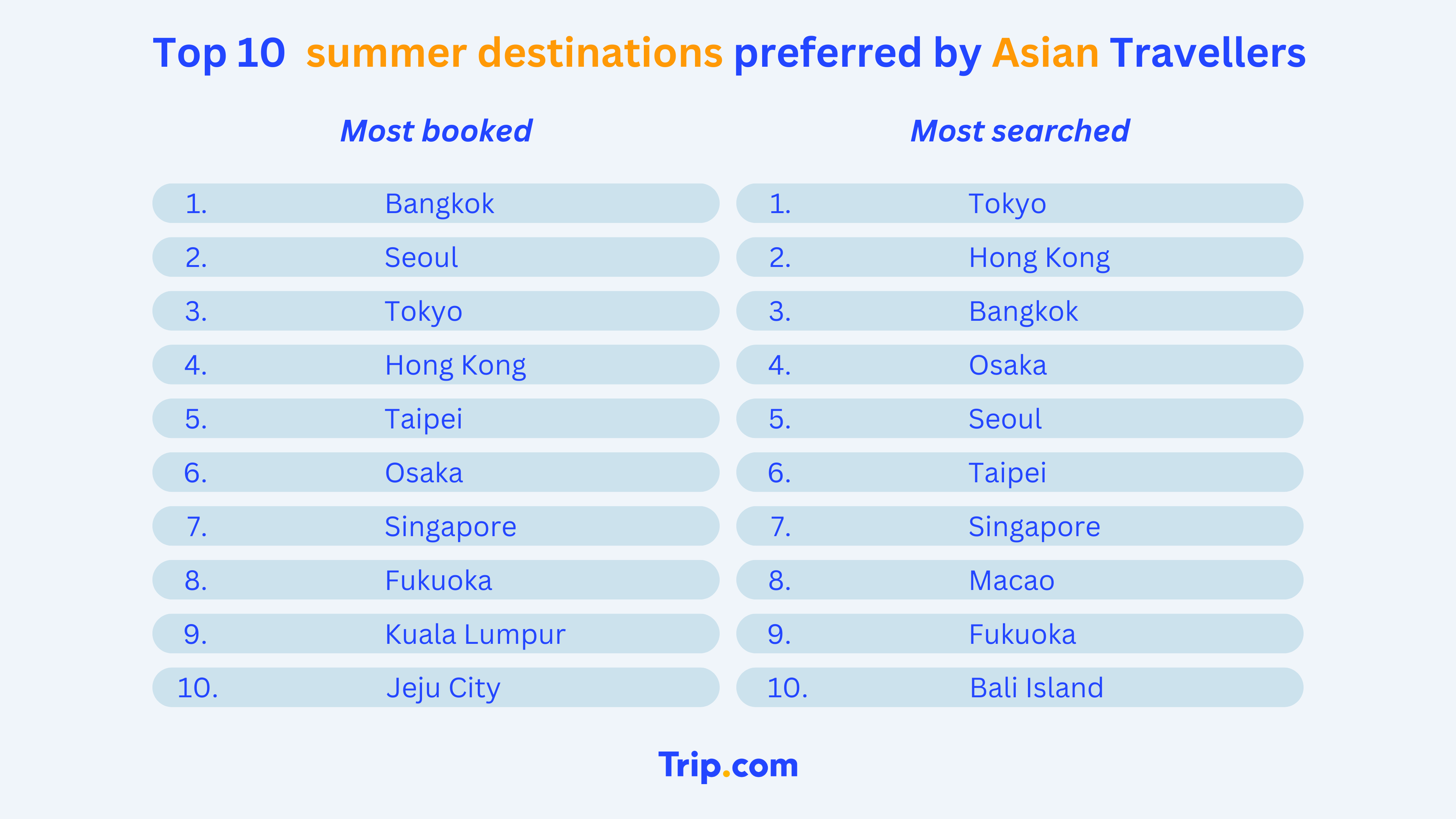 Likewise, in Europe, nine out of 10 destinations booked this summer are European cities, such as London, Barcelona, Madrid, and Paris; Bangkok is the only destination on the list outside Europe.
Interestingly, even though European users are in "wait-and-see" mode for long-distance travel, search demand is still prominent – Trip.com search data finds that European users are looking for hotels in Asian and Middle East destinations, with Bali Island, Dubai, Bangkok, Hong Kong, and Marrakech listed on the top-10 most searched hotel destinations.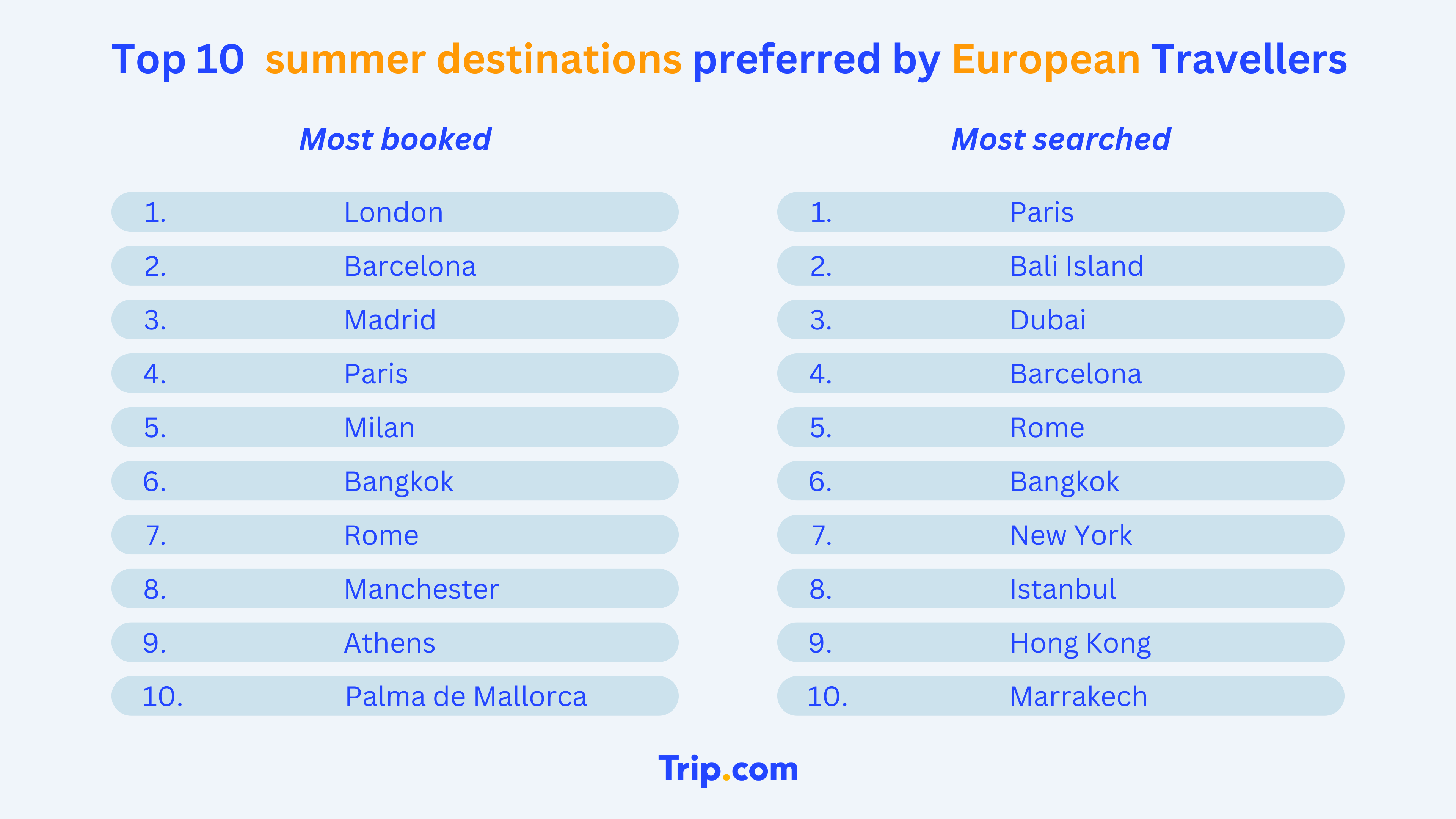 "We are witnessing a strong rebound in short-haul travel across all our global markets this summer," said Ray Chen, CEO of the Hotel Business Unit, Trip.com Group. "As flights and hotel capacity continue to increase, and the global industry is better prepared for welcoming back international travellers, we can expect a faster return of long-distance travel in the near future."
Tours to coastal cities and islands are trending in Europe
This summer, some emerging destinations have become the fastest growing destinations booked by Trip.com users, with many of them coastal or island destinations, such as the Fuerteventura Island, Lanzarote and Santander in Spain, and Kefalonia in Greece.
More travellers are also going to remote or rural areas for unusual travel experiences. Tourism destinations with unique cultures and landscapes are proving popular this summer, such as Lijiang in China and Shimukappu Mura in Japan.
Music festival, theme park - The new engine of Asian summer travel
After three years of waiting, music fans in Asia finally welcome back their favourite bands and musicians to the region. Significant music events, such as concerts and music festivals, are in full swing across major cities in Asia, becoming a new engine to attract more visitors to the area.
According to data from Trip.com's UGC platform Trip Moments, discussions on 'going to music events' while travelling are trending in Hong Kong and South Korean sites, especially music fans from the Chinese mainland looking to flock to Hong Kong for concerts and performances in 2023.
Theme parks and water parks are drawing traveller's attention this summer, with some new theme parks opening up in the region, such as the "Making of Harry Potter" in Tokyo, which will be the largest indoor Harry Potter attraction in the world and the first Warner Bros. Studio Tour to open in Asia.
"Indeed, most travellers have chosen intra-regional getaways this summer, but that doesn't mean they will have less fun. Travellers this summer are seeking unique and mind-blowing travel experiences that they missed for the past three years," Senior Marketing Director of Trip.com Han Feng commented.