Activity Details
Recommended Attractions:
The Field Museum
The Field Museum is one of the most important museums in Chicago. The collections include the full range of existing biodiversity, gems, meteorites, fossils, and rich anthropological collections and cultural artefacts from around the globe. The museum's library, which contains over 275,000 books, journals, and photo archives focused on biological systematics, evolutionary biology, geology, archaeology, ethnology and material culture, supports the museum's academic-research faculty and exhibit development. It is one of the largest such museums in the world.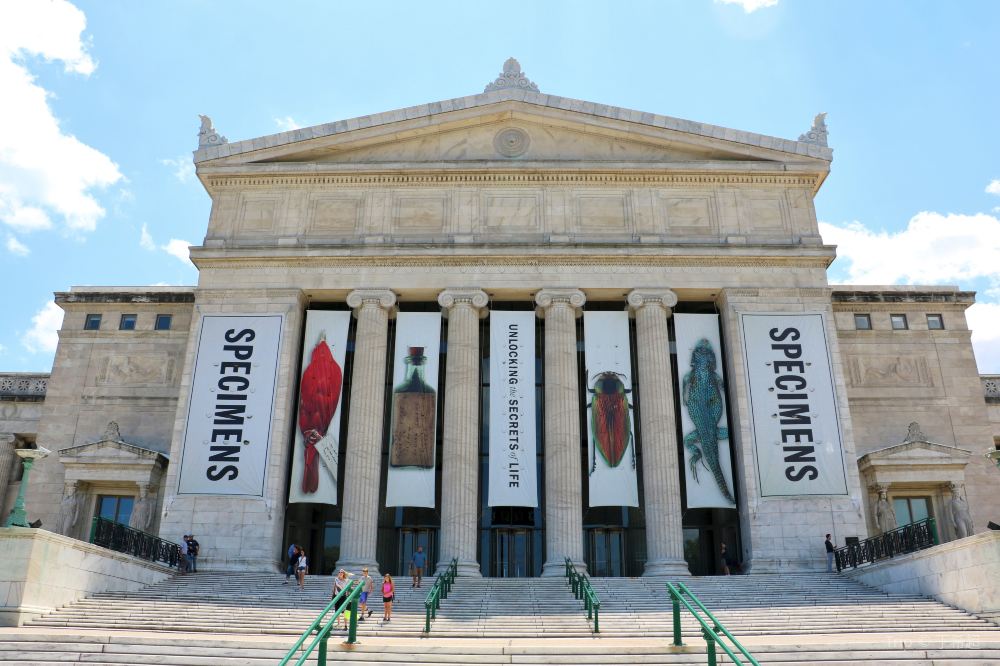 Willis Tower
The Willis Tower, built as and still commonly referred to as the Sears Tower, is a 110-story, 1,450-foot skyscraper in Chicago, Illinois. At completion in 1973, it surpassed the World Trade Center in New York to become the tallest building in the world, a title it held for nearly 25 years; it remained the tallest building in the Western Hemisphere until the completion of a new building at the rebuilt World Trade Center site in 2014. The building is considered a seminal achievement for architect Fazlur Rahman Khan. The Willis Tower is currently the second-tallest building in the United States and the Western hemisphere – and the 16th-tallest in the world. More than one million people visit its observation deck each year, making it one of Chicago's most popular tourist destinations. The structure was renamed in 2009 by the Willis Group as a term of its lease.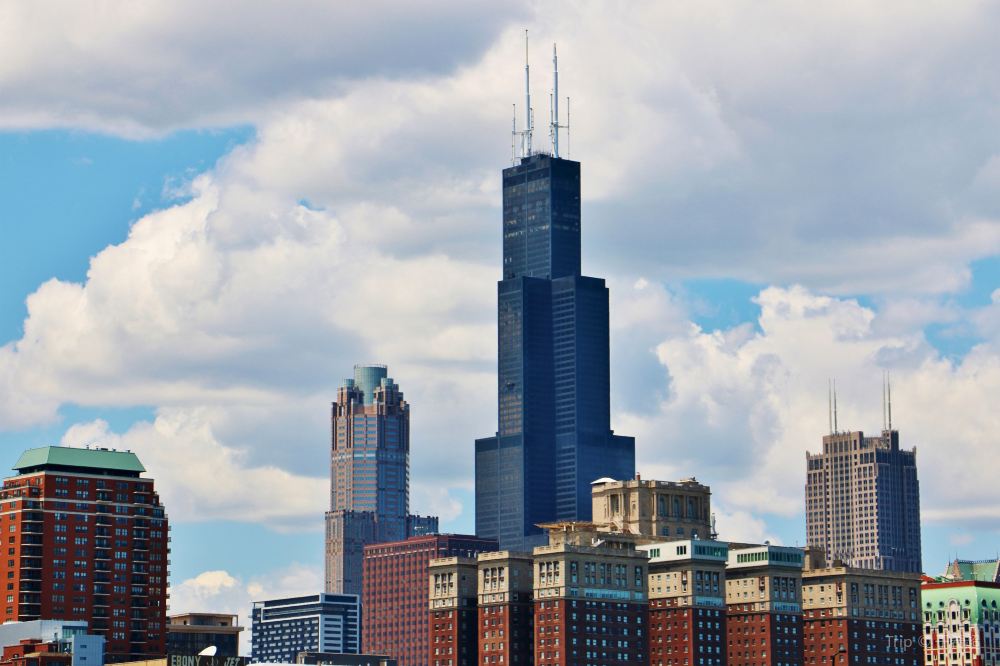 The Skydeck on the 103 floor in Willis Tower officially opened to the public on June 22, 1974. Standing there in a sunny day, you may see four states in America. The Willis Tower consists of 9 buildings; the unique construction could prevent it shaking in the wind. All those building are with the same width but different heights.
Marvel at Chicago from an unparalleled viewpoint during this exciting Skydeck experience. Located in Willis Tower, formerly Sears Tower, the Skydeck offers spectacular sweeping vistas of Chicago and beyond from the 103rd floor. Walk out onto the Ledge, a glass box-like balcony that extends 4.3 feet (1.3 meters) from the building, and experience an unconventional view--straight-down! Admire the lofty views of top Chicago attractions, like Wrigley Field, the Navy Pier and Millennium Park, all from a breath-taking height of 1,353 feet (412.4 meters). On a clear day, you can see up to 50 miles (80.5 km) out! It's also the perfect vantage point for great sunset and twinkling nights cape views. Bring your camera or treat yourself to a professional photo available at the gift shop.
You can also explore several exhibits designed for the whole family, like interactive digital floor displays, touch-screen activities, and scavenger hunts that not only highlight Chicago's iconic landmark, but also celebrate the Windy City's sports, architecture, pop culture, history, food, music, and people. Challenge yourself with a Chicago trivia game, compare the heights of the tallest structures in the world, and see just how many of your bodies it would take to reach the height of Willis Tower.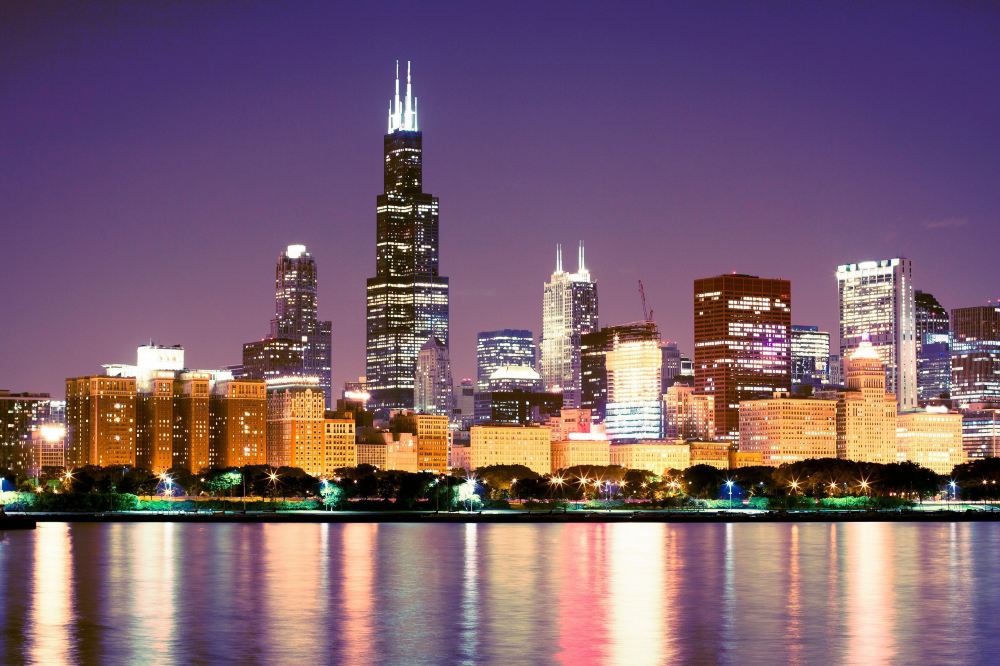 Art Institute of Chicago
The Art Institute of Chicago, founded in 1879 and located in Chicago's Grant Park, is one of the oldest and largest art museums in the United States. In 1866, a group of 35 artists founded the Chicago Academy of Design in a studio on Dearborn Street, with the intent to run a free school with its own art gallery. Recognized for its curatorial efforts and popularity among visitors, the museum hosts approximately 1.5 million guests annually. Its collection, stewarded by 11 curatorial departments, is encyclopaedic, and includes iconic works such as Georges Seurat's A Sunday on La Grande Jatte, Pablo Picasso's The Old Guitarist, Edward Hopper's Nighthawks, and Grant Wood's American gothic. Its permanent collection of nearly 300,000 works of art is augmented by more than 30 special exhibitions mounted yearly that illuminate aspects of the collection and present cutting-edge curatorial and scientific research. The Art Institute's Asian collection spans nearly 5,000 years, including significant works and objects from China, Korea, Japan, India, southeast Asia, and the Near and Middle East. There are 35,000 objects in the collection, showcasing bronzes, ceramics, and jades as well as textiles, screens, woodcuts, and sculptures.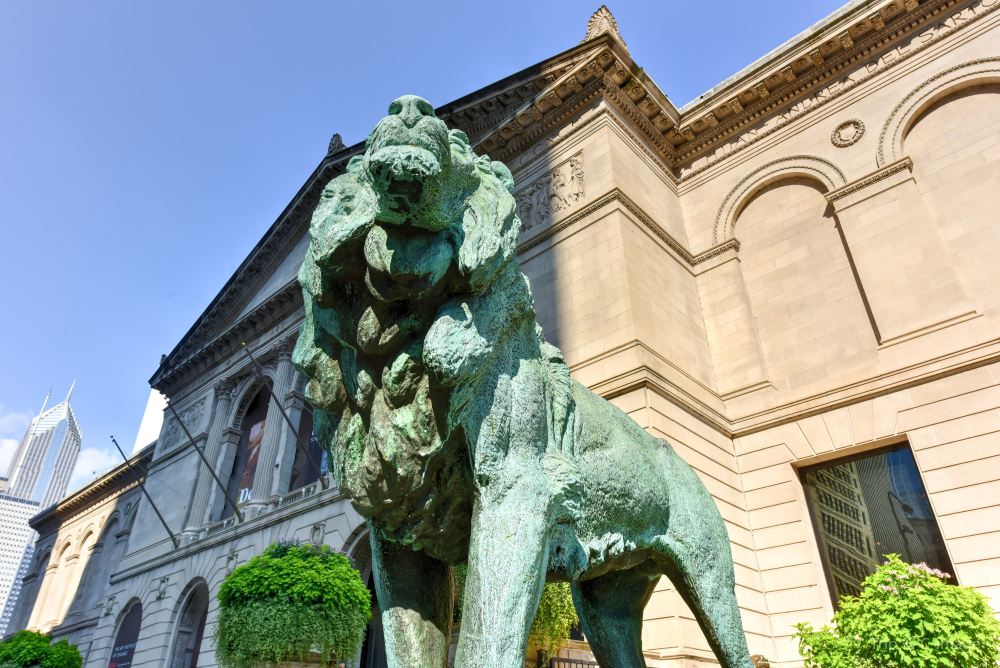 Art Institute of Chicago is awarded as the best museum in the world for many times, and there are countless reasons for you to spend the day in the gallery: there are exquisite collections, professional guides, and digital guide. The collection of the Art Institute of Chicago encompasses more than 5,000 years of human expression from cultures around the world and contains more than 300,000 works of art in 11 curatorial departments. The museum holds works of art ranging from early Japanese prints to the art of the Byzantine Empire to contemporary American art. It is principally known for one of the United States' finest collection of paintings produced in Western culture. The Art Institute's American Art collection contains some of the best-known works in the American canon, including Edward Hopper's Nighthawks, Grant Wood's American Gothic, and Mary Cassatt's The Child's Bath. The collection ranges from colonial silver to modern and contemporary paintings. A collection of world-famous Impressionist painters, including masterpieces of Vincent Van Gogh, Claude Monet and George Shura; and a stunning array of global modern and contemporary art pieces. Art Institute of Chicago has the most extensive collection of Impressionist paintings after Paris.
* View the Impressionist collections and post-impressionist masterpieces of famous artists, including works by Claude Monet, Pierre Auguste Renoir, George Shura and Van Gogh.
* There will also be opportunities to see the world's great collections of modern and contemporary art, including works by Henry Matisse, Picasso, Chagall, Pilock and Richter.
* The Art Museum of Chicago is also a collection of European and American Art Deco, Asian Art and Architecture, Industrial and Image Design.
* While visiting the art gallery, children can also participate in art creation activities.
JourneyMaker is an interactive itinerary program that has won numerous awards. From the entrance to the Modern Art, you can find the JourneyMaker machine on the 1st floor of the Ryan Learning Center. Choose your museum adventure theme on the screen and choose your favorite artwork, and then, JourneyMaker will generate an exclusive adventure map just for you. Customize your own tour route and start a day of adventure!
*JourneyMaker is available in English, Spanish and Chinese.
* The nearly 10,000 masterpieces you will see are all real, which represent the culmination of creativity and expressiveness for more than 5,000 years in art field. In order to better protect these art treasures, each exhibition hall has security guards to remind visitors of the corresponding precautions.
1. Luggage storage:
1) 1 USD / piece
2) The museum only provides luggage check services to visitors. Art Institute of Chicago reserves the right to refuse to deposit any items. The Checkroom will be stopped 15 minutes before closing. Art Institute of Chicago is not responsible for lost, damaged or unclaimed items.
3) The library can provide courtesy bags are available so you can carry valuable items with you.
4) The following items will not be deposited: flowers or balloons; food or beverages
2. Please note that the following items are not allowed to be brought into the hall:
Art materials other than pencils (including ink pens)
Backpacks and backpack baby carriers
Bags, camera bags, and purses larger than 13 x 17 x 4 inches
Shopping bags
Flowers and balloons
Food and drink
Toys
Tripods, flash attachments, video cameras, and "selfie sticks"
Umbrellas (small umbrellas can be stowed in bags)
Wrapped packages (gifts)
3. Photography
You can take photos of permanent collections and special exhibitions in the museum. Please note that unless otherwise noted, the photos you take are for personal use only. You can sketch collections and exhibits. Photographs are prohibited for some special works of art or exhibits. Please follow the relevant signs and instructions. Do not use flash, tripod and camera.
4. Videotaping
Videotaping is prohibited in the museum. For media workers to take photos or videos, please contact our Public Affairs Department at (312) 443-3626 or email aicpublicaffairs@artic.edu.
5. Touch
Don't touch the artwork, or sit on the base of the artwork. There are seats in the museum for you to rest.
6. Mobile phone
Set your phone to mute or vibrate, and phone calls are limited to non-gallery spaces in the museum.
7. Sketch
For pencil sketching in the museum, please first consult with the security staff of the relevant gallery. The paper and pad used must not exceed 13 x 17 inches. It is forbidden to use an easel, stool or anything that interferes with the gallery.
8. Baby stroller
Baby strollers are available in the museum; in special exhibitions, the use of strollers may be prohibited due to space restrictions. If you have any questions, please call (312) 443-3600 before you enter the venue.
* The above information is for reference only, please refer to the official website for detailed information.
Adler Planetarium
The Adler Planetarium is a public museum dedicated to the study of astronomy and astrophysics. It was founded in 1930 by Chicago business leader Max Adler. It is located on the northeast tip of Northerly Island at the shore of Lake Michigan in Chicago, Illinois. The Adler was the first planetarium in the United States as well as the first modern Planetarium in western hemisphere; it is part of Chicago's Museum Campus, which includes the John G. Shedd Aquarium and The Field Museum. The Adler's mission is to inspire exploration and understanding of the universe.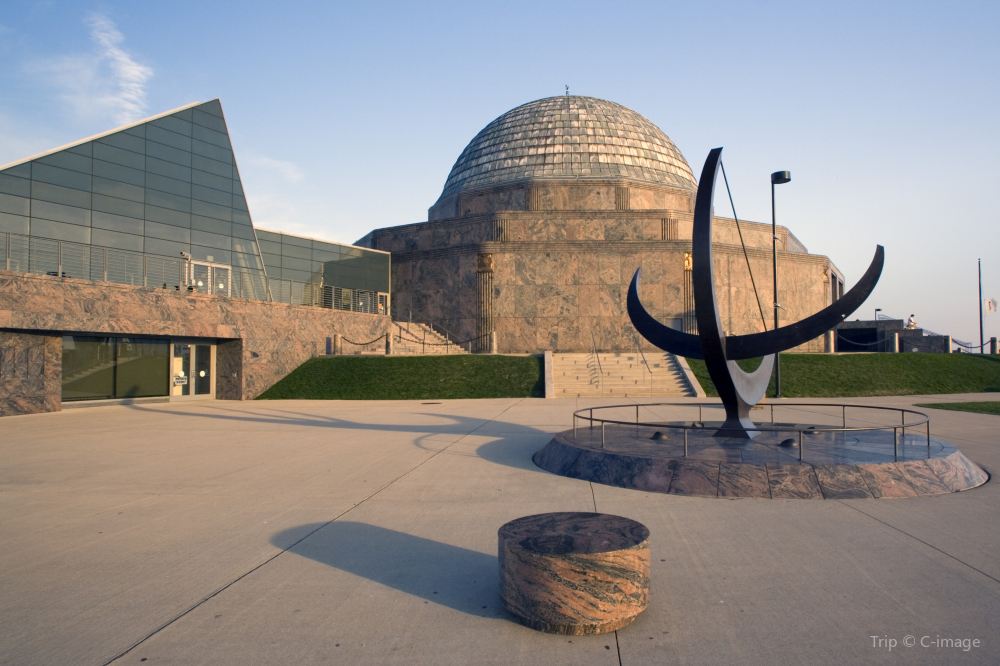 The museum has two floors and also houses important antique astronomical instruments. With a 60,000-square-foot exhibition and a telescope at the Dorn Observatory, you can spend all day to encounter the awesome universe.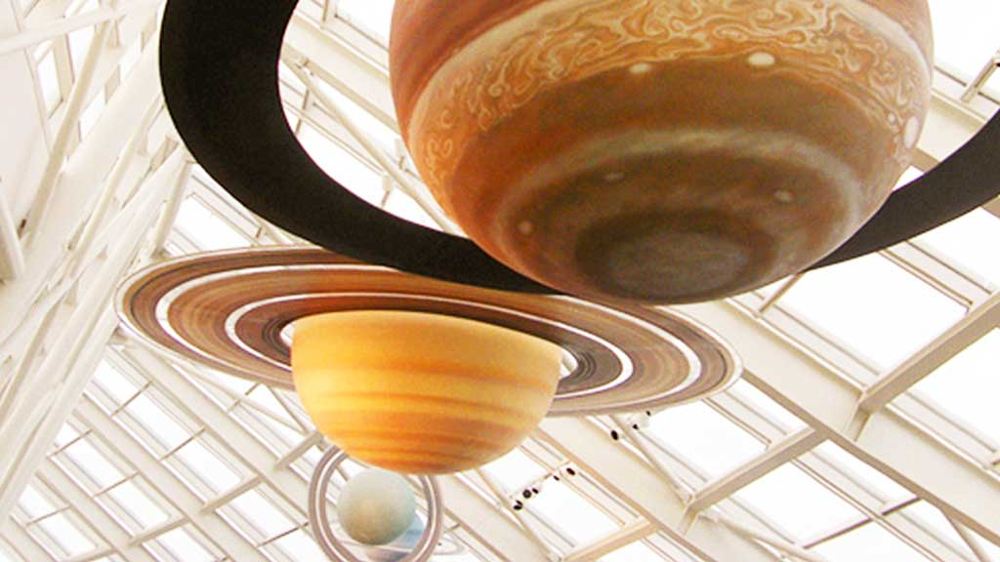 John Hancock Center
1. 360° Chicago is 1,030 feet (310 m) off of street-level below. Standing there, you will have a chance to enjoy the beautiful bird-view of Lake Michigan and the amazing skyline of Chicago.
2. 360° Chicago is 875 North Michigan Avenue's observatory. Interact technology, audio guide in multiple languages, and the Cafe there will give you a 360° experience.
3. Standing on the 94th floor, you will enjoy wonderful views of four stats in the US, Illinois, Indiana, Michigan, and Wisconsin.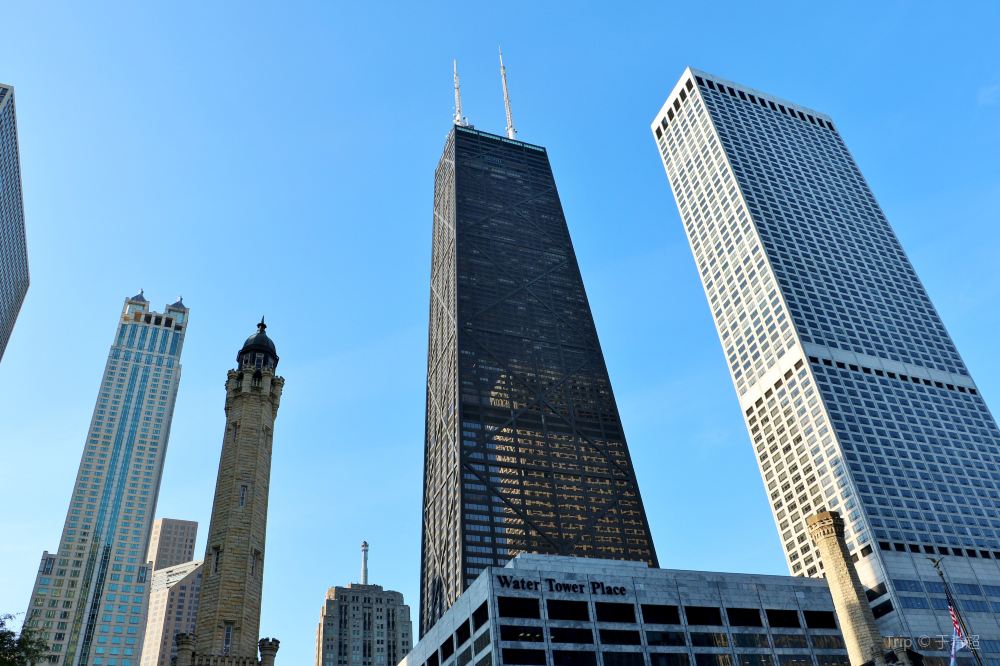 Shedd Aquarium
Located on Lake Michigan, Shedd Aquarium is located on the Museum Campus Chicago, which it shares with the Adler Planetarium and the Field Museum of Natural History. The Caribbean Reef there was built in 1971, on the site of the aquarium's very first exhibit, the Tropical Pool. A feature of this exhibit is a diver that interacts with the animals while talking with the people. A part of the exhibit is a 90,000-US-gallon (340,000 l) circular tank that allows for maximum walk-around viewing. It was one of the first habitats to display schooling fish. It is also home to the rescued green sea turtle, Nickel, as well as bonnethead sharks, Tarpons, stingrays, and many more.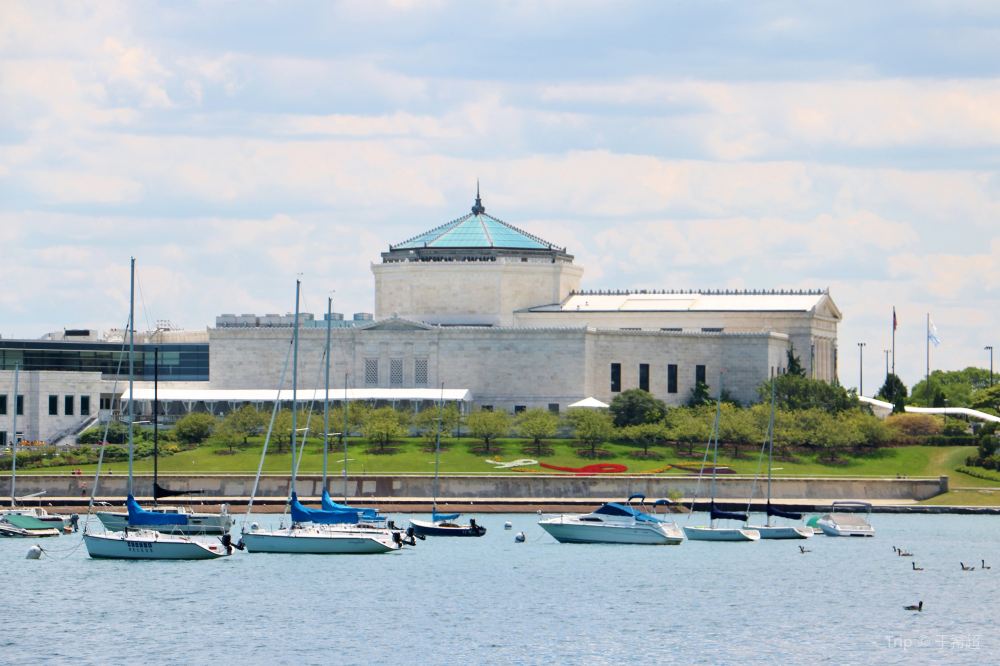 LEGOLAND Discovery Center Chicago
Nearly all facilities and attractions in LEGOLAND Discovery Center Chicago are made of different colorful Lego bricks. LEGOLAND Discovery Center is a place full of joy. It is not only a dreaming theme park for children but also for all Lego fans of all ages. After entering LEGOLAND Discovery Center, you will feel that you walk into a Lego Brick world. There are LEGO model building and unusual construction challenges with theme park-like attractions such as the Merlin's Apprentice, Kingdom Quest, Jungle Expedition and "Clutch Powers 4D Adventure" 4D cinema incorporating fantastical LEGO creatures and LEGO-based special effects.
After entering LEGOLAND Discovery Center, you will first see the famous buildings in Chicago built with Lego bricks. Children can take photos with their favorite cartoon characters. Spend time with your children in this colorful Lego Kingdom and have a happy day.
LEGO Discovery Center combines Lego models with unique architecture and theme park attractions, aiming to bring an interesting exploration to children.
From DIY Lego games to Lego adventures, all kinds of games will bring happiness to all children here.
Designed for families with children from 3 to 10 years old, come and enjoy the happy family time!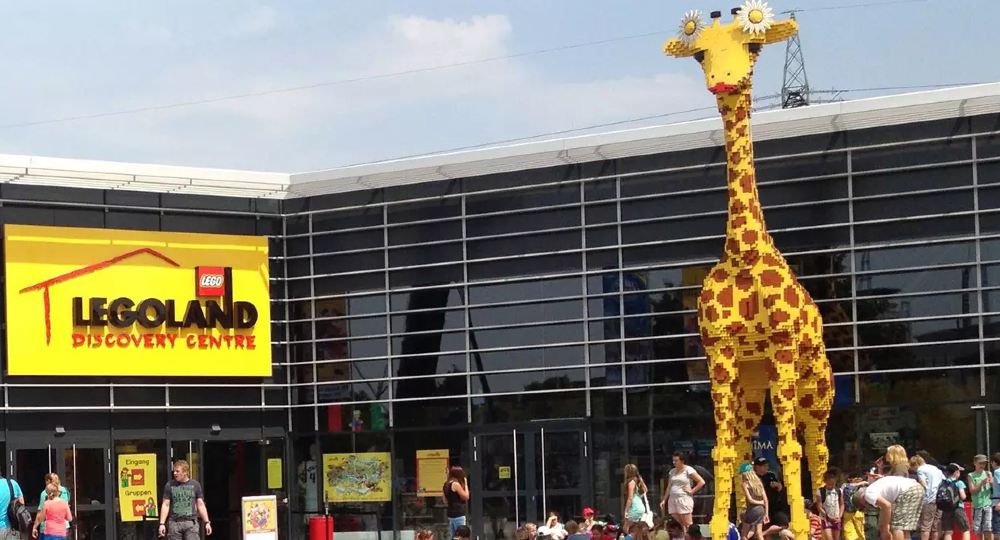 Inclusions
1 day sightseeing pass: Choose from more than 26 top attractions
2 day sightseeing pass: Choose from more than 26 top attractions
3 day sightseeing pass: Choose from more than 26 top attractions
5 day sightseeing pass: Choose from more than 26 top attractions
Change & Refund Policies
This booking can be canceled free of charge at any time provided you have not used it. If you need to cancel it, please sign in to Trip.com to submit your cancellation
Partial cancellation of this booking is not permitted
How to Use It
All times are given in local time
Please present the e-voucher to gain admission
Activity Essentials
Traveler Information
Adult: Age 13+
Child: Age 3 to 12
Important Information
Please provide your personal information and contact details when booking
The e-voucher will be valid in a year