Activity Details
Kualoa Ranch is one of the must-see spots to Hawaii. With its soaring mountains, lush plants, sparkling seas and white-sand beaches, the area's natural beauty has made it the setting for films such as Jurassic Park and Lost
With Horseback Riding, Jeep Jungle Expedition, Canoeing, Catamaran sailing and other diverse entertainment activities, it is definitely the best place to explore
The Nubla in the Jurassic World II, was also shot on Kualoa Ranch. As a Jurassic movie fan, Kualoa Ranch is a must-see place for you to go if you want to become the hero and heroine of the movie and experience the excitement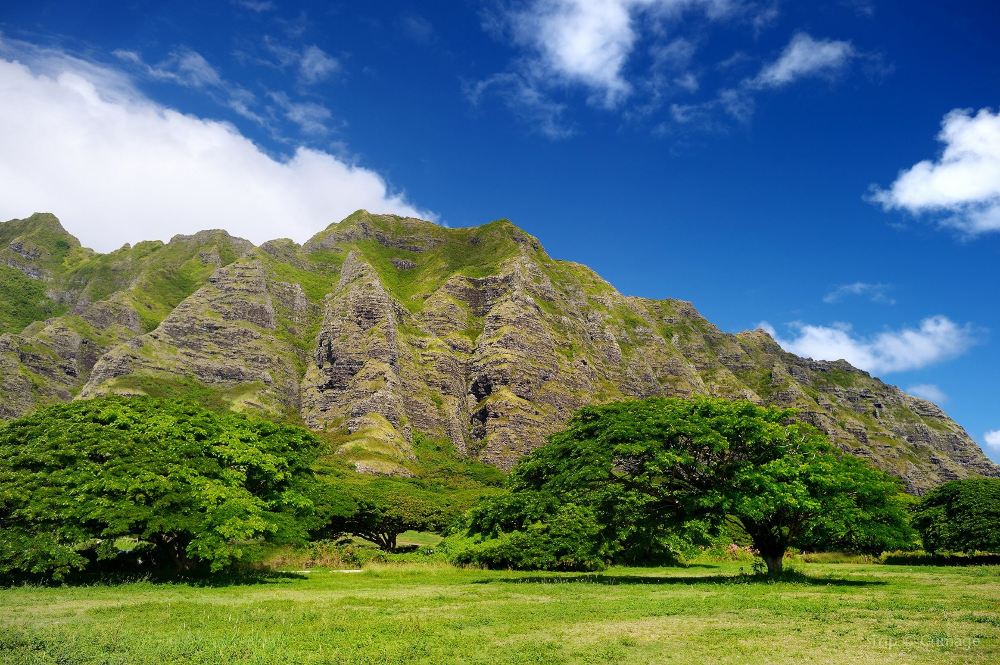 Hollywood Movie Sites Tour
If you're a Hollywood fan, the Ka'awa Valley in the northern half of the ranch definitely amazes you
There have been numerous filmed spots for popular TV shows and Hollywood movie scenes. And the magic of large-sized printing modelling mountains and the collapse of the dead trees place oneself in exciting real scenario of Jurassic park. You still have a chance to take picture with a miniature version of Easter Island. Via the golf courses in Lost, it is recommended to take a look at big footprints left by the monster in Godzilla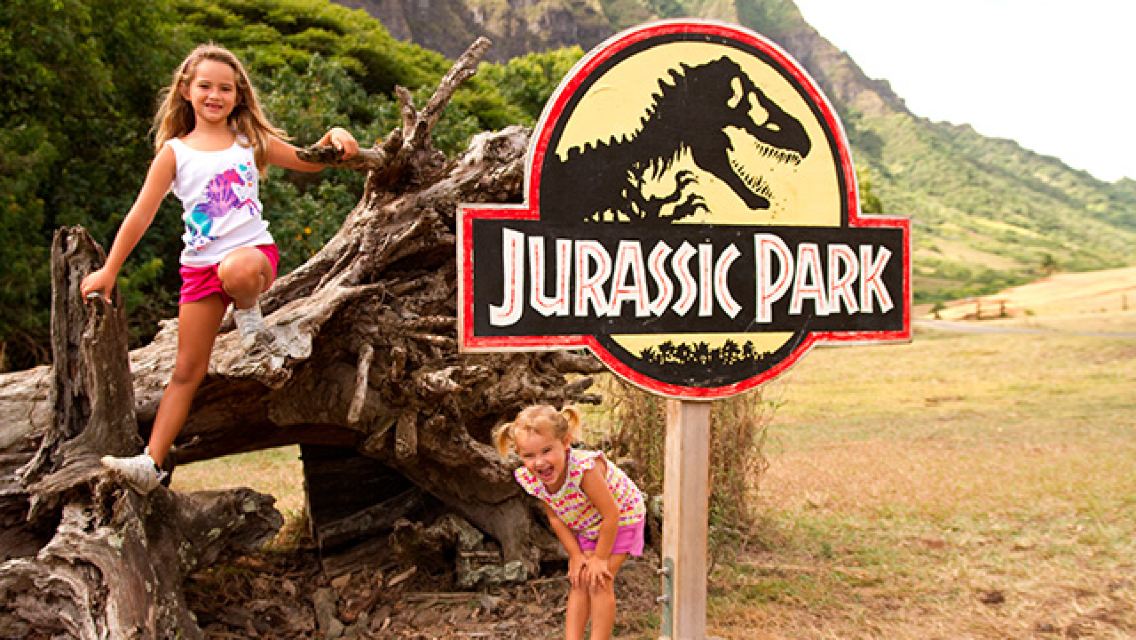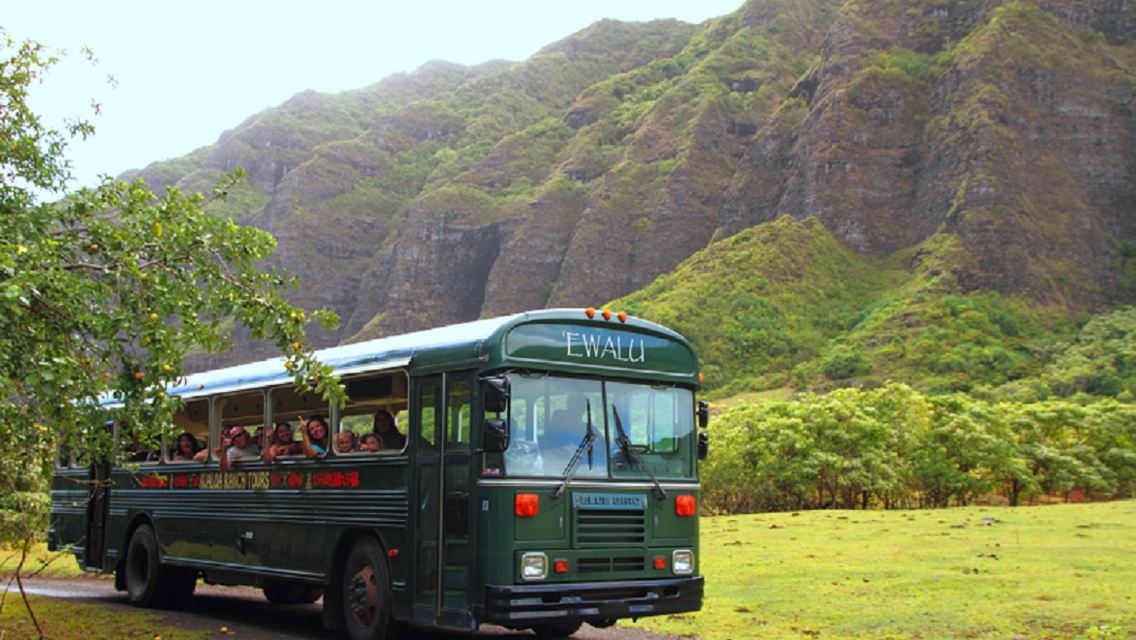 Let's get in an old army jeep and take a rainforest ride along winding roads and rolling hills
90 minutes' drive is full of pristine tropical scenery of the Hakipuu Valley
During the tour, you will also have the opportunity to take a short walk to overlook the east coast of Oahu Island and the beautiful scenery of the ancient Hawaiian fish pond
Let's embark on the catamaran and visit Kaneohe Bay, leaving the main Kualoa Estate and boarding the 49-person catamaran from Moli 'i pier into Kaneohe Bay
From the sea you can see the entire Kualoa Mountains and get a close look at Mokoli 'i Island
If you're lucky, you can even see whales and turtles from the boat! Be sure to bring your camera
Remarks: Ocean voyage is not open on Sundays and public holidays. Children aged 9 or under must be accompanied by a guardian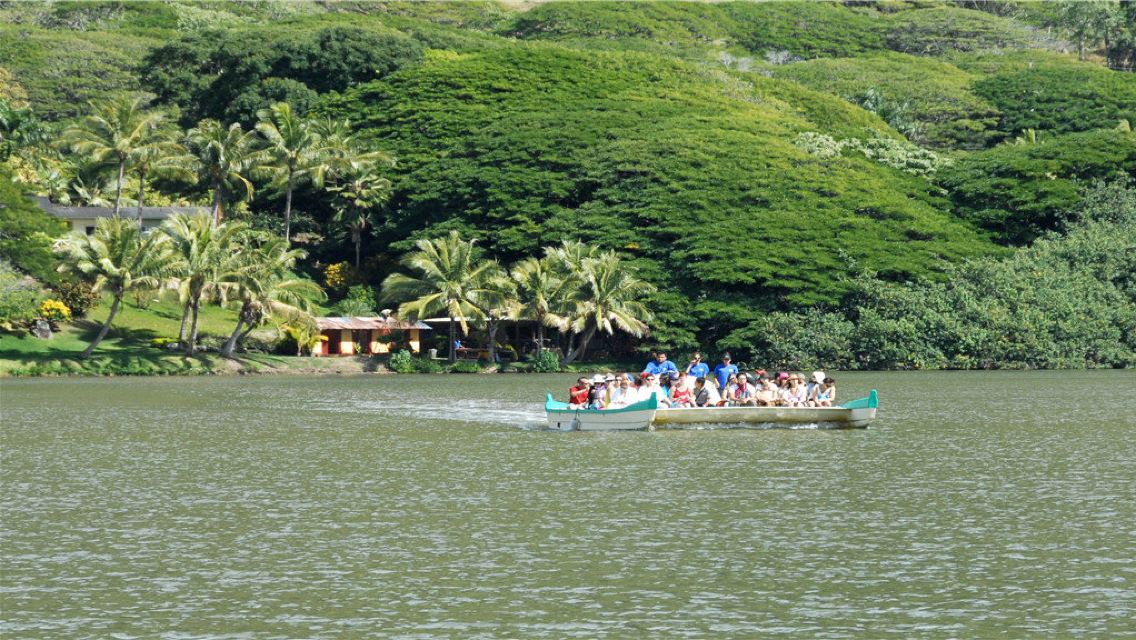 Secret Island Beach Activities
Secret Island beach is a secluded private beach, a good place to relax yourself and relieve stress, one of the options for your trip to Hawaii
We provide you with a wide range of equipment and appliances, and you can be with the sea
You just need to bring your bathing suit, towel, sunscreen and camera, and we organize plenty of sea activities for you
Secret Island offers free banana boats, kayaks, canoes, surfboards, beach volleyball, table tennis, badminton, MATS, hammocks and more. Or you can relax in a hammock with the sea breeze, or go out to sea in a glass-bottom boat to look for turtles
There are changing rooms and showers on Secret Island. It is recommended that you bring a change of clothes and a towel
Remark: glass-bottom boat is not open on Sundays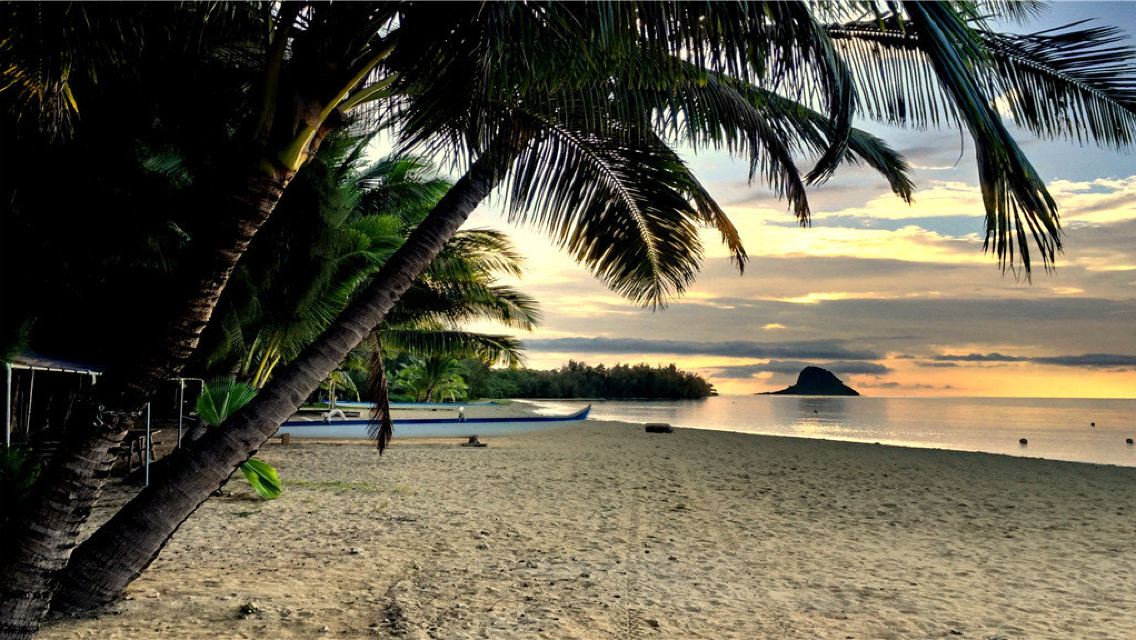 Taste of Kualoa Farm Tour
Let's take a vintage school bus tour of the plantation inside Kualoa Ranch and learn about the variety of crops grown there. According to different seasons, the farm will collect its own crops, such as fresh dried fruits, fish, sweet potatoes, macadamia nuts, etc., for you to taste
In addition, the tour guide will show you around tropical flower plantations
Remarks: children aged 9 or below must be accompanied by a guardian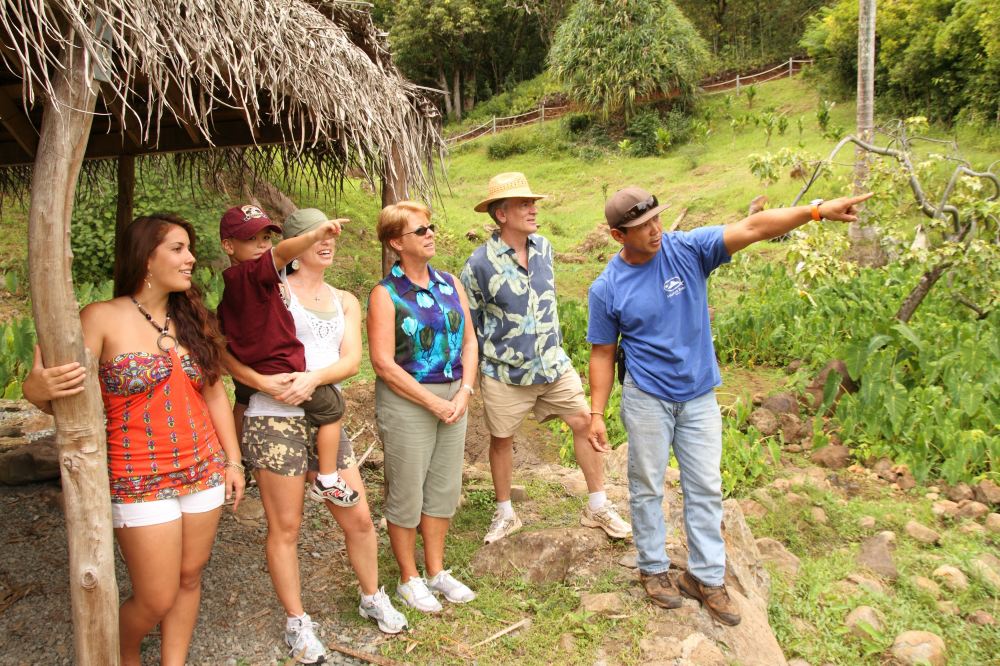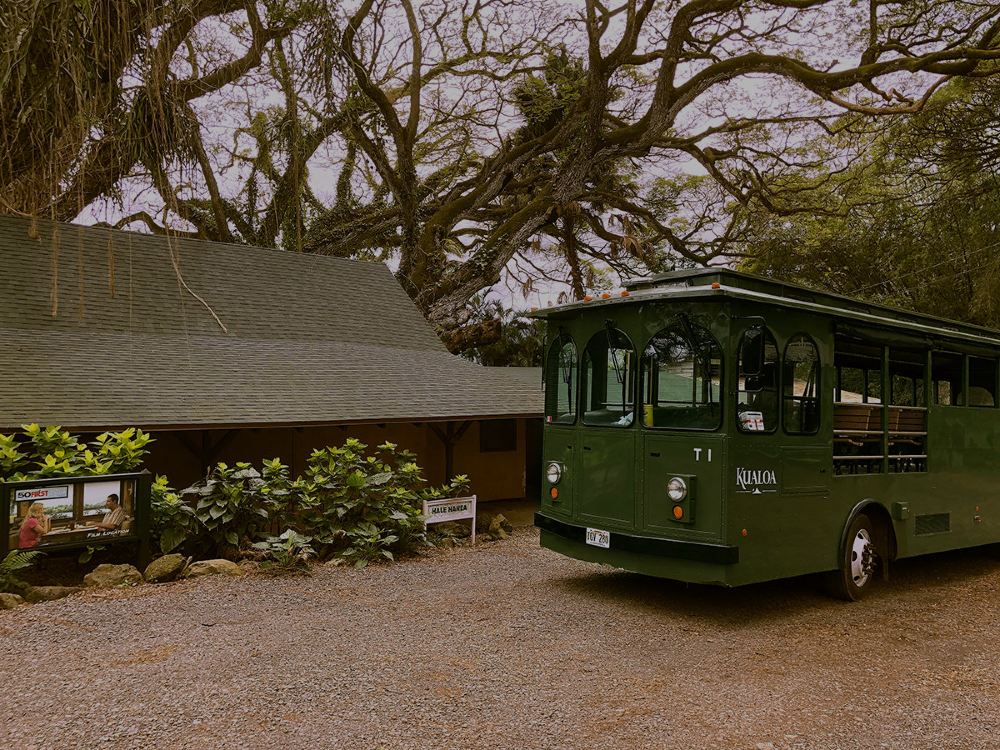 Let's have a Hawaii's most primitive mountain bike experience
During the one-hour trip, you'll pass many Hollywood movie locations, the open and spectacular Pacific Ocean, and winding trails with pristine Hawaiian scenery
You will be asked to watch a short video about safety precautions (you can ask for the video in Chinese) before departure. In order not to delay your journey, please arrive 15 minutes in advance
Note: Participants must be 16 years of age or above
For your safety, please wear closed shoes. And because of the strong sunshine in Hawaii, long pants and sunscreen are recommended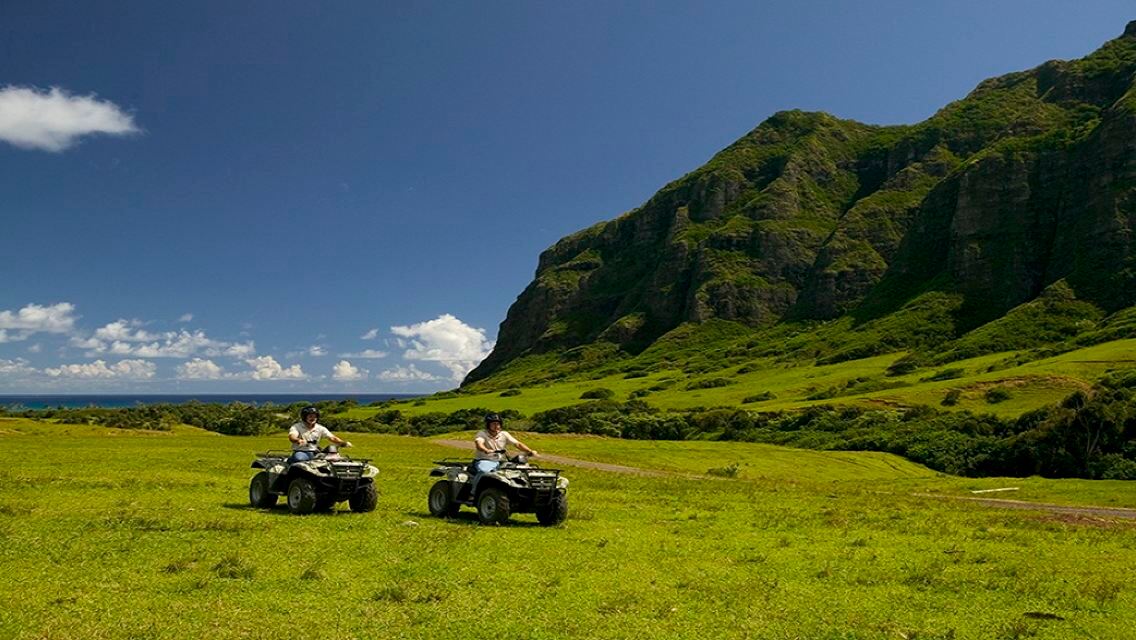 The ranch is a great place to ride horses into the southern valley of Kualoa
Along the way, you'll find Mokoli 'I and an 800-year-old ancient Hawaiian fish pond
You will be asked to watch a short video about safety precautions (you can ask for the video in Chinese) before departure. In order not to delay your journey, please arrive 15 minutes in advance
Remark: Participants must be 10 years old or above, taller than 140 cm, and weigh less than 105 kg
For your safety, please wear closed shoes
You are not allowed to take your backpack and camera with you. You can store them in the storage area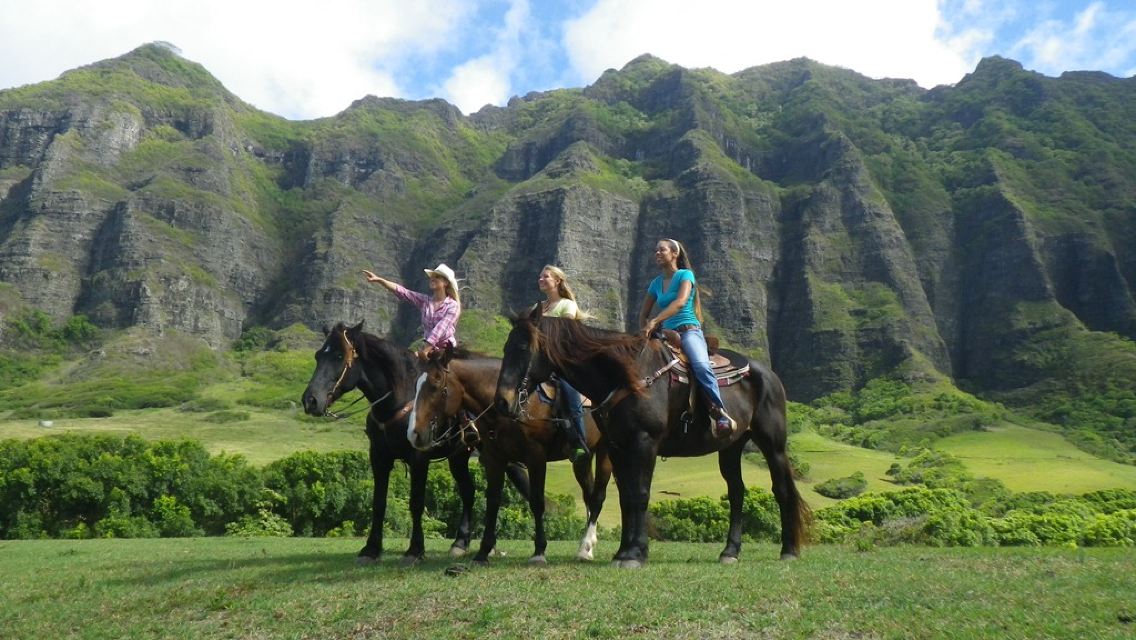 You can join your friends for outdoor adventure in your adrenaline-pumping fast dragon ATV
Let's try the fast Utahraptor ATV (multi-person ATV) for a fantastic off-road adventure with the whole family or group
One-hour exploration trip will lead you to explore the remote, sparsely populated areas of the Ranch and witness scenic valley vistas and Pacific Ocean
Note: participants must be 5 years old and above
At least 2 participants participate and the driver must be over 21 years of age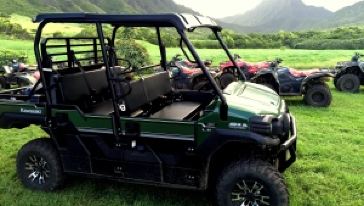 Let's experience exciting zip lining from Ka 'a' awa the deepest valley, including 7 slippery rope all the way, 2 suspension bridge with each line companies a short hiking
Along the way, you will be surrounded by the most pristine beauty of Hawaii
Each cableway is named after a representative of Hawaiian culture and lines are from 60 m to 403 m in length
Along the way, you will also learn the culture and history of Hawaii, listen to the coach explaining every gully, every stream, every plant. And you will definitely enjoy the process physically and mentally
You do not need to have any experience in zip lining and professional coaches will accompany you throughout the journey
Each line is well-equipped to help you slow down and reach the destination safely. You just need to relax and enjoy the beautiful natural scenery
Remark:
For your safety, followings must be ensured to participate Zip Lining
The height, waist, weight and thigh girth are required to ensure that the protective equipment works properly and that the speed of the rope is within a safe range (The weight is proportional to the speed of the rope in general)
Weight range: 32kg-126kg
Height range: 146 cm-210cm
Waist circumference: 55cm-127cm
Thigh circumference: 45 cm-71cm
For your safety, please do not participate in this program if you have had a recent spinal cord injury (head, neck, or back pain) or have had surgery in such areas
All participants must be able to walk on rough mountain roads. The walking time is usually no more than 8-10 minutes, and it is usually not exposed to the sun
For your safety, pregnant women are requested not to participate in this project
Protective devices may cause discomfort to you or the fetus
Shoes must be worn throughout the zip lining event (toes must not be exposed)
In order to prevent your hair from winding in the sling, please coil your long hair up or tie it into a ponytail
For your safety, we advise you not to wear loose accessories or loose clothes to prevent items from falling or winding in the sling
All participants must wear protective devices. Protective straps will be attached to your waist, thighs and shoulders. If you have recent injuries to these areas or have undergone surgery, we recommend that you do not participate in this program. In order for you to participate in the program more comfortably, please wear appropriate clothing to match the protective equipment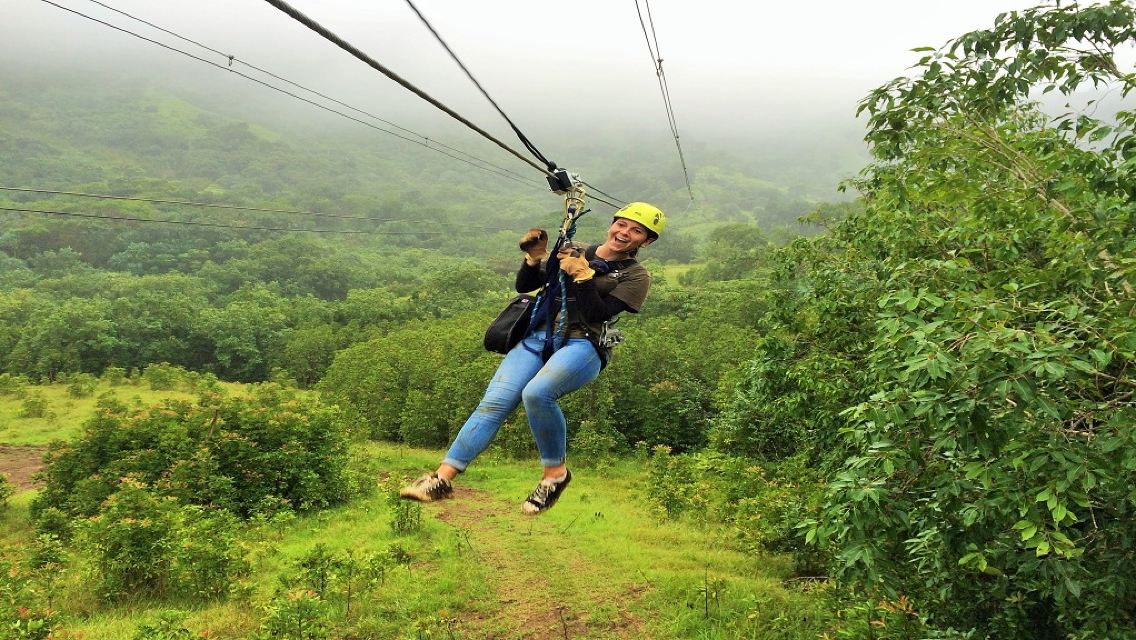 Kualoa Kayak Adventure Tour & e-Mountain Bike Tour
This project contains electric mountain bike tour and Kayaking tour. Electric mountain bike tour is newly introduced in Kualoa Ranch. With the help of the Yamaha electric motor, visitors can easily cycle in the Jurassic Valley and breathe the fresh air, enjoy all the natural beauty, experience Hawaiian jungle and valley
Kayaking Tour starts from Kualoa Ranch and stops at the end of the straw hat island
The tour passes the turtle coral reefs (lucky to see unique Hawaiian green sea turtles), small and medium-sized beach sea (visitors can walk in the small in the center of the sea beach) and then experience peace and serenity
At the end of the day, the staff will tell stories about native Hawaiian legends
Please bring a change of clothes
Note: the program guests must be able to ride a bicycle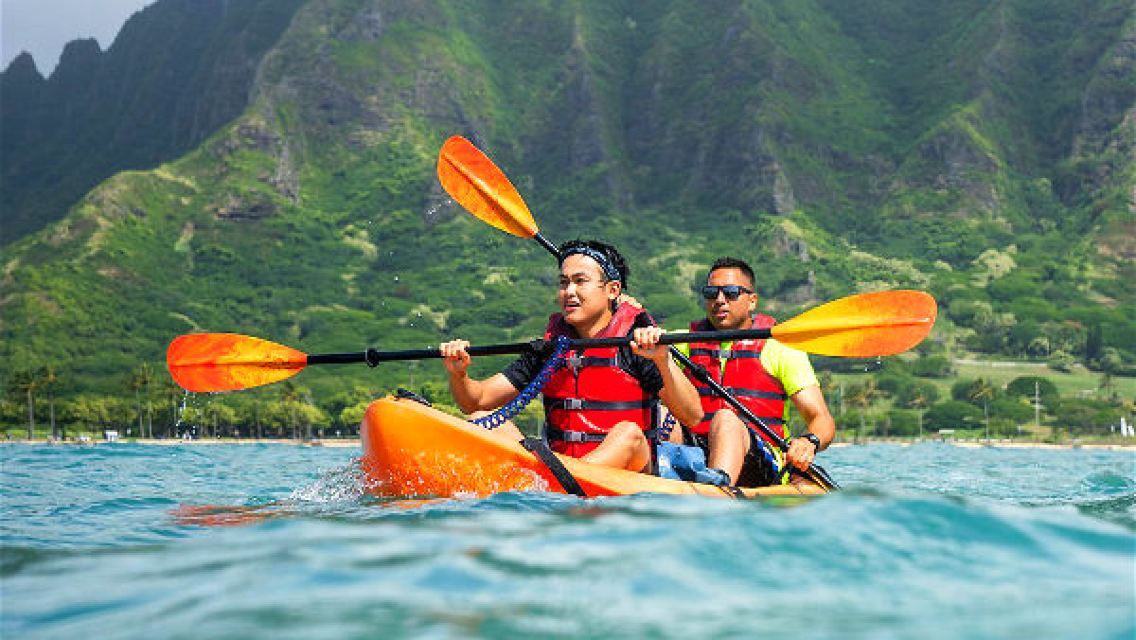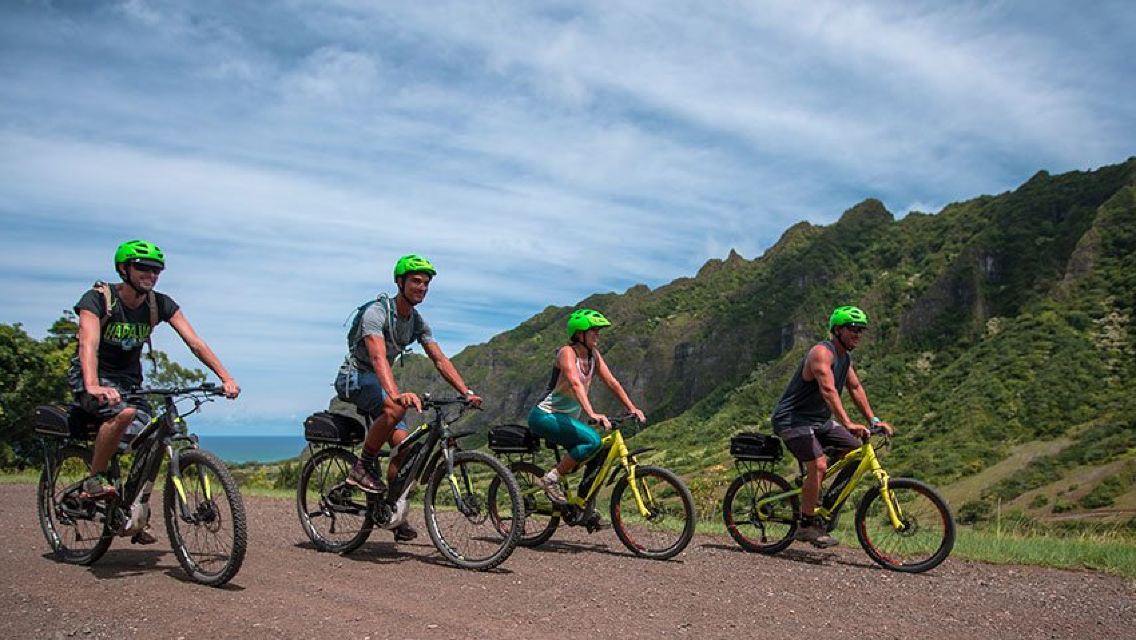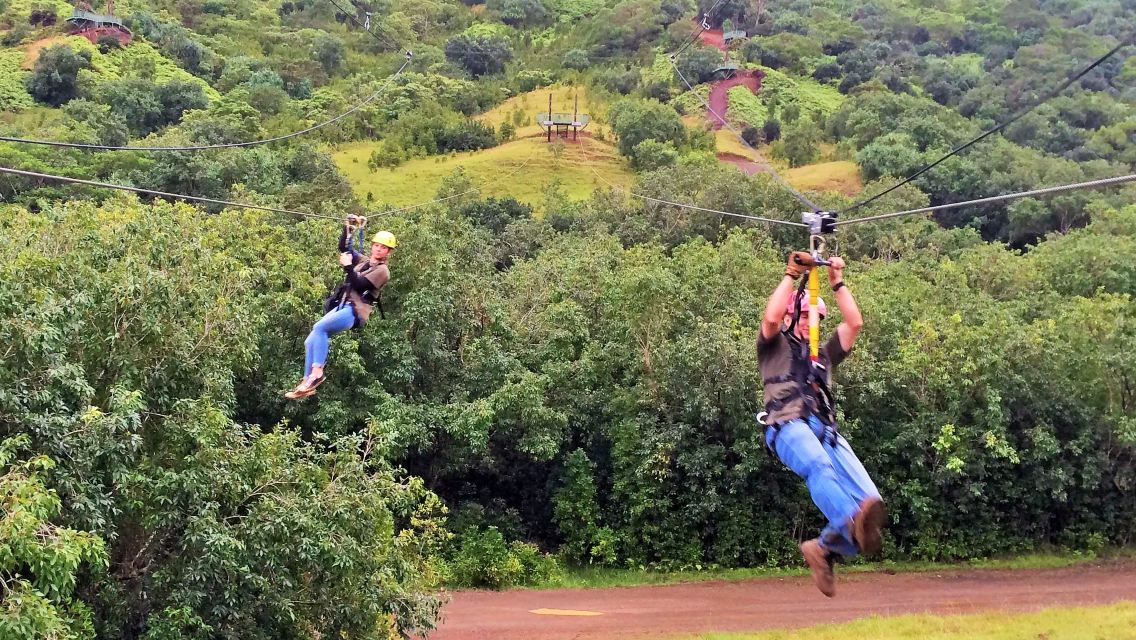 Kualoa Culinary Experience Tour
The farm-to-table food tour is an immersed-looking tour of the crops and poultry grown at Kualoa Ranch, and you can taste food produced by these crops and poultry
This tour will take you to explore the cattle, sheep, oysters, shrimp and various tropical fruits and vegetables of different season at Kualoa Ranch.
Leisurely shuttling in the air - conditioned bus on Kualoa Ranch can let you fully experience the real Hawaiian food culture food tour
Entering the Ka'a'awa valley to learn about the agricultural history of Kualoa Ranch about plants, fruits and vegetables is also a wonderful experience. We will take you to the 800-year-old oyster breeding base, where you can take a boat tour to learn about oyster breeding and growing process. Finally you will spot into ancient Hawaiian taro fields and enjoy 6-7 dishes made from crops grown in the current season and raised meats and seafood.at the Kualoa Ranch
Let's join the rancho Kualoa Ranch farm-to-table tour to experience Hawaii's rich natural cuisine and fresh local specialties!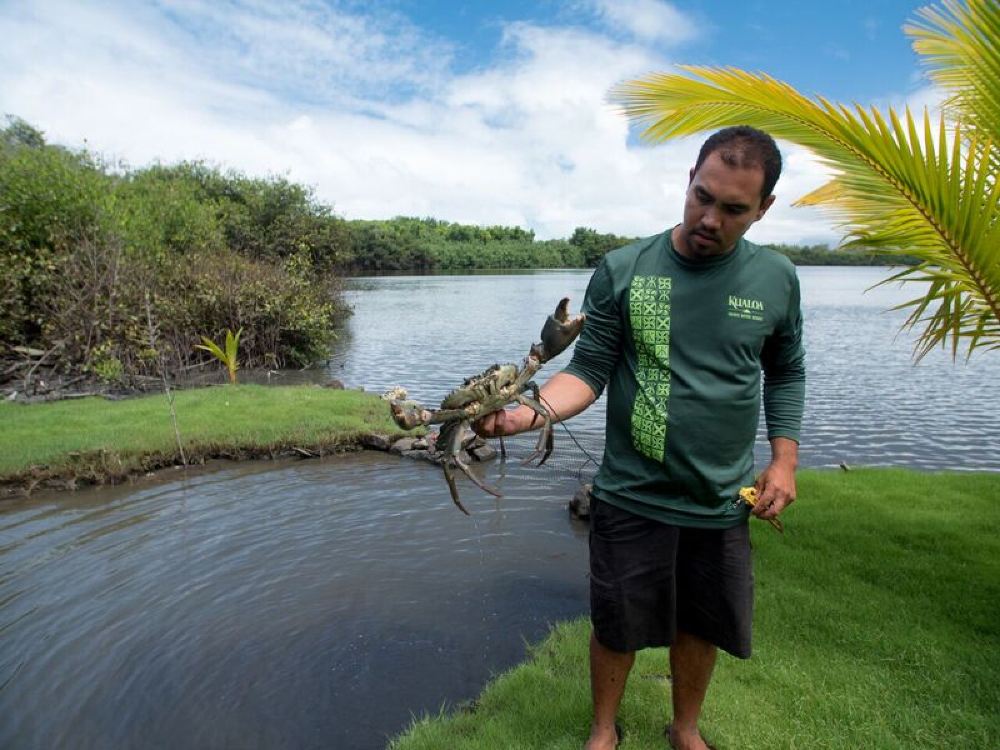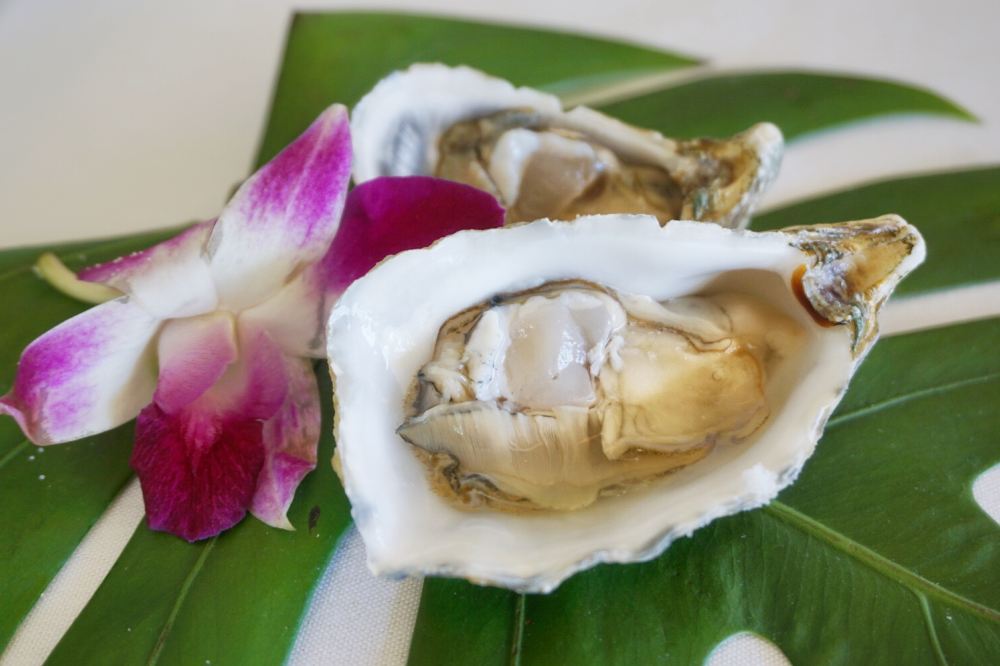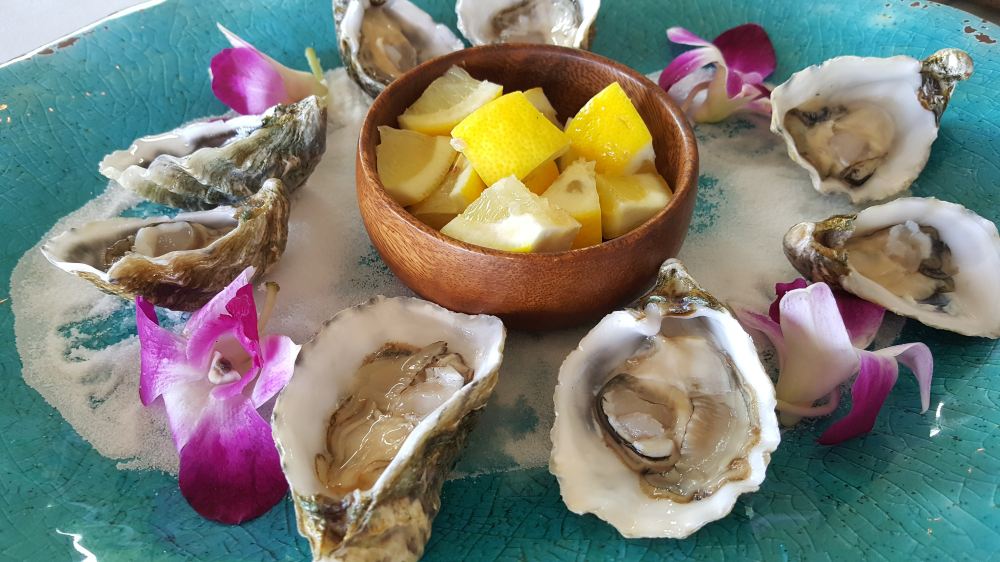 Premier Hollywood Movie Site Tour
Compared with [Hollywood Movie Sites Tour], Premier Hollywood Movie Site Tour provides more activities. Except for long visit of Hollywood scenes, we will lead you to all filmed spots including Ka'a' awa Valley Hakipu 'u Valley, and Moli' I's dock
If you want to get an in-depth view of Hollywood scenes, this package is your best choice
Another difference between these two packages is the vehicles used for the two projects
[Hollywood Movie Sites Tour] provides guests with school bus, while [Luxurious Hollywood Scene Tour] arrange a luxury air-conditioned bus with videos playing movie scenes
Remark: children aged 7 or below must bring their own child seat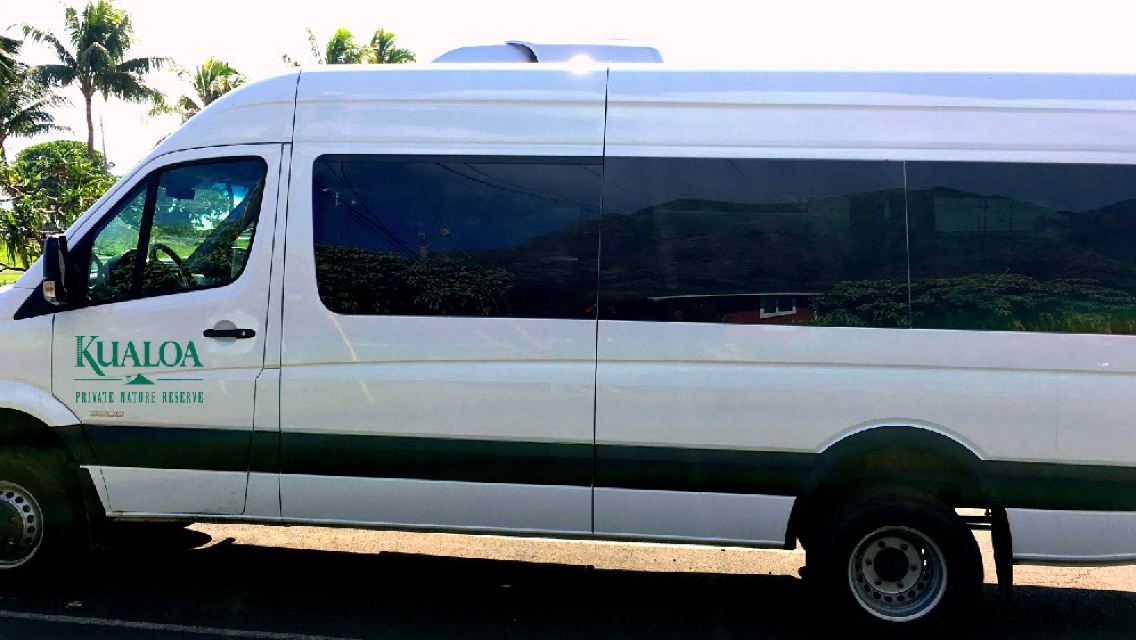 Photo of pick-up and drop-off personnel: please pay attention to the clothing of the staff in the picture for easy search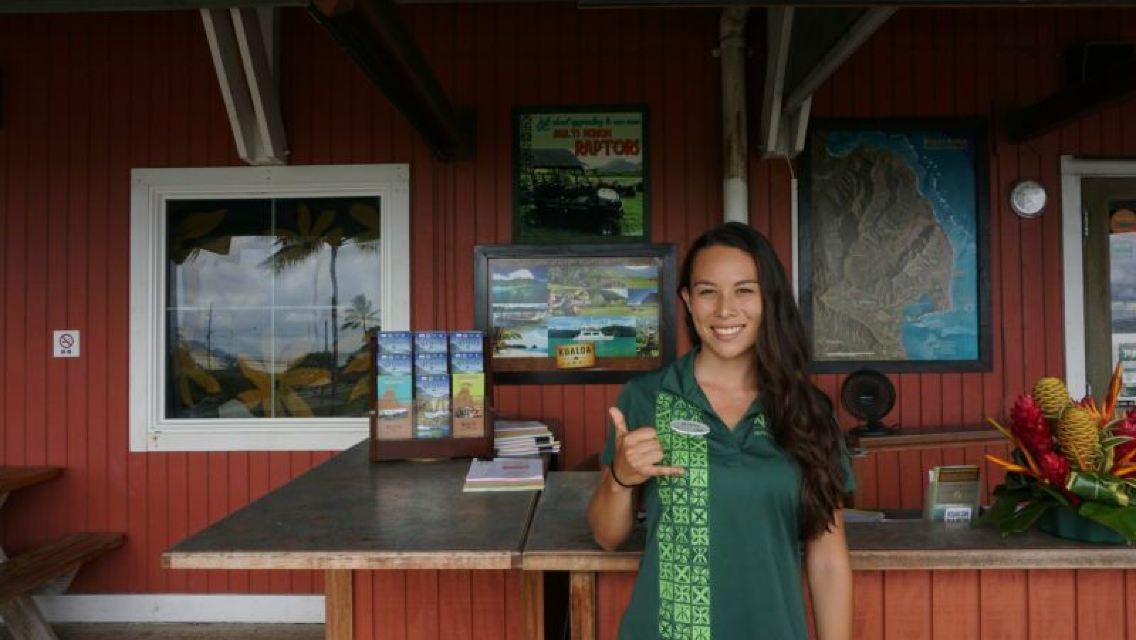 Itinerary
07:00 Gathering
Address 1: Ala Moana Hotel (side door, MAHUKONA STREET)
Address 2: INTERNATIONAL MAEKTER PLACE (KONA COFFEE SHOP)
Address 3: WAIKIKI BEACH MARRIOTT HOTEL PAOAKALANI STREET
Address 4: HILTON HAWAIIAN VILLAGE GRAND ISLANDER TOWER LOWER
Duration: about 15 minutes
07:15 Gathering
Address 1: SHERATON WAIKIKI HOTEL
Address 2: PRINCE WAIKIKI HOTEL
Duration: about 10 minutes
07:25 Transportation to Kualoa Ranch
Duration: about 45 minutes
08:10 Attraction: Kualoa Ranch
Duration: about 6 hours 20 minutes
14:30 Return to gathering place
Inclusions
Hotel pick-up and drop-off for some hotels within Waikiki regions
Tour guide and drive and service fees
Professional English tour guide
Exclusions
Gratuity of the tour guide
All personal expenses and expenses not mentioned in the inclusions
Travelers will be asked to cover additional costs due to traffic delays,strikes,weather,airplane or mechanical faults,canceled or rescheduled flights,and other major unforeseen events
Change & Refund Policies
Free cancellation at or before 00:00 at least 7 days before the date of use
Cancellations made at or before 23:59 on the date of use will incur a cancellation fee of 100%
How to Use It
You'll receive a booking confirmation email from Trip.com after your booking is successful
The tour guide will not contact you in advance, so please refer to the booking confirmation email for the meeting time and place
On the tour day, please wait at the meeting point (we recommend arriving 10 mins earlier) and present your passport to the tour staff
After arriving at the meeting point, please look for ranch staff in green uniform with Kualoa Ranch
Activity Essentials
Travelers aged 18 and under must be accompanied by at least 1 paying adult
Traveler Information
Adult: Age 12+
Child: Age 3–11
Important Information
Please provide your personal information and contact details when booking