Activity Details
At YumMee, you may discover the taste of each city through its iconic bowl of noodles, which the restaurant has strived to guarantee three things: authenticity, quality and deliciousness.
Set against the backdrop of a funky yet inviting ambiance with its electronic ordering system, YumMee aims to transport you through different cities with the most authentic flavours, one bowl at a time.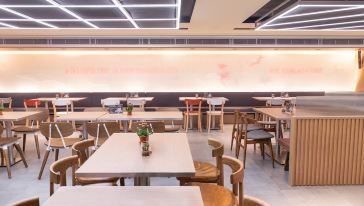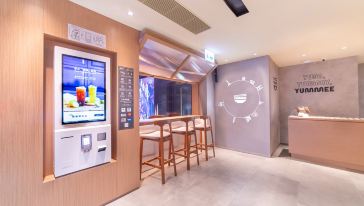 Must-Eat Dishes
YumMee's Taipei Braised Beef Shank Noodles is one of the most iconic foods in Taipei, an irresistible bowl of tender 5-hour braised beef shank plus 8-hour slow- cooked soup base escalated with spices, broad-bean chili sauce and Chu Hou paste.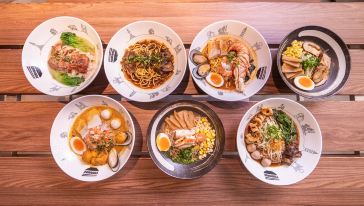 Hong Kong Fish Ball Wonton Flat Noodle is an escalated local treat featuring Hong Kongers' favourites – the aroma of fresh fish and bouncy texture of the fish balls from Aberdeen and traditional fresh shrimp wontons bathed in the 12-hour slow-cooked pork broth, to be served with smooth flat noodles. Simple yet hearty!
YumMee's Bangkok-style Beef Brisket Boat Noodles is a classic dish from boat vendors in Thai floating markets. The broth is made with beef soup as well as boat noodles sauce, Thai herbs and beef blood, double-boiled for over 14 hours to give a rich and authentic taste.
In the newly launched YumMee x Vitasoy Iced Bear Series, we used one of the Hong Kongers' favourite drink - Vitasoy Soy Milk and Malt Soy Milk to create three cute little Iced Bears to go with our innovative handmade special drink, delivering an inexplicably cool and quenching sensation following your hot dish indulgence.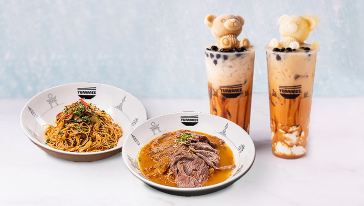 You may redeem any 1 option from the list below:
Noodle Choices (HK$68 - HK$98):
Shanghai Spicy Dan Dan Noodle
Shanghai Spicy Dan Dan Noodle with Fried Iberico Pork Chop
Hong Kong Fish Ball Wonton Flat Noodle
Taipei Braised Beef Shank Noodles
Bangkok-style Beef Brisket Boat Noodles
Kowloon Satay Beef Instant Noodle
Kowloon Tomato Wagyu Beef Rice Vermicelli
KL Traditional Prawn Noodles
Kyoto Char Siu Soy Sauce Ramen
Chengdu Style Spicy Cold Noodle with Shredded Chicken
Rice Choices (HK$98):
Taipei Braised Beef with Rice
Bangkok-style Beef Brisket with Rice
Drink Choices (HK$42 - HK$52):
White Bear Bean Curd Thai Tea
White Bear Brown Sugar Bubble Ginger Milk
Brown Bear Bubble Thai Tea
Brown Bear Coffee with Cheese Foam
Double Strawberry Pink Bear Drink
Pink Bear Mango Drink
You may also upgrade your meal by paying additional price!
Add on: Noodle
Hanoi Wagyu Beef Pho (+HK$8) Value HK$108
Singapore Seafood Laksa (+HK$8) 108
Phuket Tom Yum Kung with River Prawns (+HK$18) Value HK$118
KL Lobster Seafood Prawn Noodles (+HK$88) Value HK$188
Kyoto King Crab Soy Sauce Ramen (+HK$98) Value HK$198
KL Hainanese Chicken Laksa (+HK$18) Value HK$118
Add on: Rice
KL Hainanese Chicken Rice (+HK$18)
Phuket Tom Yum Kung with Rice (+HK18)
Kyoto Wagyu Beef and Onion Rice (+HK$8)
Kyoto Tonkatsu Curry Rice (+HK$8)
Inclusions
1 option of noodle or rice value within HK$100
1 Complimentary Iced Bear Drink value HK$42 to HK$52
Exclusions
Other personal expenditure
Additional upgrade
Change & Refund Policies
Once this product is successfully booked, it cannot be changed or canceled
How to Use It
The usage time is in local time.
After successful booking, you will receive a QR code for redemption.
Please present your QR Code at restaurant and redeem.
Redemption Location: YumMee, Shop136, 1/F K11 MUSEA
Redemption Time: 11:00 - 22:00
Activity Essentials
The redemption voucher is valid until 31 Dec 2020, weekend and public holiday is also available.
Important Information
This voucher is applicable for dine in only
This voucher is valid until 31 Dec 2020, including Weekends and Public Holidays
Customers are entitled to one selected Complimentary Iced Bear Drink upon each voucher redemption
The voucher is only applicable to selected noodles or rice under HKD100; Customers are allowed to upgrade to noodles or rice above HKD100 by paying the remaining balance
This voucher is non-exchangeable and non-refundable
This voucher cannot be used in conjunction with other promotions and discounts
YumMee reserves the right to change these Terms and Conditions at any time without prior notice
YumMee reserves the right of final decision on all related matters
This voucher may be used for takeout, but an additional fee of HKD $1-2 may be charged for the takeout box. Please ask the service staff onsite