Activity Details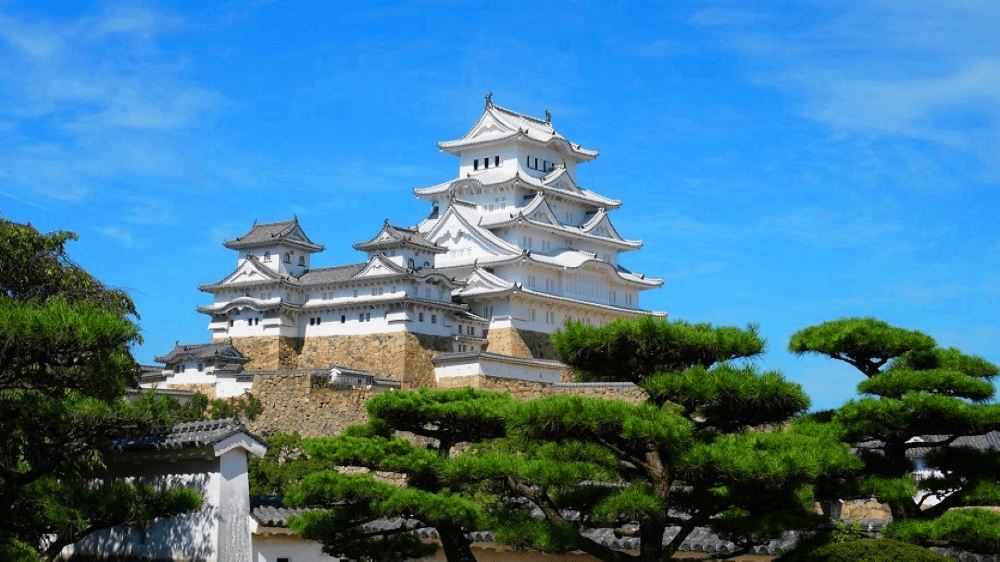 Full-day walking tour of Himeji in Hyogo prefecture, starting at its attraction: the exquisite Himeji Castle. Himeji castle is also known as "Shirasagi Castle", it was covered in white that was beautifully struck by a major repair.The main tower is the centerpiece. There are many other attractions in the large castle.Enjoy a 2-hour leisurely stroll through Himeji Castle.
Then enjoy a lunch buffet of Japanese and western food.Afterward, travel to the Maiko Marine Promenade, a walkway that lines the Kobe side of Akashi Kaikyo Bridge—the longest suspension bridge in the world,You can enjoy the promenade above the 47m high strait.
Itinerary
〖ITINERARY〗Duration:8h
【08:50/09:00】Meet & Depart from Hotel Granvia Osaka
• From Osaka Station to Himeji Station/75mins
• Himeji Castle/Stop:120mins
-Also known as White Heron Castle, famous for its beautiful white exterior which
-was recently renovated. Stroll & learn about its history from a knowledgeable guide
• From Himeji Castle to Himeji Station/20mins
• Lunch Japanese & Western-style Buffet/Stop:60mins
• From Himeji Station to Maiko Station/30mins
• Maiko Marine Promenade/Stop:40mins
-Enjoy a stroll 47 meters above sea level along the Marine Promenade which is located
-inside Akashi Kaikyo Bridge, the world's longest suspension bridge.
【17:00】You'll Tour ends at Osaka Station
• Please head to your next destination on your own
Inclusions
Available on Monday,Wednesday,Friday
Buffet lunch
English-speaking guide,Entrance fee
Transportation included in the itinerary
Booking fee,taxes & services
Exclusions
Personal Expenses
Round-trip transfers to meeting point
Any items not mentioned are NOT included
Tips and Gratuities to service staff
Change & Refund Policies
Free cancellation at or before 20:00 at least 8 days before the date of use
Cancellations made at or before 20:00 at least 7 days before the date of use will incur a cancellation fee of 30%
Cancellations made at or before 20:00 at least 3 days before the date of use will incur a cancellation fee of 50%
Cancellations made at or before 20:00 at least 2 days before the date of use will incur a cancellation fee of 80%
Cancellations made after 20:00 at least 2 days before the date of use will incur a cancellation fee of 100%
Partial cancellation of this booking is not permitted
How to Use It
The e-voucher is valid only on the date specified
Indicate your booking name/e-voucher to the Reception/Guide
Be at Meeting Point 10 minutes before the scheduled activity time
No refunds for late/no-shows/unused once the activity starts
Activity Essentials
• Minimum Booking: 2 persons
• Age rank: 01-05 years free no seat+food.If required,please book child ticket
• Age rank: 06-11 years CHILD PRICE
• Age rank: 12-65 years ADULT PRICE
• Booking Deadline: 3 days prior to the activity/tour before 20:00
• Once confirmed, we will send you the voucher via email
• E-Vouchers can only be redeemed from your selected Venue
• The tour itinerary may be delayed due to traffic or weather conditions
• No smoking,food,alcohol or drugs of any type shall be bought on to the premises
• Provide IM app contact while booking (WhatsApp/Wechat)
• Please bring your e-voucher in your tour date
Traveler Information
Adult: Age 12 to 65
Child: Age 6 to 11
• Age rank: 1-5 years free no seat+food.If required, please book child ticket
Important Information
• As this is a walking tour,casual clothes and comfortable shoes are highly recommended
• Under 20 years of age will not be served sake
[Exemptions:Itinerary/Destinations]
• This tour uses public transportation with non-reserved seats,seating is not guaranteed
• Certain tour dates may be canceled, or tour operation may cease entirely
[Travel safe during COVID-19]
• Require purchase a mask
• Fever decision 99.5°F/37.5°C or less (Japan standard)
• Those who are sick or have a fever are not allowed to participate
[LOCATION]
Rountrip from Osaka
-Meeting point:Hotel Granvia Osaka