Activity Details
Inclusive of:
2 x Noodles / Spaghetti / Rice below HK$150 (20 choices)
o Noodles in Tom Yum Koong HK$138
o Phad Thai wijt Fresh Prawns HK$138
o Noodles with Thai Duck Stew HK$108
o Thai Braised Beef Noodles Soup with Beef Balls HK$98
o Pork Rice Noodle Soup with Pork Balls HK$98
o Khao Soi Chicken HK$128
o Top Rank Beef Noodles HK$148
o Spaghetti Vongole HK$138
o Fettuccini with Seared Scallops, Asparagus in Light Pesto Cream Sauce HK$148
o Angry Pasta (Chicken/Seafood) HK$138
o Spaghetti Carbonara in Light Cream Sauce HK$138
o Spicy Spaghetti Olio with Bacon HK$128
o Penne Al Pomodoro with Ham and Cheese HK$138
o Fusilli with Seafood Tom Yum HK$148
o Red Curry Roasted Duck HK$138
o Famous Pineapple Fried Rice with Seafood HK$148
o Minced Chicken or Pork with Sweet Basil and Hot Chilies HK$138
o Fried Rice with Pounded Prawns HK$148
o Phad Thai with Mushrooms HK$128
o Angry Veggie Pasta HK$108
1 x Crepe cake or Zesty Cake (11 choices, up to HK$78)
o Mango Crepe Cake
o Fresh Coconut Crepe Cake
o Thai Pandan Custard Crepe Cake
o Original Crepe Cake
o Fresh Fruit Crepe Cake
o Thai Tea Crepe Cake
o Thai Coffee Crepe Cake
o Mixed Berries Zesty Cake
o Mango Zesty
o Strawberry Zesty
o Lemon Cheese with Forest Berry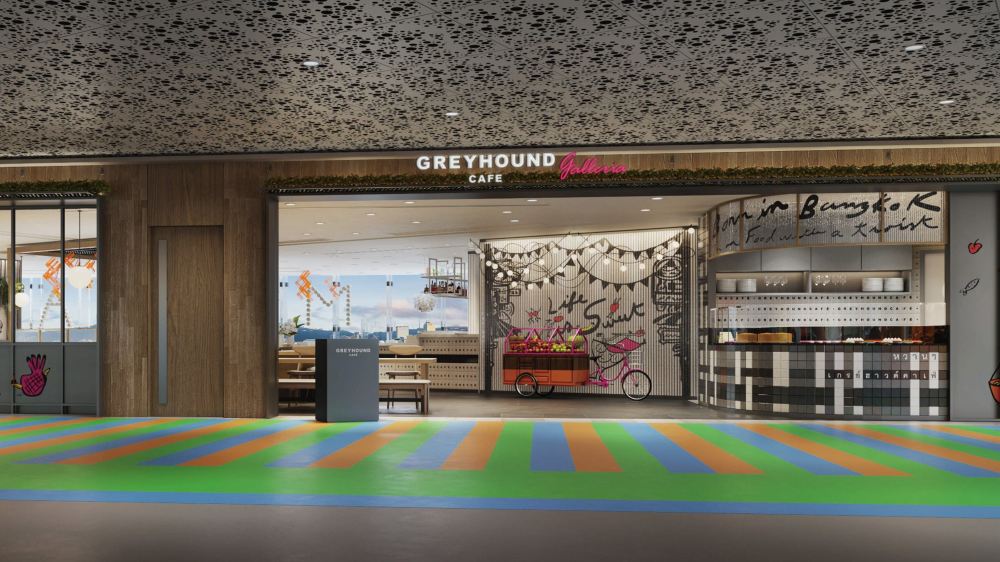 Greyhound Cafe Galleria, a harbourside flagship store at the renowned cultural-retail destination - K11 MUSEA, continues to inherit the essence of "Thai Food with a Western Twist", through an even bolder Thai Relevancies, bringing all avid Greyhound lovers another extraordinary gastronomy experience.
Beyond an ordinary Thai restaurant, Greyhound Cafe Galleria is a Modern Bangkok restaurant that showcases the way urban Bangkokians live and love via a contemporary food philosophy and ambiance. Bringing you back to the city where it was born, Greyhound Café Galleria offers a mixture of tastes in culture and art, from traditional to modern, from street to premium, from local to international, all mixed together in a beautifully chaotic way. Featuring a sweet surprise by the entrance, where Thai desserts are presented in a jewelry-like cake display by the fascinating dessert bar, which is decorated with a mixture of vibrant clay tiles
Greyhound Café Galleria presents a creative and fun artistic environment using modern and colourful graphics and art installations, focusing on the lively street elements from Bangkok. Looking through the main entrance, one can enjoy the full panoramic breathtaking view of the beautiful harbour. The restaurant prides itself in a haute couture menu exclusively tailored for the artistic temperament surrounding this stylish mall, focusing on more innovative Thai dishes and handcrafted dessert selections, blending in creativity and modernism with authentic Thai flavours. Not to be missed is the exotic ice cream bicycle cart, featuring the signature house-made Coconut Ice Cream served alongside a fun variety of Thai condiments.
What's better than enjoying a delicious Thai food feast set against the beautiful Hong Kong skyline? We look forward to seeing you at Greyhound Café Galleria - K11 MUSEA!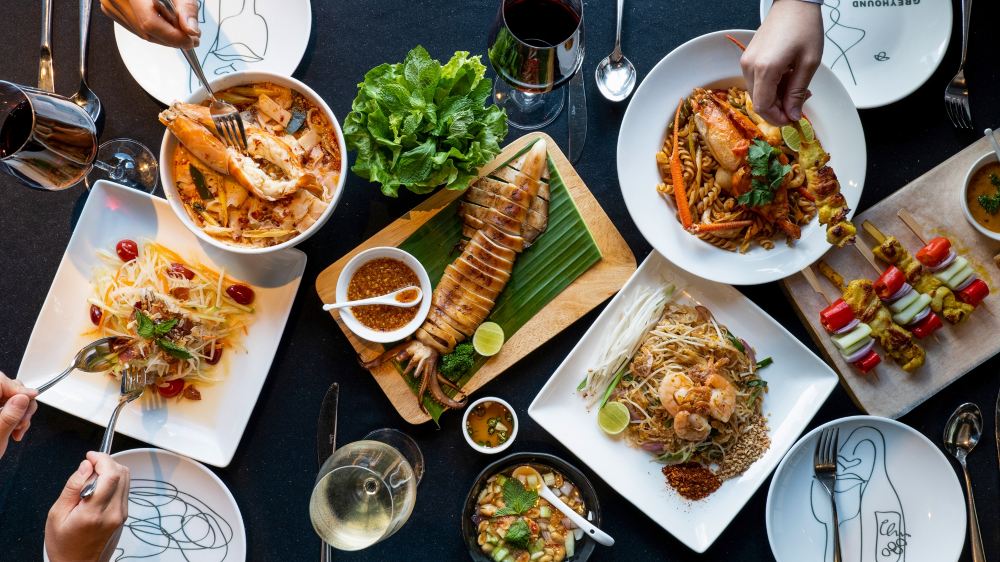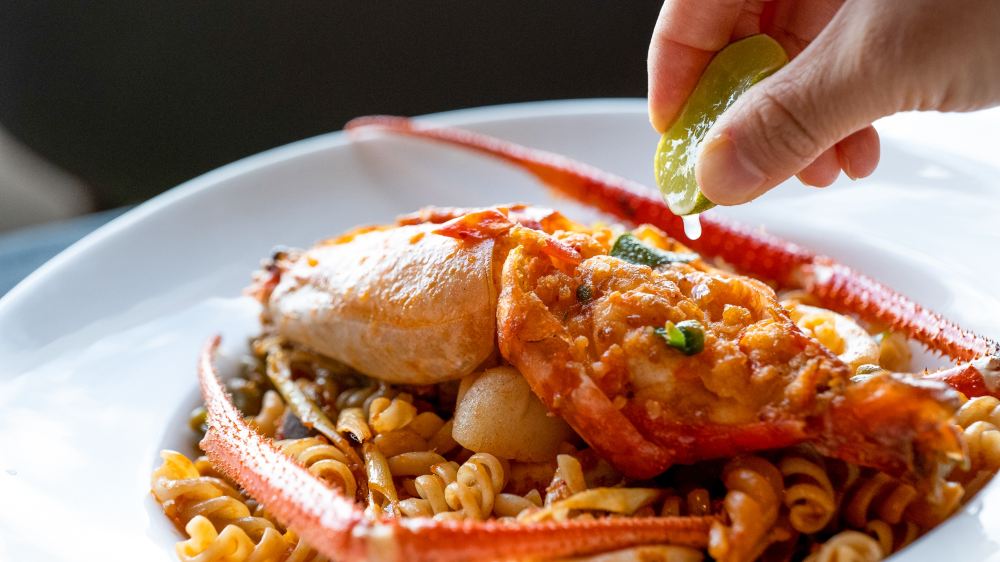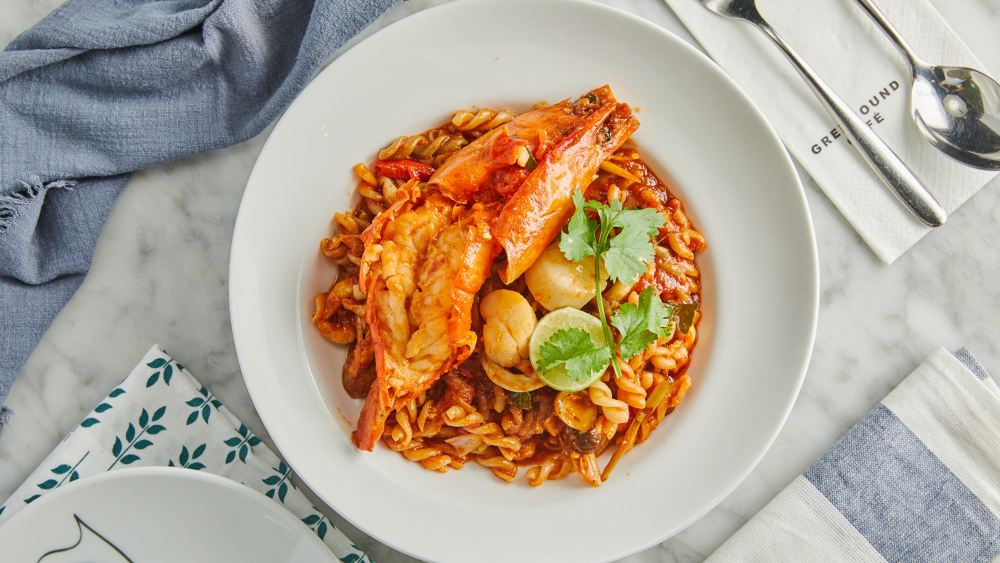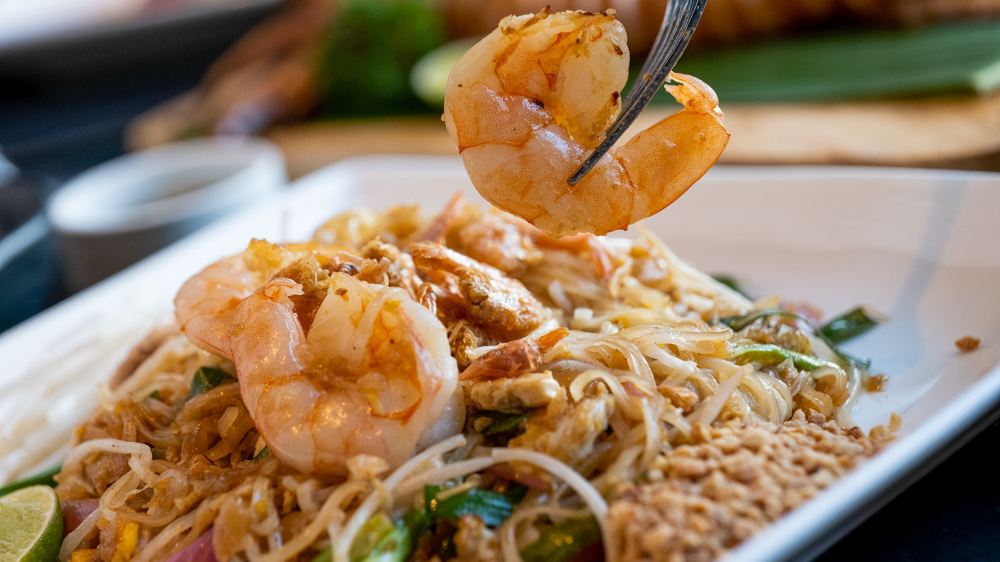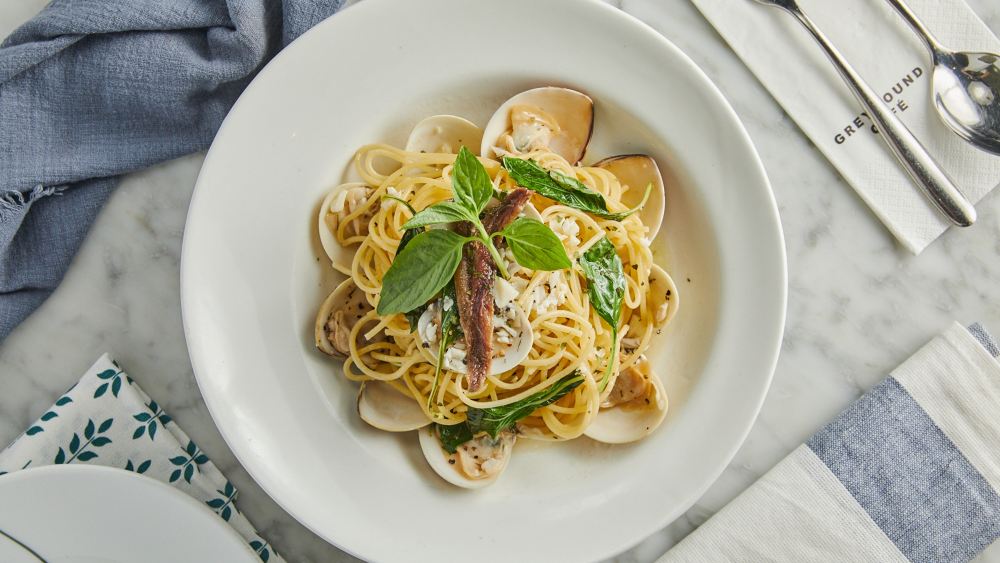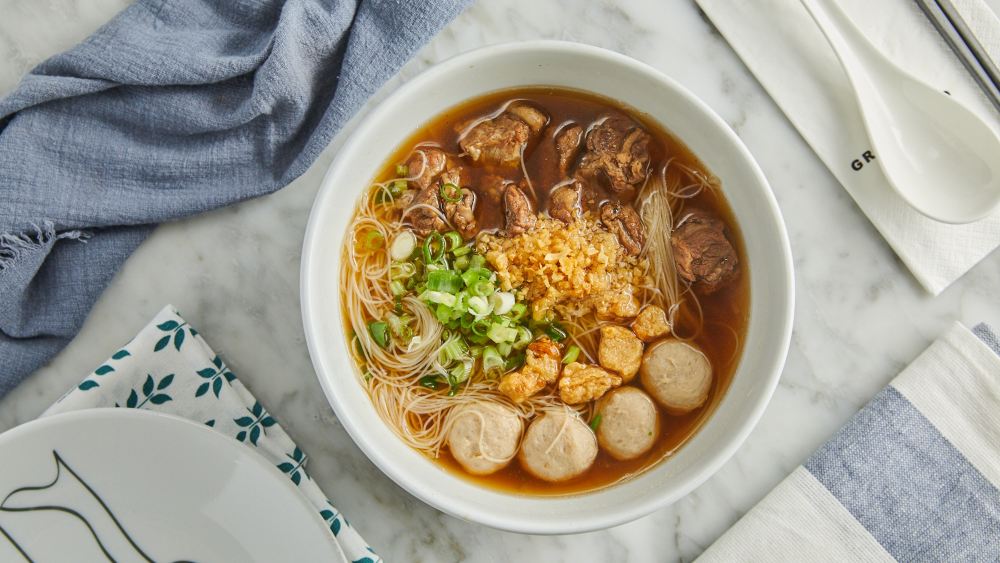 Inclusions
2 x Noodles / Spaghetti / Rice below $150 (20 choices)
1 x Crepe cake or Zesty Cake (11 choices, up to HK$78)
10% Service Charge
Exclusions
Fee not mentioned above
Other personal expenditure
Change & Refund Policies
Once this product is successfully booked, it cannot be changed or canceled
How to Use It
The usage time is in local time.
After successful booking, you will receive a QR Code for redemption.
Please present the QR code or Redemption voucher number to staff to redeem.
Address: Shop 327A&327C, 3/F, K11 Musea, Victoria Dockside, 18 Salisbury Road, Tsim Sha Tsui
Business Hour: 11:00 - 22:00 (the business hour may change subject to shopping mall policy without prior notice)
Important Information
This voucher cannot be used in conjunction with any other promotional offers, redeemed for cash
It is non-exchangeable and non-refundable
All photos are for reference only
Menu is subject to change from time to time
Greyhound Café Galleria reserves the right of the final decision on the use of this offer or offer any similar value product at any time