Activity Details
As dusk falls, the shutters open at the Night Safari, welcoming you into a world of nocturnal creatures and their mysterious habitats.
Your eyes will take a while to adjust to the darkness here, but once they do, you'll be greeted by close to 900 animals from over 100 species in this world's first nocturnal wildlife park. 41% of these species are threatened, including many indigenous to the region, such as the endangered Asian elephant, Malayan tapir and Malayan tiger.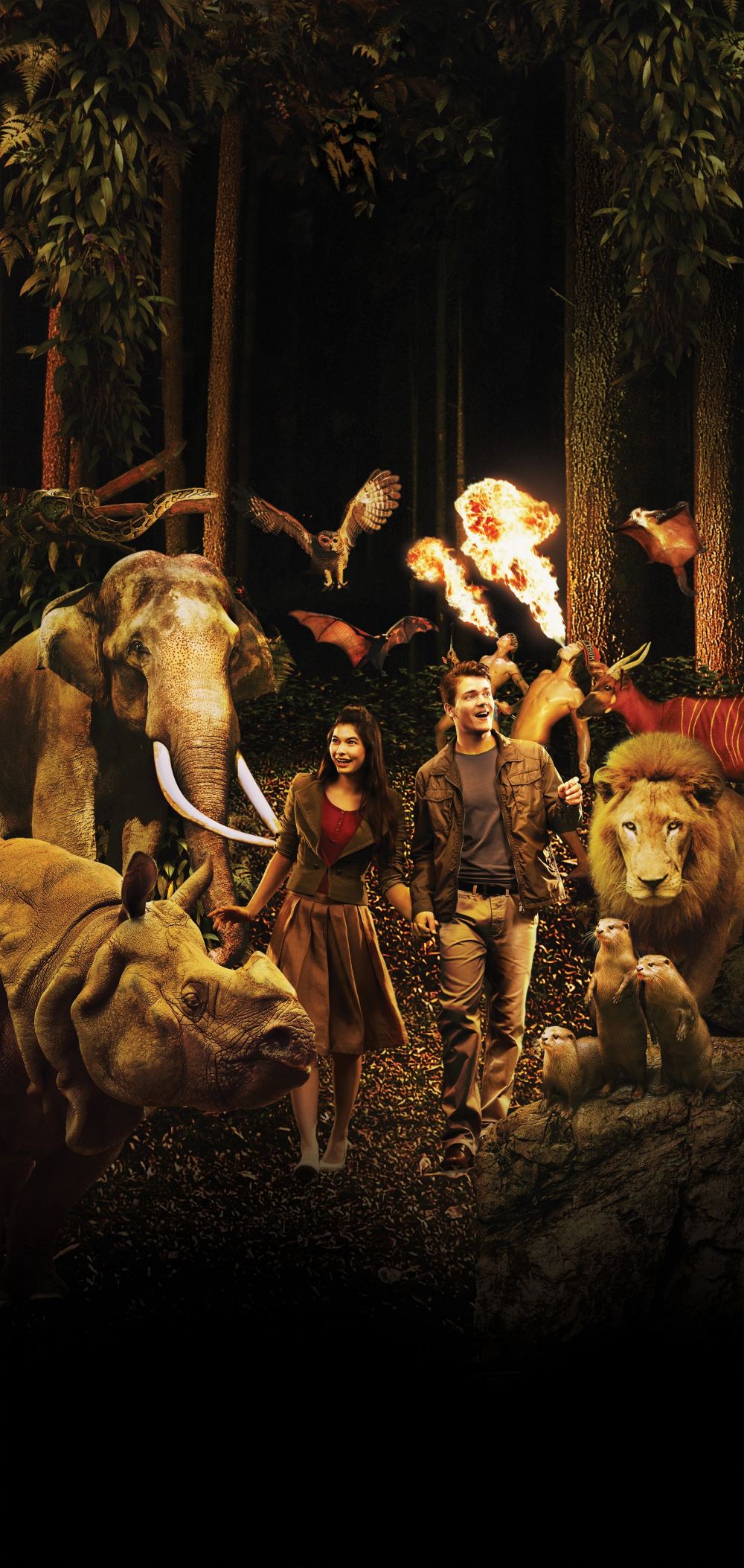 Venturing through the Jungle
For those who prefer exploring the park on wheels, a Tram Safari ride with live commentary will you across six geographical zones of the world, from the rugged Himalayan Foothills to the jungles of Southeast Asia.
Exploring the park on one of the four walking trails lets you see even more animals not visible from the tram. Among them are the Fishing Cat Trail that recreates a nighttime trek through the jungles of Singapore, and the popular Leopard Trail, which features the largest collection of wildlife indigenous to Southeast Asia. Be sure to catch the newest Southern Three-banded Armadillo in action at the new Explorer Outpost along Fishing Cat Trail while you're there.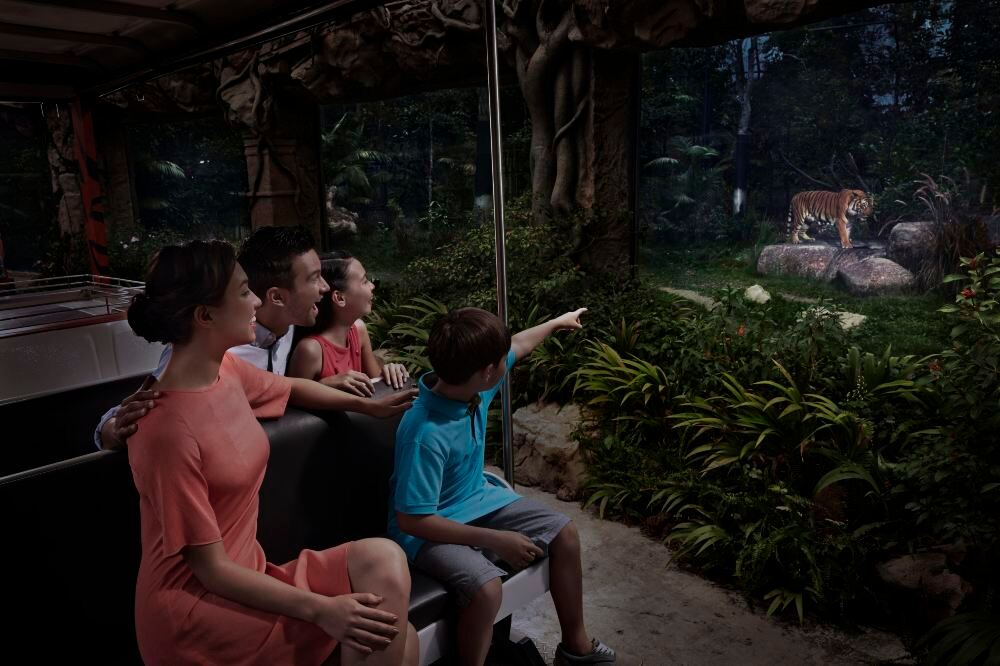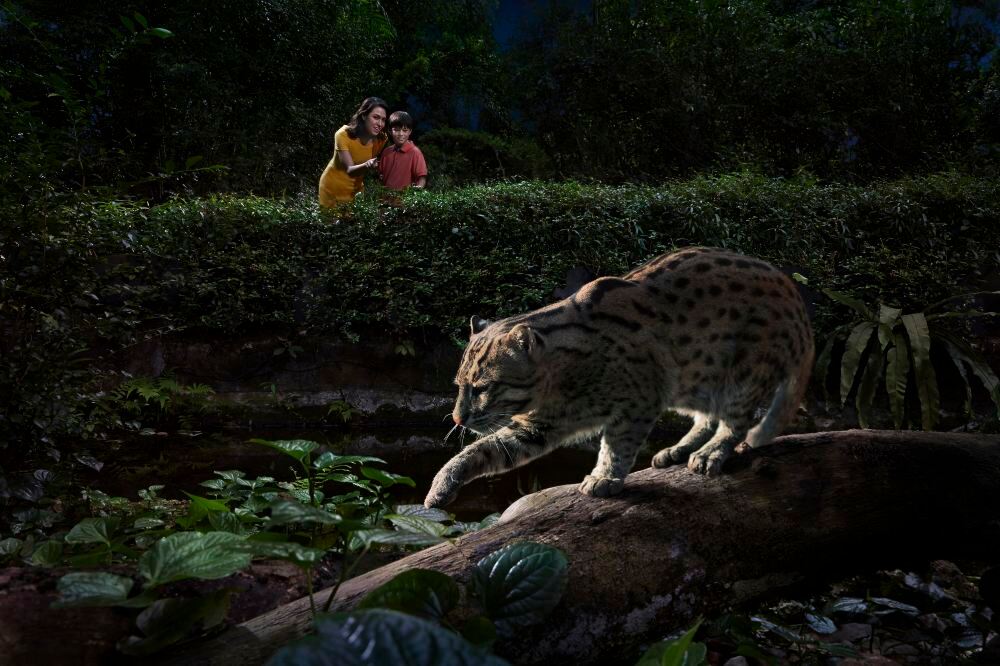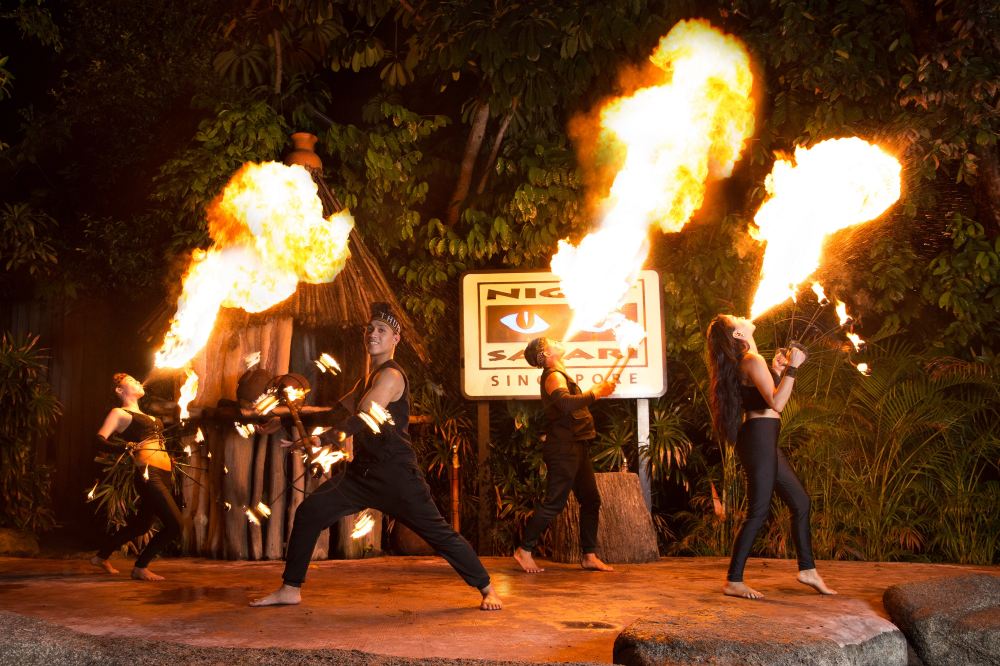 Creatures of the Night Show
Be amazed as otters, binturongs, civets and other animals display their natural talents in this interactive show. Learn more about the spotted hyena's powerful jaws while the African serval demonstrates its incredible ability to leap for prey.
Guests are required to book show seats online in advance. Booking portal opens 2 hours before show time. All shows are weather permitting and show seats are subjected to available capacity as part of prevailing Safe Management Measures.
Show: Approx. 25 mins
Location: Amphitheatre
Timings: 7.30pm / 8.30pm / 9.30pm / 10.30pm*
*Available only on Fri, Sat and Eve of PH, PH and selected school holidays
Explore our park with ease!
Select a park map in your preferred language to download.
Booking Validity
Valid from November 4, 2022 to March 4, 2023 (local time), Valid for 1 use(s) only
Inclusions
Admission to Night Safari + Tram Ride
Change & Refund Policies
Once this product is successfully booked, it cannot be changed or canceled
How to Use It
Admission times and opening hours are in local time
Please bring your valid ID for verification purposes
Before you visit the park, you must book a date/timeslot, please check your voucher for the reservation portal: https://reseller.wrs.com.sg/ticketstore/GuestBookTimeslot
After you confirm the selected date/time, you cannot change the date and time of the park visit. Mandai Wildlife Group reserves the right to deny admission if no prior bookings are made
Present the e-voucher & reservation on your phone and reservation to gain admission by scanning QR Code.
Night Safari Opening Hours: Daily 6.30pm to 12am (Last entry at 11.15pm)
Address: 80 Mandai Lake Road Singapore 729826
Activity Essentials
Traveler Information
Adult: Age 13–59
Child: Age 3–12
Senior: Age 60+
Admission for children below 3 years old is free
Important Information
Stay only where humans roam. Venturing into prohibited areas is not allowed and highly dangerous.
The park is our animals' home, so treat them with respect.This includes NOT feeding, teasing or plucking off their feathers.
Please stay seated and keep hands and feet within the tram during the ride.
There's room enough for everyone in the park, so do not make a rush for any show or exhibit.
Please switch off the flash photography function in your camera when taking photos as it may blin, disturb or startlethe animals.
Without official consent from Night Safari, the commercial use of videotaped/filmed footage and photos is strictly forbidden.
You may be filmed, videotaped, or photographed by park representatives during your visit. Your admission to the park serves as your consent to the use of your image.
Night Safari is smoke-free. The designated smoking point is located outside the park entrance.
The park is a designated quarantine area. Pets and plants are not permitted as they may affect our animals' health and safety.
Skate scooters, inline skates, rollerblades, tricycles and pull trolleys are not permitted in the park as they may compromise our guests' safety.
Some exhibits may be temporarily closed for refurbishment, please check with the attractions for more details.