App
Download the App for Free
Help
Global Access Number
+1-646-362-8606
Flight & Hotel Bookings: 24/7
Other Bookings: 09:00-18:00 (GMT+8)
Portugal: COVID-19 Travel Policies by Country/Region
Updated on 13:31, Apr 20, 2021 UTC+8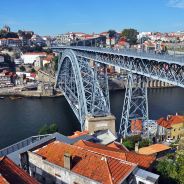 Entry into Portugal
Entry prohibited
Detailed Regulations
From March 29, 2021, foreign nationals are prohibited from entering Portugal. This policy does not apply to persons arriving from countries or regions in the European Union, countries or regions associated with the Schengen Area, Australia, Hong Kong SAR, Macau SAR, Mainland China, New Zealand, Rwanda, Singapore, South Korea, or Thailand. Persons seeking to travel to Portugal from any other country or region may do so only for essential purposes, which does not include tourism. Foreign nationals traveling from an above-listed region where the current rate of COVID-19 infection is 150 or more per 100,000 inhabitants may do so only for essential purposes. This policy does not apply to nationals from countries in the European Union or countries associated with the Schengen Area, or their family members.
All persons arriving by air must carry proof of a negative result for COVID-19 issued no more than 72 hours prior to departure using a reverse transcription polymerase chain reaction (RT-PCR) test and fill out a health registration form for contact tracing purposes. All persons arriving from locations where the current rate of COVID-19 infection is between 150 and 500 per 100,000 inhabitants must, in addition to a negative RT-PCR test, undergo a 14-day quarantine at their residence or a designated facility. This policy does not apply to persons traveling for essential reasons or persons holding proof they will remain within Portuguese jurisdiction for less than 48 hours. Further exemptions to testing requirements exist for children under 2 years of age. Portugal's land border with Spain is closed to foreign nationals cross-border passenger rail traffic is suspended. This policy does not apply to lawful residents entering at designated border checkpoints. All sea border checkpoints are closed to passenger traffic. More information about testing requirements and a link to health registration forms is available at the following URL: https://imigrante.sef.pt/en/covid-19/faqs/#1596230931926-35f82bfa-7209
Returning to United States
Entry prohibited
Detailed Regulations
Foreign nationals who have visited any of the following countries or regions within 14 days of their arrival in the United States are prohibited from entering: Austria, Belgium, Brazil, Czech Republic, Denmark, Estonia, Finland, France, Germany, Greece, Hungary, Iceland, Iran, Ireland, Italy, Latvia, Liechtenstein, Lithuania, Luxembourg, Mainland China, Malta, Monaco, Netherlands, Norway, Poland, Portugal, San Marino, Slovakia, Slovenia, South Africa, Spain, Sweden, Switzerland, Vatican City, and the United Kingdom.
From January 26, 2021, all persons traveling to the United States (including US nationals) must present proof of a negative result for COVID-19 issued no more than 3 days to departure using a nucleic acid or antigen test. Alternatively, persons who, at any point within 90 days of their scheduled departure for the United States, tested positive for COVID-19 may present "documentation of recovery" for travel to the United States. This must include proof of the positive test result along with a certificate from a recognized healthcare provider attesting that the traveler is not currently exhibiting symptoms consistent with COVID-19 is and cleared for travel. All travelers must additionally sign a form attesting that the information provided to airline staff is truthful and accurate to the best of the traveler's knowledge. Persons lacking such proof are prohibited from boarding flights bound for the United States. More information including post-travel recommendations is available via the following URL: https://www.cdc.gov/coronavirus/2019-ncov/travelers/testing-international-air-travelers.html
The United States government has mostly suspended the issuing of new visas and all US land border checkpoints with Canada and Mexico are closed to non-essential traffic. Additional restrictions are in place for persons holding special category visas including H-1B, H-2B, J-1, and L-1 visas. All travelers are encouraged to contact their local US embassy or consulate prior to finalizing travel arrangements. When arriving into or traveling within the United States, all persons must wear masks covering their mouth and nose while aboard any conveyance or at any transportation hub. Be advised, various state and local authorities in the United States have implemented additional policies and restrictions for persons arriving into their jurisdictions.