Hilton Garden Inn Denver Downtown
1400 Welton Street, Denver, CO 80202, Colorado, United States
Show on map
Opened: 2007 If youa??re looking for hotels in downtown Denver, CO, youa??ll love the modern, warm, and inviting Hilton Garden Inn Denver Downtown. Our ideally-located downtown Denver hotel is next to the Colorado Convention Center, one block from the 16th Street Mall, and three blocks from the Denver Art Museum. No transportation? No worries. Our complimentary 16th Street shuttle provides easy access to Pepsi Center, Coors Field, LoDo, the Denver Performing Arts Complex, and many other nearby attractions.Our Hilton Garden Inn hotel in downtown Denver features 221 guest rooms with everything youa??ll want and need to feel comfortable:* One king- or two queen-size Garden Sleep Systema?¢ adjustable beds * Plush bedding with crisp linens and hypoallergenic down pillows * 32" flat-screen HD television * Spacious work desk with a Herman Miller Mirra?? ergonomic desk chair * Complimentary high-speed wired and wireless Internet access * In-room microwave, refrigerator, and coffee maker * Clock radio with MP3 connection * PrinterOn?? remote printing services * Complimentary in-room coffee/tea * Complimentary Neutrogena?? bath products Few hotels in downtown Denver can match our facilities for conferences, social events, or weddings. We offer 6800 square-feet of space - nine attractive, high-tech rooms that are perfect for a variety of events. In addition to our great event spaces, our Denver, CO hotel offers many other great amenities:* Pi Kitchen + Bar - serving innovative local and global cuisine for breakfast, lunch, and dinner * Dazbog Coffee - the perfect spot for your morning pick-me-up or afternoon break * 24-hour Pavilion Pantry?? convenience mart * 24-hour complete executive business center * On-site fitness facility * Sparkling indoor pool and whirlpool * Stay Fit Kits?? available for in-room guest fitness Visiting downtown Denver on business? Events and conferences at the Colorado Convention Center are steps away, and our Colorado Convention Center hotel is surrounded by off
Show More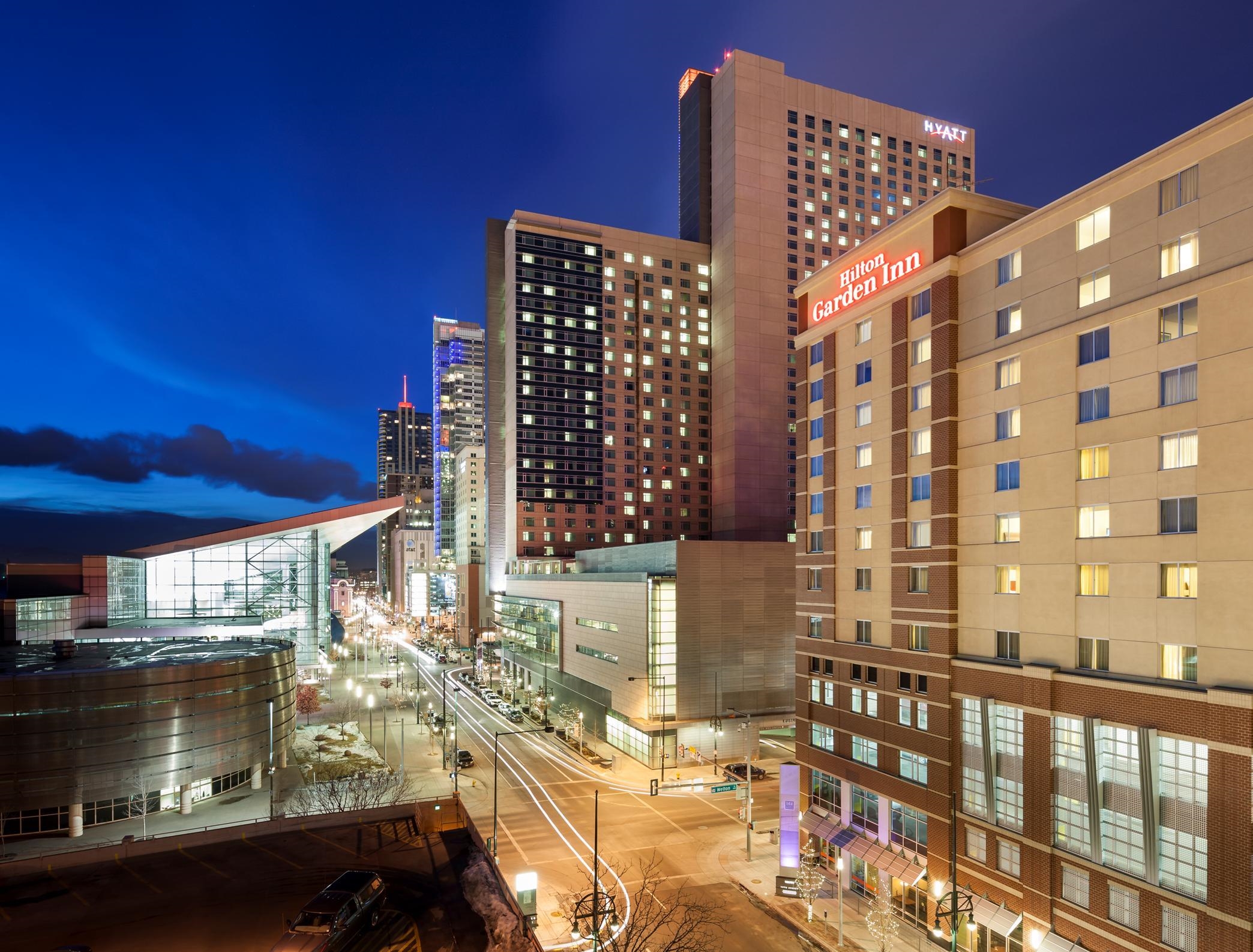 10 places of interest within 1000m
View Map

Hearing Accessible King Room
Photos and Amenities

Mobility Accessible King Room with Roll in Shower
Photos and Amenities

King Room
Photos and Amenities

King Room with Sofabed
1 sofa bed and 1 king bed
Photos and Amenities

Hearing Mobility Accessible King Room with Bathtub
Photos and Amenities

Hearing Accessible Two Queen Room
Photos and Amenities

Two Queen Room
Photos and Amenities
Mountain View Two Queen Room
Mountain view

Mountain View King Room with Sofabed
Mountain view
Photos and Amenities

Mountain View King Room
Mountain view
Photos and Amenities

Hearing Mobility Accessible Corner Two Queen Room with Tub
Photos and Amenities

Hearing Accessible Two Queen Room with Mountain View
Photos and Amenities

Corner Two Queen Room
Photos and Amenities

Hearing Mobility Accessible Two Queen Corner Room with Roll in Shower
Photos and Amenities

King Corner Room with Sofabed
Photos and Amenities

Premium King Room
Photos and Amenities

King Junior Suite
Photos and Amenities

Hearing Mobility Accessible King Junior Suite with Roll in Shower
Photos and Amenities

Premium Two Queen Room
Photos and Amenities

Mountain View King Junior Suite
Mountain view
Photos and Amenities
Hotel Policy
Check-in and Check-out
Check-in
from 15:00
Check-out
before 12:00
Children and Extra Beds
Children are welcome at this hotel.
Need to Know
Important City Info
Guests must provide a credit card when checking in. The hotel will pre-authorize your card and the pre-authorization will be released if there are no extra charges or damage to the room when checking out. Some hotels and room types have special policies, please check with the hotel for more information.
Hotel Description
Opened: 2007
Number of Rooms: 221
If youa??re looking for hotels in downtown Denver, CO, youa??ll love the modern, warm, and inviting Hilton Garden Inn Denver Downtown. Our ideally-located downtown Denver hotel is next to the Colorado Convention Center, one block from the 16th Street Mall, and three blocks from the Denver Art Museum. No transportation? No worries. Our complimentary 16th Street shuttle provides easy access to Pepsi Center, Coors Field, LoDo, the Denver Performing Arts Complex, and many other nearby attractions.Our Hilton Garden Inn hotel in downtown Denver features 221 guest rooms with everything youa??ll want and need to feel comfortable:* One king- or two queen-size Garden Sleep Systema?¢ adjustable beds * Plush bedding with crisp linens and hypoallergenic down pillows * 32" flat-screen HD television * Spacious work desk with a Herman Miller Mirra?? ergonomic desk chair * Complimentary high-speed wired and wireless Internet access * In-room microwave, refrigerator, and coffee maker * Clock radio with MP3 connection * PrinterOn?? remote printing services * Complimentary in-room coffee/tea * Complimentary Neutrogena?? bath products Few hotels in downtown Denver can match our facilities for conferences, social events, or weddings. We offer 6800 square-feet of space - nine attractive, high-tech rooms that are perfect for a variety of events. In addition to our great event spaces, our Denver, CO hotel offers many other great amenities:* Pi Kitchen + Bar - serving innovative local and global cuisine for breakfast, lunch, and dinner * Dazbog Coffee - the perfect spot for your morning pick-me-up or afternoon break * 24-hour Pavilion Pantry?? convenience mart * 24-hour complete executive business center * On-site fitness facility * Sparkling indoor pool and whirlpool * Stay Fit Kits?? available for in-room guest fitness Visiting downtown Denver on business? Events and conferences at the Colorado Convention Center are steps away, and our Colorado Convention Center hotel is surrounded by off
Services & Amenities
Free
(Additional fee)
(Additional fee)
Haven't found the right hotel yet?