KataPlace
62 Kata Rd, Tambon Karon, Amphoe Mueang Phuket, Chang Wat Phuket 83100, Thailand, Phuket, Phuket Province, Thailand
Show on map
A 3 minutos en coche de la playa de Kata y Kata Centre, Kata Place dispone de habitaciones sencillas con balcón privado. Cuenta con una piscina al aire libre, un mostrador de información turística y un servicio de recepción 24 horas. Wi-Fi también está disponible en las zonas comunes.Kata Place es un paseo de 15 minutos a la playa de Patong. Ciudad de Phuket está a 20 minutos de distancia, mientras que el aeropuerto internacional de Phuket se encuentra a 40 minutos en coche del establecimiento.Cómodas habitaciones están equipadas con aire acondicionado, nevera y TV. Una caja fuerte y minibar. Las duchas están en los cuartos de baño privados.Los huéspedes pueden disfrutar de una variedad de platos internacionales que se sirven en Kata Place Restaurant.. ((* Sorry, this information is not available in the selected language and is shown in ES)
Show More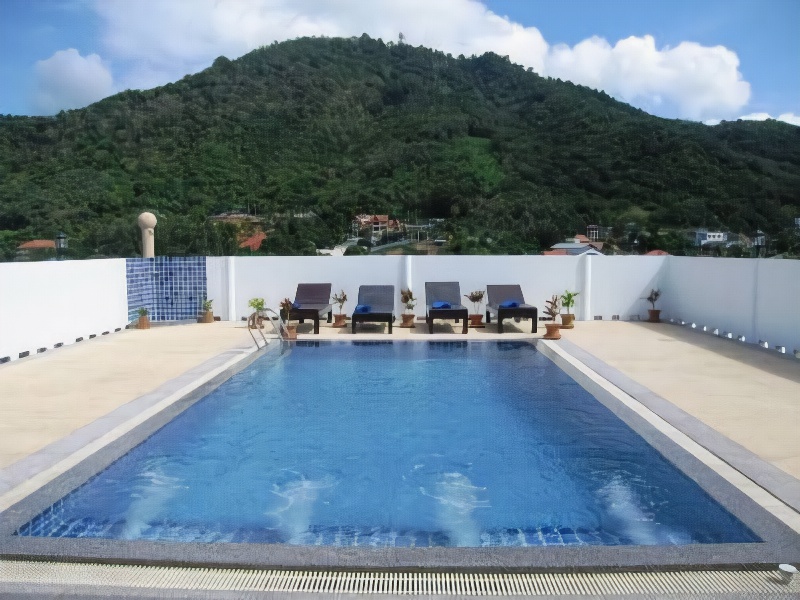 10 places of interest within 1000m, 19.4km from downtown
View Map
View popular hotels nearby or search room availability by date
Hotel Policy
Check-in and Check-out
Check-in
from 14:00
Check-out
before 12:00
Important Information
All travelers entering Phuket must register for a Thailand Pass and carry proof they have insurance with at least USD10,000 coverage for medical treatment in Thailand (insurance is only required for non-Thai nationals). To be exempted from quarantine, travelers must provide either a certificate issued no less than 14 days before departure that proves they have been fully vaccinated against COVID-19, or proof of a negative COVID-19 RT-PCR test taken within 72 hours before traveling. Travelers who are unvaccinated or not fully vaccinated must stay in quarantine for 5 days and take a COVID-19 RT-PCR test on the fourth and fifth days after arriving in Thailand. If the result of these tests is negative, they will be able to travel in Thailand. For more information, please visit the following website: https://tp.consular.go.th/
Hotel Description
A 3 minutos en coche de la playa de Kata y Kata Centre, Kata Place dispone de habitaciones sencillas con balcón privado. Cuenta con una piscina al aire libre, un mostrador de información turística y un servicio de recepción 24 horas. Wi-Fi también está disponible en las zonas comunes.Kata Place es un paseo de 15 minutos a la playa de Patong. Ciudad de Phuket está a 20 minutos de distancia, mientras que el aeropuerto internacional de Phuket se encuentra a 40 minutos en coche del establecimiento.Cómodas habitaciones están equipadas con aire acondicionado, nevera y TV. Una caja fuerte y minibar. Las duchas están en los cuartos de baño privados.Los huéspedes pueden disfrutar de una variedad de platos internacionales que se sirven en Kata Place Restaurant.. ((* Sorry, this information is not available in the selected language and is shown in ES)
How much does it cost to stay at KataPlace?
Prices at KataPlace are subject to change according to dates, hotel policy, and other factors. To view prices, please search for the dates you wish to stay at the hotel.
What are the check-in and check-out times at KataPlace?
The check-in time is from 14:00 and the check-out time is before 12:00.
Is parking available at KataPlace?
No, there's no parking available at KataPlace.
Where is KataPlace?
The hotel address is 62 Kata Rd, Tambon Karon, Amphoe Mueang Phuket, Chang Wat Phuket 83100, Thailand. The hotel is 19.4 km from the city center.
Is KataPlace nearby popular attractions?
KataPlace is near the following attractions: Darin Massage(Approximately 69m), Aphrodita Massage(Approximately 100m), SSS(Approximately 147m).
Show More
Haven't found the right hotel yet?