Jinan 4-Days Itinerary: Cheap Flights to Jinan
Day1 | Morning
Opening Hours: March 1st - October 31st: 6:30-19:30; November 1st - February 28th: ​​6:30-19:00
Ticket Price: 30 RMB
Recommended Length of Stay: 2-3 Hours
Location: Anzhou, Mianyang, Sichuan, ChinaNo. 18, Jing 11th Road, Lixia District, Jinan City
Thousand Buddhas Mountain lies to the south of downtown Jinan. The mountain, Baotu Spring, and Daming Lake are collectively known as "Jinan's Three Great Scenic Spots." Thousand Buddhas Mountain lies on a branch of Taishan. Despite not being a very high mountain, it has undulating ridges and peaks and luxuriant forests. It derives its name from its many stone-carved Buddhas. You can enter the Wanfo(10,000 Buddhas) Cave to investigate this secret realm of nearly 30,000 carved Buddhas; alternatively, you can go to pray at Xingguo Temple. From the peak you can enjoy picturesque views of the whole of Jinan city.
Reviews from Real Guests:
Trip.com User: Looking down from the mountain, you can see the whole city. If you are interested in climbing mountain, this mountain is your first choice. When you are standing on the top of the mountain, you would see the whole city. Thank "Visit Jinan 济南" for letting me know this great place. And all kinds of Buddhas are everywhere. Also there are many stone statues.
Trip.com User: An awesome climb to the mountaintop giving a great view of the city. A calm and peaceful Buddha temple (operational) where we prayed for our sons success. Beautiful scenery all through and the final view of the grand huge Buddha on the other side, sitting with rosary beads on hand and overlooking mankind doing the rat race....!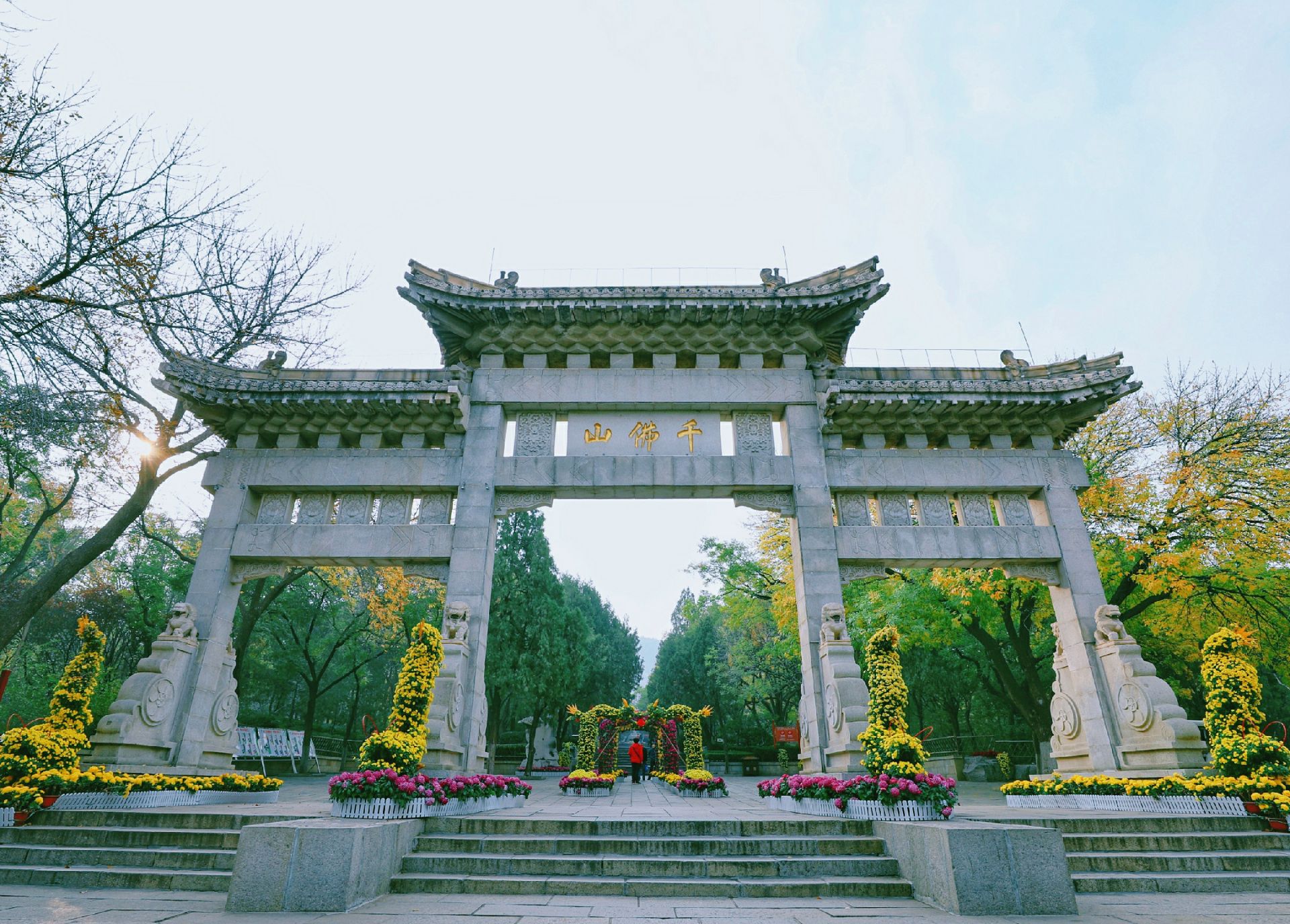 Day1 | Afternoon
Now we come to another great highlight in the city: Jiuru Mountain Waterfall Scenic Area.
Opening Hours: Open from 8:00am-5:00pm
Ticket Price: 120 RMB
Recommended Length of Stay: 4-6 Hours
Location: Hulu Village, Xiying Town, Licheng District, Jinan City
Jiuru Mountain Waterfalls Scenic Area is located in Xiying town, in southeastern Ji'nan city. The area is densely covered in forests and there are many waterfalls. Its cool and refreshing atmosphere and clean air make this a great place to go for a summer getaway. The scenic area consists of four major tourist areas - Shentan Waterfall, Jiuru Ravine, Waterfall Canopy and Ancient Roads of the Great Wall - and has a wooden plank walkway that leads directly to the peak of the mountain. You can choose to hike up the mountain or ride a sightseeing buggy instead.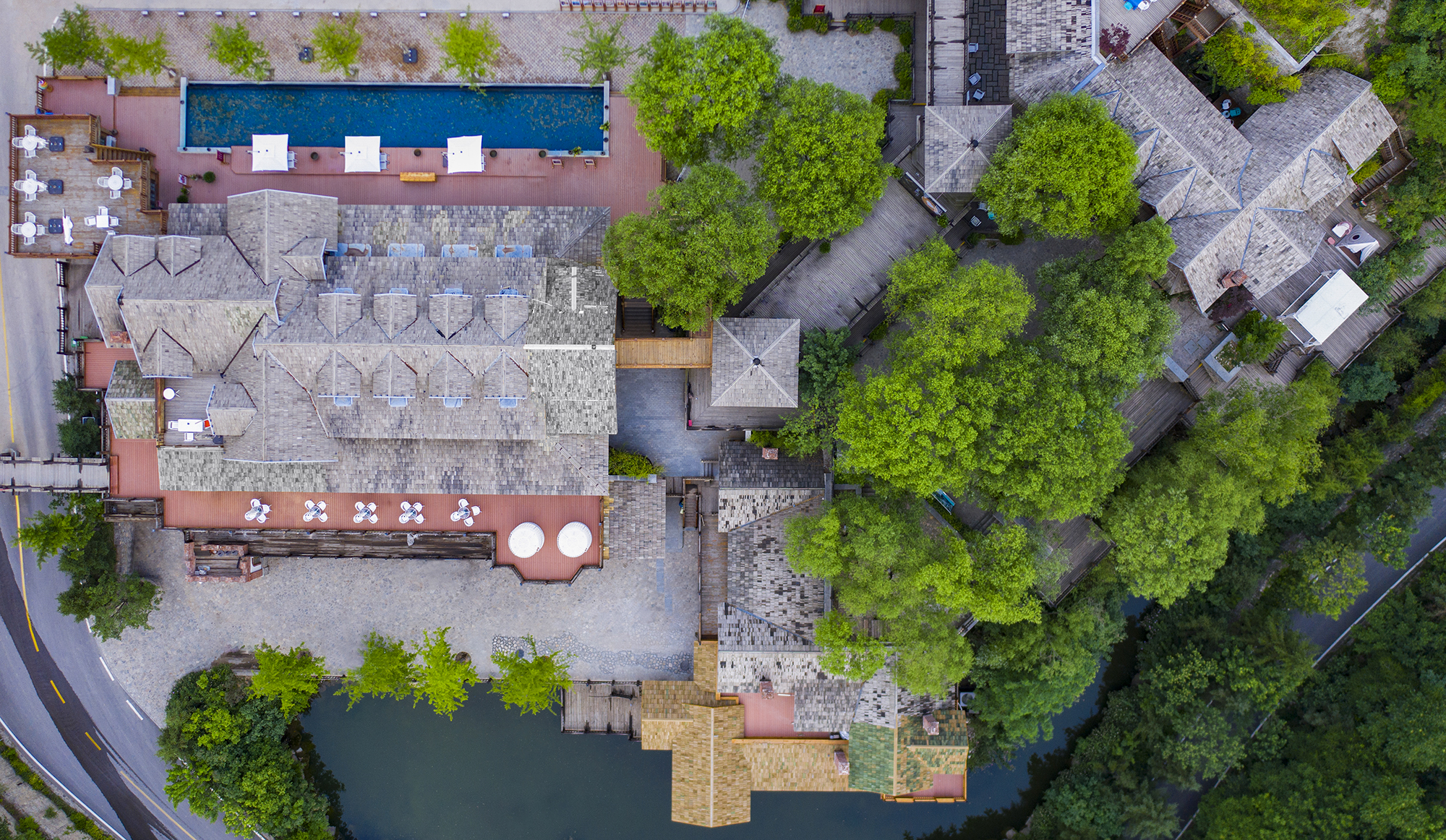 Day1 | Evening
For convenient access to more popular attractions, Buer Muju Hotel is the best places.
The Buer Muju Hotel is an ideal spot for travelers wanting to discover the city. Visitors to Jinan will find that the Buer Muju Hotel is a fantastic accommodation choice.
Daminghu Railway Station is located approximately 49km away and Jinan Yaoqiang International Airport around 57km away. With multiple attractions nearby including Dripping Cliff, Hulu Valley, Wusheng Gate and Hulu Valley Reservoir, guests will find plenty to keep themselves occupied.
After a long day of sightseeing, guests can retire to the comfort of the hotel. For those driving themselves, parking is provided on site.
According to our guests, this hotel provides a very high level of service. For guests traveling with families, this hotel is consistently one of the most popular choices.
Day2 | Morning
Opening Hours: Open on Mon-Fri,8:30am-5:00pm;Open on Sat-Sun,8:30am-5:30pm
Ticket Price: 160 RMB
Recommended Length of Stay: 0.5-1 Days
Location: 7 km south of the intersection of Jingshi East Road and Yucun Road, Zhangqiu District, Jinan City (next to Jinan Botanical Garden)
Most of the animals in Ji'nan Wildlife Park were relocated in batches from Paomaling Wildlife Park. The park area is divided mainly into northern and southern sections, with the northern section being a pedestrian area, and the southern section being a drive-through area. The pedestrian area is divided into smaller exhibition zones by theme, and is made up of seven zones. The entire drive-through area is divided into five exhibition zones, based on geography and habitat. Not only does Ji'nan Wildlife Park give visitors the chance to observe animals, it also boasts exquisitely beautiful scenery.
Reviews from Real Guests:
Vonnie 伊娃: A great outing! I've been here twice before and enjoy it thoroughly each time. You can feed most of the animals and the staff members are so friendly and helpful. They really go out of their way to show you a good time. The animals are kept in clean enclosures with enough room and are all healthy. Definitely recommend going here!
Vonnie 伊娃: A great place, we had so much fun. A Perfect place for a weekend outing. You could almost feed every animal there, which was an amaizing ecperience. Will definitely be going back there again!!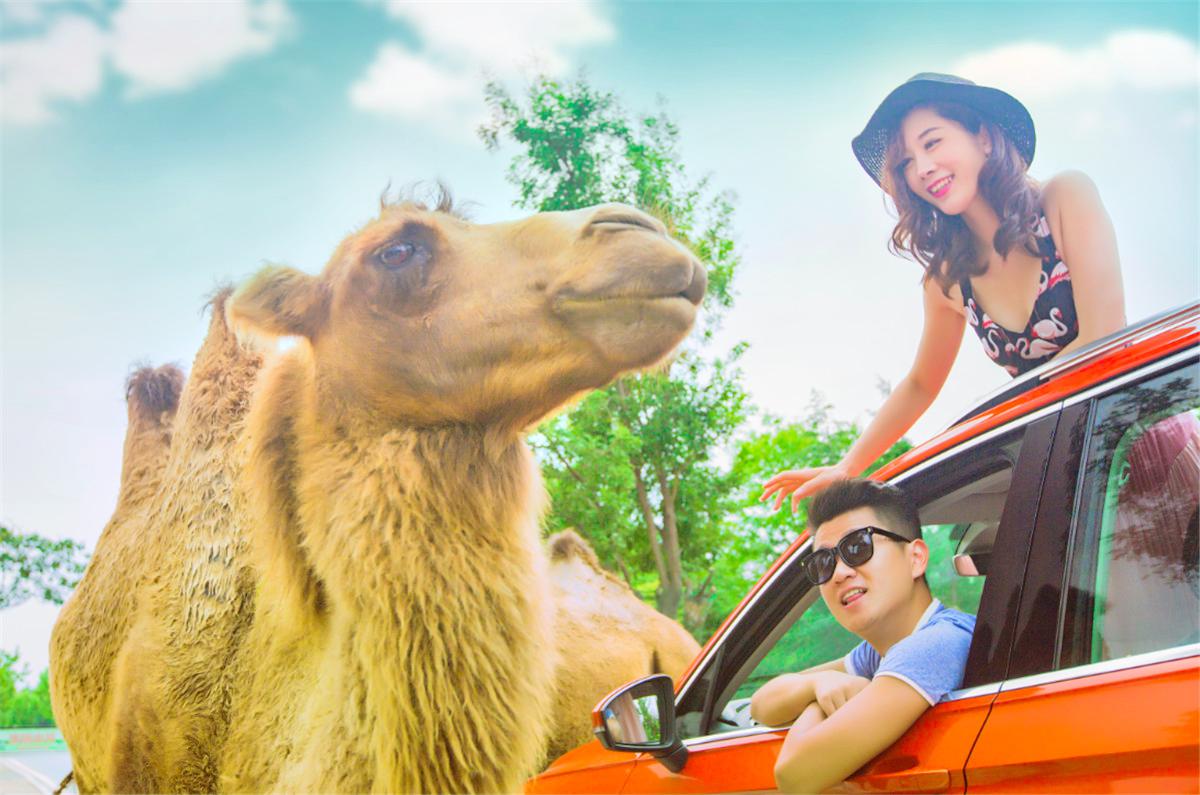 Day2 | Afternoon
Jinan Fantawild Oriental Heritage nearby is the top choice before you leave Jinan Wildlife World and hit the road.
Opening Hours: Open from 11/1-11/14,10:00am-5:00pm;Open from 11/15-12/19,Sat-Sun,10:00am-5:00pm;Closed from 11/15-12/19,Mon-Fri
Ticket Price: 280 RMB
Recommended Length of Stay: 1-1 Days
Location: Jinqi Road, Wujiabao Town, Huaiyin District, Jinan City (north side of West Railway Station)
Jinan Fantawild Oriental Heritage is divided into 8 themed areas, including 29 unique amusements and over 1,000 subcategories of cultural activities. A fourth-generation high-tech theme park, the park combines a focus on intangible cultural heritage with cutting-edge technology. Overall, the park focuses on 5,000 of Chinese culture, and it brings together characteristics of various ethnic groups in China. The park provides new interpretations of traditional folk arts through unique shows that have been carefully crafted by teams of experts and that include techniques such as lasers, 3D effects, dioramas, and live performances.
Reviews from Real Guests:
Tammy 550118: Jinan Tedongfang Shenhua area about 667000 square meters, the whole park consists of eight theme areas, 29 exclusive theme projects and more than 1000 intangible cultural heritage sub-categories.
Satu Lisaktaf: jinan fantawild oriental saya sangat suka tempat ini, anak anak saya juga bahagia ketika pergi ketempat ini. tempat ini menjadi tempat yang snagat menarik semenjak saya datang hahaha
Day2 | Evening
If you want to explore other popular attractions later, Melia Jinan is a suitable place for you to stay and refresh.
Melia Jinan is situated in Jinan's new business district. Jinan West Railway Station is five minutes away on foot. It takes about 20 minutes by car to the downtown area. Guests can dine on local Shandong and Cantonese cuisines at the on-site Chinese restaurant, or enjoy Asian, Spanish and international dishes at the Western restaurant. In their spare time, guests can unwind with a drink in lobby bar. Room service is available at this hotel. Those traveling on business can take advantage of the hotel's meeting rooms. Guests looking to stay active can utilize the gym while those simply wanting to relax can make use of the spa. Wi-Fi access is available in public areas. This hotel offers free parking on site.
Day3
Opening Hours: 8:00-17:00
Ticket Price: 80 RMB
Recommended Length of Stay: 1-1 Days
Location: 3 km south of Jinxiuchuan Reservoir in the southern mountainous area of ​​Jinan City
Red Leaves Canyon in located in Jinan. The entire valley is mainly occupied by wild Dyer's sumach trees. Come here during the autumn and stand on high and gaze around. It is very beautiful to see an entire mountain of red leaves. Besides the red leaves, the scenic area also includes attractions such as the Lily Garden, Qiuqiu Lake, Shambhala Leisure Valley, Zhulin Valley, Xingjiao Temple, Tianqu Garden, Europe Valley, Lover's Valley, and the Wanye Tower.
Reviews from Real Guests:
Trip.com User: What an amazing place. I visited red real valley twice in 2 seasons once in October and Once in April, in April there were beatuiful flowers of many different colors and in October there were leaves of many eye catching colors... This valley have breath taking sceneries.. Like heaven on Earth。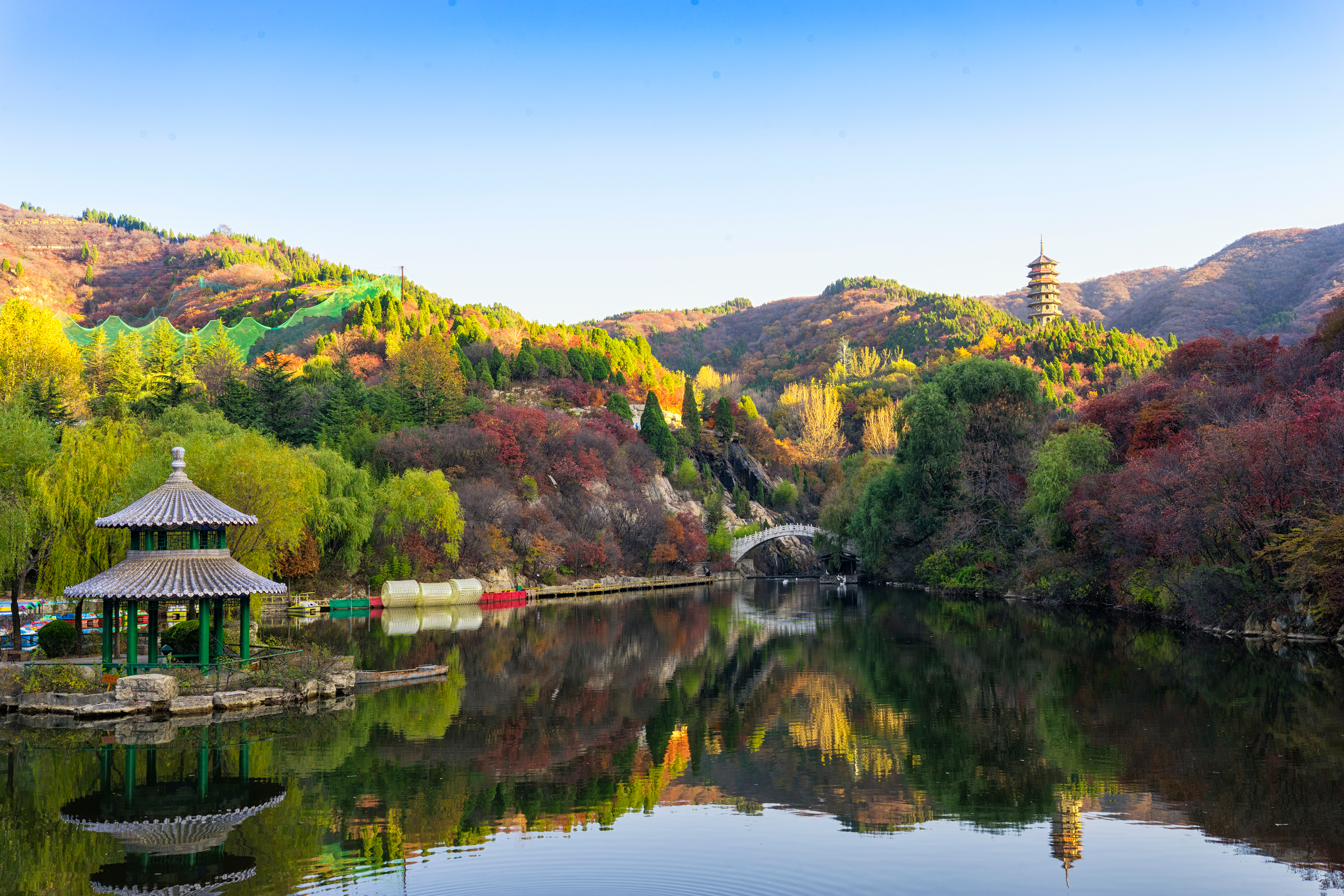 Day3 | Evening
After visiting the glorious Red Leaves Canyon, Jinan Kanshan Homestay nearby is the best place to stay.
Opened in 2020, the Jinan Kanshan Homestay is a great accommodation choice in Jinan.
The hotel is located approximately 33km from Daminghu Railway Station and 54km from Jinan Yaoqiang International Airport. With multiple attractions nearby including Great Spring, Jinxiuchuan Reservoir and Damen Square, guests will find plenty to keep themselves occupied.
After a long day of sightseeing, guests can retire to the comfort of the hotel. This Jinan hotel features parking on site.
Day4 | Morning
Opening Hours: 8:00-17:00
Ticket Price: 50 RMB
Recommended Length of Stay: 2-3 Hours
Location: Within the territory of Wande Town, Changqing County, Jinan City
Lingyan Temple sits in the northwest of Taishan Mountain. It is located in Wande Town, Changqing District, Jinan City. With more than 1,600 years of history, the temple has a rich Buddhist heritage. The Thousand Buddha Hall in the temple was frist built in the Tang Dynasty. There are hundreds of small wooden carved Buddhas on the walls inside the hall. There is also a branch pagoda in the temple. It is a nine-story pavilion-style brick pagoda with an octagonal base. Engraved with the relief sculpture of Indian Maurya Empire Ashoka proclaiming a Buddhist. This pagoda is the landmark of Lingyan Temple.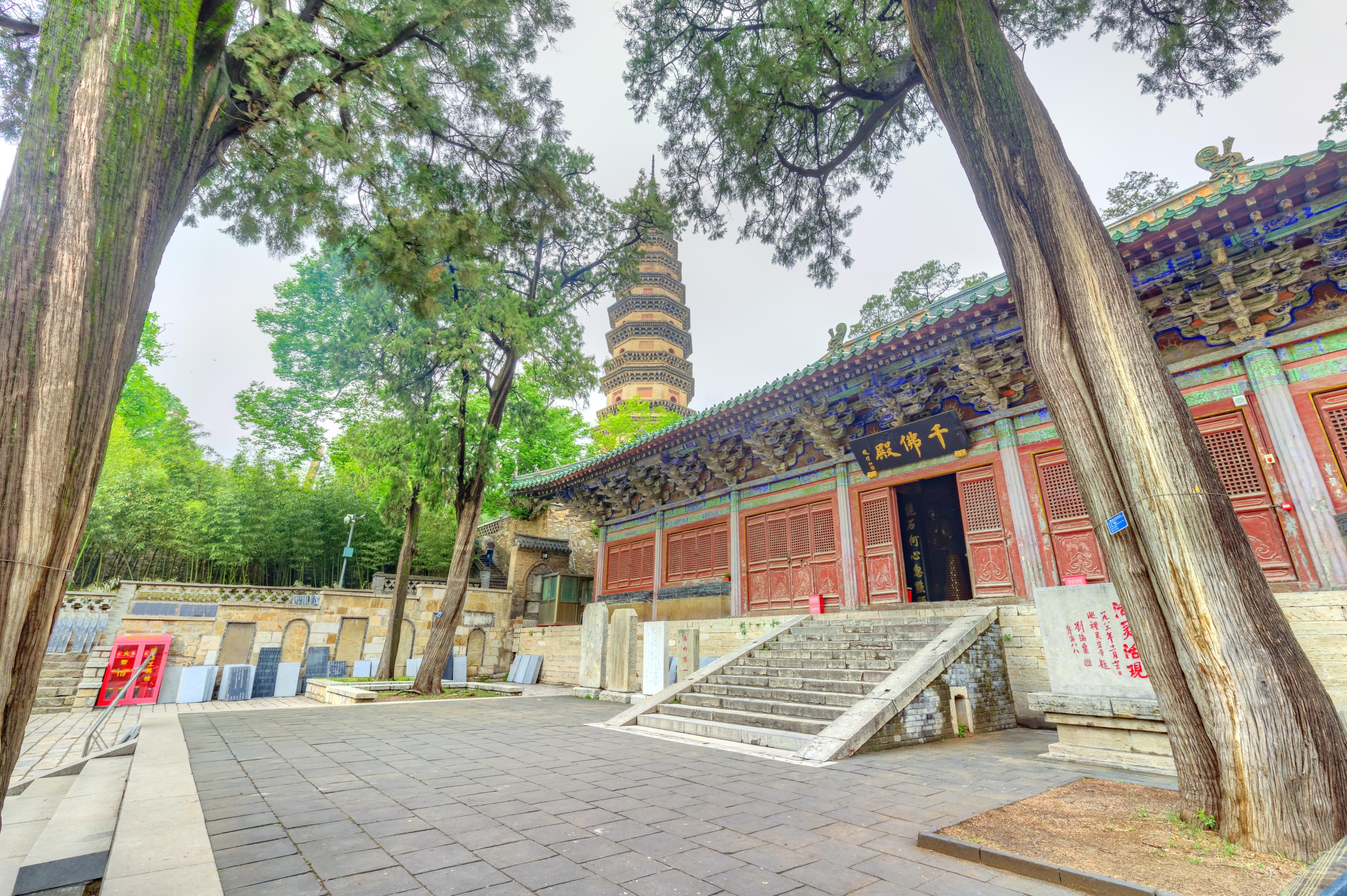 Day4 | Afternoon
After finishing the tour at Lingyan Temple, you can head to Baimai Spring Park, the most worth visiting place around the corner.
Opening Hours: Open from 7:30am-6:00pm
Ticket Price: 50 RMB
Recommended Length of Stay: 3-4 Hours
Location: No. 2017, Huiquan Road, Zhangqiu District, Jinan City
Baimai Spring Park is located in Zhangqiu City and is famous for its well-known Baimai Springs. It includes Qingzhao Garden, Longquan Temple, Qingzhao Ciyuan and other attractions. Qingzhao Ciyuan is the core part of the park. Based on the artistic conception of Li Qingzhao's poems, Qingzhao Ci Garden is a spring garden landscape composed of four themes: wind, flowers, snow, and moon. Baimai Spring Park is famous for its natural springs. Qingzhao Garden is a garden park integrating the styles of gardens in China's north and south. It has buildings such as Yi'an Tower, Haitangxuan, Yinfengxie, and Yanqinningxiang.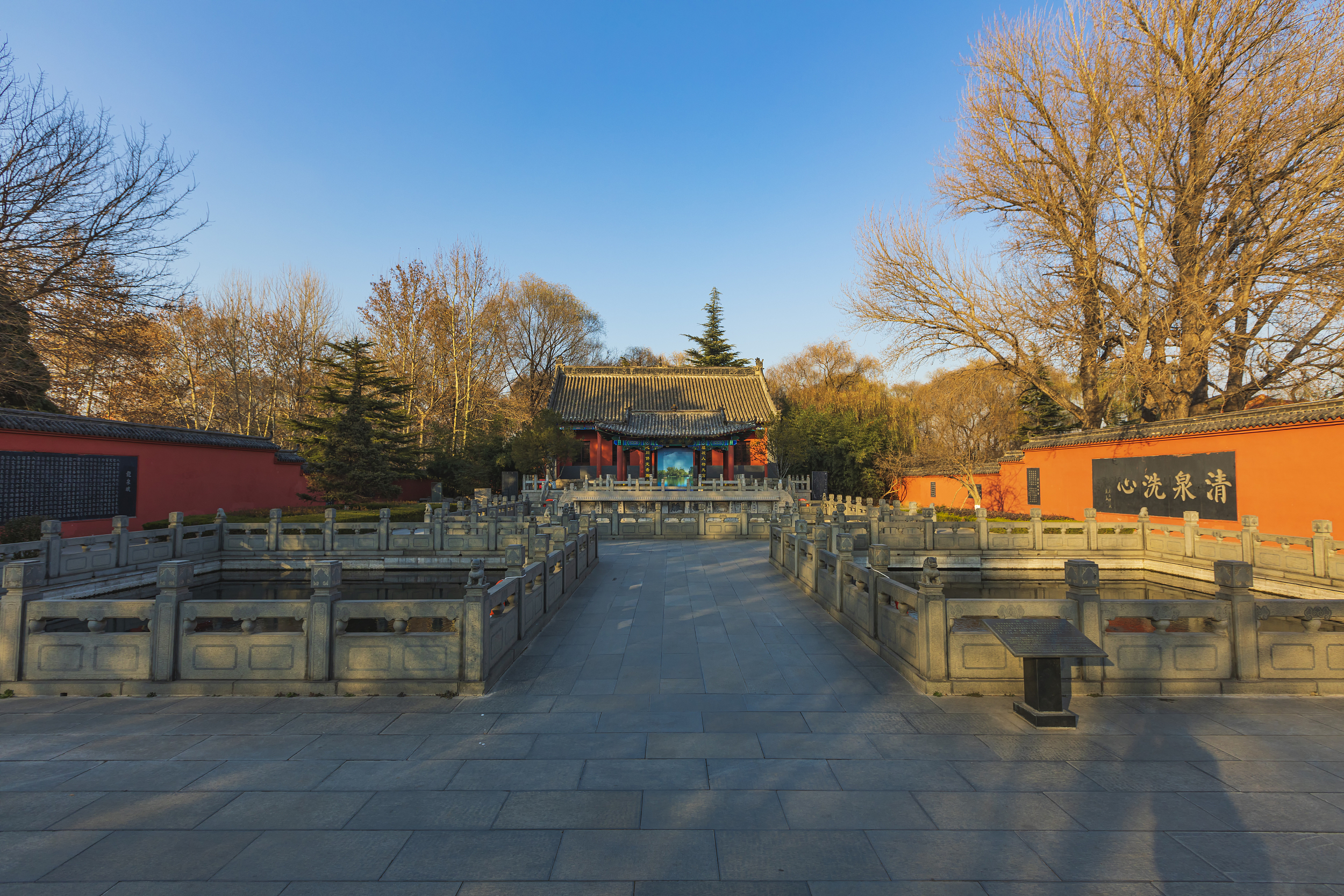 Jinan 4-Days Itinerary: Cheap Flights from Jinan
* All reviews in the blog are machine-translated.