Costa Brava Spain is a scenic stretch of the Catalonia coastline – home to picturesque fishing villages, beautiful beaches and caves, great local vineyards, medieval ruins, and the legacy of Salvador Dali, it's a treasure trove that demands exploration.
Costa Brava Spain is a large area, stretching from the border with France in northeast Spain right down to the province of Barcelona. And it's not just the coastline, either! There's also a lot worth visiting inland. So let Trip.com introduce this unique part of the world to you…
Map of Spain Costa Brava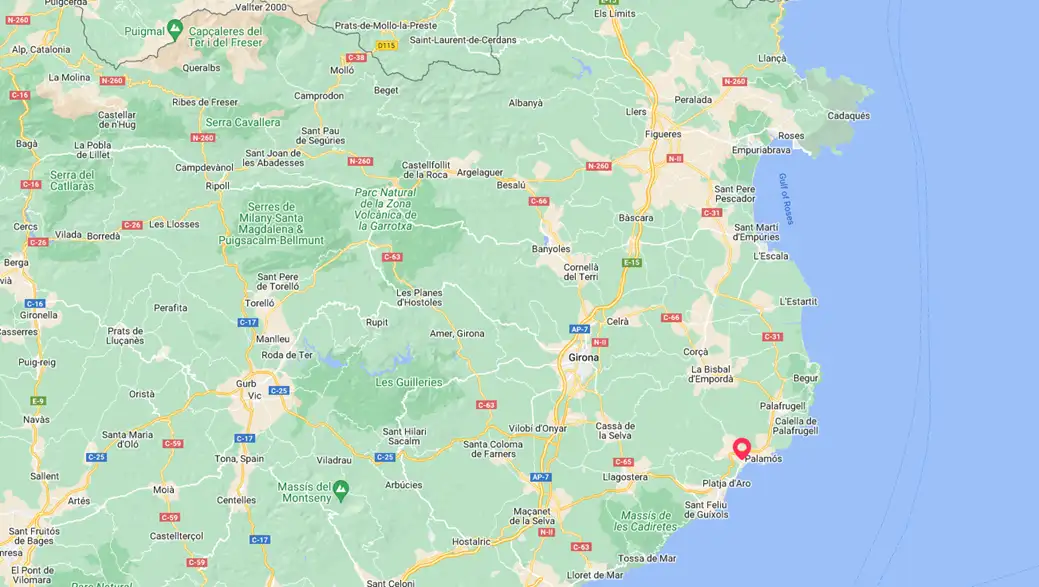 A map of the Costa Brava Spain coastline, from the French border to Barcelona.
Above you'll see just how extensive Costa Brava Spain is – from Figueres in the north, where Dali hailed from and home now to his most famous museum, to the nightlife and casinos of Lloret de Mar in the south.
There're plenty of other places to explore in between, as well – as this handy guide will introduce to you! Of course, the stunning coastline is a big attraction, but there's really something special about the whole region.
It's a Catalonian-speaking region, but of course, everyone will also speak Spanish, and you'll find English is widely spoken, too.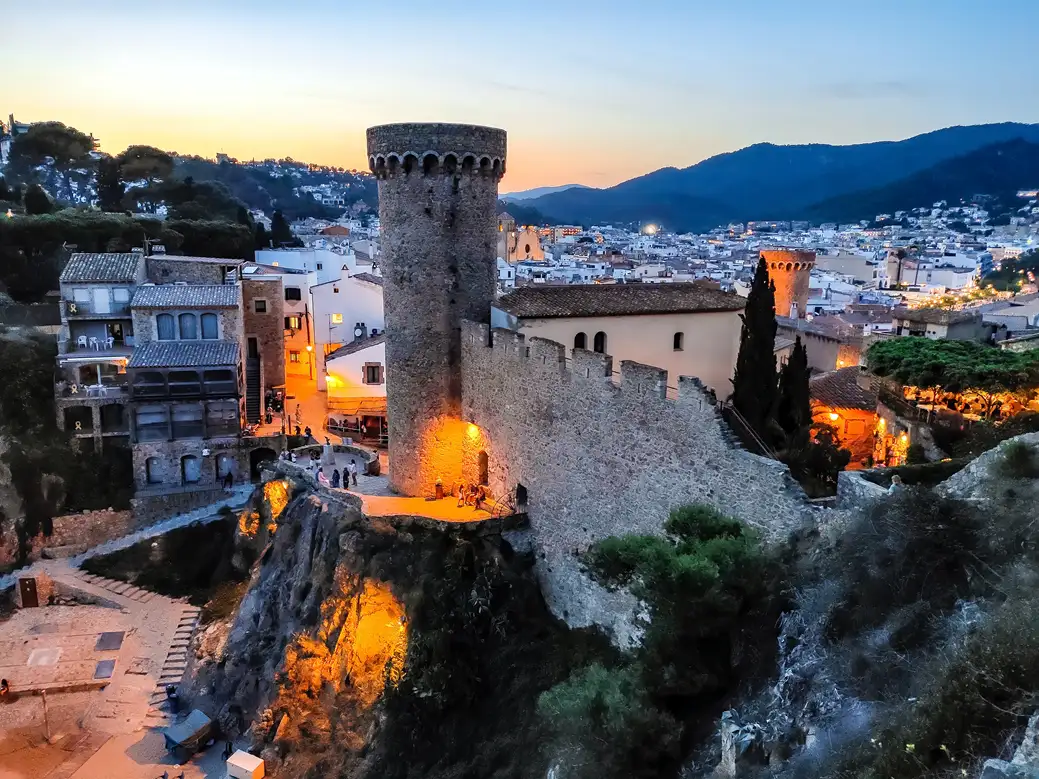 Stunning medieval ramparts of Tossa de Mar, Costa Brava Spain. Source: op23 / unsplash
Best Things to Do in Costa Brava Spain
There's such a wealth of things to do all along this wild and rugged coast, and it would be impossible to cover them all in such a short article. So let Trip.com take you on a whistle-stop tour south from the border with France, right down to the outskirts of Barcelona. By the time we're finished, you'll be thirsty for more!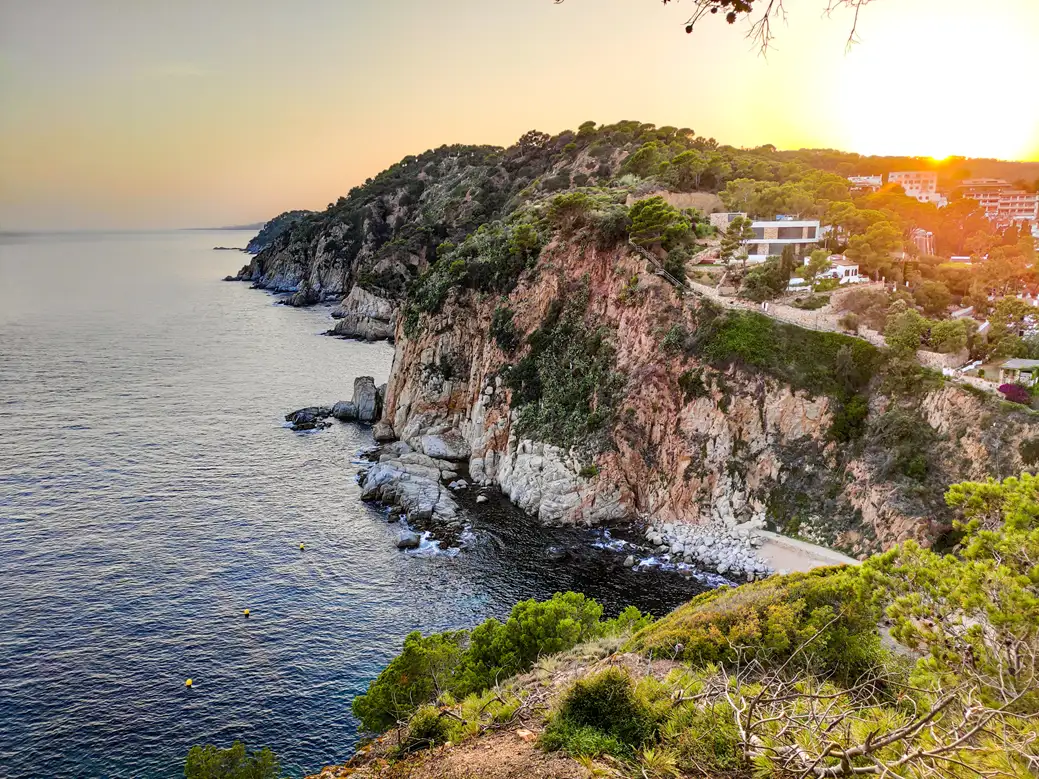 That famous rugged coastline of Costa Brava Spain. Source: op23 / unsplash
Marvel at the Salvador Dali Museum
Costa Brava Spain was home to Salvador Dali, who was born in the small town of Figueres and constructed the most famous monument to his art there, in the later years of his life. It functions as a theater, gallery, museum, as well as the artist's final resting place!
Dali's best-known work The Persistence of Memory is a widely-recognized work of Surrealism. While that particular work is not present at the theater (it's in the Museum of Modern Art in New York), it gives you an idea of what to expect here in Figueres. Catholic symbolism, nuclear imagery, and the magical shapes and textures of the rock forms at Paratge de Tudela abound in this unique and moving artistic experience.
The museum is open between 09:30 and 18:00 every day except Monday, when it is closed. Last admittance is 45 mins before closing. Ticket prices differ throughout the year – from Jan to Jun, entry is EUR15.00; in Jul and Aug, it's EUR20.00; and from Sep to Dec, it's EUR17.00.
While you're up in the north of Costa Brava Spain, why not take a drive out to Paratge de Tudela to actually witness some of the astonishing natural scenery that inspired Dali? The painter was a true son of Catalonia and the Costa Brava in particular. The Cap de Creus Park here is very tranquil and atmospheric to hike in, with its disturbing and surreal rock forms of this peninsula making an appearance in some of Dali's most famous paintings.
You'll find the idyllic little bay and island of Portlligat here, too, where Dali made his home for a number of years. You'll find this bay and island lovingly rendered in his masterworks The Madonna of Port Lligat, Sacrament of the Last Supper, and one of his best-loved works, Crucifix (Corpus Hypercubus).
Make your visit to Figueres and the north of Costa Brava Spain complete with a stay at Hotel Mas Bosch 1526. Located in the west of Figueres, it's one of the greatest hotels in Costa Brava Spain. This hotel is an authentic 16th-century fortified farmhouse that's been converted into a boutique spa and a luxury hotel.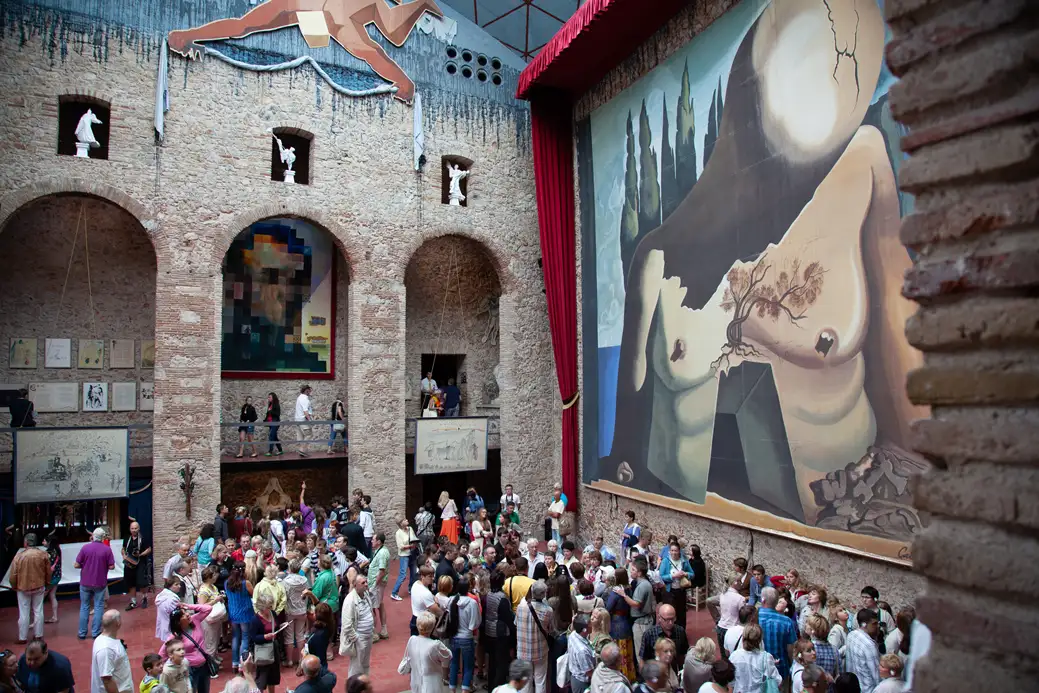 The interior of Dali's theater. Source: Sergey Mind / unsplash
Wander the Ruins of Ancient Civilizations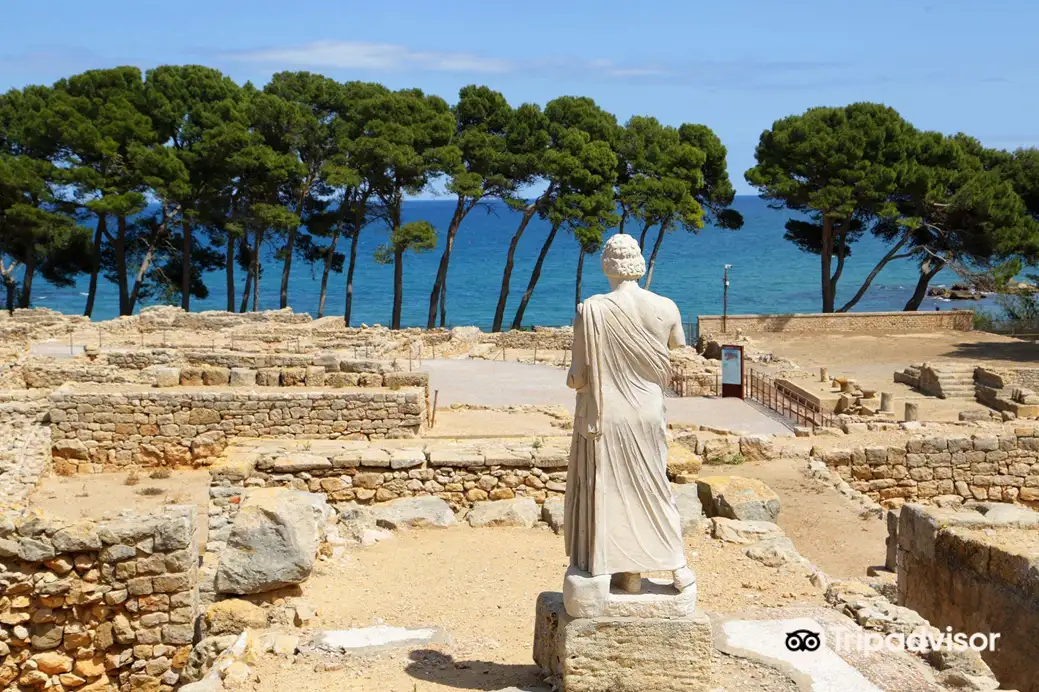 The statue of Asclepius watches over the ruins of Empuries.
It's not just the great wonders of the modern world you'll find in Costa Brava Spain, either. There're also great monuments to the civilizations of the distant past.
South from Figueres and Salvador Dali country, you can take a walk around the Ruins of Empuries, for example. This ancient city was founded by Greek colonists in the 6th century BC, and today you'll find the archaeological remains of cisterns, water filtration pipes, and Roman walls.
Most interestingly, there're also the remaining walls of a temple to the Graeco-Egyptian deity Serapis, as well as burial sites and the ruins of many homes. Empuries has a distinguished past – coveted by the Persians, Carthage, and later the Romans, it managed to maintain an independent existence for much of its history.
Later, it became one of the first Spanish cities to welcome Christian evangelists, and there are palaeochristian worshiping places extant at the site today.
The ruins open from 10:00 to 18:00 all week from Feb 16 to May 31, and from 10:00 to 20:00 from Jun 1 to Sep 30. They're then open from 10:00 to 18:00 from Oct 1 to Nov 15, and from 10:00 to 17:00 from Nov 16 to Feb 15. General admission is EUR6.00 per head all year round, with reduced admission available for those eligible.
You can also find great Costa Brava Spain beaches here! The sandy stretches at San Marti d'Empuries are tranquil, secluded spots within walking distance of the ruins. They provide the perfect spots to do some snorkeling, walk along the strand, or simply relax and take in the ambiance. You'll understand why this little corner of the world has been so jealously fought over for thousands and thousands of years!
Why not stay in the Can Miquel, while you're there? It's a delightful beachfront hotel near one of the best Costa Brava beaches – Montgo beach! The Can Miquel is on the edge of L'Escala, just a short distance from the Ruins of Empuries, and is one of the highest recommended hotels in Costa Brava Spain.
Explore a Traditional Spanish Vineyard
Forget about renting a car for this experience – you'll want to be free to taste some of the best wine Costa Brava Spain has to offer! It may not be the most famous wine region in the world, but wine-making and vineyards here have a rich history, and they are increasingly opening their doors to the public.
This is a great opportunity not only to taste some fantastic local wines, produced in the same way they have been made for centuries, but also to get an insight into how an authentic vineyard actually works. South again from Empuries, you'll find the family-run vineyard of Mas Molla in the medieval town of Calonge.
Mas Molla has been in the hands of the same family for an astonishingly long time – since 1338, in fact! So just like at the ruins of Empuries, you're taking a step back in time when you walk around this ancient vineyard. Except, you'll see that it's anything but a ruin.
The rich wine that will be brought to your lips has been shaped and developed by almost one thousand years of unbroken family tradition – and what's even more jaw-dropping is the price. From just EUR2.50 per bottle, you'll be making space in your luggage to bring some back home!
An experience like this – as well as wine like this at a price like this – just can't be found outside of Europe, and the wines of the Costa Brava Spain region have a lot to recommend them. Guided tours are EUR10.00 per adult – make sure to book ahead through their helpful website!
One of the best hotels in Costa Brava Spain you can stay in while you're in Calonge is the Hotel Rosamar. With a perfect view over one of the other greatest Costa Brava Spain beaches – Sant Antoni de Calonge – it will be the icing on the cake of this trip.
Relax in a Beautiful Garden and Then Head to the Beach...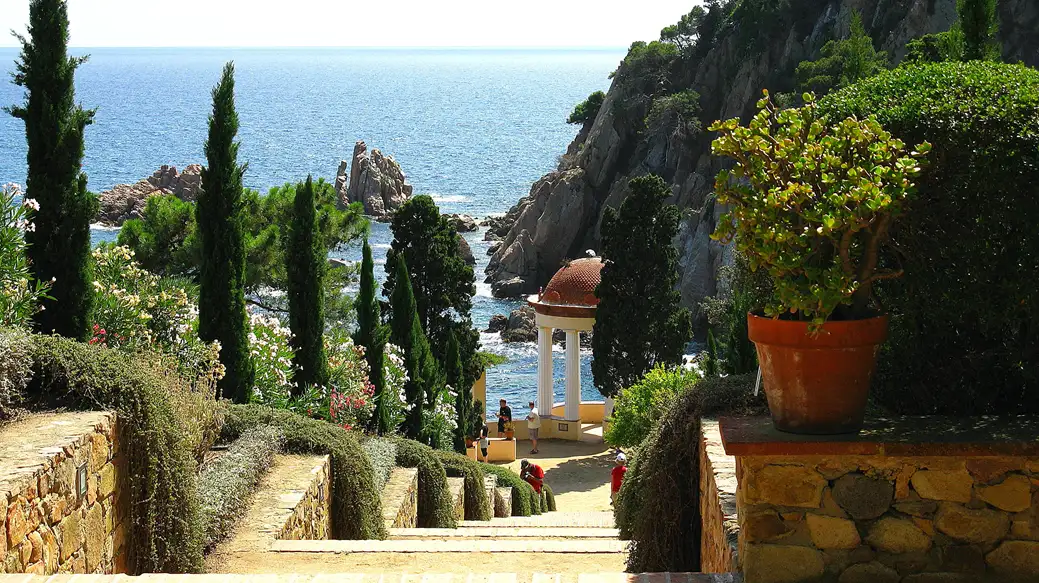 The botanical gardens of Marimurtra. Source: Anna Rozwadows / unsplash
The last stop on our tour is the town of Blanes, an old fishing town with a typical Med climate. Here you'll find one of the most idyllic and picturesque botanical gardens of the entire Mediterranean region – the Marimurtra.
A botanical garden of this beauty and style truly has to be seen to be believed – you'll wish you could stay here forever! Over 4,000 plant species belonging to 5 different continents are present in the gardens, which are also dotted with exquisite classical pavilions, pergolas, and towers.
The stunning beauty of Marimurtra has made it a popular spot for wedding celebrations as well as any other photo op you could possibly imagine.
Just 5 mins in the car from the center of Blanes, you'll find yet another great botanical garden – the Pinya de Rosa, which contains one of the world's best collections of aloe, agave, and cactus. But even more importantly, it's also where you'll find one of the most famous Costa Brava Spain beaches – the Platja de Treumal.
This is the smallest of 4 beaches in the immediate vicinity, and is particularly peaceful outside of the summer months. It's small, clean, safe, and dog-free – perfect for a spot of relaxation in the environs of the botanical gardens.
And if it's peace and quiet you're seeking, then you'll need a hotel that matches the tranquility of the beach. Look no further than the Petit Palau, in the Los Pinos area of Blanes. It's just 150m from the longest of the Costa Brava beaches – the S'Abanell. But while you're a guest at the Petit Palau, you can be sure of true relaxation.
It's an adults-only hotel, meaning 14 and up, so it's perfect for couples or those who don't want to be disturbed! You'll find Finish saunas, hot tubs, sensation showers, and even massages on offer at this 4-star hotel in Blanes.
Tips for Visiting Costa Brava Spain
The Costa Brava Spain region is really quite vast, covering a large area of north-east Catalonia. It's not only a long stretch of wild coastline, but inland there are also some great treasures waiting to be found. So it's worthwhile bearing some things in mind before you go.
It's probably best to rent a car
If you're really seeking to explore the region in some depth, then your best bet is to hire a car. Of course, it doesn't matter too much if you have your heart set on one town, or a special beach, or one particular attraction.
But if you're seeking to hit the Costa Brava beaches of Blanes as well as the Salvador Dali museum in Figueres, then you're best relying on a rental car rather than public transport.
Just don't take it with you on your wine-tasting trips, or make sure you have a designated driver!
Dali country is more than just the museum
You'll have read above about the mystical allure of Figueres in the north of Costa Brava Spain, home to the Salvador Dali museum. But it's not just the museum that should be on the bucket list of every disciple of Dali. Also in the area, there's the painter's summer home in his beloved Portlligat. After that, there's even a castle that belonged to him in Pubol!
Take your time to explore the beaches
Costa Brava Spain is home to countless, secluded little beaches. Groves, coves, and hidden little bays are everywhere down the coastline – sometimes sandy, sometimes pebbled, but always worth exploring.
Many of these little beaches can only be reached on foot, as well, so if you have the time and inclination, Costa Brava Spain is a hiker's paradise!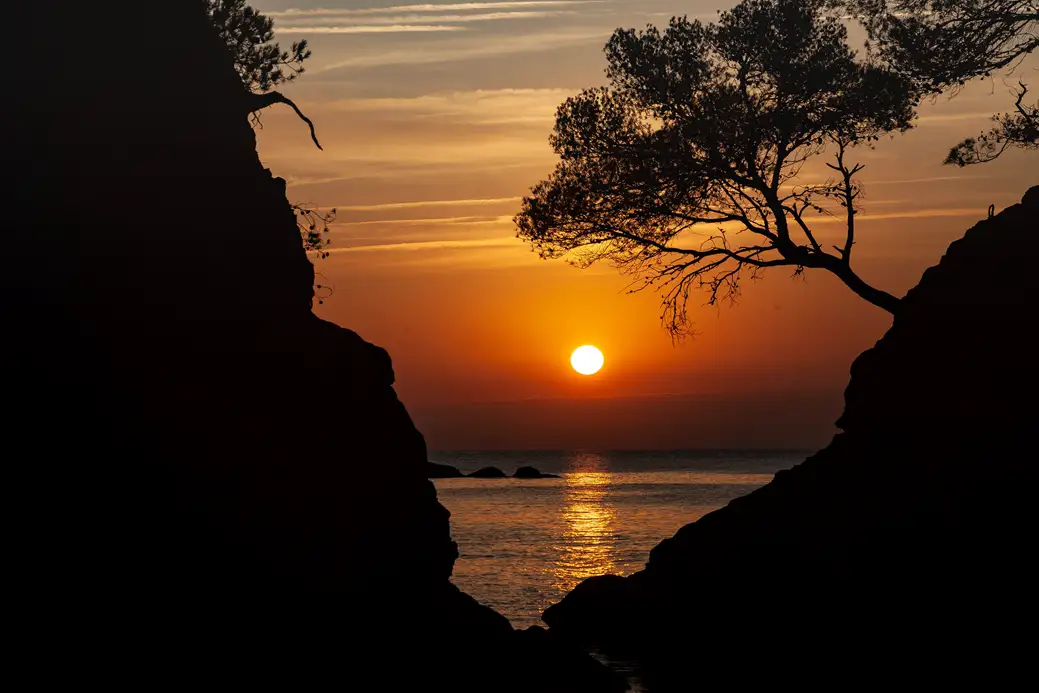 Beautiful views for hikers in Costa Brava Spain. Source: Andrey Kremkov / unsplash
FAQ
Where is Costa Brava Spain?

Costa Brava Spain is located on the north-east coast of Spain, stretching from the French border down to Barcelona. See Trip.com for details!

Where to stay in Costa Brava Spain?

There's a range of places to stay in Costa Brava Spain, from tranquil sleepy fishing villages to lively centers of nightlife and fun. See Trip.com for the full guide!

What to do in Costa Brava Spain?

People come to Costa Brava Spain for the hiking, the wine-tasting, the snorkeling, the scenery, the relaxation, and the culture. There're countless attractions on the Costa Brava. See Trip.com!

What's the best time of the year to visit Costa Brava Spain?

With its Mediterranean climate, Costa Brava Spain is pleasant to visit all year round. Of course, avoid the busy summer months if you can! See Trip.com for more.

What is Costa Brava Spain known for?

Costa Brava has a fascinating history – there're Greek and Roman ruins along the coastline, and a museum to the modern painter Salvador Dali in Figueres. See Trip.com for more!