Founded in 1670, Charleston is a port city in the state of South Carolina. It has a distinctive look that appeals to local and international tourists, and is known for its horse carriages that are still in operation, riding over the cobble-stoned streets lined with pastel-colored houses.
This city in the American South is also known for its districts of the French Quarter and Battery, the latter overlooking the Harbor. It just so happens that the American Civil War also started in Charleston at a place called Fort Sumter, which is open to visitors today.
Find out the best places to stay for your journey in Charleston.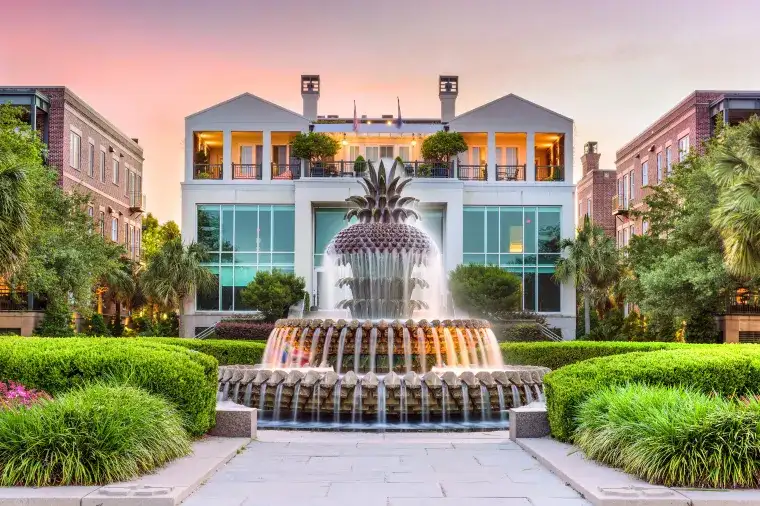 Where to stay in Charleston as a family: Kiawah Island
Perfect for family vacations, Charleston's Kiawah Island, located 25 miles south of Downtown Charlotte, and is an area of beautiful beaches, with resort options, golf, and the perfect balance of relaxation and activities of all sorts.
This peaceful residential area incorporates a state-of-the-art resort and shopping village by a preserved maritime area.
Wildlife by the sea is not like many other places. Alongside its 10 miles of beaches, this area is made up of preserved maritime forests, sand dunes, and marshes where travelers will be shocked with the beauty of whitetail deer, bobcats, sea birds, and sea turtles abound.
If you're looking for a place where to stay in Charleston with your family, Kiawah Island is probably the best option.
1. The Sanctuary at Kiawah Island Resort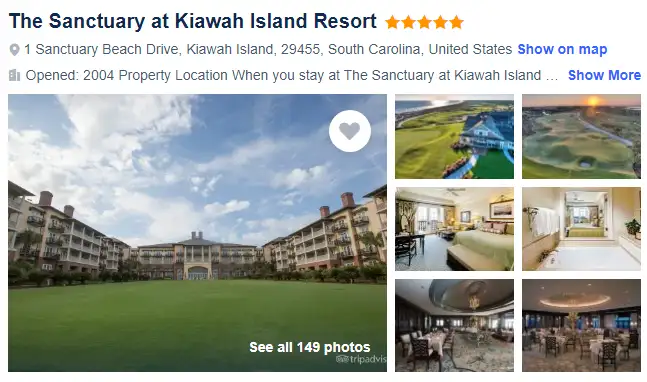 A Forbes Five Star AAA Five-Diamond property, the Sanctuary at Kiawah Island Golf Resort is an oceanfront hotel and spa-themed with typical Southern charm, exceptional comfort, and an array of possibilities for tourists to enjoy a great vacation.
This impressive resort has five golf courses, a tennis center, as well as a gym, swimming pools, restaurants, and everything needed for a luxury holiday with your family in one place.
2. Charleston Kiawah Island Andell Inn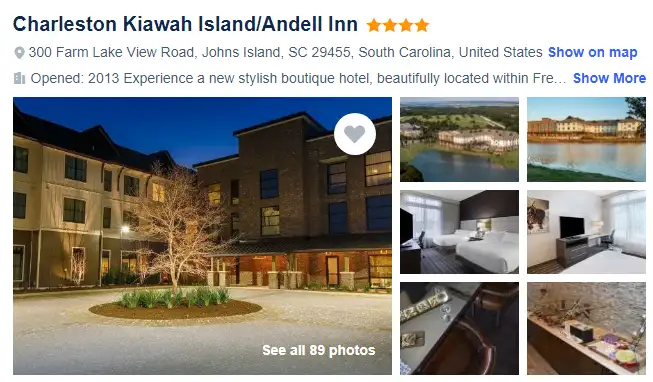 With a beautiful sight of the river, this elegantly casual property is 3 miles from Kiawah Park and 5 miles from the Golf Courses, making it the perfect place to stay in Charleston for tourists.
It offers straightforward rooms (with options for river views), with complimentary Wi-Fi and flat-screen TVs, mini fridges, coffee machines, and microwaves. The hotel has a saltwater pool, a hot breakfast buffet, and offers room upgrades that include kitchens and living room facilities.
3. Kiawah Island Golf Resort - Villas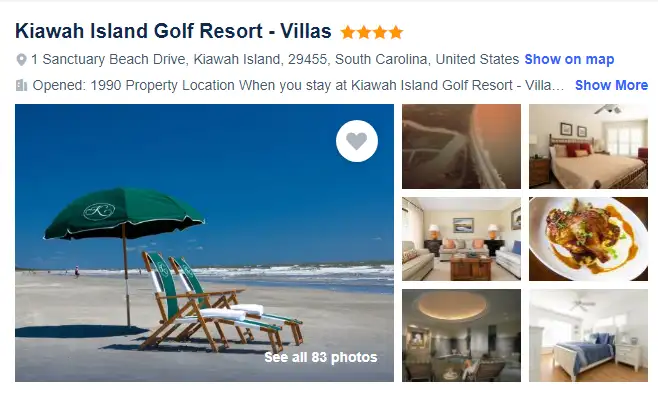 Enjoy views of the maritime forest from a well-equipped villa located near the water. This villa resort also caters beyond its excellent golf courses, offering a pool resort for travelers to visit. This is a plus if you're looking for a nice place where to stay in Charleston with your kids.
The villas are decorated with a timeless maritime style, divided by location within the property and the number of amenities included. There are pet-friendly villas and other options that vary in size, décor, and features.
Where to stay in Charleston as a couple: Folly Beach
Romantic, quaint, and remote, perfect for a romantic trip. A city on Folly Island, Folly Beach is a short drive south of Charleston. Its most recognizable feature is the Folly Beach Pier, which stretches 1,000 ft into the ocean. When it comes to where to stay in Charleston with your partner, this is one of the most fairy-tale like places you could choose.
The area, quaint and welcoming, is tourist-ready, filled with souvenir and surf boutiques. The local park has picnic areas – ideal for family vacations – and a pelican rookery. Discover wildlife, collect seashells, and delve into this peaceful oasis perfect for tourists in search of a welcoming area.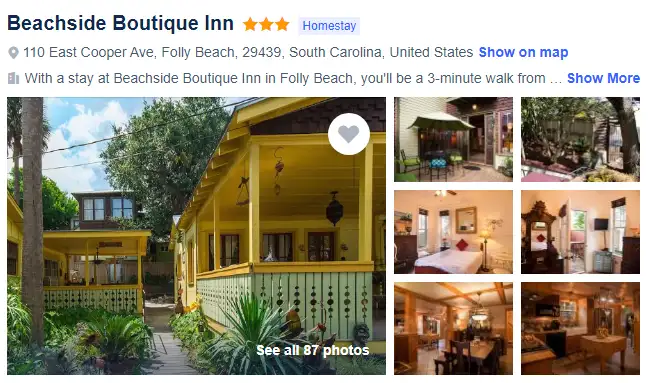 This charming inn has plenty of character, perfect for those seeking inspiring surroundings. It's located 4 minutes from Folly Beach Pier and 20 miles from Charleston International Airport, in an area with plenty of greenery.
The rooms' interiors are filled with color and unique motifs and details and are equipped with free Wi-Fi, cable, and private bathrooms. The hotels also offer cottages with kitchens and loft bedrooms.
Enjoy their complimentary continental breakfast or prepare your own in the communal kitchens and dining rooms.
2. Water's Edge Inn – Adults Only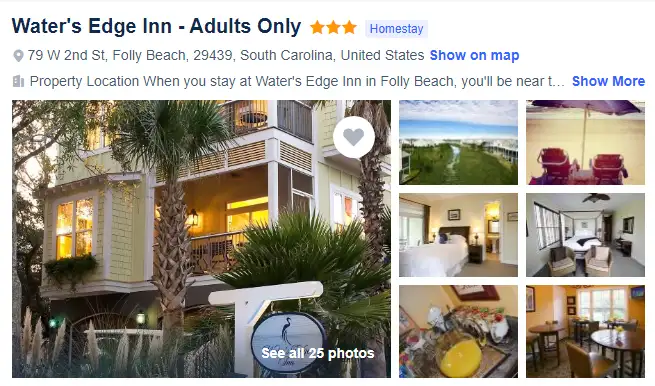 An elegant, refined Folly B&B, The Water's Edge Inn is destined for adult travelers only. It's conveniently placed 9 minutes by foot from the Fishing Pier at Folly Beach, and 4 miles from Morris Island Lighthouse.
The sophisticated rooms are well decorated and offer whirlpool tubs. Cozy and comfortable, they have fireplaces and a private balcony upon request.
The hotel also offers bikes for rent, while cocktails and canapés are served during happy hour.
If you want to surprise your partner with a long weekend and aren't sure where to stay in Charleston, this is the perfect place.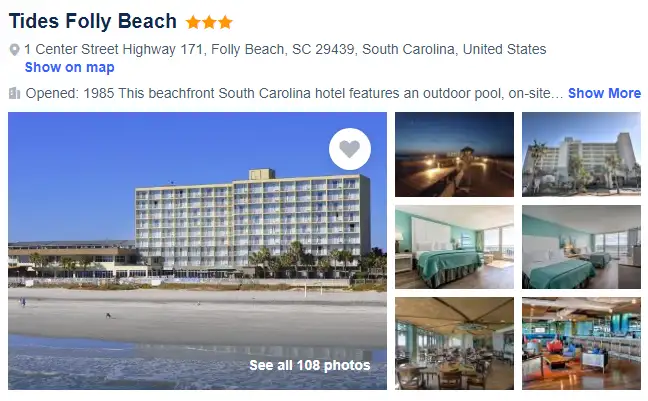 Beachfront, Tides Folly Beach is a perfect destination for a family holiday. With an outdoor pool, it provides an all-in experience for those seeking a day off exploring the Charleston area.
The hotel's rooms come equipped with balconies, ocean views, and 32-inch cable TV. The proximity to the beach makes it easy for guests seeking kayaking experiences.
Their restaurant, BLU, serves excellent seafood dishes, as well as breakfast and a late-night menu. This property is also right by the nearest shopping center.
Where to stay in Charleston on a budget: Downtown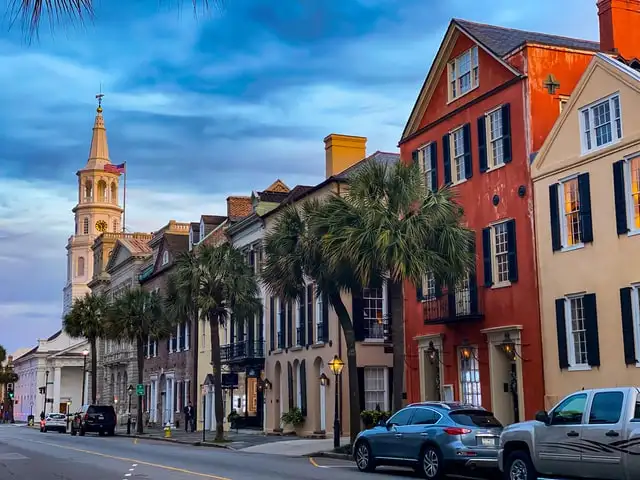 Source: Leonel Heisenberg/ unslpash
If you're looking for a cheap area where to stay in Charleston, the downtown area is the best location for visitors seeking proximity to the city's best attractions – it's highly recommended if you're a first-time visitor. Walk down King Street – the busy road where old and new Charleston meet, go on a shopping trip to the South's chicest boutiques, or go antique-hunting on Lower King Street for unique souvenirs and plenty of history.
This area is also where local festivals and parades take place. You can take a guided tour – walking or by carriage – on the cobblestone streets. Discover Battery, an area south of the city where the sunsets are beautiful. Discover 1700s Georgian houses, Civil War relics, and take a tour of the South Carolina Aquarium.
Dining options in downtown Charleston include plenty of seafood options, as well as American grills and plenty of Southern food.
If you're interested, Downtown Charlotte is also a place for nightlife. College of Charleston students hang out in this area, which is filled with bars, clubs, and restaurants, making it a tad noisy for those seeking peaceful nights.
1. Residence Inn by Marriott Charleston Riverview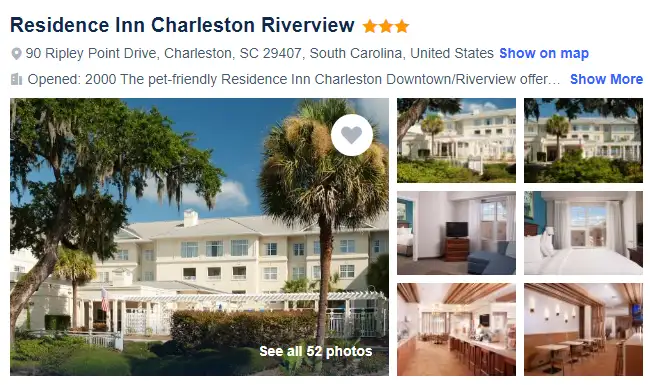 Away from the noisy parts of Charleston and located by a marina, this informal all-suite hotel is 4 miles from the Charleston Port and 2.7 miles from the Historic Charleston City Market.
Modern, clean, and straightforward studios offer kitchens, coffee machines and pull-out sofas, flat-screen TVs, and Wi-Fi (complimentary). Travelers can opt for 1- and 2-bedroom suites, which have separate living rooms with fireplaces (upon demand).
This property also offers hot breakfast, parking, an outdoor saltwater pool, a hot tub, and a gym. It's definitely one of the best options for where to stay in Charleston if you're up for enjoying some peace and quiet.
2. Hampton Inn Charleston-Historic District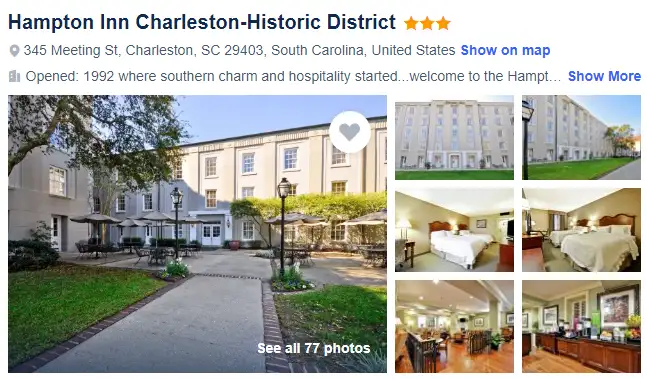 A modern hotel, centrally located in Charleston's historic district, the Hampton Inn is a 2-minute walk from the city's Charleston Museum, and under two miles from Waterfront Park – perfect for discovery by foot.
This property's rooms and suites have free Wi-Fi, desks, modern TVs, and coffee machines. Guests can enjoy a complimentary hot breakfast at the hotel or in a grab-and-go bag, as well as the gym and outdoor pool.
This hotel also has a business center and paid parking.
3. Comfort Inn Downtown Charleston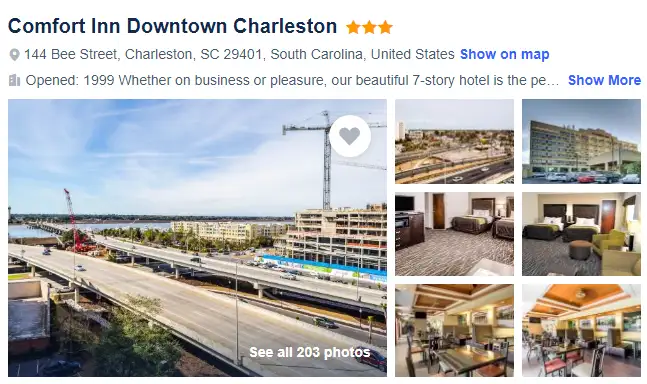 A straightforward hotel located a mile from the College of Charleston and, convenient for tourists, 5 miles from Patriots Point Naval and the Maritime Museum.
The hotel's rooms come equipped with Wi-Fi (free) and flat-screen TVs. It also offers in-room amenities such as microwave ovens, coffee machines and mini fridges. Guests can opt for extra upgrades, which include sofa-beds, or a suite with a pool and living room – all you can ask for if you're looking for a versatile hotel option for where to stay in Charleston.
Parking and breakfast are complimentary, as are the outdoor pool, gym, and business center.
FAQs about Where to Stay in Charleston
Where to stay in Charleston as a family?

Nearby Charleston, Kiawah Island, with its jaw-droppingly complete resorts and hotels, makes the perfect destination for family vacations.

Where to stay in Charleston as a couple?

Folly Beach is a beautiful place with beautiful views and perfect for a vacation for couples. Nearby Charleston, it remains easy to access whilst offering the best feeling of being "away."

Where to stay in Charleston on a budget?

Downtown and Charleston's Historic District are ideal for those seeking to visit the city and discover its history, museums and landmarks – most at walking distance.
If you're wondering where to stay in Charleston, consider your options based on what you like to discover, as well as who's traveling with you. The city and its surroundings have everything to offer to different travelers – all you need is to decide how you want it to be.