The Manor House
19/3 Dover Road, Kolkata, West Bengal, India
Show on map
The Manor House is a cozy, luxurious retreat in the heart of South Kolkatas famous Ballygunge area. Nestled away in a tree lined street on Dover Road, in Kolkatas elite Ballygunge locality, our guests are sheltered from the cacophony that is Kolkata, and yet have easy access to every part of the city of Joy. Surrounded by famous standalone restaurants that Kolkatans swear by, and only 10 minutes from the nightlife districts adjoining Park Street and the tourist hot spots around Victoria Memorial and Chowringhee, the Manor House harkens back to the golden era of Kolkata and is an homage to its past glory. We combine the modern with a tinge of history to bring you a truly special boutique hospitality experience
Show More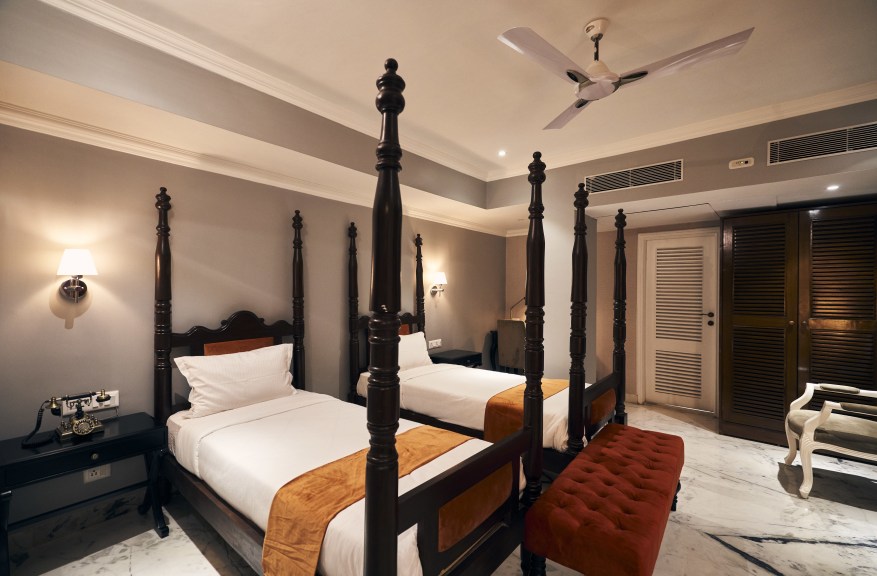 7 places of interest within 1000m
View Map



Deluxe Room(Super)
All Amenities
Hotel Policy
Check-in and Check-out
Check-in
from 12:00
Check-out
from 11:00 to 12:00
Important Information
Check-in: After 12:00, Check-out time: 11:00–12:00.,Please note your hotel check-in and check-out times.
Hotel Description
The Manor House is a cozy, luxurious retreat in the heart of South Kolkatas famous Ballygunge area. Nestled away in a tree lined street on Dover Road, in Kolkatas elite Ballygunge locality, our guests are sheltered from the cacophony that is Kolkata, and yet have easy access to every part of the city of Joy. Surrounded by famous standalone restaurants that Kolkatans swear by, and only 10 minutes from the nightlife districts adjoining Park Street and the tourist hot spots around Victoria Memorial and Chowringhee, the Manor House harkens back to the golden era of Kolkata and is an homage to its past glory. We combine the modern with a tinge of history to bring you a truly special boutique hospitality experience
How much does it cost to stay at The Manor House?
Prices at The Manor House are subject to change according to dates, hotel policy, and other factors. To view prices, please search for the dates you wish to stay at the hotel.
What is the closest airport to The Manor House?
The closest airport is Netaji Subhas Chandra Bose International Airport. It is 22.9km from the hotel and approximately a 55minutes journey by taxi.
What are the check-in and check-out times at The Manor House?
The check-in time is from 12:00 and the check-out time is from 11:00 to 12:00.
Is parking available at The Manor House?
Yes, parking is available at The Manor House.
Where is The Manor House?
The hotel address is 19/3 Dover Road. The hotel is 5.3 km from the city center.
Is The Manor House close to transport stations?
The closest station is Jatin Das Park. It is 1.3km from the hotel. View On Map
Is The Manor House nearby popular attractions?
The Manor House is near the following attractions: GoingWild(Approximately 759m), Mahanirban Math(Approximately 789m), Websys(Approximately 793m).
Show More
Haven't found the right hotel yet?