Holidays are always better with good company. And when that company is man's best friend, your vacation is guaranteed to get tails wagging. Known as the sunshine state, Florida is home to a beautiful array of beaches that are just perfect for you and your pup to explore together – from sun-kissed walkies to off-leash coastal wonderlands, here's our top picks for dog-friendly beaches in Florida. Don't forget to book your hotel and flights with Trip.com…
1. Dog Friendly Beaches Florida:

Honeymoon Island State Park Dog Beach (On-Leash)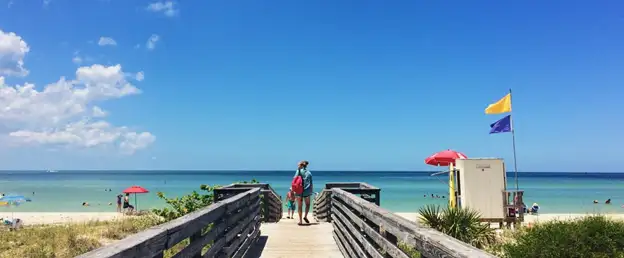 The southern edge of Honeymoon Island is home to soft, white sandy beaches and gentle breakers, making this an ideal place for pups to stretch their legs and frolic in the sun. Loungers and parasols are available for rent, along with kayaks if you want to paddle your paws. There's also a nature trail to be explored, although leashes are mandatory in all areas.
Address: 1 Causeway Blvd, Dunedin, Florida
2. Dog Friendly Beaches Florida:

Key West Dog Beach (Off-Leash)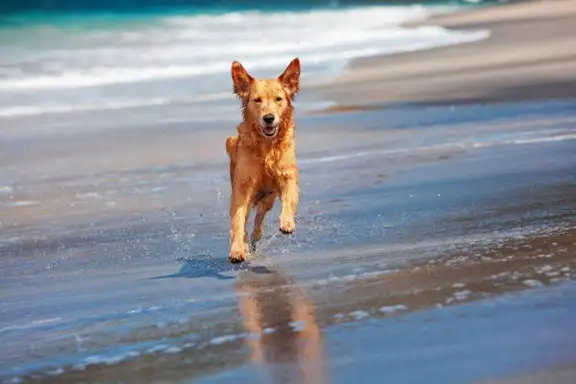 Key West is the only dog-friendly beach in the region, which makes it a popular hangout spot for those of a four-legged persuasion. That means you and your pooch will have plenty of opportunities to meet new friends. There's even a dog-friendly restaurant, called Louie's Backyard, which is just a quick scamper from the beach.
Address: 1500 Vernon Avenue, Key West, Florida
3. Dog Friendly Beaches Florida:

Fort de Soto Park (Off-Leash)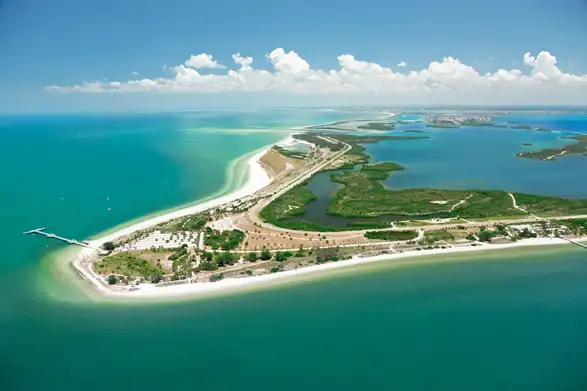 Located just south of St. Petersburg, Fort de Soto Park is famous as one of the most dog-friendly beaches in the whole of the USA. There are freshwater hoses and water fountains designed for dogs of all sizes, and specially made play areas where doggos can let loose and have some fun together. The cap it all off, there's even a 1,000-foot (300 m) white sandy beach, where you and your canine companion can frolic to your hearts' content.
Address: 3500 Pinellas Bayway S, Tierra Verde, Florida
4. Dog Friendly Beaches Florida:

Brohard Paw Park, Venice (Off-Leash)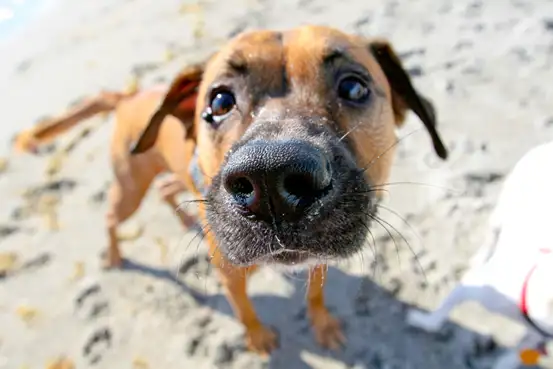 Brohard Paw Park is the only beach in Sarasota County where dogs are truly welcome. The beach is home to a special fenced-off area, where your pets can run around off-leash, while water fountains and showers are offered for both dogs and their human companions, along with picnic tables and other family-friendly facilities.
Address: Address: 1850 S. Harbor Drive Venice, Florida
5. Dog Friendly Beaches Florida:

Davis Island Dog Beach (Off-Leash)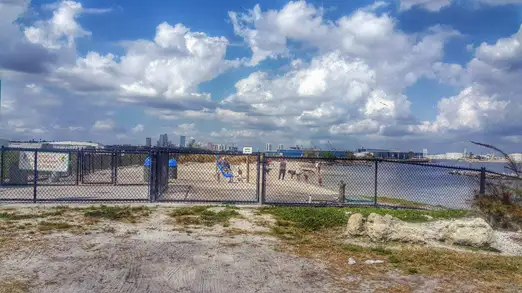 Located just a few minutes' drive from downtown Tampa, the dog beach on the southern tip of Davis Island is a heavenly playground for pups. It includes an acre of grassy shoreline that's fenced off from the beach, so you can let your four-legged friend roam without fear of them running off. Freshwater hoses make it easy to get the beach out of their fur for the journey home.
Address: 1002 Severn Avenue, Tampa, Florida
6. Dog Friendly Beaches Florida:

Doggie Beach, Panama City Beach (On-Leash)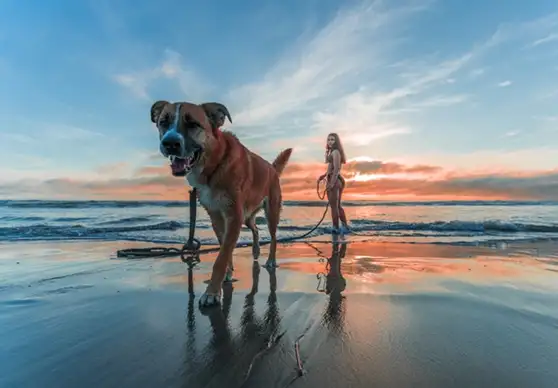 The 400-foot (122m) Doggie Beach in Panama is a runway of sandy fun for pups, as long as they're kept on their leashes. With powdery white sand, warm ocean water and even a jetty to explore, this beach is great for dogs and owners alike. Just across the street is Pier Park, which is an outdoor shopping mall that is also dog friendly.
Address: 33753-000-000, Panama City Beach, Florida
7. Dog Friendly Beaches Florida:
Smyrna Dunes Park (On-Leash)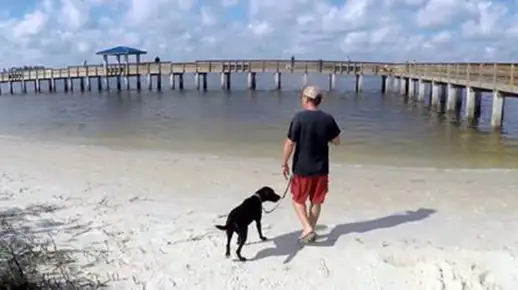 Covering 73 acres, Smyrna Dunes Park is home to open spaces, fresh air and one of Florida's favorite dog-friendly beaches. Although canine companions must be kept on a leash during their stay, there's plenty here to keep you both coming back for more. Nearby Canal Street or Flagler Avenue is home to a range of dog-friendly restaurants with water bowls for thirsty boys and girls. The local Dairy Queen even makes special "doggie sundaes."
Address: 2995 North Peninsula Avenue, New Smyrna Beach, Florida
8. Dog Friendly Beaches Florida:

Haulover Beach Park (Off-Leash)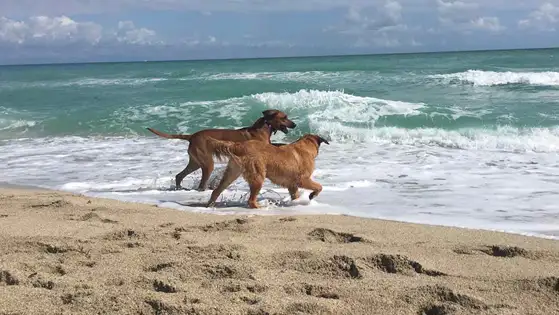 Visits to this 177-acre park are sure to be your pet's new favorite pastime. The dog-friendly area, known as the Bark Park, is situated between lifeguard towers 2 and 3. Open from 8am until sunset, the park helpfully has separate areas for big and small dogs, so you don't need to worry about them getting lost in the rough and tumble.
Address: 10800 Collins Avenue, Miami Beach, Florida
9.

Dog Friendly Beaches Florida:

Jupiter Beach (Off-Leash)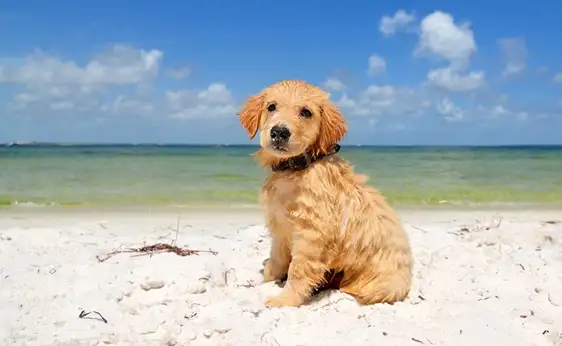 Located in Palm County, Jupiter Beach is always happy to welcome four-legged friends for a day in the sun. There are free poop bags, doggo drinking fountains and a 2.5-mile (4 km) stretch of beach between Juno Beach and Carlin Park (lifeguard area numbers #25–#29) where you can let your furry beach buddies off the leash too.
Address: 2188 Marcinski Road, Jupiter, Florida
With so many canine-friendly coastlines to choose from, you and your four-legged pals will need more than one holiday to enjoy them all.
FAQ about Dog Friendly Beaches Florida
What should I bring?

Although many of Florida's dog-friendly beaches provide some basic amenities like hoses and poop bags, you should always bring your own just in case. With so much sand and saltwater to explore, you'll want to bring towels too, unless you'd like the beach to come home with you.

Do I have to use a leash?

Although some beaches have special off-leash areas, many others have a strict policy against it. As a rule of thumb, you should always keep your pup on a leash until you see signs confirming you're in the proper zone.

Are there any other laws to look out for?

Owners are legally responsible for their animals at all times and are required to clean up after them. Park Rangers and lifeguards are authorized to refuse entry and advise any pets or their owners to leave. Dogs in heat or with an illness are not allowed, and whistles are also generally frowned upon, as they can disrupt other dogs.