Christmas, oh Christmas, it's the season to be jolly! This massive year-end festival is celebrated all around the world, and it is one of the biggest events of the year. From history and traditions to trendy Christmas holiday destinations, Trip.com is here to help you prepare for a fun-packed Christmas 2022 celebration!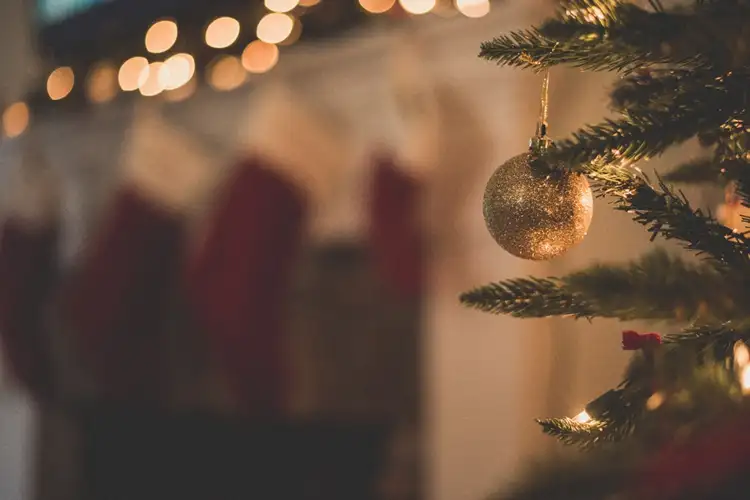 Source: Chad Madden/ unsplash
Christmas is the biggest year-end festival that celebrated around the world
Brief Introduction of Christmas 2022
Christmas originates as a Christian holiday, and it celebrates the birth of Jesus Christ. However, this popular festival has also become a secular holiday starting in the 20th century. According to the U.S. Christmas season – Statistics & Facts by D. Tighe, "In 2021, total holiday retail sales were projected to have reached new highs of almost 850 billion U.S. dollars." So, how did this religious tradition transform into a large-scale celebration? Read on to find out more!
Facts About Christmas 2022
✅Date of Christmas 2022
Christmas is celebrated on Dec 25 every year. Christmas 2022 will fall on a Sunday this year.
✅Christmas Holidays in 2022
As Dec 25, 2022 falls on a Sunday this year, Dec 26, 2022 will also be a federal Christmas holiday (in lieu).
For schools, Christmas break usually falls under the Winter Break, which starts from Dec 19, 2022 to January 2, 2022 in most school districts.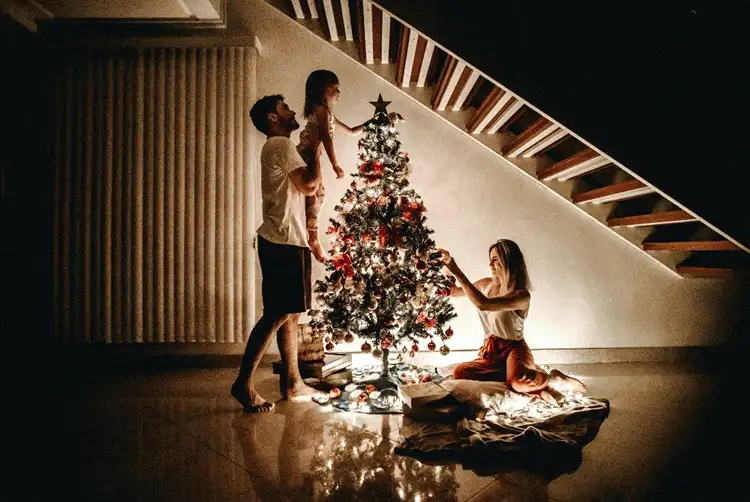 Source: Jonathan Borba/ unsplash
Decorating the Christmas tree is always a fun family activity!
✅History of Christmas
The word "Christmas" comes from the phrase "the mass of Christ", and this religious Christian tradition celebrates the birth of Jesus Christ. However, it was likely that this winter celebration had other names in ancient times, such as "Yule". The first Christmas celebration can be traced back to Dec 25, 336 A.D., and it took place in Rome. Nonetheless, Christmas only became an important Christian festival in medieval times during the 9th century.
However, do you know that Christmas wasn't always celebrated throughout the European settlements in America? The Pilgrims who arrived in America in 1620 were strict Puritans. They were unable to find any literal bible references which indicated that Jesus Christ was born on Dec 25. Hence, they refused to recognize this tradition and even banned the celebration of Christmas in Boston from 1659 to 1681.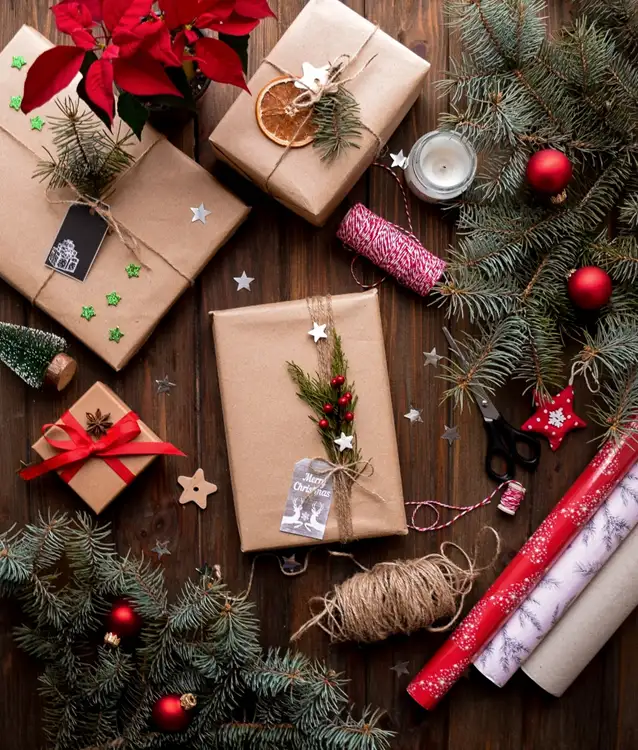 Source: Olesia Buyar/ unsplash
It's time to wrap up the gifts and pile them up beneath the Christmas tree!
The celebration of Christmas was also impacted by the American Revolution in the 18th century. According to the History of Christmas by History.com, "After the American Revolution, English customs fell out of favor, including Christmas." Christmas was only designated as a federal holiday by President Ulysses S. Grant on Jun 26, 1870, to unite the north and south. That was even later than Thanksgiving, which was designated as a federal holiday by President Abraham Lincoln in 1863.
Toward the end of the 18th century, Christmas was also increasingly celebrated as a secular holiday. At this time, gifting Christmas presents has become an established norm, and hence, Christmas was seen as a "secular holiday focused on family and friends" (Christmas Holiday, Britannica.com). This practice was one of the reasons why the Puritans banned Christmas in the 17th century, but it was ironically also one of the reasons why Christmas rose to become a major festival celebrated by people from all walks of life around the world.
How to celebrate Christmas 2022?
Christmas has been through multiple interpretations over the past few centuries, but what's undeniable is its association with fun and celebrations today! Let Trip.com bring you through some of the most popular Christmas traditions and activities you can do for Christmas 2022.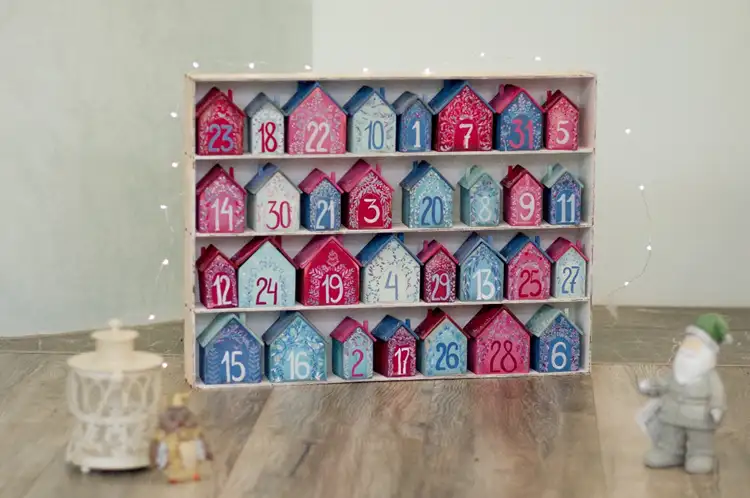 Source: Elena Mozhvilo/ unsplash
Advent Calendars: Open a gift every day as you count down to Christmas Day!
✅Christmas Traditions and Activities
▶Advent Calendars – The Christmas 2022 Countdown
Christmas Day falls on Dec 25, but the celebrations start way before that! Traditionally, Advent refers to "the period of preparation for the celebration of the birth of Jesus Christ at Christmas" (Advent, Britannica). In recent years, there's been a new trend to count down to this big day with advent calendars! Just like Christmas Day, the advent calendar has also been reinterpreted in secular ways. Who says that you can only open presents on Christmas Day? Nowadays, you can find many brands selling advent calendars which consist of little gifts for you to open each day during the countdown. From jewelry to skincare, these advent calendars are rising in popularity and forming a new Christmas tradition. However, not all advent calendars are store-made. For Christmas 2022, why not bundle up 25 little surprises and create an advent calendar for your loved one?
Christmas shopping is both a joy and a chore, but you can certainly get it done easier at Christmas markets! Christmas markets are special markets set up in Dec where you can find stores selling everything Christmas-related. From Christmas decorations to key ingredients for your Christmas dinner, this is the place where you can buy it all! However, Christmas markets aren't just about shopping. These special markets often feature intricate decorations and spectacular stunning, making them beloved Christmas attractions. We'll elaborate on some of the most beautiful Christmas markets in the world later on.
▶Christmas 2022 Cards
Christmas cards may sound old-fashioned, but that doesn't mean that it isn't popular! After all, this is a wonderful way to send your well-wishes to family and friends at the end of a fruitful year. Just imagine the joy you feel when you receive one! The first Christmas card dates back to 1843 when it was invented by Sir Henry Cole in Britain. He was a civil servant who was thinking of a way to encourage people to use the postal service, and he came up with the idea of selling Christmas cards. At the same time, Christmas cards were a convenient replacement for the tradition of writing a lengthy personalized letter to loved ones during the festive season. This idea was a hit in Victorian society, and it quickly became a Christmas tradition since then. This old-fashioned card has also had its own modern twists! While the first Christmas cards were printed in mass productions, customizing your own Christmas cards became a trend later on. This includes printing your family pictures on the card or simply drawing your own designs. More recently, people have also started sending out e-Christmas cards.
▶Decorating the Christmas Tree
The centerpiece of Christmas decorations is undoubtedly the Christmas tree! But first, where did this tradition come from? Christmas trees started as a German tradition, where people would bring these evergreen trees into their homes during winter and decorate it. Many of the Christmas traditions we know of today were created or popularized during the Victorian Era, and the Christmas tree is no exception. Queen Victoria was married to Prince Albert, who came from Germany, and they incorporated this German tradition into their Christmas celebrations. In 1846, a new article published a sketch of this popular royal family gathered around a Christmas tree, and the Christmas tree tradition took off since then. Christmas trees are usually bought at the beginning of Dec, and one of the most exciting family activities is decorating them together! Common decorations are fairy lights, ornaments, tree skirts, and of course, the tree topper! Stars and angels are the most classic choices, but feel free to be creative with your tree.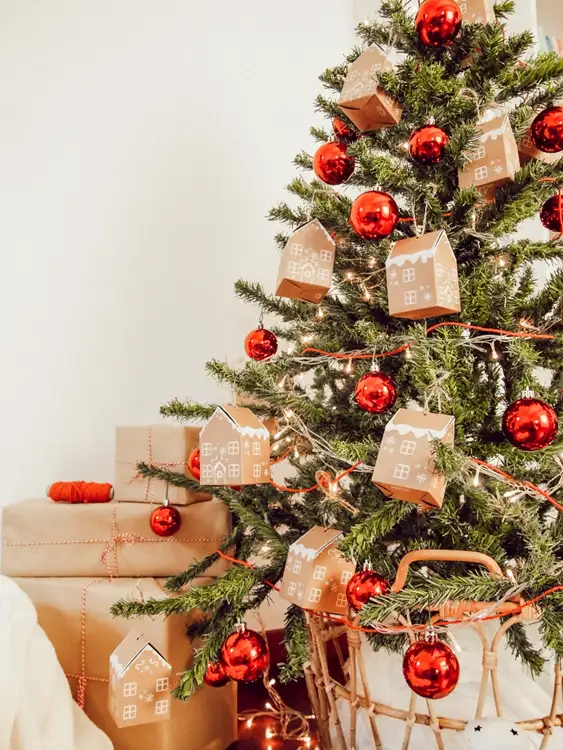 Source: Mariana Rascão/ unsplash
The Christmas tree and gingerbread traditions were popularized in the 19th century
▶Gingerbread
Gingerbread is another common sight during Christmas time, and baking it is a fun Christmas activity to look forward to. Just like Christmas trees, gingerbread's association with Christmas was also popularized by Prince Albert and Queen Victoria. Gingerbread often comes in the shape of Gingerbread man cookies, which are hung on Christmas trees. Alternatively, build a gingerbread house with your kids and decorate it with icings!
▶Santa Claus
Santa Claus is coming to town! I'm sure you've heard this song playing on repeat in stores, schools, offices, everywhere. Whether you call him Santa Claus or Father Christmas, the white-beard man is the icon of Christmas. The legend of Santa Claus is believed to trace back to a charitable monk named St. Nicholas in 280 A.D., who used his wealth to help the sick and poor. His Dutch nickname was "Sinter Klaas", and this was where Santa Claus's name originated from. At Trip.com, we not only prepare you for historical facts but also fantastical myths so that you won't be caught off-guard by curious kids during the Christmas gathering! In Version B, Santa Claus is a chubby old man dressed in red clothing, and he lives at the North Pole. On the night of Christmas Eve, he flies in the sky on a sleigh pulled by 8 reindeer to deliver presents to all the obedient kids in the world. He will slide through the chimney secretly when the children are asleep and drop the presents into the stockings!
▶Christmas 2022 Presents
For the aged and non-believers, presents are presented in a different, but no less exciting, way. When you're preparing for Christmas, it's important to draw up a list of people whom you're preparing gifts for. Then, wrap the gifts up with beautiful wrapping paper and tag them with the recipients' names. All these gifts will be piled up under the Christmas tree until Christmas morning when the gift-exchanging happens!
▶The Christmas 2022 Feast
Christmas is a time for celebrations, and celebrations are a time for feasts! There's nothing more satisfying than a hearty meal in the cold winter as you gather around with friends and family. Common dishes include stuffed turkey, Christmas pudding, and ham.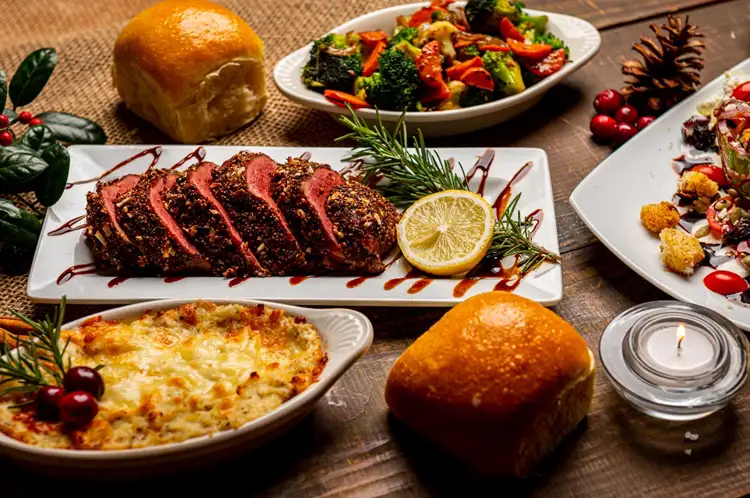 Source: Jed Owen/ unsplash
Indulge in a hearty Christmas feast with family and friends
▶Christmas 2022 Carols
Whether you love it or hate it, Christmas carols are here to stay for the whole of Dec! Get ready for the good old classics, such as "Jingle Bells", "We Wish You a Merry Christmas", and "Joy to the World".
▶Christmas 2022 Movies
When it comes to classic Christmas movies, the Home Alone series takes the crown. Start a Christmas movie marathon with Home Alone, Home Alone 2: Lost in New York, and Home Alone 3.
▶Christmas 2022 Photo
At the end of all the Christmas activities, gather everyone around for a picture! This Christmas photo will make a lasting memory for years and years ahead.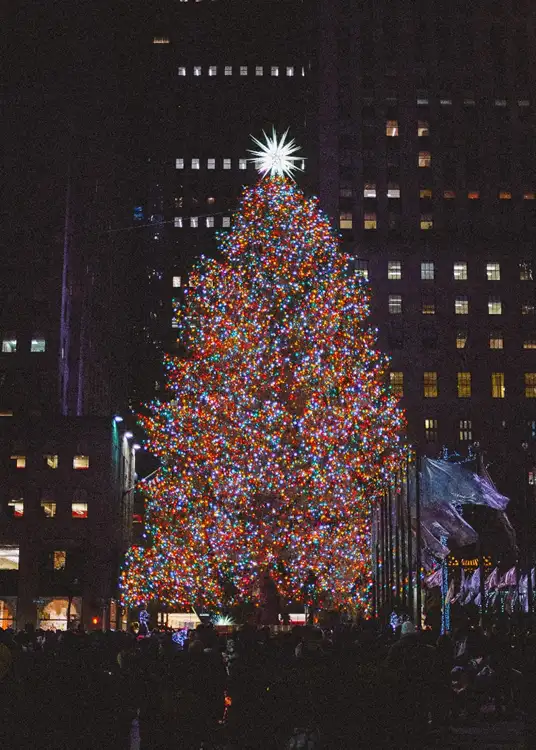 Source: Wesley Tingey/ unsplash
The iconic Rockefeller Center Christmas Tree in New York City
How to Plan for Your Christmas 2022 Holiday
During the Christmas season, it's common for everyone to take a couple of weeks off work and celebrate the end of the year. This extended holiday is the perfect chance to travel around, and Trip.com is here to present a wide variety of vacation ideas for your Christmas 2022 holiday!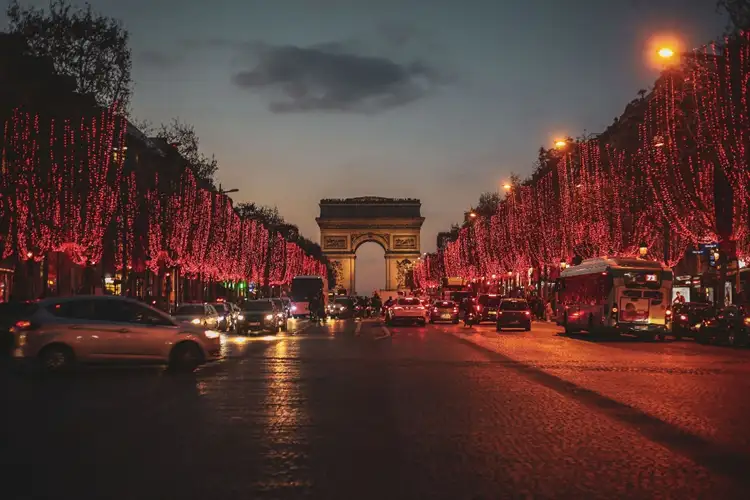 Source: Dyana Wing So/ unsplash
Take a stroll down Champs-Élysées in Paris, France for a romantic Christmas vacation
In the 21st century, Christmas is celebrated in different corners of the world, and many regions have come up with their local Christmas traditions. For example, in Australia, which lies in the Southern Hemisphere, Christmas actually occurs during summer! Instead of huddling by the fireplace with a cup of hot chocolate at home, Australians take their Christmas dishes to the beach and have a picnic under the sun! In Dublin, the locals bring their passion for pubs into their Christmas culture, too. Drawing inspiration from the song "The Twelve Days of Christmas", locals (and tourists) celebrate the season by going to 12 pubs a day. If you happen to be in Japan during Christmas Eve, don't be surprised to see people flocking to KFC. KFC was incredibly successful in its marketing campaign to associate its fried chicken with Christmas feasts, and it has become the Japanese Christmas tradition to eat KFC fried chicken.
Are you curious to find out how Christmas is celebrated in the old world? Why not fly to Europe for Christmas 2022? If you're traveling with kids, London is the place for you. Indulge in mince pies and handmade chocolates at the iconic Trafalgar Square Christmas Market, or hop onto a Ferris Wheel at the Winter Wonderland at Hyde Park Corner. These activities will entertain both kids and adults alike! For couples looking for a romantic Christmas holiday, there's no better place than the city of love. Take a stroll down Champs Elysees with fairy lights sparkling above your heads, or sail down River Seine on a cruise. It's hard not to fall in love with each other all over again. For the adventurers who seek to make the most out of the cold, head up to Finland for their winter sporting activities! Those who are secretly young at heart can also pop by the Santa Claus Village at the Arctic Circle.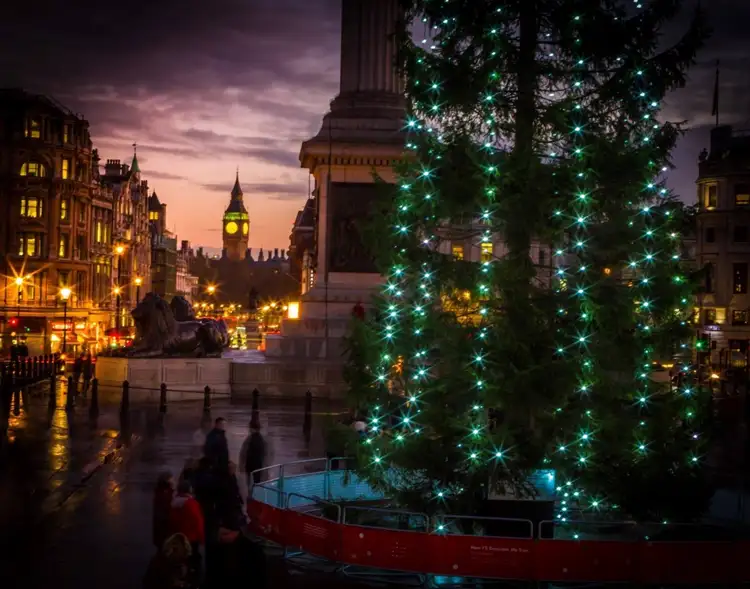 Source: Brooks DeCillia/ unsplash
The Trafalgar Square Christmas Market in London, United Kingdom
Are you a fan of Christmas decorations? The 10 Best Christmas Getaways for 2022 will show you the cities that take Christmas decorations to a whole new level. New York is famous for many things, and one of which is its spectacular Christmas celebrations! Instead of watching the live broadcast for the lighting of the iconic Rockefeller Center Christmas Tree, witness it with your own eyes this Christmas 2022. In Tokyo, Christmas decorations are not only a visual delight but also an aural treat. Check out the Jewellumination at Yomiuri Land where you'll be surrounded by 4 million LED lights. The amusement park also features a dance show which is synchronized to light and music. Jewellumination takes place from late Oct 2022 to early Apr 2023. If you wish to celebrate Christmas the religious way, fly to Rome for Christmas 2022! You'll also be impressed by the Christmas light displays at Piazza Venezia and the Spanish Steps.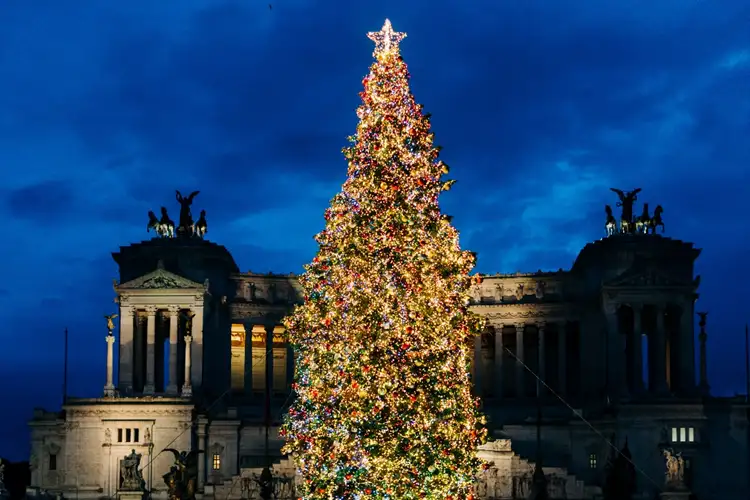 Source: Gabriella Clare Marino/ unsplash
A magnificent Christmas tree at the Piazza Venezia in Rome, Italy
There are many exciting Christmas destinations within the U.S. as well, and the Top 10 Places for Christmas Vacations is here to introduce some of the most popular ones to you. If you wish to experience a summer Christmas, you don't have to fly out of the country. Tropical Hawaii is ready to welcome you with its Christmas parades, Honolulu City Lights, and Santa's Enchanted Forest. For those who are looking forward to a snowy Christmas instead, remember to check out Colorado — Breckenridge. This place is home to a ski resort for winter sports lovers. Another fun activity you can find here is the Race of Santa! Remember to put on your Santa suit before joining the race. There's always a reason to go to Los Angeles, and the Christmas season is the perfect time to do so. Catch the holiday boat parade or take a stroll under sparkling lights at Santa Monica Beach Pier when night falls. You won't need to worry about feeling bored when spending Christmas 2022 in this bustling city.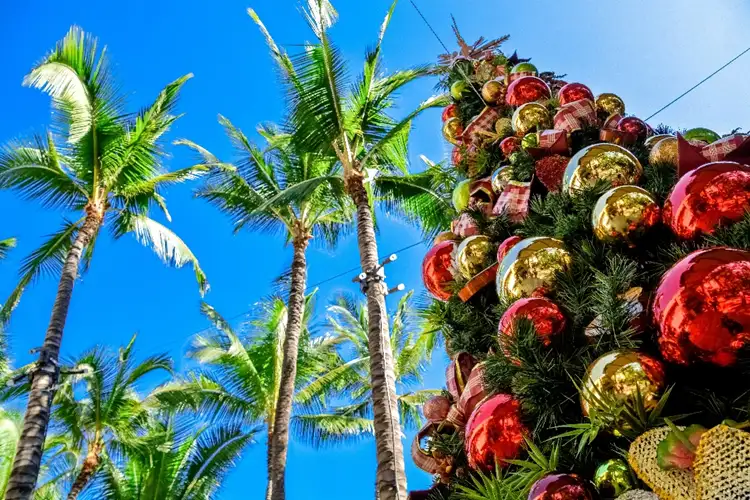 Source: Jeremy Bezanger/ unsplash
Experience a tropical Christmas in Honolulu, Hawaii
Over the years, some hotels have gained a reputation for presenting a remarkable Christmas experience, and the Best 10 Christmas Hotels in U.S. 2022 is here to introduce some of the best ones to you. The Omni Grove Park Inn at Asheville, North Carolina is not only home to one of the top golf resorts in the state, but it's also the host of the National Gingerbread House Competition. This year marks the 30th anniversary of this delicious competition, and it will be held on Nov 20–21, 2022. At Hotel del Coronado in Coronado, Southern California, you won't need to step out of your hotel to find countless Christmas activities. Snap pictures of the two-story Christmas tree when you are checking in at the lobby, and head to the seaside lawn for some pictures with Santa Claus. You won't need to worry about missing out on Christmas feasts at this hotel as they hold a grand banquet for guests on Christmas Eve and Christmas Day. If you're looking for a dreamy vacation, Fairmont Scottsdale Princess in Scottsdale, Arizona is ready to fulfill your Christmas fantasies. When the Christmas season comes by, this hotel is transformed into a Christmas wonderland with over 4.5 million lights. The hotel even has its own Princess Express Train which brings guests on a tour to see all the light decorations!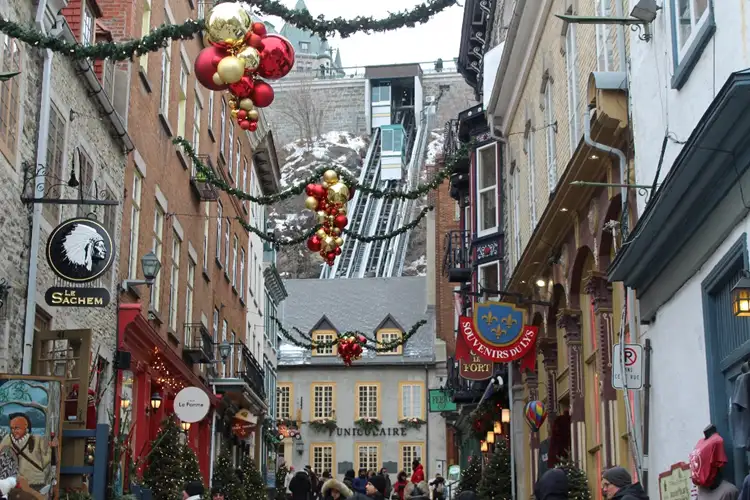 Source: Hamit Pena/ unsplash
Enjoy Christmas in the fairy tale city of Quebec
Christmas markets present not only a wonderful shopping experience but also tonnes of exciting activities. Let's take a look at some of the most magical Christmas markets in the world that will teleport you to the land of fantasies. If Quebec isn't dreamy enough during normal times, it'll certainly wow you during the Christmas season with its German Christmas Market. Indulge in German food without crossing the Atlantic and enjoy pop-up performances while you're there! Now, have you ever been to an underground Christmas market? Take a trip to the city of Valkenburg in the Netherlands for a whole new experience! Valkenburg's Christmas market is located within a cave, and it's the largest underground Christmas market in Europe. How about a Christmas market that's steeped in history? The Salzburg Christmas Market in Austria can be traced back to the 15th century, and it takes place at the center of the old town which has been designated as a UNESCO World Heritage site. If you visit on a Saturday afternoon, you may be lucky enough to catch sight of the Christkind who are dressed in white robes and wings.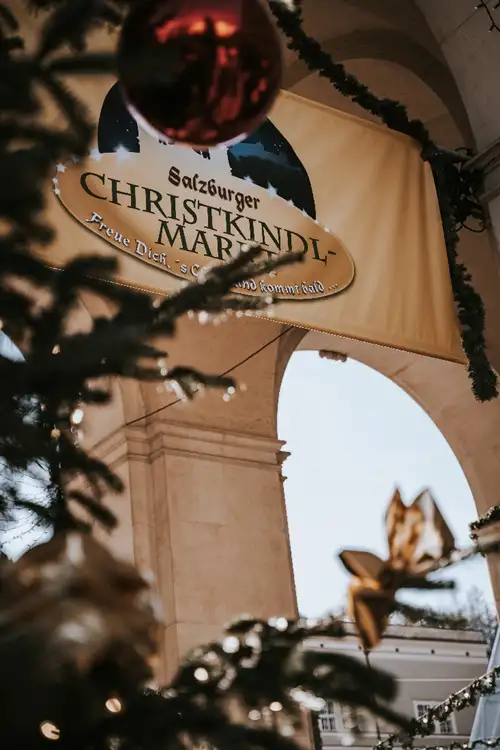 Source: Ömer Karakus/ unsplash
The Salzburg Christmas Market can be traced back to the 15th century
Merry Christmas 2022!
It's never too early to start planning for Christmas 2022 as the joy lies in its preparation as well. Whether you're planning for a quick getaway in the U.S. or going abroad for an exciting Christmas adventure, Trip.com is always ready to offer a helping hand. Merry Christmas and a Happy New Year!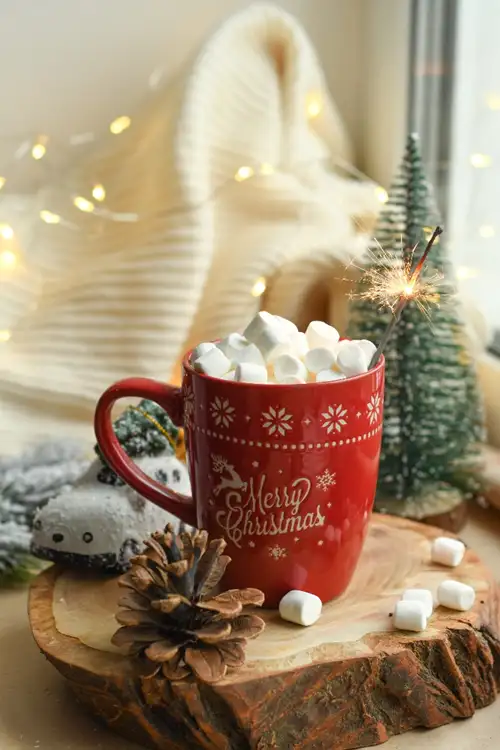 Source: Raspopova Marina/ unsplash
Merry Christmas 2022!
FAQ
When is Christmas 2022?

Christmas 2022 takes place on Dec 25.

When is the holiday for Christmas 2022?

Christmas 2022 falls on a Sunday. Hence, the following Monday, Dec 26, is also a federal holiday (in lieu).

Is Boxing Day celebrated in the U.S.?

Boxing Day is not a federal holiday in the U.S. However, Dec 26, 2022 is a federal holiday (in lieu) in the U.S. as Christmas 2022 falls on a Sunday.

What do people do on Christmas?

Popular traditions include decorating the Christmas tree, exchanging Christmas presents, having a Christmas dinner, attending Church, shopping at Christmas markets, and waiting for Santa Claus.

Why is it called Christmas?

The word "Christmas" comes from the phrase "the mass of Christ", and this religious Christian tradition celebrates the birth of Jesus Christ.