Traveling to Costa Rica is on every nature fan's list🌴. The beautiful country is renowned for having huge wildlife diversity, with over 30% of its land dedicated to national parks. It is also admired for its stunning natural landscapes, including volcanoes, tropical beaches, cloud forests, crystal-clear waterfalls, and a plethora of wilderness retreats, family-friendly holidays, and adventure tours😍.
Costa Rica is the most popular holiday destination in Central America👍, but it is also one of the most expensive when compared to its neighboring country. So, how much would a Costa Rica trip cost in 2023😳?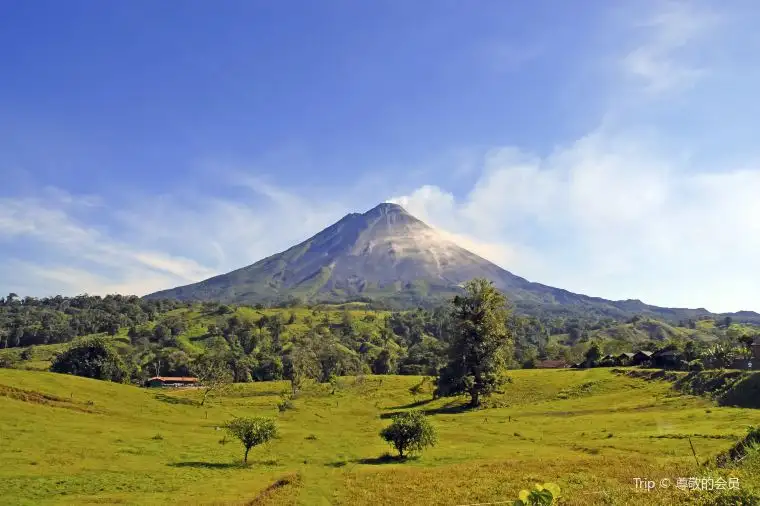 The Arenal volcano National Park / Source: trip.com
What are the Costa Rica trip costs for flights?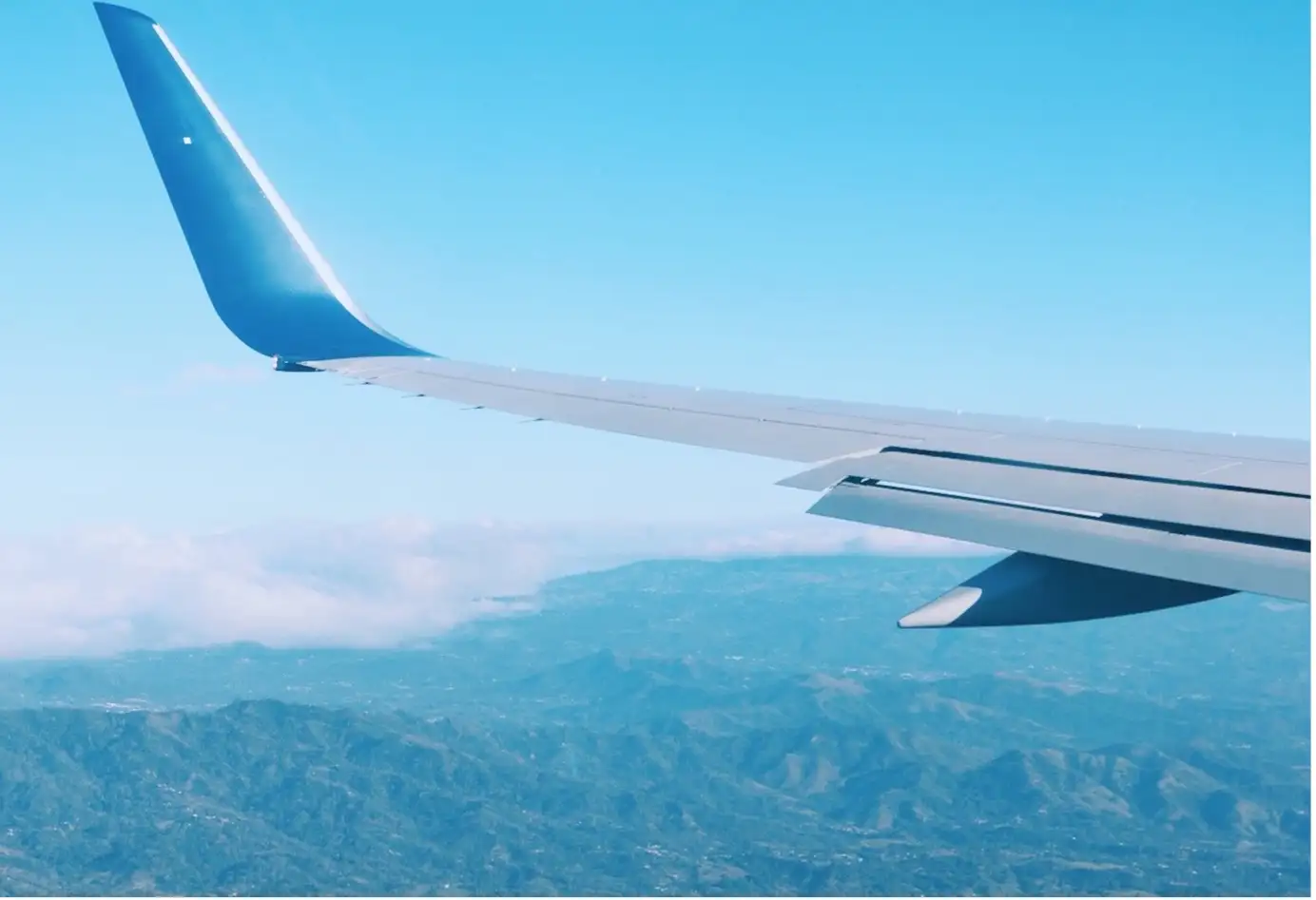 Flying to Costa Rica / Source: Photo by Sam Mgrdichian on Unsplash
When calculating your Costa Rica trip costs, the first item on your checklist will probably be the flight tickets🙄

. These are often the first big cost of a trip, but once booked, all the other plans will fall into place.
If flying to Costa Rica from the US, you'll find that prices are lower from southern airports – since these are closer. For example, direct flights to San Jose from New York cost around US$650, with some options being closer to US$500 and others surpassing US$1,000. Direct flights to San Jose from Los Angeles, however, cost an average of US$400 to US$500. This means that if flying from the north of the country, a multi-stop holiday may not add too much to your Costa Rica trip cost. For example, when choosing a combination of direct and non-direct flights, a multi-city flight from New York to LA to San Jose and then back to New York can cost as little as US$550.
Don't forget that Costa Rica trip costs for flights will vary depending on the season🤔. The high season🔥, when flights are usually more expensive, is during the dry season (December to April). The low season, when flights are usually cheaper, is during the wet season (May to November). The good news, however, is that Costa Rica has microclimates that vary across the country. For example, when it is the wet season in western Guanacaste, it is the dry season on the eastern Caribbean coast👀. This means that you can visit during the low-cost flight season but still enjoy the dry season weather👍.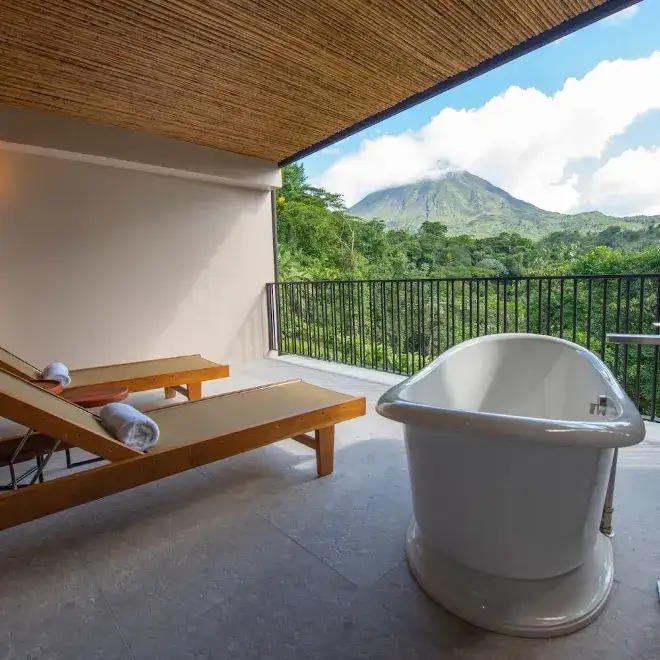 View from Tabacón Thermal Resort & Spa, La Fortuna / Source: trip.com
Once your Costa Rica flights are booked, it's time to consider your accommodation costs🏨

. Costa Rica trip costs for hotels can vary massively, not only on location but on the level of luxury desired and the amenities

😳

. So, we'll explore a few more options to give you a better idea of hotel costs in Costa Rica

👍

.
When in San Jose, the country's capital, you can choose from budget to five-star hotels

⭐️

. If looking for lower cost options, head toward Chinatown, where you'll find accommodation such as the simple but clean
Costa Rica Guesthouse
at only US$35 a night for two people or the slightly better option and comfortable
Sleep Inn Hotel Paseo Las Damas
for only US$91 a night for two people.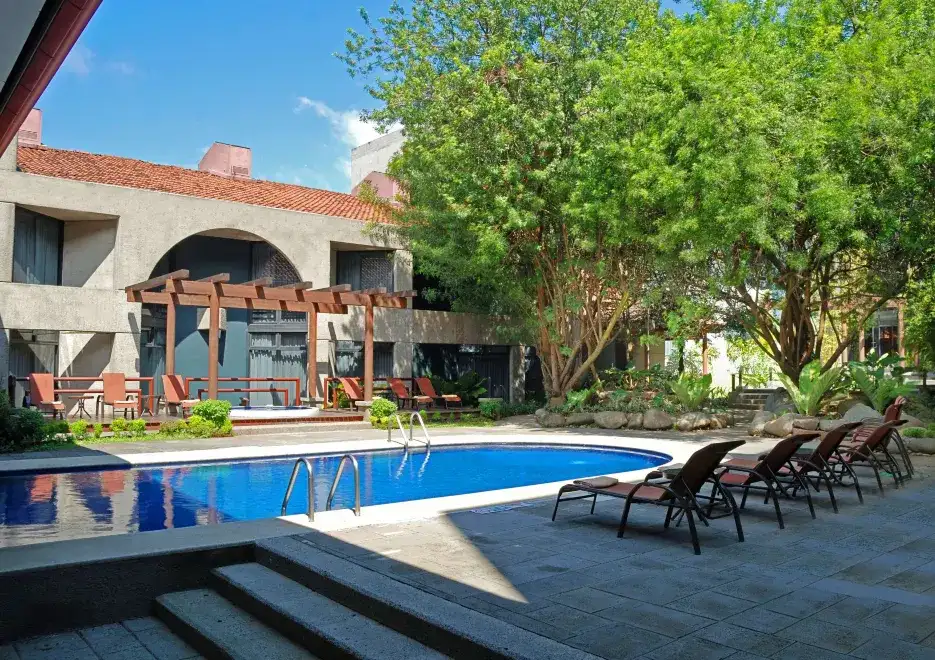 Outdoor Swimming Pool at Radisson Hotel San Jose - Costa Rica
If you are looking for something a little more upscale in the city, head to the area near La Sabana Park or Spirogyra Butterfly Garden. It is at these locations that you'll find the beautiful
Radisson Hotel San Jose - Costa Ric

a
for US$130 a night or the
Crowne Plaza San Jose Corobici, an IHG Hotel
, for US$245 a night for two people. These options offer modern facilities, fitness centers, swimming pools, and a perfect central location downtown.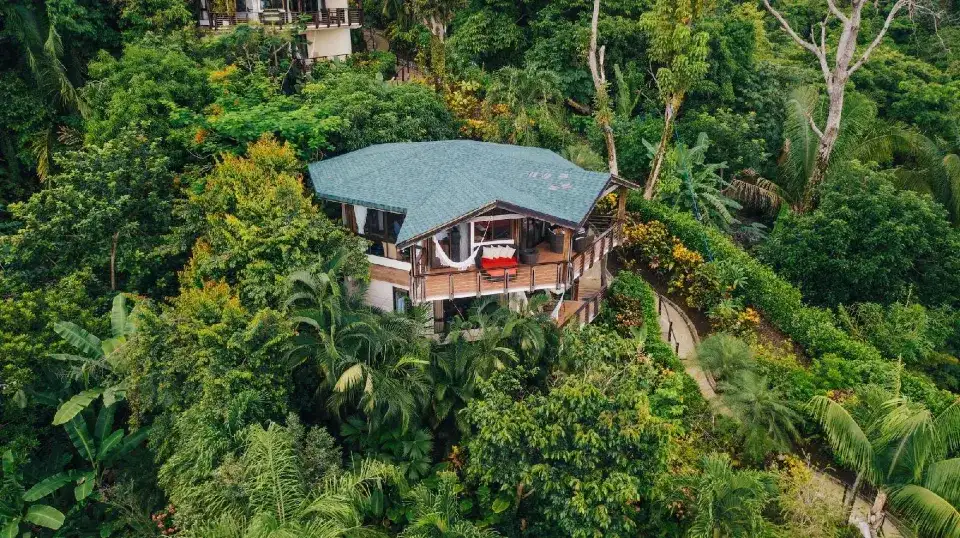 Tulemar Resort / Source: Trip.com
Outside San Jose, there are lots of incredible places to stay. La Fortuna is a very popular destination, as from here, you can visit the Arenal volcano and national park, the Venal caves, go canyoning off waterfalls, and so much more. Another popular option and one that, coupled with San Jose and La Fortuna, makes for the perfect first trip to Costa Rica is Quepos and its Manuel Antonio National Park. This location makes a wonderful beach holiday, with pristine white sand beaches, spectacular sunsets and views, and lots of wildlife to be much closer to nature.
In La Fortuna, you can opt for rustic but comfortable living in jungle tents at Selina La Fortuna for as little as US$30 a night for two people, 3-star hotel accommodation with stunning views of the Arenal volcano at Hotel Secreto la Fortuna for US$73 a night for two people, or you can opt for luxurious resorts. Enjoy spas, swimming pools, and balcony views of the volcano at The Royal Corin Thermal Water Spa & Resort for US$246 a night for two people, or hot spring baths and wellness at the tranquil Tabacón Thermal Resort & Spa for US$400 a night for two people.
In Manuel Antonio, sea views and jungle vibes are the order of the day, and with so many stunning options to choose from, it's hard not to get carried away. For a mountain setting that will lower your Costa Rica trip cost, stay in the colorful yet elegant Hotel Villas Lirio for US$108 a night for two people. For a jungle beach feel with panoramic views and royal treatment, opt for the upmarket Tulemar Resort for US$396 a night for two people. Or, for the same views at a fraction of the cost, head to Mango Moon Villa and pay US$152 a night for two people.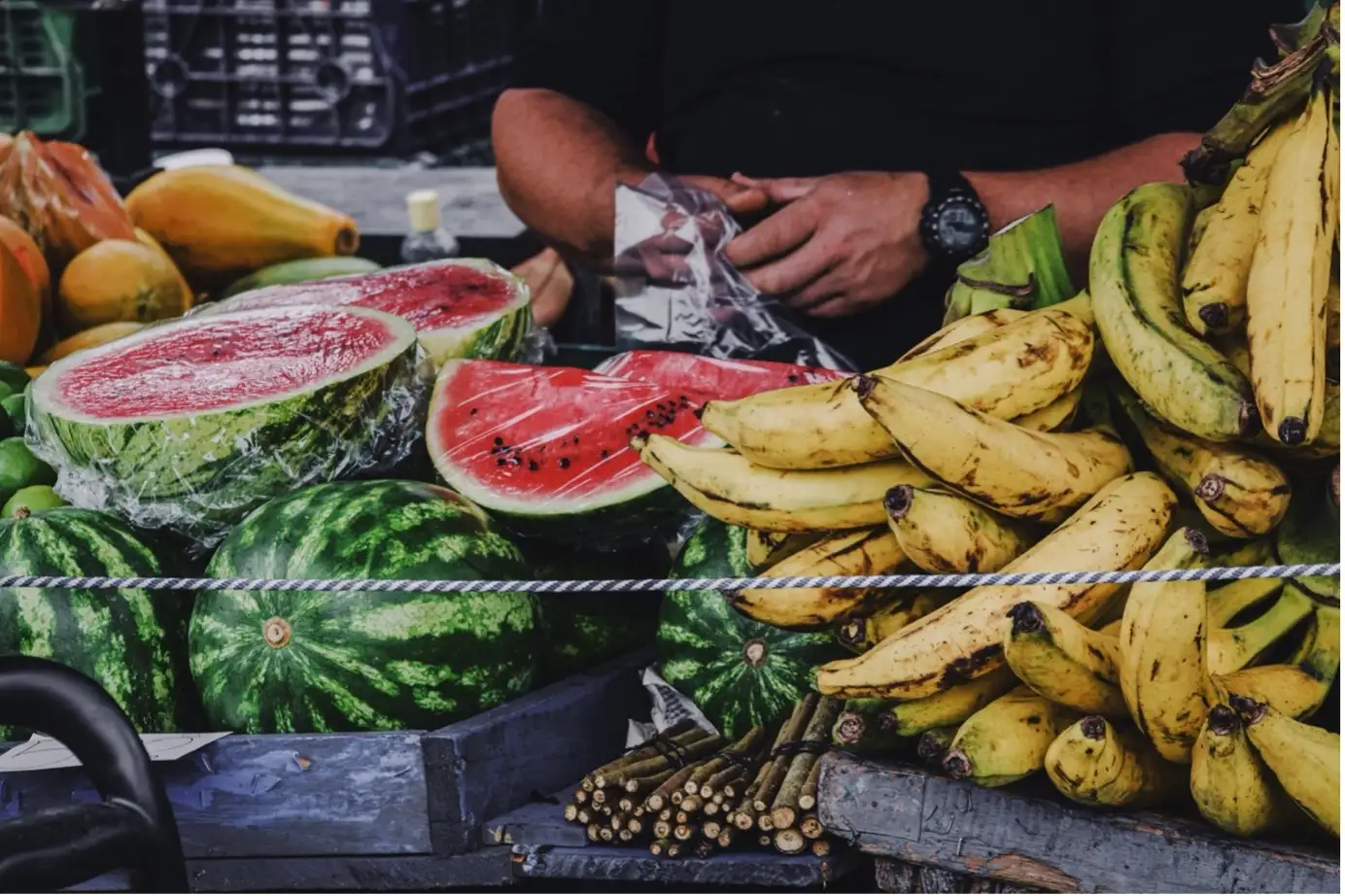 Fresh produce at a local market / Source: Photo by Ralph (Ravi) Kayden on Unsplash
Costa Rica is a land of fresh produce, from exotic fruit and healthy vegetables to organic and free-range meat. However, agricultural protectionism means that heavy taxes are levied on imported produce, like rice. This means that the food budget for your Costa Rica trip cost will probably need to be higher than you think (think of it as being around the same price, or slightly higher, than in the US).
There are many price points to choose from, with cheaper options available at food markets, supermarkets, and budget-friendly restaurants away from the tourist hotspots. Some delicious meals that you are likely to find in more local sports include olla de carne, which is a hearty beef stew, perfect for the day after a night drinking Costa Rican beers, or sopa de mariscos, which is a seafood soup that you'll find piled up high and fresh in the seafront marisqueras and which often comes with a creamy coconut base.
When eating in tourist areas, you may find that the portions are smaller and more expensive, so it is always worth heading out to find real, local flavors at a fraction of the cost. This is in no way saying that tourist restaurants are bad news. However, if you are willing to pay more, you will be treated to an explosion of tastes alongside delicious cocktails. You will also be able to eat international cuisine. If you find you miss the tastes of home, they are, in fact, pricier due to the import taxes mentioned before. Now, let's take a look at some of the base rates to give you a better idea.
Costa Rica costs food chart for

2023

:
| | |
| --- | --- |
| Product | USD |
| Water (33 cl bottle) | $1.52 |
| Coca-Cola / Pepsi (33 cl bottle) | $1.80 |
| Cappuccino | $2.93 |
| Imported beer (33 cl bottle) | $4.03 |
| Local beer (0.5 liters) | $2.75 |
| A menu from McDonald's or Burger King | $8.25 |
| Three-course meal for two in a restaurant | $49.86 |
| Menu of the day in a cheap restaurant | $9.17 |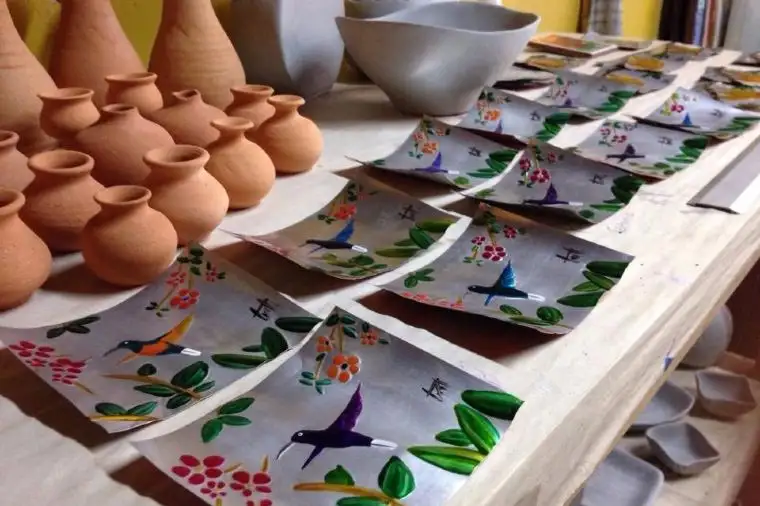 Galeria Estudio / Source: Trip.com
The best types of souvenirs to bring back from Costa Rica are those ones that encompass the spirit of Pura Vida, Costa Rica's slogan for full life and eco-tourism. For that reason, we think some of the best options are those made from natural materials and sustainable sources.
You can buy clothes made from sustainable bamboo, hemp, and even banana fabrics at specialty eco shops across the country. A t-shirt in one of these stores usually costs about US$40, pricier than common cultural shirts, but the fabric is hardy, comfortable, and quite unique (especially when made from banana fabrics).
Other clothing souvenirs to consider are sarongs and bikinis with Costa Rican designs, although these are not very traditional and serve more as memorabilia of your trip than genuine Costa Rican souvenirs.
Costa Rica also offers many hand-painted wooden souvenirs, often depicting the animals of the region or the ox cart, which forms part of the traditional Costa Rican history of coffee farmers. These hand-painted souvenirs will bring a Costa Rica trip cost to about US$5-25 for the smaller items or more for larger or more intricate designs. Wooden jewelry can also make a memorable souvenir or gift.
Another great Costa Rican souvenir comes in the shape of food, with Costa Rica's love of hot sauce, as well as the traditional Salsa Lizano making this the perfect option to take the tastes of your journey back home for your enjoyment. Salsa Lizano can be bought in supermarkets for US$1, while there are many more spicy sauces that can be found in tourist shops (for a higher price, of course). The hot sauces are a great way to bring back flavor and fun since many of your friends back home will struggle with the spice levels.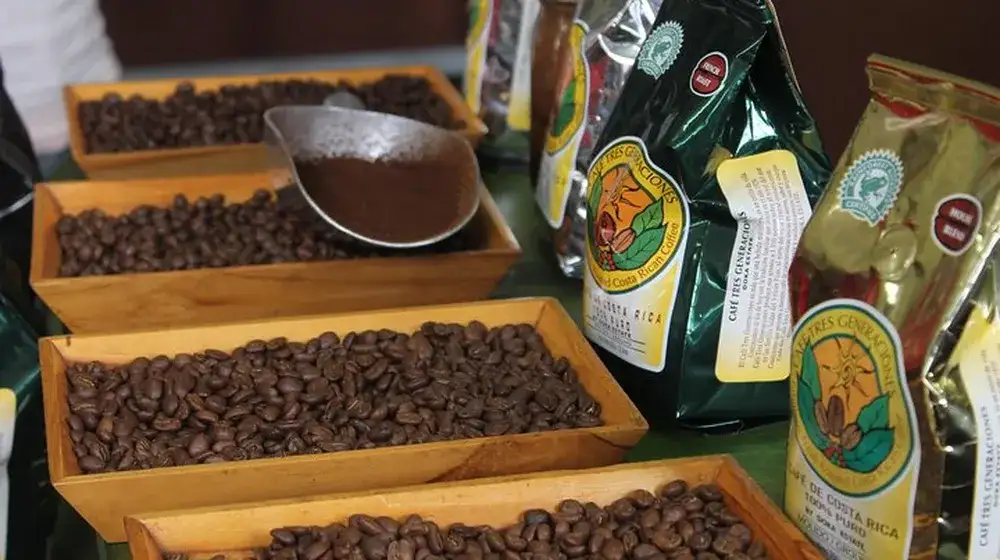 Coffee Tour / Source: Trip.com
Consider going on a coffee tour and bringing back some fresh Costa Rican coffee for around US$3.50 a kg-bag (about 2.2 pounds). For those who like hard liquor, bring back a bottle of the nation's favorite alcohol, Cacique, which you'll find that US$8 will only get you a small bottle at the supermarkets back home.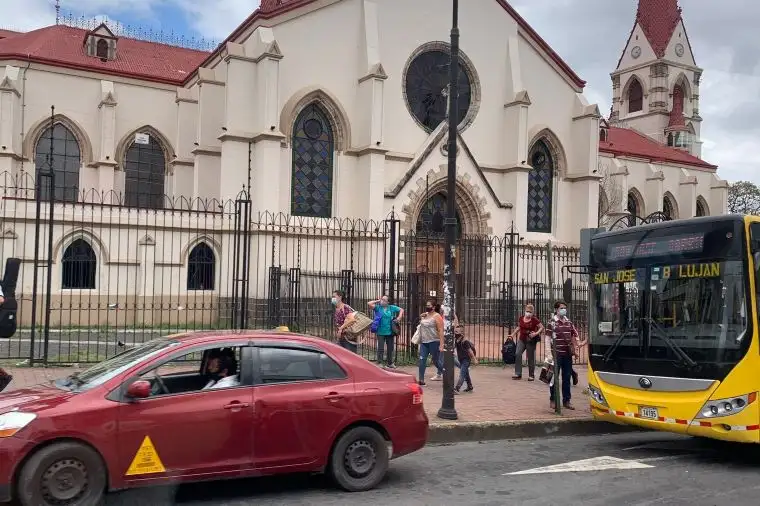 Iglesia de la Merced / Source: Trip.com
Getting around by public transportation will only take up a lower percentage of your Costa Rica trip cost, which is great news for you, since it means that you can spend more on other major aspects of the trip, like, sightseeing, food, and accommodation.
Taxis charge around US$1.28 per 1 kilometer (or 0.62 miles), meaning fast and convenient travel around the city or even day trips out to explore the national parks is highly probable.

Other methods of transportation include buses (city and long-distance buses), with a local bus from San Jose to La Fortuna only costing US$5 to US$6 for the entire 3.5-hour trip.
👉 There are other ways to combine sightseeing and transport. For example, Costa Rica has many boats that can be taken to secluded beaches or even just as a means of transportation downriver (Watch out for crocodiles!). As an example of the Costa Rica trip cost for this type of travel, a local boat from the river port of Sierpe down to Drake Bay will cost between US$15 and US$20 and takes about an hour. The price varies depending on the time of day.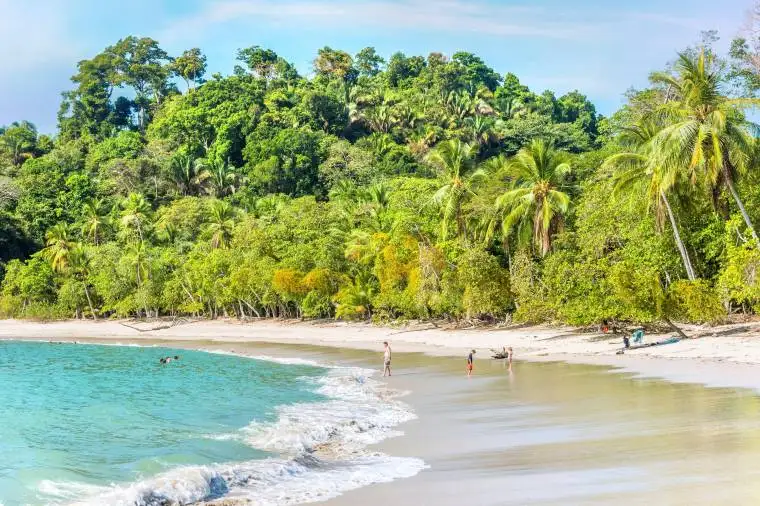 Manuel Antonio National Park / Source: Trip.com
Sightseeing is the number one reason to go to Costa Rica, with such an amazing variety of landscapes, flora, and fauna on display. This is probably the most important item on the list of the Costa Rica trip cost.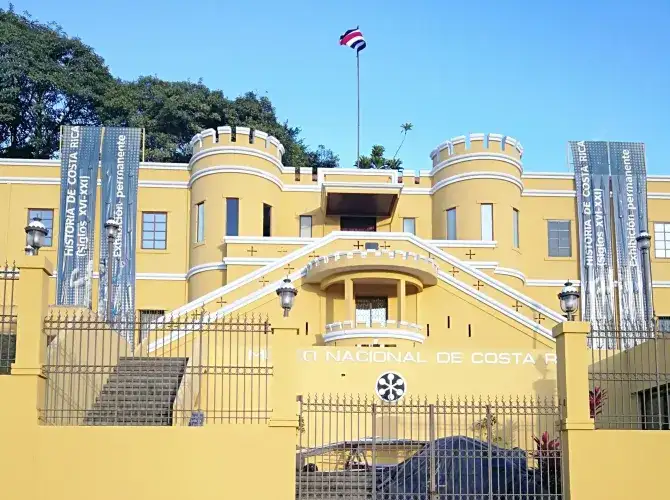 National Museum of Costa Rica / Source: Trip.com
San Jose is a great base for many sightseeing trips, but there are also important things to see in the city itself

😍

. For example, for US$30, you can buy a 3-museum pass covering the Pre-Columbian Gold Museum, the

National Museum of Costa Rica,

and the Jade Museum

👍

. If you're a foodie, don't miss the guided

food and culture walk with dinner included for US$76.50 per person. Additionally, paying a visit to the many galleries or the municipal crafts market in the city also counts for free sightseeing. This is a fun way to learn more about the local culture and the people.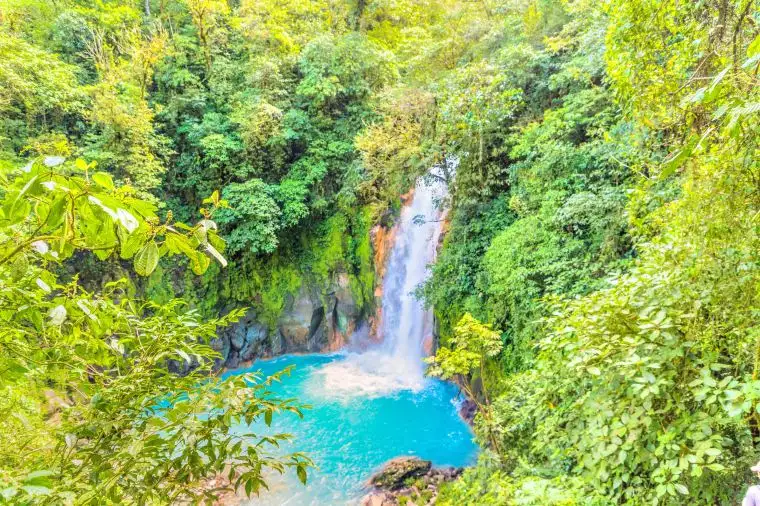 La Fortuna Waterfall / Source: Trip.com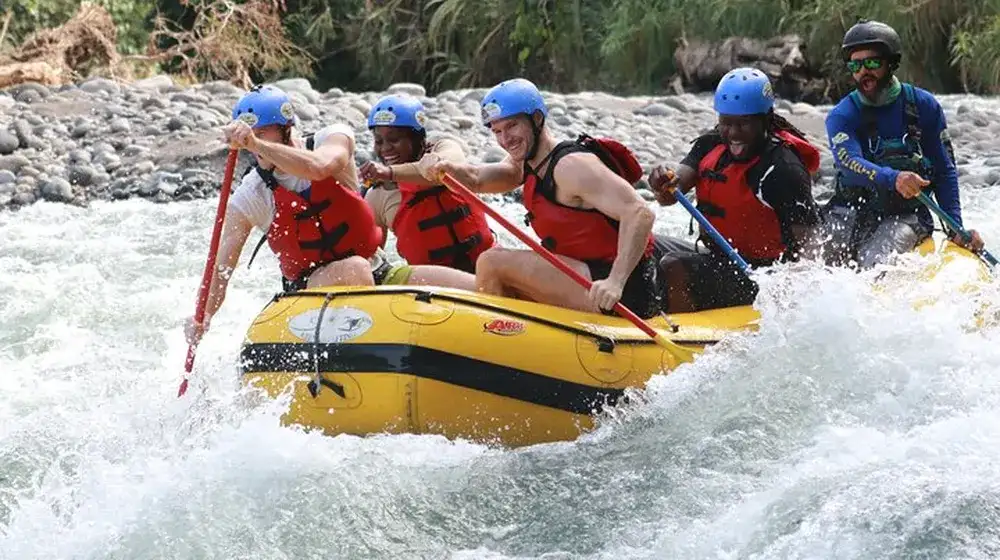 Balsa River White Water Rafting class 2/3 in Costa Rica / Source: Trip.com
For adventure lovers, there are options to rent a tent and camp in the national park or head on
white water rafting trips
on Arenal's Balsa river for US$68 per person. You can also explore the park from the air, with a 3-hour trip including a guided walk along suspended bridges, a trip in the Sky Tram, and a thrilling adventure in the treetop park filled with zip lines and more aerial fun. This
Sky Tram and treetop adventure trip
would be a Costa Rica trip cost US$146 per person. Granted, they are a bit pricier, but seeing things from above really gives you a new perspective on the world and all the problems that used to bother you will cease to exist.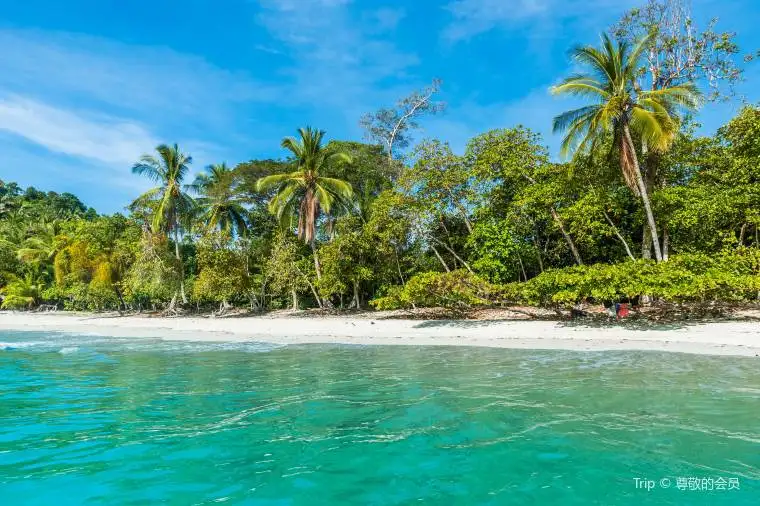 Manuel Antonio National Park / Source: Trip.com
Sightseeing trips to the beach also include many national parks, which can offer different flora and fauna of the inland areas. The Manuel Antonio National Park, sitting near the popular beach area and the most important national park in Costa Rica, is a must-visit. A trip to hike and watch wildlife in this amazing spot brings the Costa Rica trip cost to US$202 per person.
For those more interested in the underwater world, there are many types of fun underwater activities, such as snorkeling, sailing, fishing, and scuba adventures. The Manuel Antonio sea kayak and snorkeling adventure brings a Costa Rica trip cost to US$70 per person, while a catamaran cruise with snorkeling will cost US$81 per person. These types of activities tend to be pricier since there are overhead fees for the equipment and safety guards. For those who have a freer budget, embark on a 100-foot wooden sailing boat trip and cruise through the national park for a Costa Rica trip cost of US$139 per person.
Costa Rica has a lot to offer in terms of sightseeing and adventure. This tropical paradise is well-known throughout the world for its breath-taking beauty. You should definitely allocate a healthy part of your budget for this once-in-your-lifetime experience!
Staying in touch while abroad is easy, and in Costa Rica, you'll find Wi-Fi readily available in all but the cheapest hotels. If your cell phone does not offer data when abroad, you can easily buy a local sim card without spending too much. Find sim cards from the likes of Maya Mobile for as little as US$7.25 for 1 GB of data for 30 days or up to $130.55 with unlimited data for 30 days. To keep your Costa Rica trip costs down, opt for a lower/medium plan and switch to Wi-Fi whenever possible.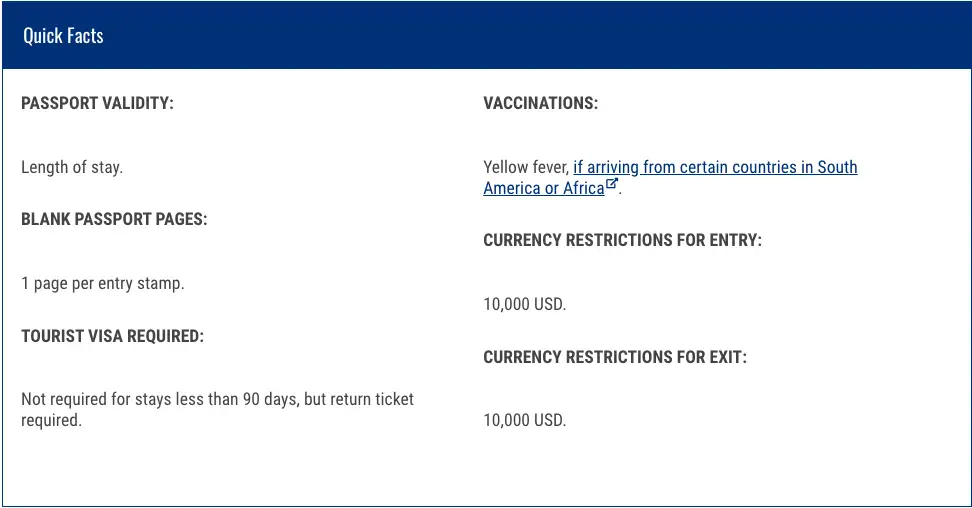 Quick facts for entry into Costa Rica / Source: US Department of State
Traveling to Costa Rica means leaving your own home behind, and crossing borders means that you are currently under the governance of different laws and governing bodies. So, you have to be ready with the right documents, from passports to visas.
For US citizens, passports must remain valid for the whole duration of the stay (max 90 days without a visa) and must have one blank page for the entry and exit stamps. A

new US passport

for your Costa Rica trip costs between US$130 and US$195, depending on the requirements. If you need an expedited service, add a fee of US$80 for fast track and postage.

We should also mention that there is a US$29 exit tax to pay when leaving the country, but this is often included in the price of the ticket. Finally, make sure you have proof of departure (return or onward travel ticket), as well as proof of having US$100 a month to spend during your stay there.
When planning out your Costa Rica trip costs, you should factor in travel insurance👀. This cost will range depending on your age and health, as well as your plans and itinerary ­– if you intend on doing any extreme sports or getting close up with some dangerous animals, you may want to consider adding on some extra coverage👍.
Since your travel insurance costs will vary depending on your individual preferences and situation, it is impossible to give an exact price😁. With this in mind, here is some example of the travel insurance prices based on our research of Costa Rica trip costs in 2023:
| | |
| --- | --- |
| Basic travel insurance for a 15-day trip | US$113 |
| Medical expenses | US$50,000 |
| Trip cancellation | 100% of Costa Rica trip cost |
| Trip interruption | 100% of Costa Rica trip cost |
| Trip delay | Max US$1,000 |
With adventure sports cover:
| | |
| --- | --- |
| Premium travel insurance for a 15-day trip | US$162 |
| Medical expenses | US$50,000 |
| Trip cancellation | 100% of the Costa Rica trip cost |
| Trip interruption | 150% of the Costa Rica trip cost |
| Trip delay | Max US$2,000 |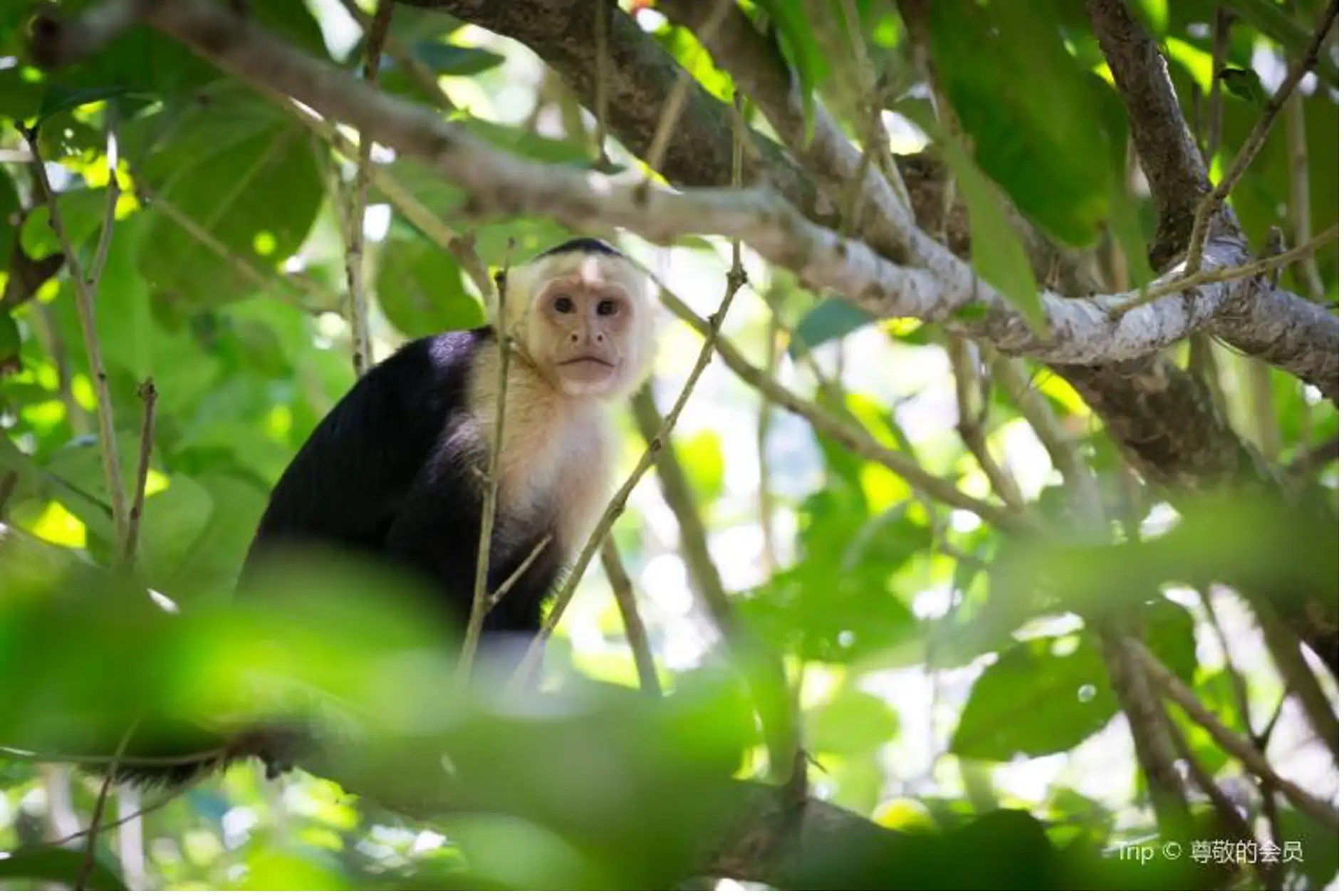 A monkey in Manuel Antonio National Park / Source: Trip.com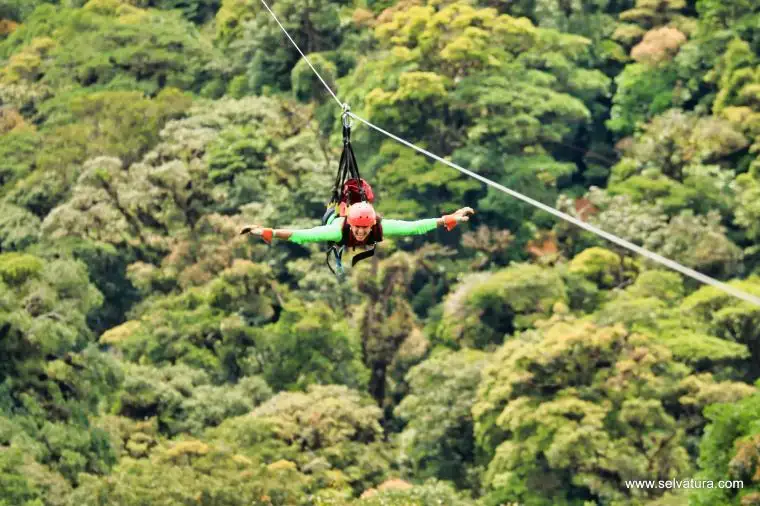 Selvatura Adventure Park / Source: Trip.com
Traveling to Costa Rica for three days and two nights does not give you much time to explore this magical country😍, but it is a good starting point to assess your budget. So, let's work out the overall Costa Rica trip costs for a three-day holiday for two people👉:
Flight costs from the US to San Jose vary depending on the airports and dates chosen. However, an average would come to about US$500-US$550 per person. So, for two people, it would be about US$1,000-US$1,100 for a round trip.
👉 If there is no need to renew your passports, then no cost is needed for visas or passports. There may be an additional exit tax of US$29 per person, however. So, for flights and exit tax, let's say US$1,160 (always better to round up!).
You'll be trying lots of new things in Costa Rica, from snorkeling, canyoning, and wildlife watching to trying out new foods and climates

😉. For that reason, at least basic travel insurance is a must. Based on a three-day trip, basic travel insurance comes to US$99.50 per person or US$119 with adventure sports cover. So, insurance for two people would be US$200 to US$240.
Next, hotels. Being that it's such a short trip, the likelihood is that you would head straight from the airport to the beach or volcanoes, depending on your preference

👀

. If opting for a budget trip, you could spend as little as US$60 on your Costa Rica trip costs for hotels in La Fortuna.

🏨

However, since it's a short holiday, you may be inclined to something a little more refined

👍

.
If you opt for the mid-range options, the cost for hotels for two nights for two people would be about US$500 for La Fortuna or $300 in Quepos for Manuel Antonio National Park.
For budget travelers, plan US$60 for hotels in your Costa Rica trip costs, while for those with a bit more to splurge, budget US$300-500.
Both La Fortuna and Quepos are around three hours away from San Jose. A bus to either will cost between US$5 and US$10 per person. If we add some taxi transfers between the airport and hotels, a good Costa Rica trip cost for your transport budget would be around US$50 for two people over three days.
Food is one of the higher Costa Rica trip costs. So, factoring in two main meals in restaurants per day over three days, at around US$50 for two people each time, this would take you to US$100 a day, or US$300 over the whole period. On this kind of budget, you are better off choosing a hotel that includes free breakfast👍

, so you just need to add water and perhaps some other drinks for the meal. With Coca-Cola costing about US$1.80, water costing US$1.50, local beer costing US$2.75, and imported beer costing US$4, it would be reasonable to budget $20-30 a day for two people or more if looking to drink more alcohol

👍

.
👉This takes the total cost to about US$390 for three days.
👉 If looking for a cheaper alternative, you could easily cut out all alcohol except local options and dine at cheaper local restaurants, known as "sodas." Here, a main meal would cost US$10 for two. This would bring the cost down to about US$90 without breakfast or snacks.
The Costa Rica Trip cost would not be complete without sightseeing costs. So, for a three-day trip, time must be factored in for travel

😇

. It would be reasonable to do two sightseeing trips or one day trip and one half-day trip.
👉This would take the total Costa Rica trip costs for sightseeing in Manuel Antonio to between US$544 to US$566.
Finally, we must factor in what is being brought home to commemorate this special journey. Souvenirs in Costa Rica are generally not that expensive, but you may want to take home some t-shirts made from banana fabric for yourselves (a total of US$80 for two people), as well as some coffee, cacique, and wooden jewelry for friends and family. It depends on how much you would like to spend, but without going too wild, a good budget for your Costa Rica trip cost on souvenirs would be about US$20 to US$50, or around US$100 to US$150 if you decide to buy the t-shirts plus gifts🎁.
So, in conclusion, a three-day & 2-night trip to Costa Rica for two people would come to US$3,050 as the cap (around US$1,500 per person) or, for those on a budget, to about US$1,796 (US$898 per person). This big difference in price comes largely down to hotels and food, as these are the two major draws on the Costa Rica trip costs💰. Budget options are available for those who want them. Bear in mind that a major part of this cost is the flight, so if planning for a longer trip, remember that your costs will not go up too crazy👍😭.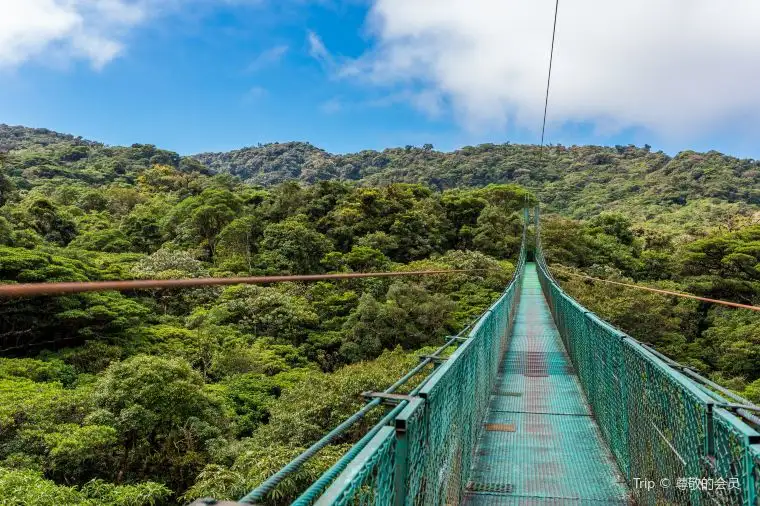 Monteverde Cloud Forest Biological Preserve / Source: trip.com
This article has largely considered two people traveling together, whether as a couple or with a family member or friend

👍

. The bliss of close friends and families' company is sometimes just what we need in a foreign land. However, this might also be a great chance to learn to be on your own feet. Traveling solo on a journey to adventure ahead is meaningful too

🤗

.
Traveling solo usually costs more than traveling with others. For example, hotel costs will have to be covered by one person — as opposed to being shared by couples and families. Likewise, food costs cannot be shared, and trips may require more than one person, leading to extra costs or cancellations if others are no show. Luckily, Costa Rica is a great place to travel alone since its love of Pura Vida, or Pure Life in English, attracts many open-minded individuals who are looking forward to traveling with others or making new friends halfway through the trip. Additionally, the number of yoga retreats, surf camps, hiking groups, and more are everywhere, meaning that you will surely end up sharing food and taxi costs with new friends in no time.
For families, costs will be worked out in a similar fashion, but extras might be added on for food and trips for the children. Depending on the age of the children, remember that you may need to pay more for an adjoining room. However, you can usually find a room with a sofa bed or fold-out bed for a little extra.
This article has so far separated the Costa Rica trip costs into several aspects, making it easy to calculate a budget suited to your own needs, no matter how many people are going.
Ways to save money on your Costa Rica trip costs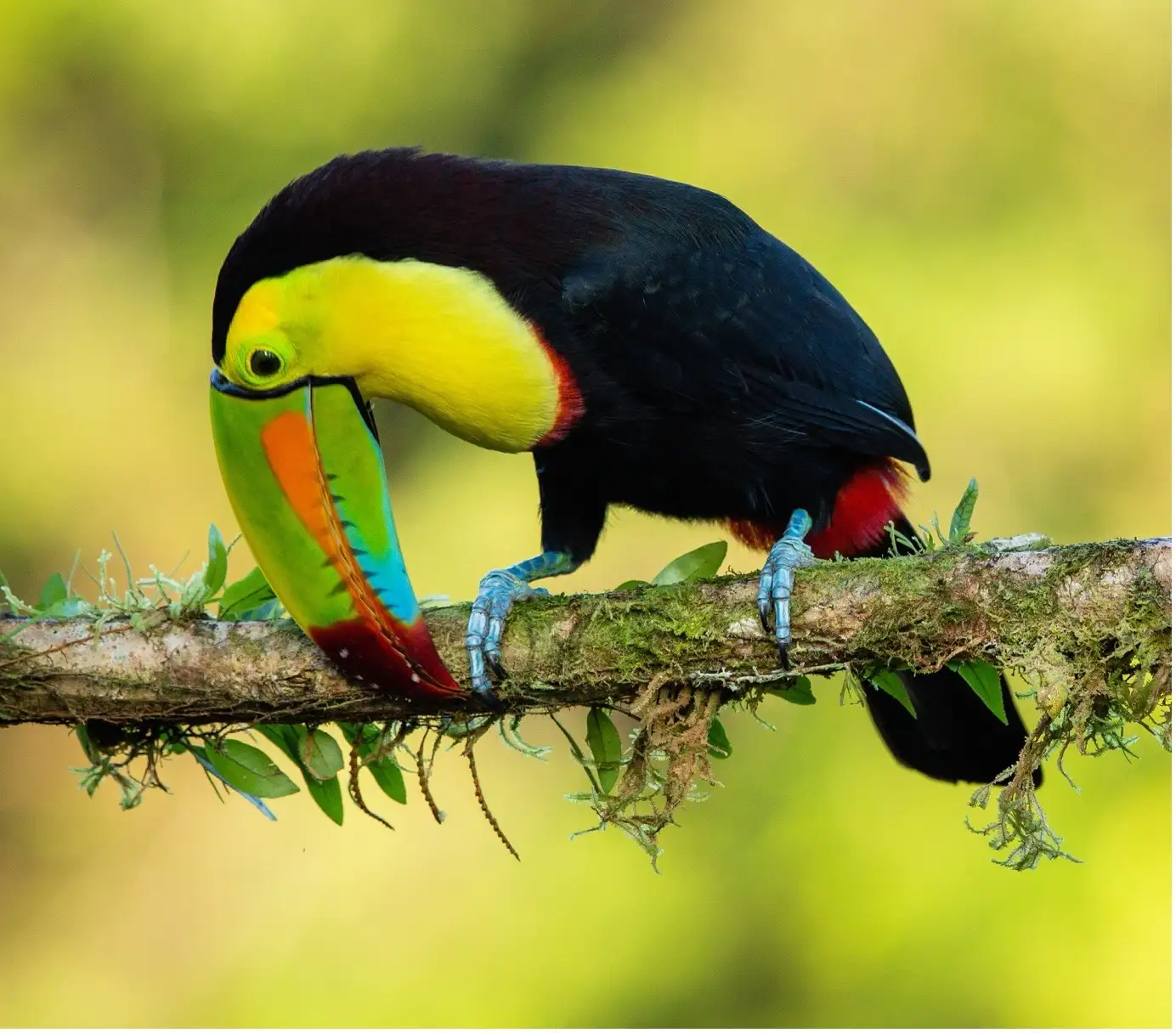 A Costa Rican toucan / Source: Photo by Zdeněk Macháček on Unsplash
As mentioned, a Costa Rica trip costs a little more than a trip to another Central American country/region during the holiday

👀. However, there are more ways than one to reduce your costs.
If you are looking to budget, check a few flight variations before booking😳 – it may be cheaper to buy a multi-stop ticket, accept a layover, or fly to Costa Rica's second airport, Liberia (LIB). Once in Costa Rica, always travel by local transport instead of tourist coaches. This will not only save you money but also will give you the opportunity to meet the locals👍. If you are traveling with your family and want to take a taxi, be sure to put it on the meter instead of agreeing on a price before setting off.
You can easily save money on accommodation and food in Costa Rica, simply head to more budget-friendly hostels and homesteads🏨 and eat where the locals eat (at the sodas). These two methods of saving on your Costa Rica trip costs will enrich your experience, too, especially if you are a solo traveler or a young couple. You'll be able to try some dishes and drinks that you may not experience otherwise, too🤩!
Heading to local farmer's markets and supermarkets is also a great way to save money on food👍. Why not buy some local produce and take it out on your daily trips? That way, you won't go hungry, and you can save on restaurant costs.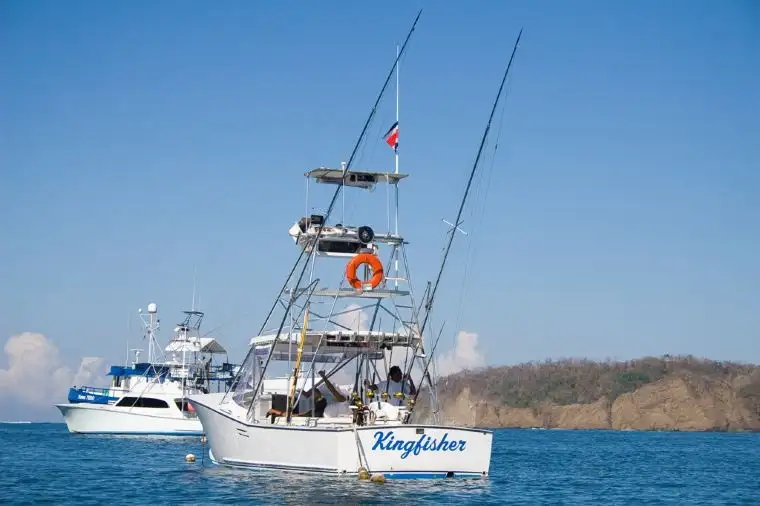 Kingfisher Sportfishing / Source: trip.com
It is hard to save money on trips since the price is the price. However, be sure to do your research first and shop around a little if you have time – you may just find the perfect local tour guide who is willing to take you out for the day for less money than a private tour through an agency🤗. On group tours, you might find a cheaper option that offers the major things you want but cuts out the ones that you weren't too bothered about anyway. You can also often find a cheaper option by switching a catamaran for a kayak on a snorkeling trip, for example.
Doing your research first is essential. You may find that instead of paying to be guided to a waterfall, you can take a taxi and hike there for free😍. Likewise, by doing your research, you will likely find lots of free spots to visit, such as arts and crafts markets and museums. Just be sure that you don't try anything that you aren't comfortable with – better to pay the money than get lost in a jungle🌴!
Tips for your travel and Costa Rica trip costs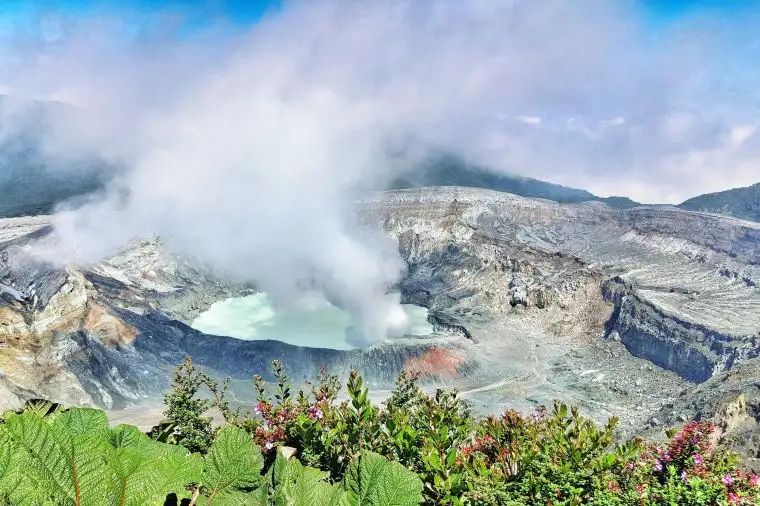 Poas Volcano National Park / Source: trip.com
Traveling in Costa Rica is a little more complex than in some other countries and will require a little preparation😭. For example, as with many developing countries, taxi scams are prevalent. So, when getting on a taxi, remember to only use the official bright red taxis with a yellow taxi sign on the roof!!
You can also save money on the water since Costa Rica's tap water is safe to drink throughout most of the country👍. If you have a sensitive stomach, maybe it's better for you to go for bottled water, but if it is not essential, then you could save money on your Costa Rica trip cost💲.
Another tip is to use the local currency instead of US dollars during your trip to Costa Rica. This is because the exchange rate will not always equate, or the vendor may be disinclined to accept foreign currency and won't be able to give you change, meaning you may find yourself end up paying more😭. Additionally, if you pay in US dollars, you may become an obvious target for thieves and robbers since they might think that you are loaded🥺. It is always better to go to cash points or ATM machines beforehand, as carrying too much cash can be dangerous. If someone gives you some changes in US dollars, be sure to inspect the bills carefully, as Costa Rica has strict rules on the conditions of the bills, and tears and marks will not be accepted.
Why is Costa Rica expensive to visit?




Costa Rica is expensive due to the taxes on imported goods. That is why travel to Costa Rica is cheaper when eating at local restaurants that mostly serve local produce.

Should I tip in Costa Rica?




Tipping in Costa Rica is optional but always greatly appreciated.

Is traveling to Costa Rica more expensive than traveling to Mexico?

Traveling to Costa Rica is, on average, 25% more expensive than traveling to Mexico.

Is Costa Rica expensive to live in?

Living in Costa Rica is roughly 37% cheaper than living in the United States. However, visiting and living in Costa Rica is not the same, as visiting means tourist prices.

What is the cheapest month to travel to Costa Rica?

The high season is in December to April, while the low season is from May to November. The cheapest time to fly to Costa Rica is usually May.

Which airports should I look at when booking a flight to Costa Rica?

There are two main airports in Costa Rica – San Jose (SJO) and Liberia (LIB). Always check flights to both airports before booking your trip so as to save money.