The Peppa Pig Pop-Up Playground is a must-see experience for those with children visiting Bangkok. A theme park featuring one of the world's most popular children's characters offers complete family fun. Come join Peppa at the first ever picnic fun themed indooe playground in bangkok,Thailand. Check this article before going to the playground to have the perfect tour❤️.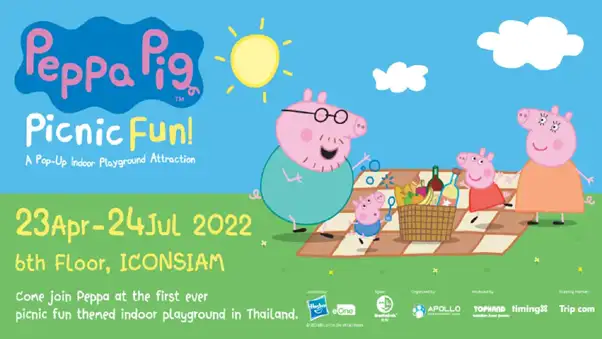 Join the fun at the Peppa Pig Pop-Up Playground Bangkok
Peppa pig is one of the most beloved children's characters around the globe. One of the main aspects of this children's televisual phenomenon is the promotion of outdoor activities and playing outside, picnics, and camping regularly features in the show. With this in mind, the Peppa Pig Pop-Up Playground has been created to delight families and allow children to enjoy a picnic experience with Peppa, George, Mummy pig, Daddy pig, and the rest of the characters.
All the charcters in Peppa Pig wear clothes, drive cars and live in houses like humans but still exhibit someof the features of the animals on which they are based. Some of these characteristics include sounds, as Peppa and her family snort like pigs during chats, and the other animals make their individual noises when they speak.
Some animals exhibit other characteristics other than talking, examples of this include the Rabbit family's squeaking sounds and enjoyment of carrots and of course Peppa's love for jumping in muddy puddles!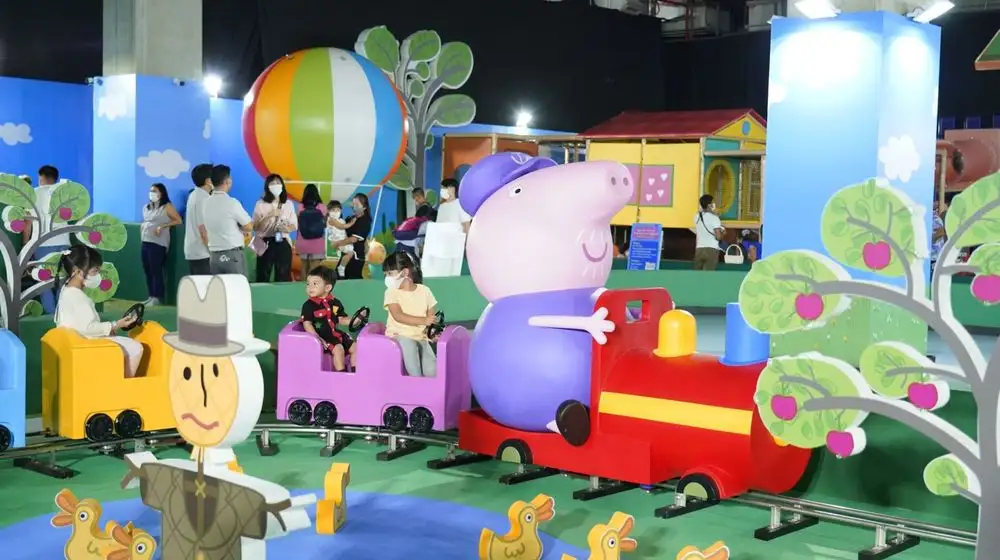 Source: from Trip.com user E49****409
This is indeed a timely attraction as children, who have suffered from the boredom and restrictions of lockdown, look to set their imaginations free and enjoy new experiences. The Peppa Pig Pop-Up Playground in Bangkok, Thailand is a perfect resolution for this.
From the 23rd of April to the 24th of July, the Apollo Entertainment Company Limited will present the first-ever Peppa Pig picnic-themed pop-up indoor playground, the Peppa Pig – Picnic Fun Thailand 2022, at ICONSIAM. Exclusive ticket packages for families can be purchased from the international one-stop service provider Trip.com.
"Peppa Pig Picnic Fun" will held for 3 months at ICON SIAM, 6th floor , zone C (Cinema Zone) in Bangkok Thailand from 23 April 2022 - 24 July 2022.
Location: 6th floor , zone C (Cinema Zone) of ICONSIAM, 299 Charoen Nakhon Rd, Khlong Ton Sai, Khlong San, Bangkok 10600, Thailand, Bangkok, Thailand
Time: 23 April 2022 - 24 July 2022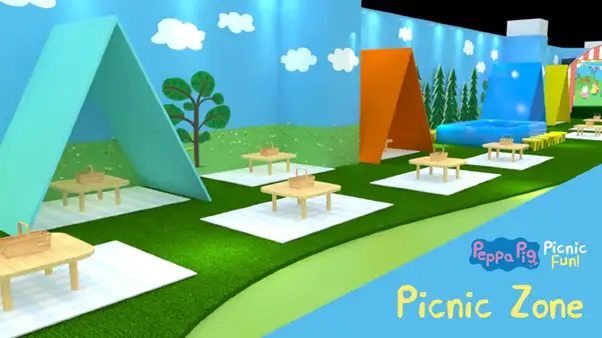 Have a picnic at the Peppa Pig Pop-Up Playground
Let's introduce Peppa Pig Pop-Up Playground times, tour duration, prices, and regulations.
Peppa Pig Bangkok Ticket prices

🔥
Concessions and packages are available on tickets booked through Trip.com after the 21st of April. Trip.com's value packages can help families save up to 27% off of the standard ticket prices which are (with the discount) THB 599 (Child), THB 499 (Adult), THB 299 (Senior), THB 999 (Family Package 1 Adult + 1 Child), THB 1399 (Family Package 2 Adults + 1 Child), THB 1899 (Family Package 2 Adults + 2 Children).

Peppa Pig Bangkok

Recommended Activities
At Peppa Pig Pop-Up Playground you will find the kind of attractions that your children dream of seeing. Activity zones abound and there's plenty of time to see and enjoy them all. Delight your children by visiting Peppa pig's photo zones and capture these great moments. Take a trip to Granny's Rock Garden and have some fun at Grandpa pig's farm before going on a ride on Grandpa pig's train.
Highlight 1: Grandpa Pig's Train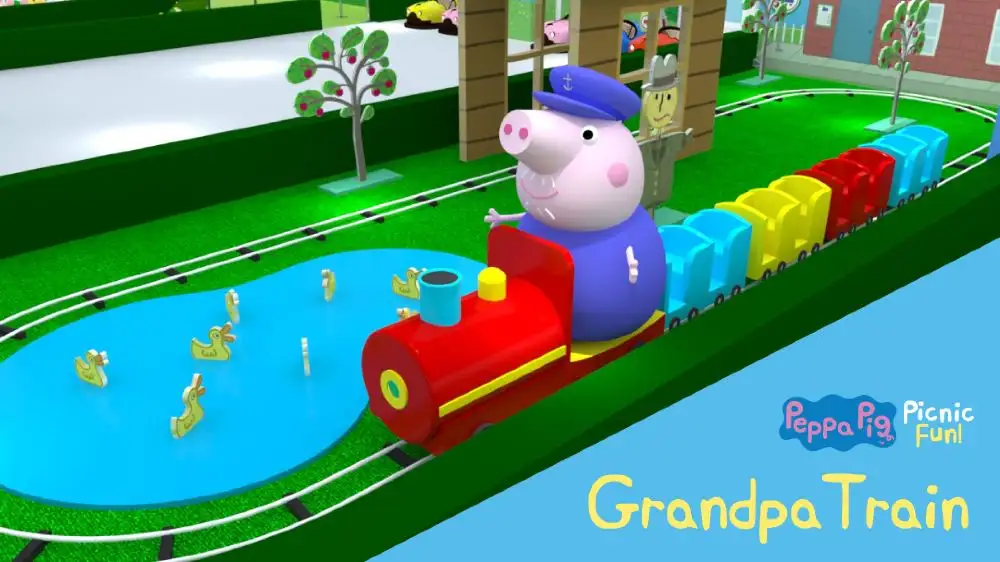 There are also electric cars and the enormous Peppa Pig tree house which is surrounded by a large ball pit in which the kids can play merrily and immerse themselves in fun and color.
Highlight 2: Tree House & Huge Ball Pit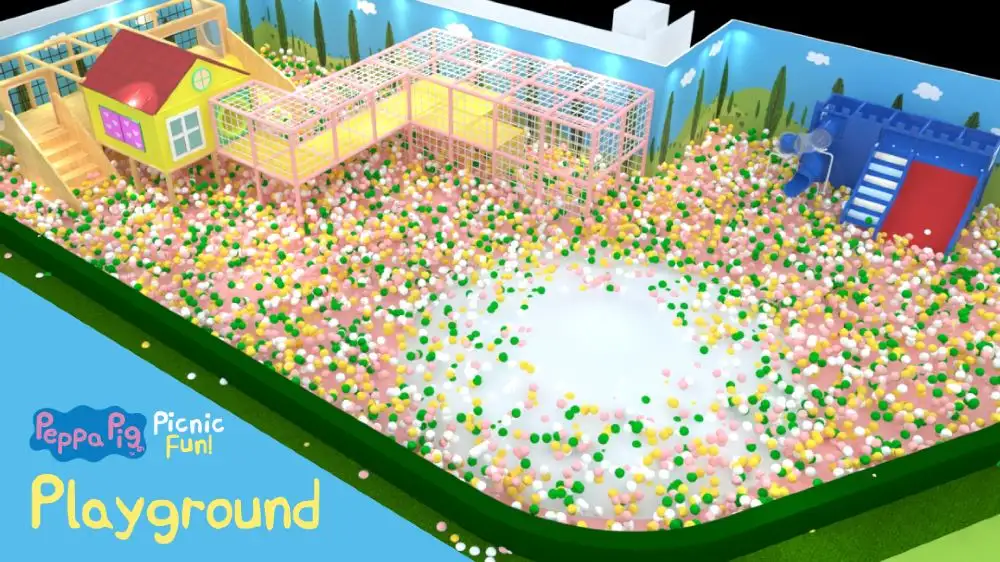 Highlight 3: Learn-through-play Activities
Children have the opportunity to decorate their own cupcakes in the interactive coloring and cake decorating zone.
Highlight 4: Bumper Cars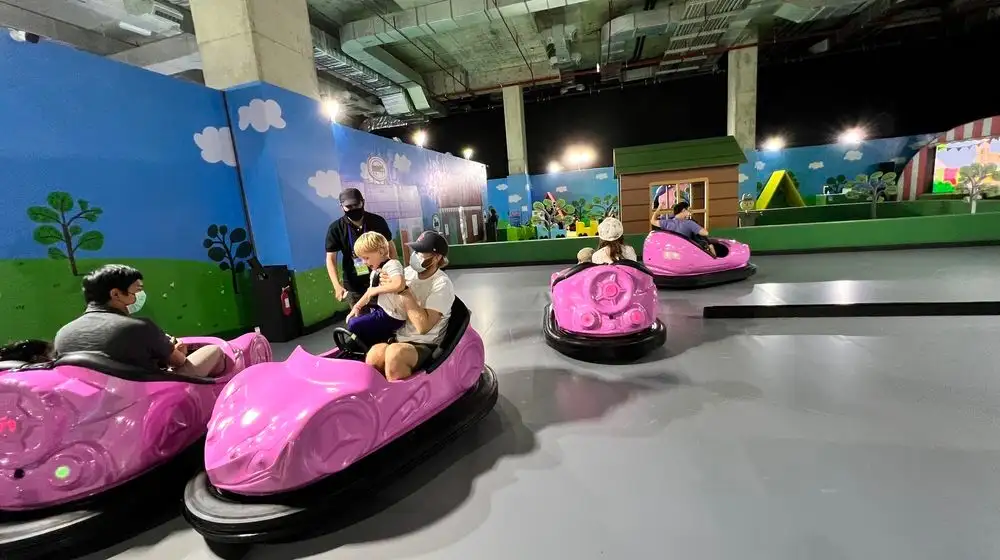 Source: from Trip.com user E45****4585
For more rough and ready children, there are the bumper cars where they can test their driving (and crashing) skills, but don't worry! It's all good safe fun. All rides and attractions are staffed by fully trained employees to ensure that your child's day out at the Peppa Pig Pop-Up Playground is safe as well as magical.
To end it all off you can visit the souvenir shop and buy some merchandise to help you remember this special day.
If you are in Bangkok, passing through or a resident of Thailand, the Peppa Pig Pop-Up Playground is the place to take your children. Peppa Pig, her family and friends are an iconic and important part of millions of childrens' lives. Make these characters come to life and don't delay as the playground will run for this summer only (finishing on the 24th July).
Attendences for this attraction are carefully managed meaning that you can spend your time at the Peppa Pig Pop-Up Playground in comfort and safety. To see more details of the attraction available for your children to enjoy visit the Trip.com website and plan out your day. Trip.com is the only tourism platform that offers discount family tickets so make sure that you take advantage of some really great family deals.
👉Ticket now is from THB499.00 instead of THB599.00! Do not miss the discount!
Peppa Pig Bangkok Tour Duration👀
The Peppa Pig Pop-Up Playground will be hosted in Bangkok from 23rd Apr 2022- to 24th Jul 2022 and can host 200 visitors per tour. The duration of the tour is 1.45hrs and they begin at the following times
Round 1 : 11.00-12:45
Round 2 : 13.00-14:45
Round 3 : 15.00-16.45
Round 4 : 17.00-18.45
Round 5 : 19.00-20.45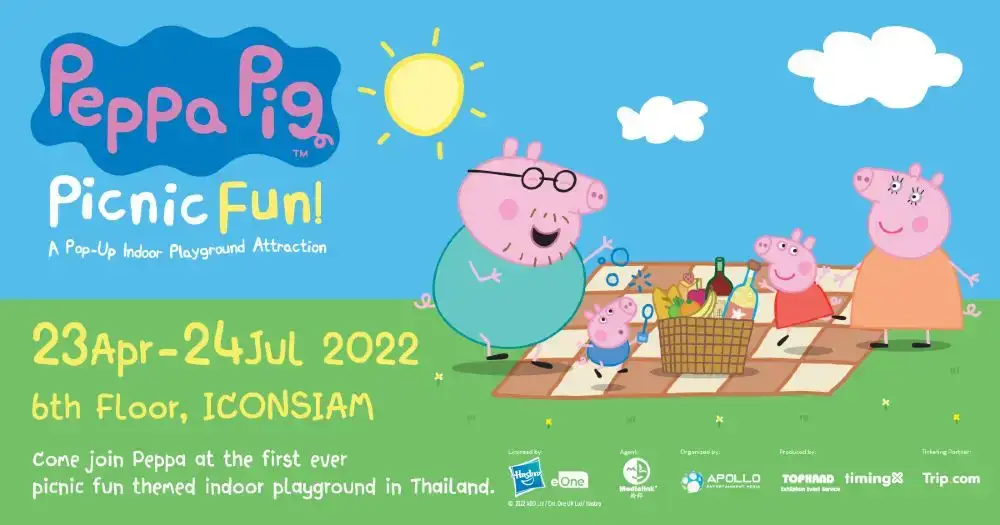 Peppa Pig Bangkok Playground

Entrance Regulations
The height restrictions for Peppa Pig Pop-Up Playground are Adult: Height 1.31m+; Child: Height 0.8–1.3m.
Senior admission tickets are obligatory for visitors aged 60 and older. Seniors must show an ID card as proof of age at the point of entry.
Children must be at least 80 cm tall to play in play zones at the park.
Children must be at least 101 cm tall to play in the Tree House Zone area.
Arrive at the event at least 15 mins before the start of the tour. This event always starts on time and those arriving more than 15 mins after the tour starts will not be allowed to attend the event. No refunds or cancellations are permitted.
Every tour is 2 hours and has a playtime of 1.45 hours followed by a cleaning time of 15 minutes.
....
Peppa Pig Indoor Playground Review

👏
E49****409 5.0/5
kids love the characters from peppapig, we love the chocho train although quite long Q, the market and doddle area really funs. tree house and castle normal yet funs. choice of merchandise limited due to covid. accept Q longer at bumper car. overall we still recommend to go and we plan to go again.
_TSTH******90qp4 5.0/5
My kids had lots of fun.. they took many photos with peppa characters. They enjoyed all the zones esp the slide with ball pit, train, grassboarding etc! Queue is manageable and the staff are helpful.
As the Peppa Pig Pop-Up Playground is located in Bangkok, here's a selection of hotels that you and your family can use as your base to visit the playground.
Ideally located in busy Sukhumvit, Sacha's Hotel Uno is minutes away from Bangkok's business and financial districts, commercial districts, and transportation links. It is situated within walking distance of Terminal 21 shopping mall and Health Land Asoke Spa & Massage.
Grande Centre Point Hotel Ratchadamri Bangkok
Located in the center of Bangkok's main business district and entertainment hubs, Grande Centre Point Hotel Ratchadamri Bangkok (SHA Plus+) is only a stone's throw away from Central World and Chit Lom BTS Station.
Located in the heart of Bangkok, steps from the sky train, airport train, and connected to King Power duty-free shopping mall, Pullman Bangkok King Power Hotel offers a resort experience in central Bangkok.
Carlton Hotel Bangkok Sukhumvit
Located in the bustling downtown area of Bangkok, this hotel is an interstellar luxury hotel located on Sukhumvit Boulevard, Bangkok's main street, just 5 minutes walk from the subway station and no more than 20 minutes drive from downtown Bangkok.
Novotel Bangkok Ploenchit Sukhumvit
Ideally located at Sukhumvit road, the Hotel is only steps away from Bangkok's shopping paradise of Siam Paragon, Central World, MBK, Terminal 21, and Central Chidlom, all connected by BTS sky train right in front of the hotel.
I hope you enjoyed the guide to the Peppa Pig Pop-Up Playground and that it has inspired you to visit this great family attraction.
Frequently Asked Questions about the Peppa Pig Bangkok
Is the Peppa Pig Pop-Up Playground an official product and officially endorsed by the company in the UK that makes Peppa Pig cartoons?

Yes, the Peppa Pig Pop-Up Playground is an official product and is legally endorsed.

Is the Peppa Pig Pop-Up Playground on when the weather is bad or raining?

Yes, the activities at the Peppa Pig Pop-Up Playground are indoors and so they are undre cover. You can visit the Peppa Pig Pop-Up Playground at any time that the park is open and not worry about the weather.

If I buy a ticket and are not able to come to the Peppa Pig Pop-Up Playground, what is the policy for refunds or the transfer of tickets to another date?

Once your ticket to Peppa Pig Pop-Up Playground is successfully booked, it cannot be changed or canceled. Make sure that you can make it before you book your ticket.

What is the best attraction at the Peppa Pig Pop-Up Playground?

All the attractions are great but many children love to ride on Grandpa Pig's train or play in the huge ball pit.

Is the Peppa Pig Pop-Up Playground open in the evening?

Yes, the Peppa Pig Pop-Up Playground is an official product and is legally endorsed.